Part One - Ferrari World
Part Two - Credit Whoring in Abu Dhabi
Part Three - Credit Whoring in Sharjah
Part Four - Small parks in Dubai and one of the WORST THEME PARKS IN THE WORLD!!!
Part Five - Burj Khalifa & Sega Republic
Part Six - Ski Dubai & Aquaventure Water Park!
Edit! Videos added!
V 12 - Inside the Engine - A VERY weird (read, not "good", but weird) boat ride:
Speed of Magic - this is supposed to be a "Spider Man" type of dark ride:
And Racing Legends - You can how "Old School Epcot" this is trying to be: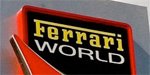 Hey everyone!
By now I'm sure most of you know we did another
"Where in the World is Robb & Elissa"
contest in December when we did our little recon trip to Dubai! Our goal of the trip was to scope out the place for a future TPR Dubai trip...which we ended up liking Dubai and the UAE so much that we already have our plans set to take the TPR group back!
I realized I never did a full TR, so I guess it's time for that to happen now! We did quite a bit in a short amount of time, I should have quite a few photos and hopefully a few videos as well. Here goes nothing....