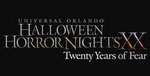 Welcome to the opening weekend of Halloween Horror Nights at Universal Orlando MEGA THREAD! TPR regulars will be bringing you coverage of the opening weekend of Halloween Horror Nights XX all weekend long!
For those of you who don't know, Universal Orlando is celebrating the 20th anniversary of the premiere Halloween event in the world - Halloween Horror Nights. In my opinion - it really is the best of the best out there. Completely new houses and scare zones each year, new and creative characters, "icons" and awesome shows.
This and many other reasons is why the TPR Staff continuously vote Halloween Horror Nights as the #1 Halloween event of the year on the Golden Ticket Ballot.
It really is THAT great!
This event stretches throughout late september and early october and is worth a trip to Orlando to experience. With the popularity comes the crowds - it is HIGHLY recommended that you get an express pass or the RIP tour to get through all the houses and scare zones in one night. On peak Saturday nights wait times will stretch over 2.5 hours for some houses!
I will be posting some of my thoughts about the houses and scare zones later on in this thread - but now I want to share with you some of the fun (and scares!) that we had this evening...
You will notice there are no photos in the houses - Universal has a very strict no photos or video of ANY type policy in the houses.