Apologies that there's no English, I waited a few days to see if one came up but there was still nothing. It seems a part-time worker somehow got hit by a train and had his leg amputated, surgeons also failed to re-attach it due to contamination from lubricants and other things.
In relation to the Daegu E-World part-time student's bridge cutting accident, the issue of safety management in the amusement park is emerging.

In particular, E-World, which had an accident, was found to have one part-time worker taking turns in the operation of rides and passenger safety checks.

E-World's fifth-month-old student A, 22, who had been in an accident on the 16th, was assigned to work on a hurricane, a roller coaster ride.

Like A, part-time students who work on Attraction Jockey (AJ) in E-World are assigned to their own rides according to their schedule.

Training and hands-on courses must be completed before formal assignments to ride operations.

An official of E-World said, "Ride work is not only for the regular staff but also for regular staff.

At 6:50 pm at the time of the accident, a fellow part-time student was in charge of the shift in conjunction with the shift, and Mr. A was checking passenger safety.

E-World explained that roller coaster rides were often operated by one employee even before the

accident.

Last September, the safety sensor of the ride 'Boomerang' stopped in response to the falling leaves.

In August and February of this year, cable cars stopped and passengers were trapped.

In February of the same year, the ride came to a halt due to a malfunction of the Camelback ride.

It is pointed out that the practice of one employee operating a ride that always raises concerns about safety accidents has raised safety disagreement.

A police official said, "The current law does not have a detailed regulation that mandatory placement of a few employees per ride."

The police will investigate whether E-World has properly conducted safety training on the operation of the rides and whether there has been a breach of administrative obligations.

In addition, considering the psychological state of Mr. A who finished the suture operation, he plans to investigate the statement after 7-10 days.

Mr. A was reportedly unable to perform splicing due to severe damage to his bones and muscles and contamination of the cut.

A police official said, "We will investigate the state of fruit and plant at the scene of the accident and jointly investigate with the medical and safety accident investigation team of the Metropolitan Investigation Unit against the related persons such as the detector."

Earlier, Mr. A took a passenger safety check at the Daegu E-World ride `` hurricane '' at about 6:50 pm on the 16th. Was cut.

The accident ride was a 380m long, 23m high, 24-seater roller coaster ride with six passenger cars.
Source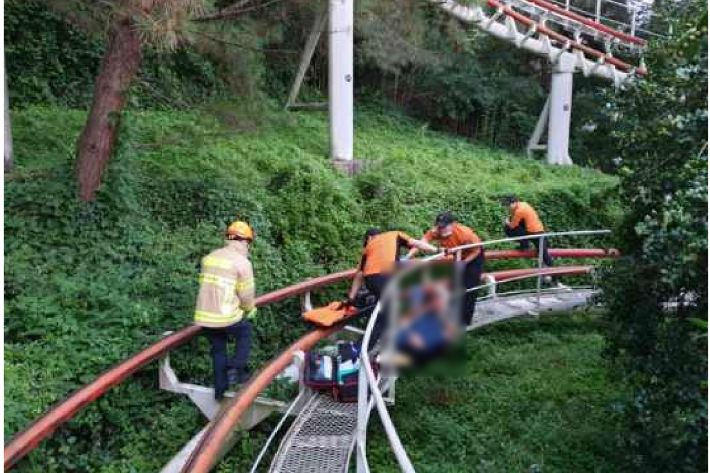 It seems one of the questions that is starting to rise mostly aimed at this park but people are mentioning about the others now is about the common use of mostly part-time workers and students as the operators in the parks and how few can be running it. If you look back at some of my Korean park posts I actually warned people off weekdays because rides in each area would run half-day shifts. One ride in each area would be 10-2 and another 4-10 suggesting a shared workforce or a roller-coaser with multiple trains and 10-40 min lines once all 3 trains were on (trains would still be testing the first hour or two with one ready for riders) would run 60-90 on weekdays with less trains and less staff. I even mentioned in my last TR, I barely saw any workers at most of the big 3 parks older than me.
The park CEO has also issued an apology
We apologize for any confusion regarding the safety incident of Hurricane, E-World. At around 7 pm on August 16, an accident occurred injured in the leg of our staff, A, who operated a model at Hurricane, an amusement facility in the world. I'm sorry as a person. First of all, I would like to express my deepest condolences to the injured staff and their families. At present, staff members of this world, including myself, are waiting in hospital 24 hours a day, joining the treatment process. With regard to future treatments, we will provide necessary support at the company level so that sufficient treatment can be achieved as patients and families want. Immediately after an accident, the World immediately stopped the operation of the play area, and actively cooperates with the investigation to find out the circumstances of the incident, and conducts a check on the play facility and operation process. In order to prevent future recurrences, we will conduct safety checks on all the rides again and reinforce the safety regulations as well as educate employees. Police investigations are currently underway regarding the cause and cause of the accident. As soon as the results of the investigation, we will formally inform you of the future measures, as well as establishing improvement plans to show our customers this world safe. We apologize for the concern of all our customers. August 19, 2019