Again, keeping this report light on text. Important to note about this update! There is a kick ass video! And a poll for Piers!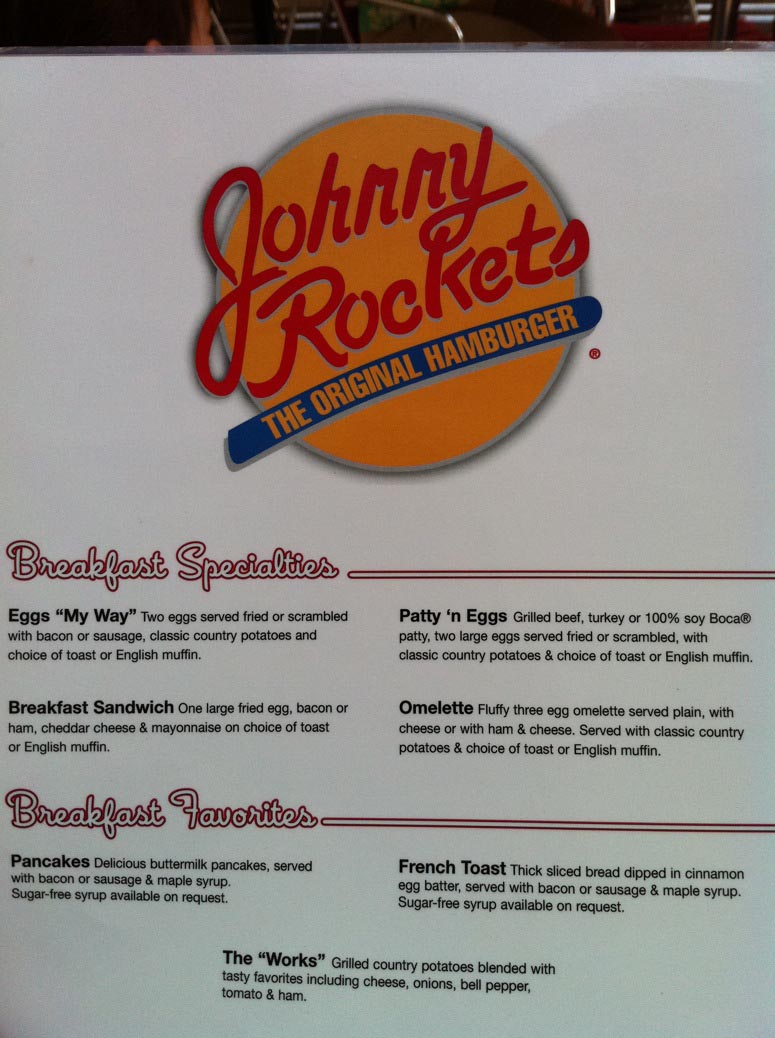 Good morning everyone! Time to wake up to a Johnny Rockets breakfast!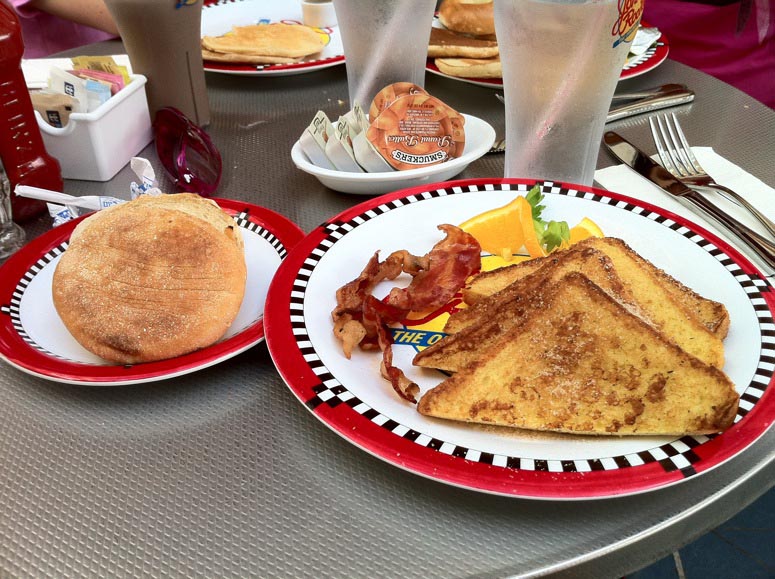 Yum! Breakfast at Johnny Rockets is totally included!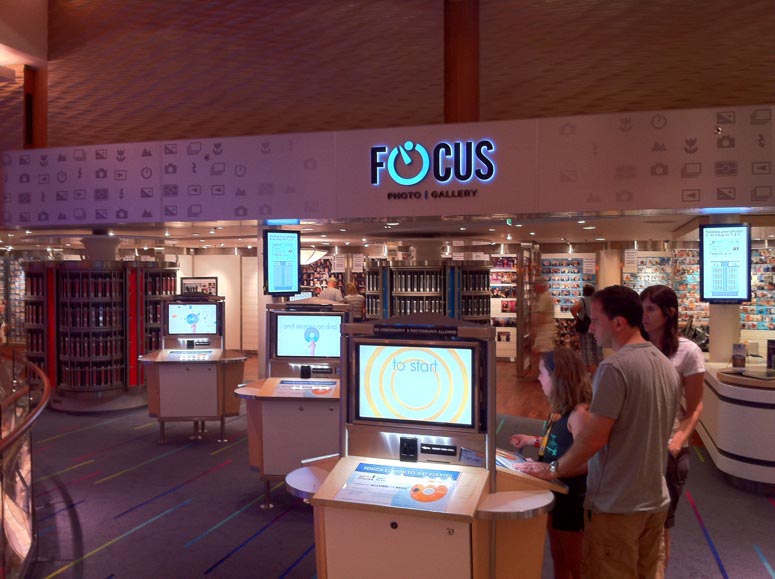 Something else revolutionary on Allure is how you view your cruise photos. In most cruises, you have to go find all your photos on these giant walls. looking through hundreds of photos to find yours. On Allure, the "welcome aboard" photo (or the first photo you take on the cruise) sets up your facial recognition, and all your photos are accessible on these kiosks via your SeaPass card.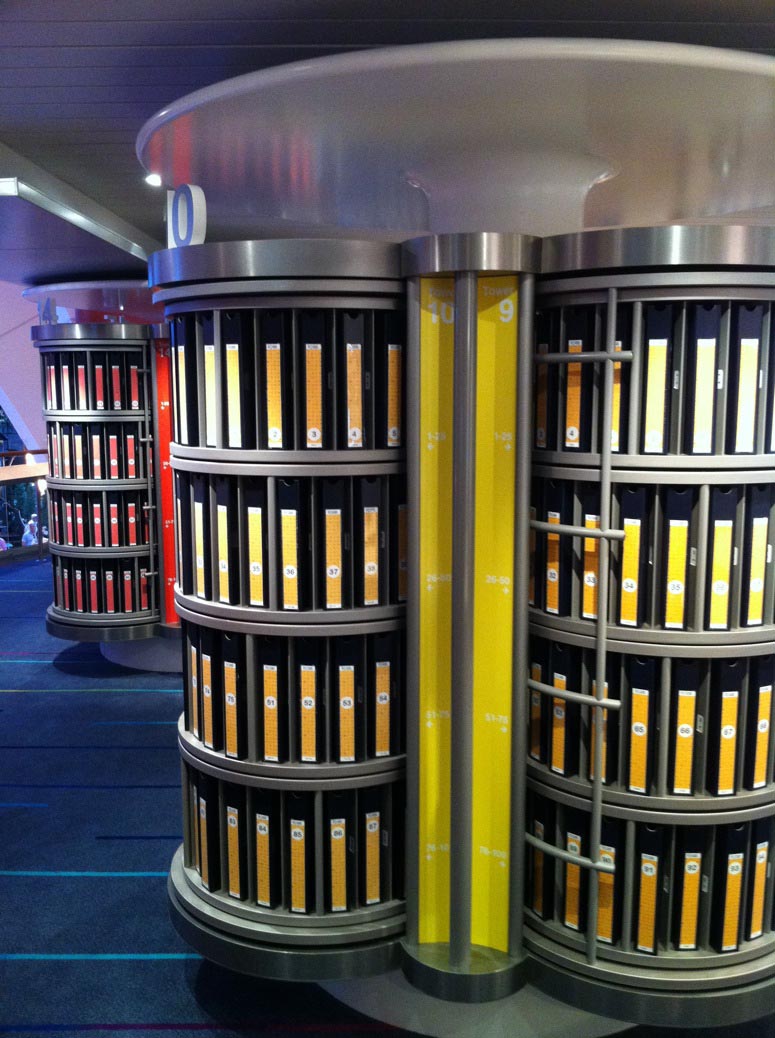 Some of the better photos, they will print for you, and put them in these binders. Each guest is assigned a binder, and that number is located on your SeaPass card. Such a much improved system than the past.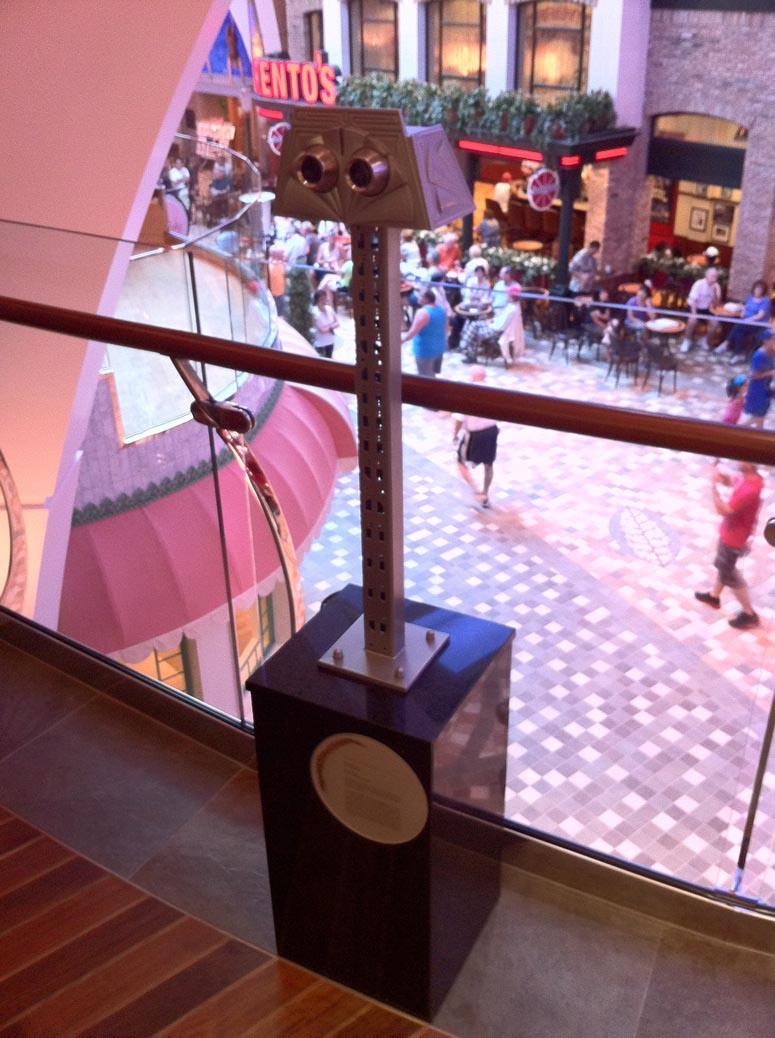 Exploring the ship we find very random things...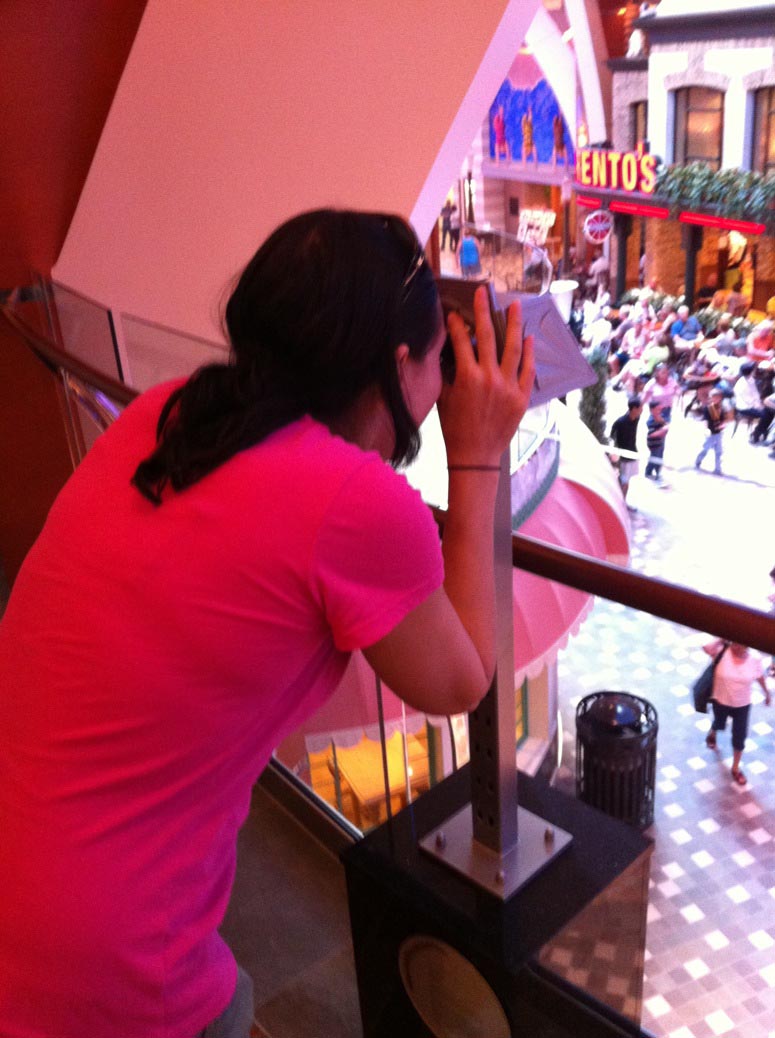 Elissa…go look inside...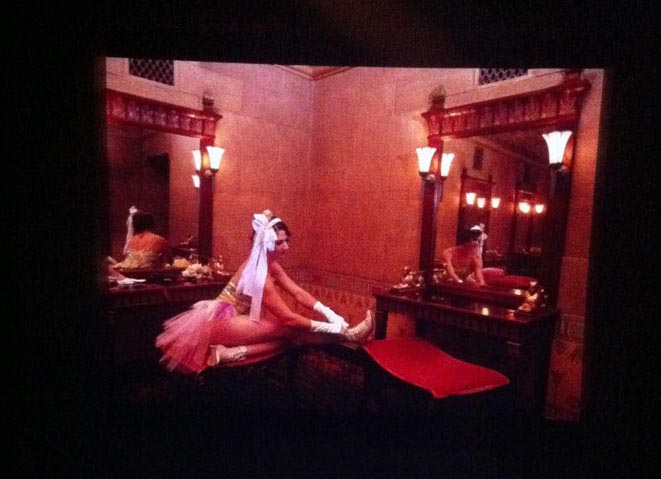 This is what you see inside…yeah, I don't get it either!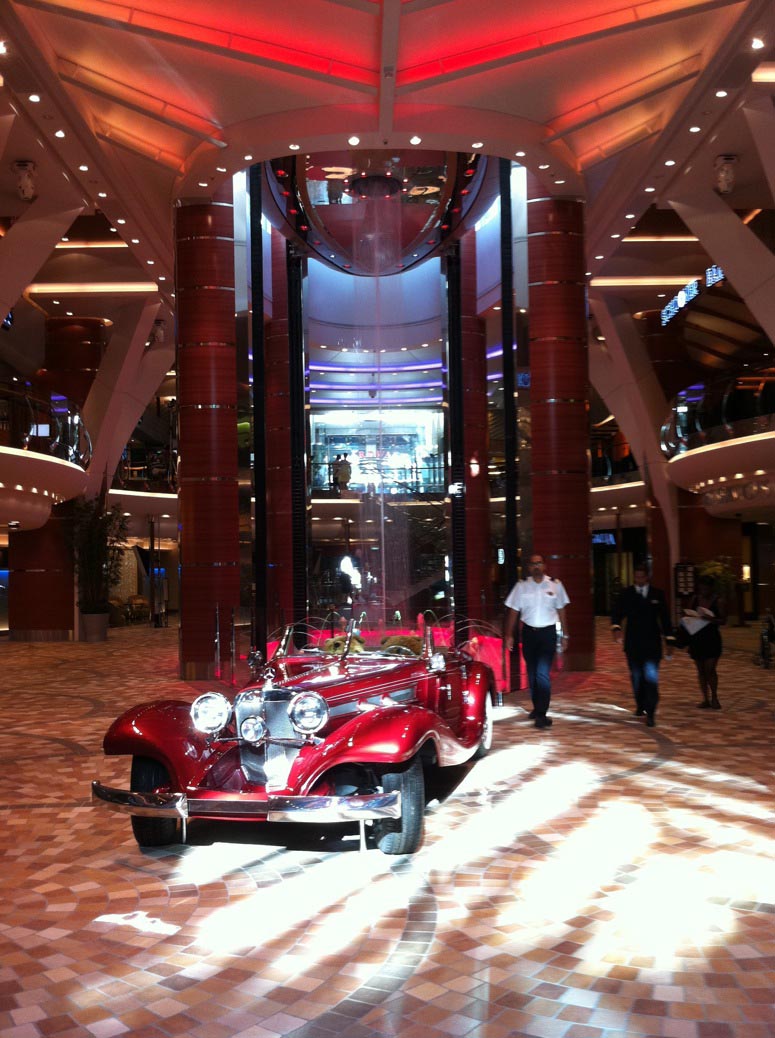 Random Promenade shots...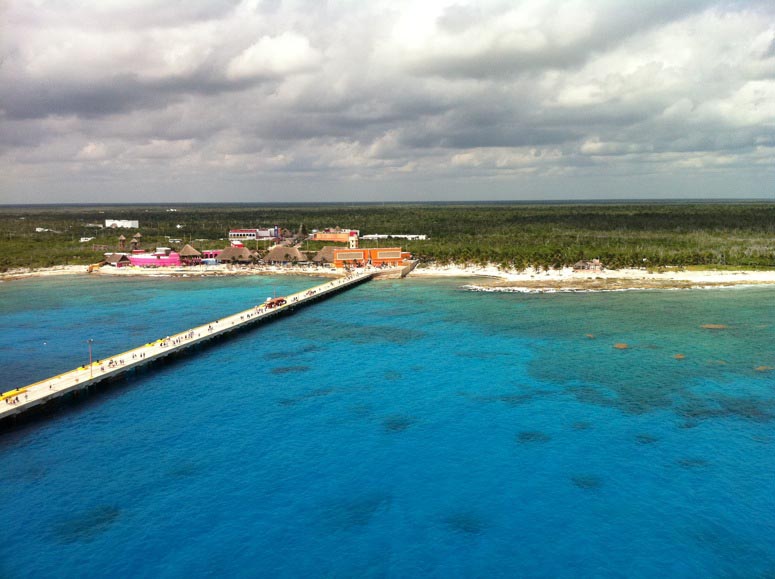 Welcome to Costa Maya!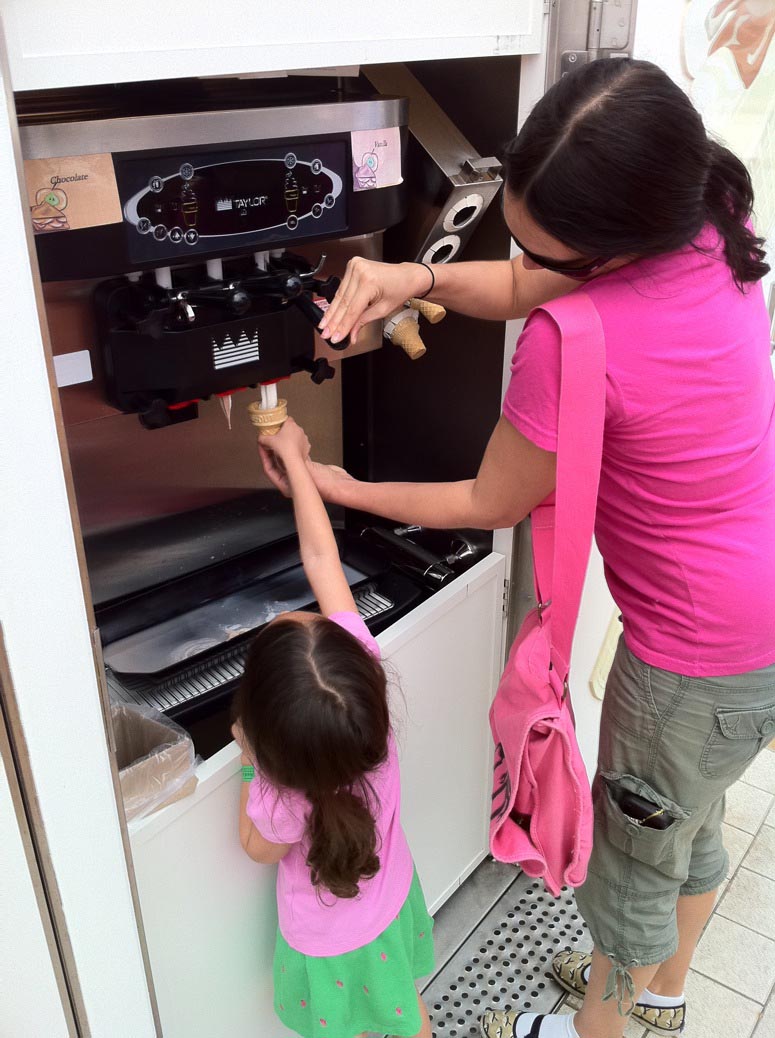 But first…ice cream! (They have these ice cream machines located around the pool deck…totally included…)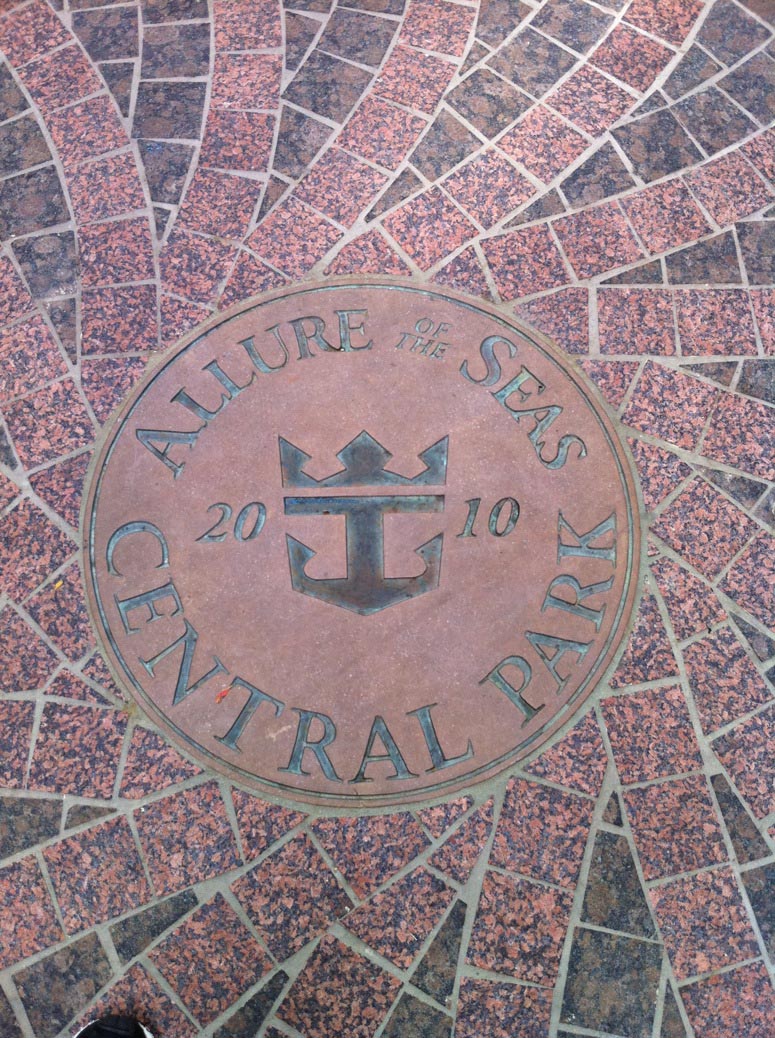 Have I mentioned how much I like the Central Park section of the ship?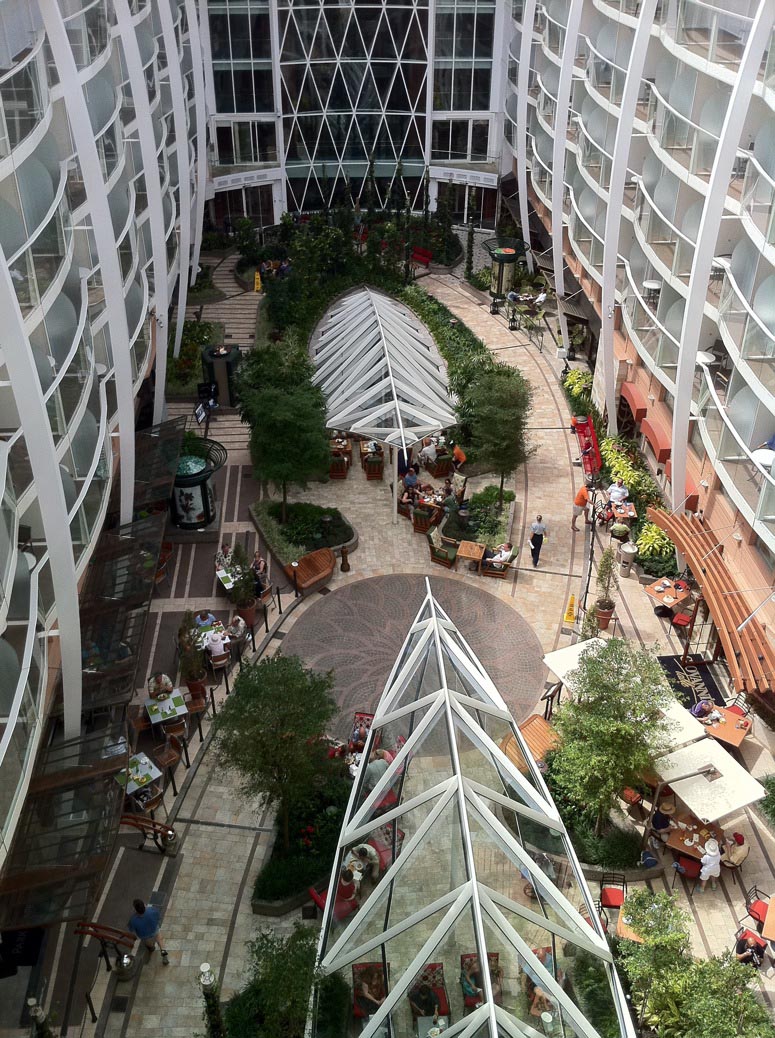 Love it!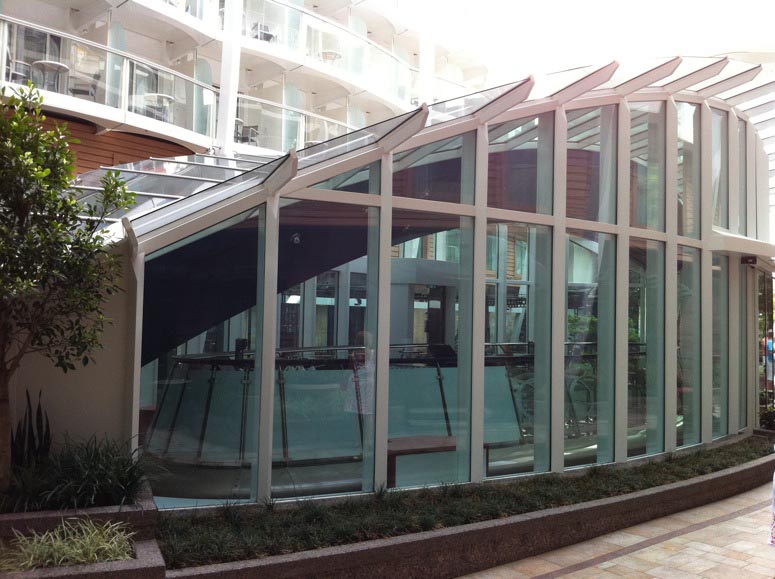 Another look at Rising Tide. Here is what it looks like on the Central Park level when it's fully up. BTW, I'm currently sitting in the Rising Tide having a NewCastle!
EDIT: Better yet...I'm currently E-Stopped on the Rising Tide!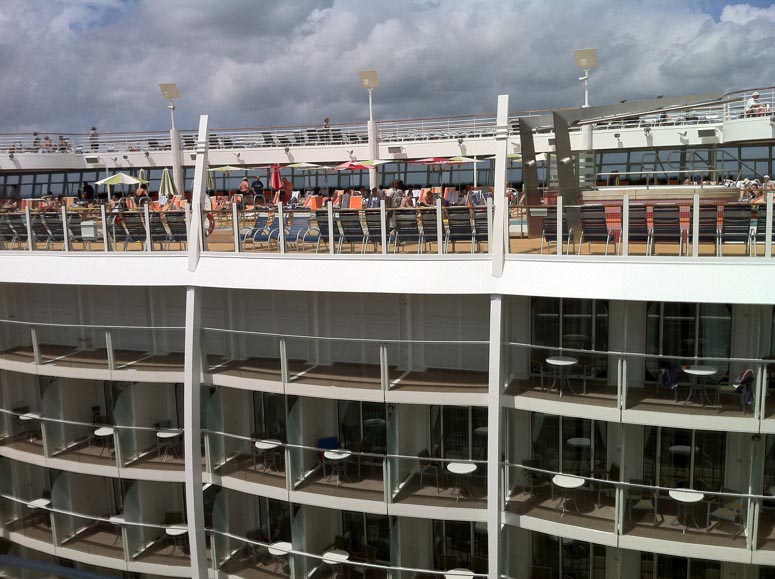 Does anyone know why some of those rooms don't have balcony doors? Bonus points if you do!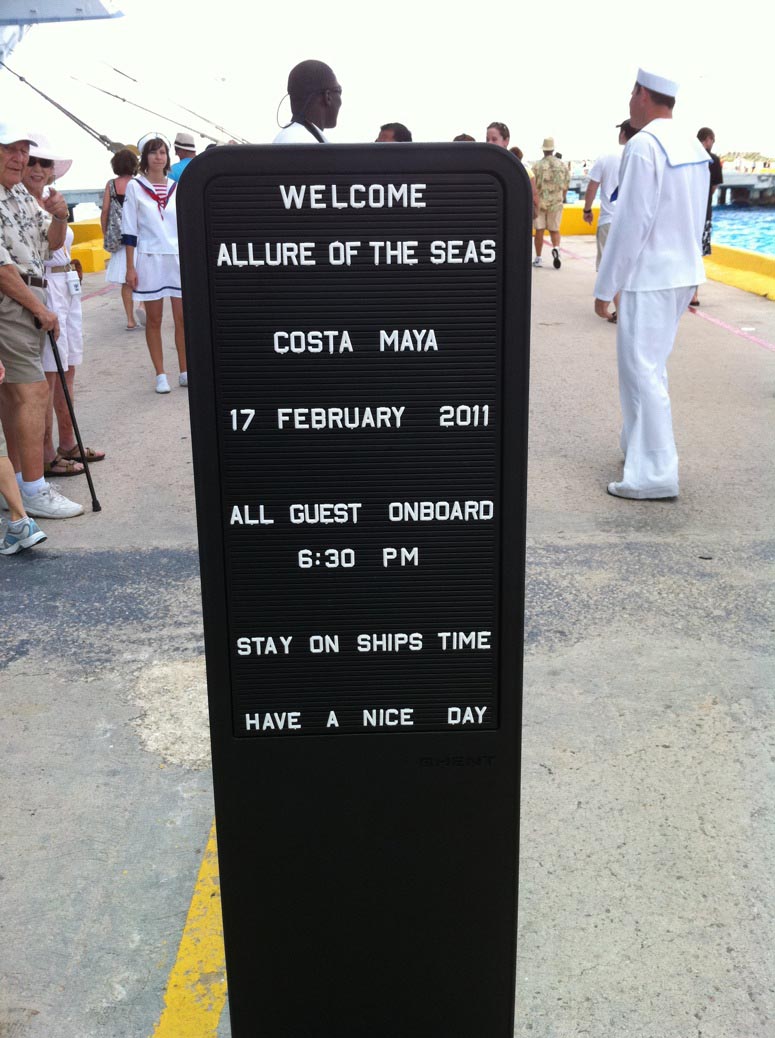 Hooray! We have docked at Costa Maya!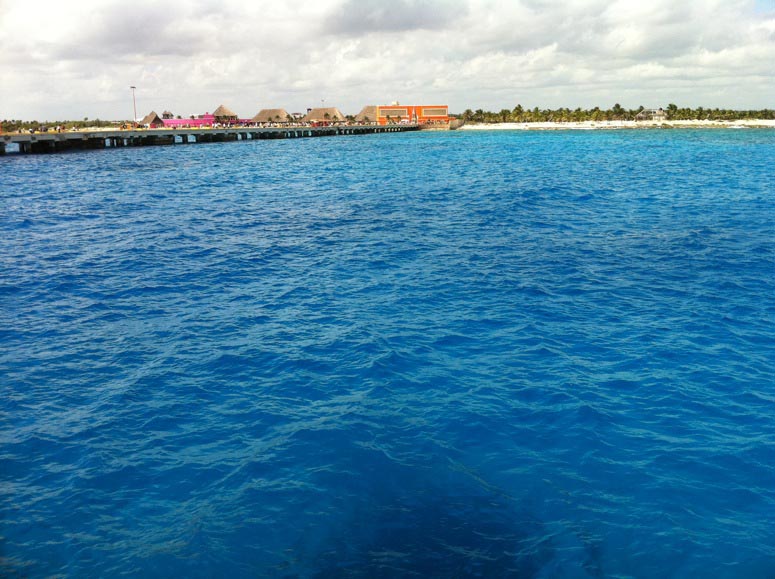 The water sure is BLUE!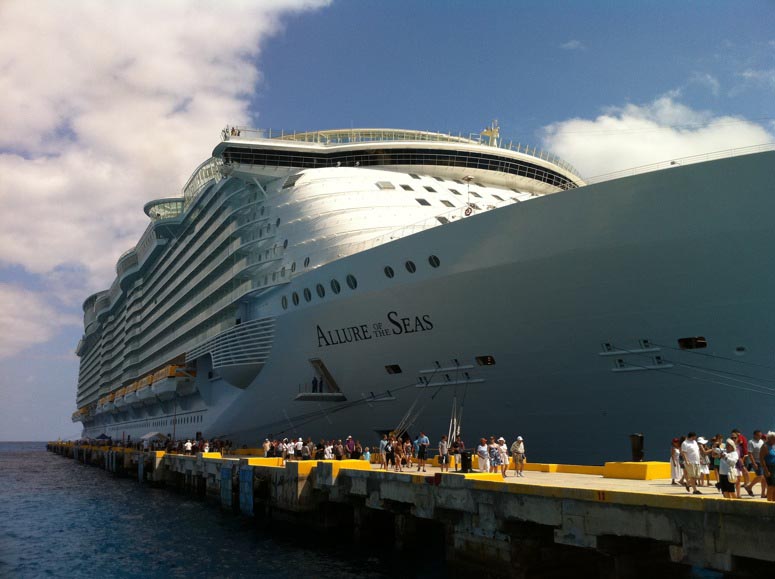 Is the ship blue…or is it just reflecting off the water? Elissa's mom thinks they re-pained the ship blue overnight!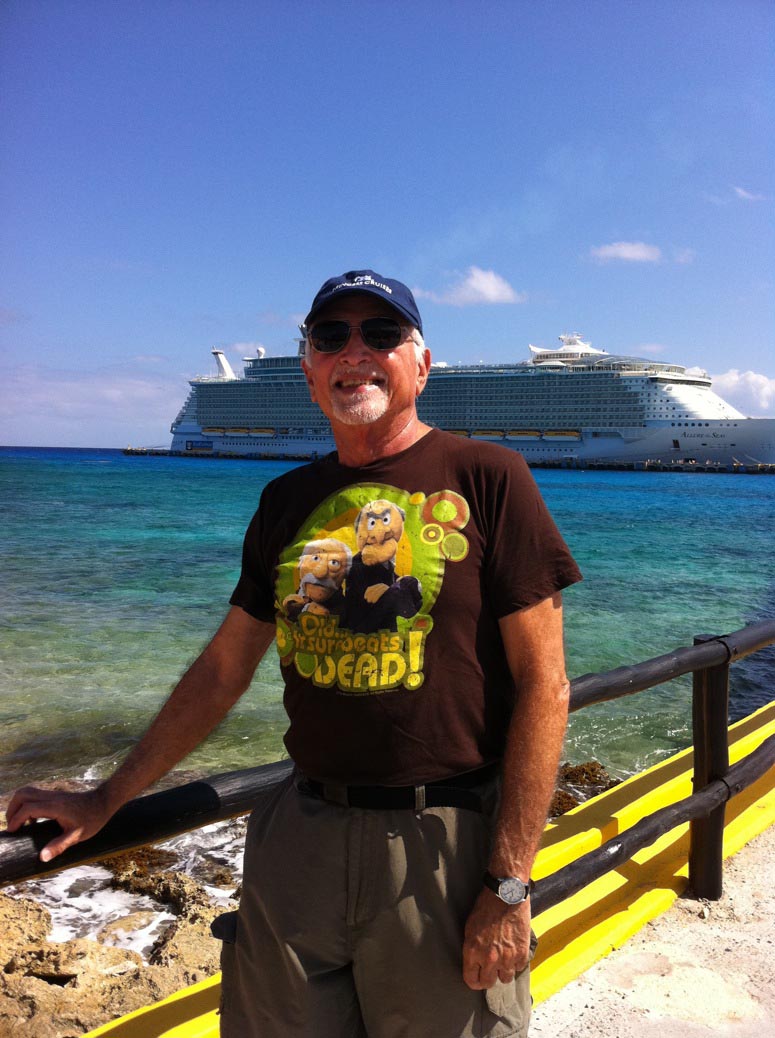 Russell! Love the shirt!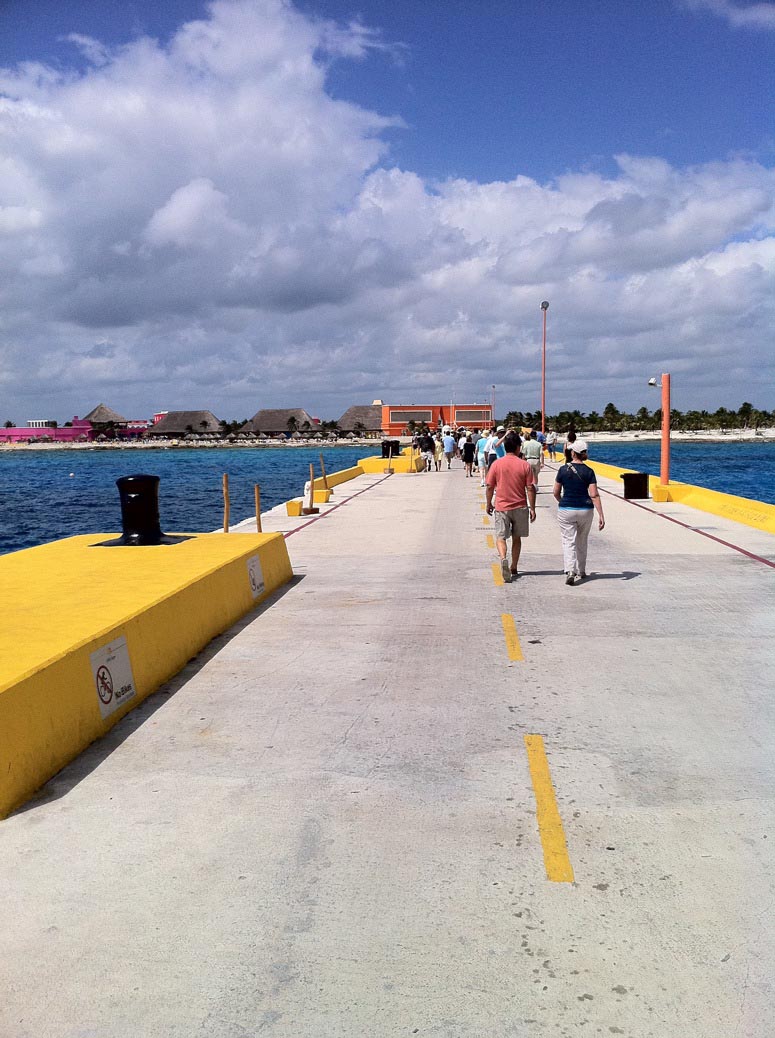 Last time I was here I saw someone vomit strawberry Margarita all over the dock! Ahh, the memories!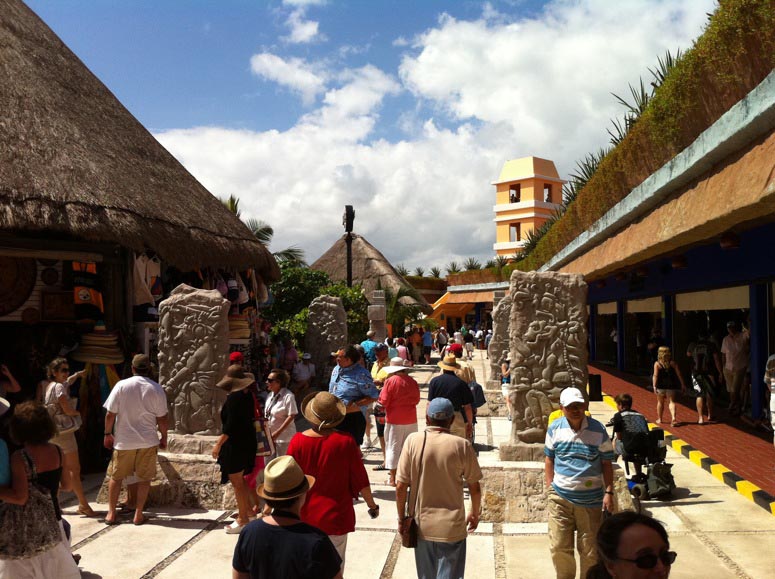 Costa Maya….it's a very typical Mexican port town...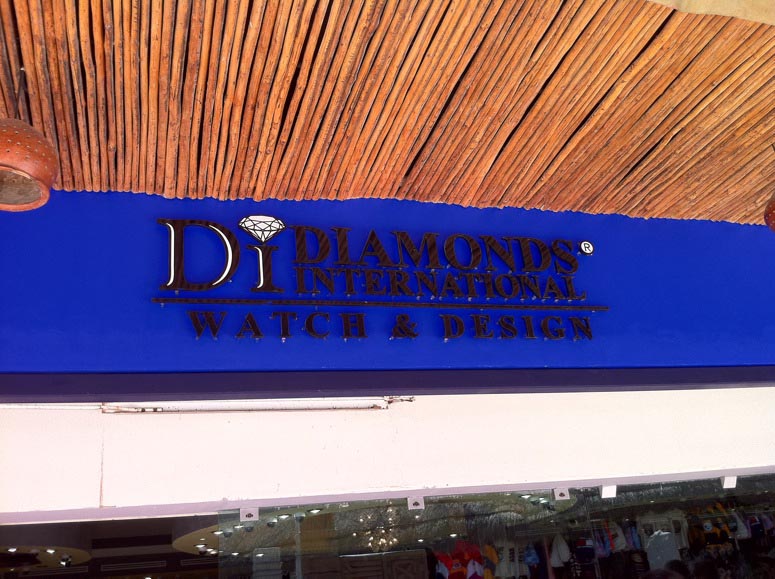 And it has one of these! Should I buy something here?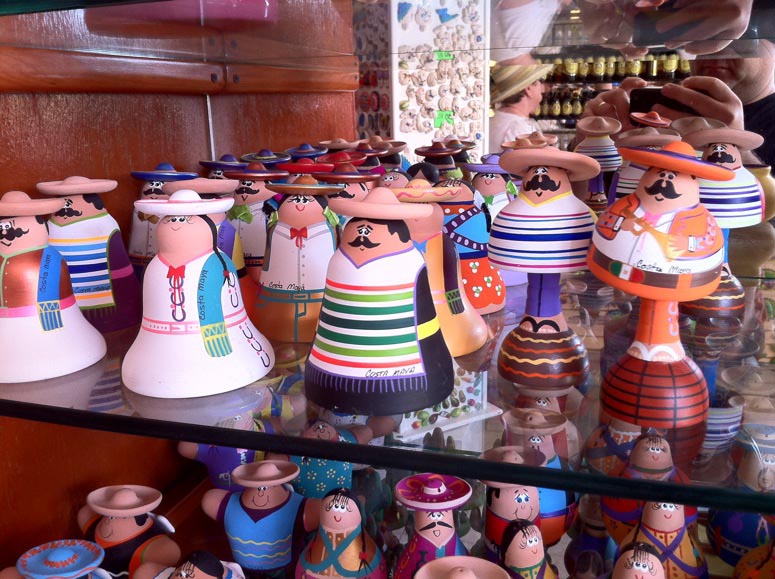 You can get all the typical little Mexican trinkets...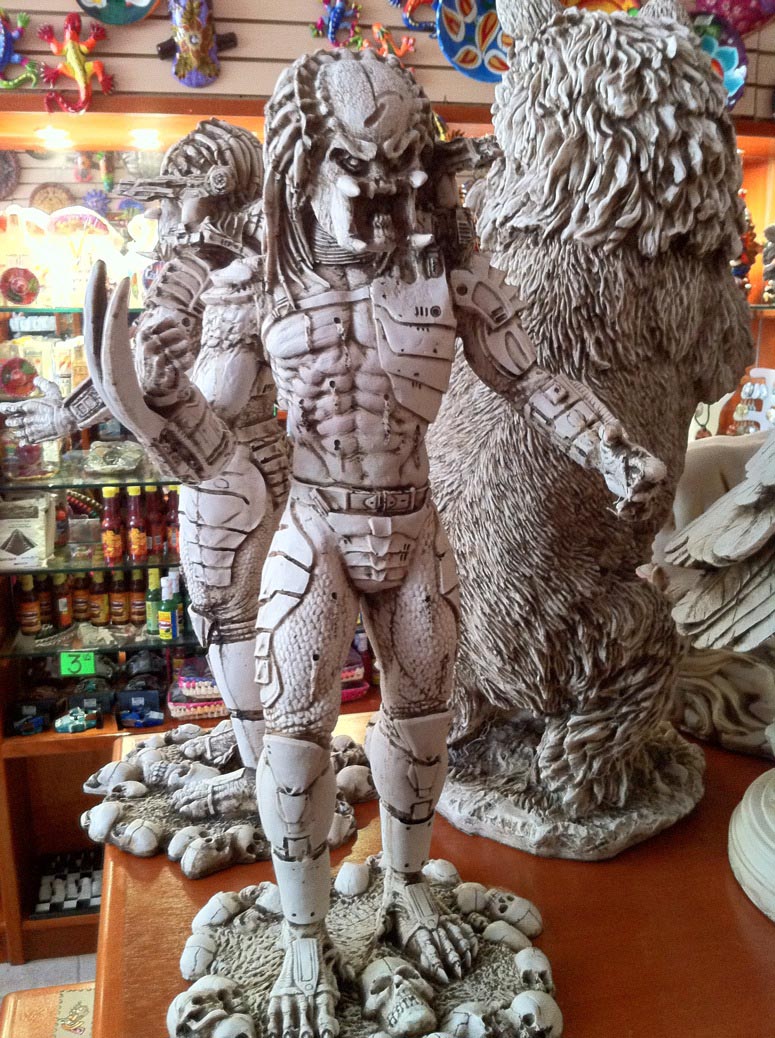 Along with Predator!!!!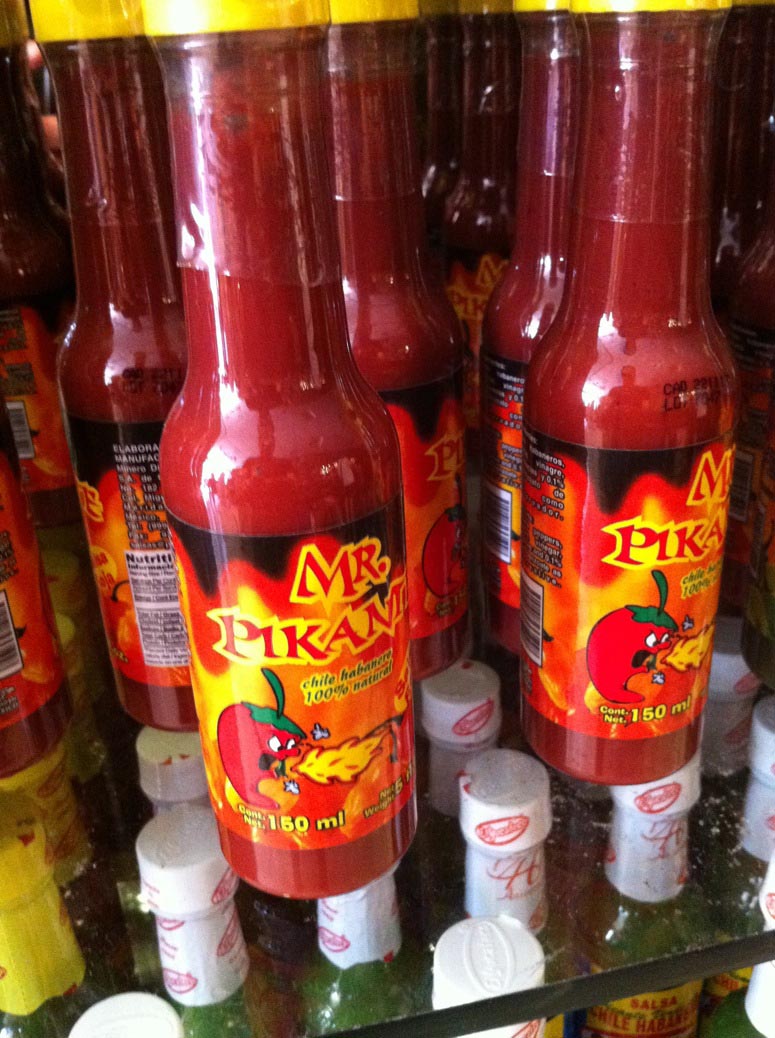 WANT!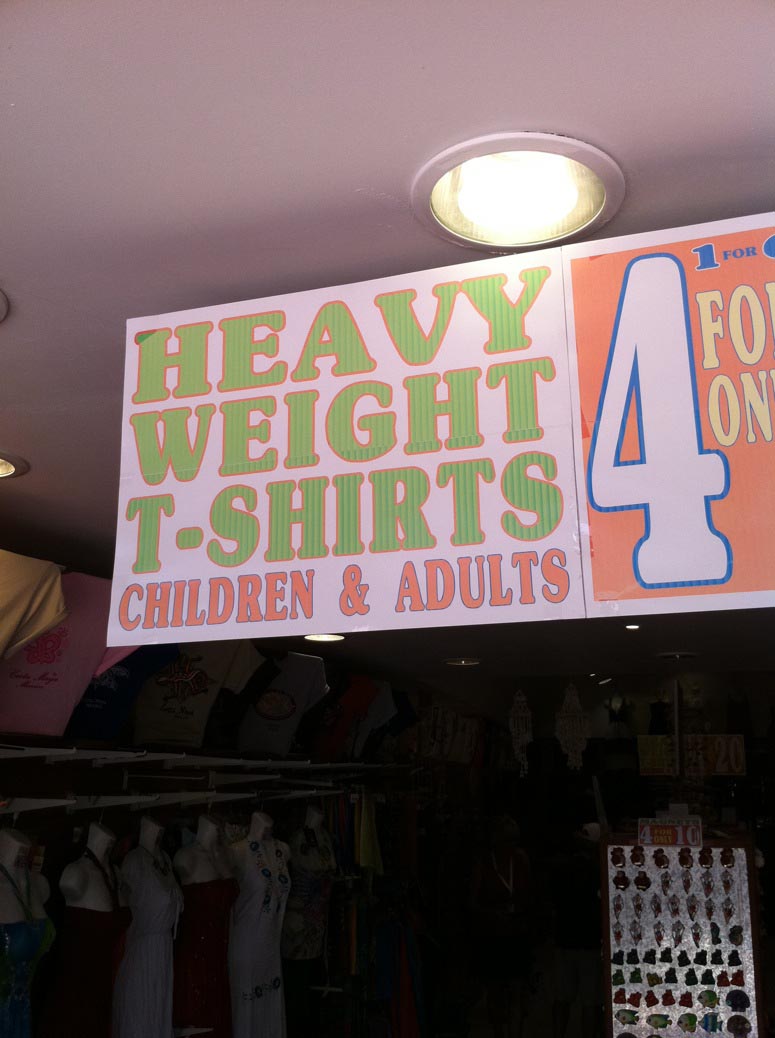 …and ACErs!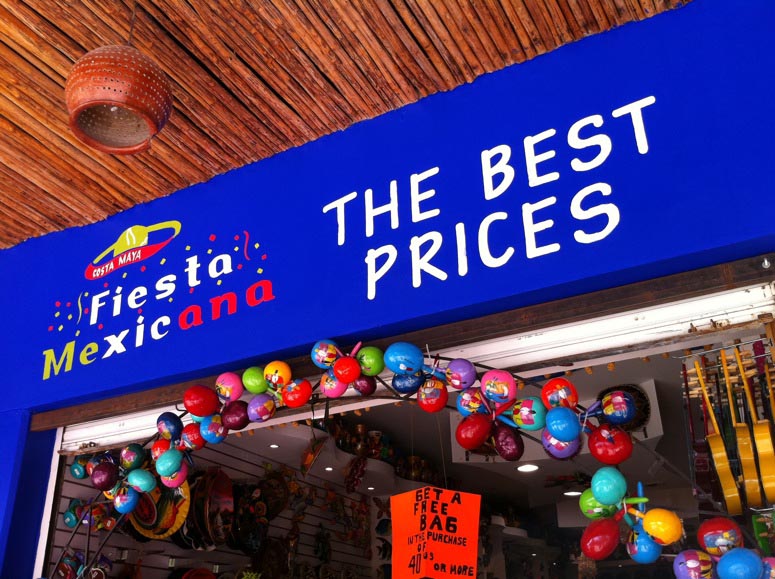 Oooh! It's like the Mexican Dollar store!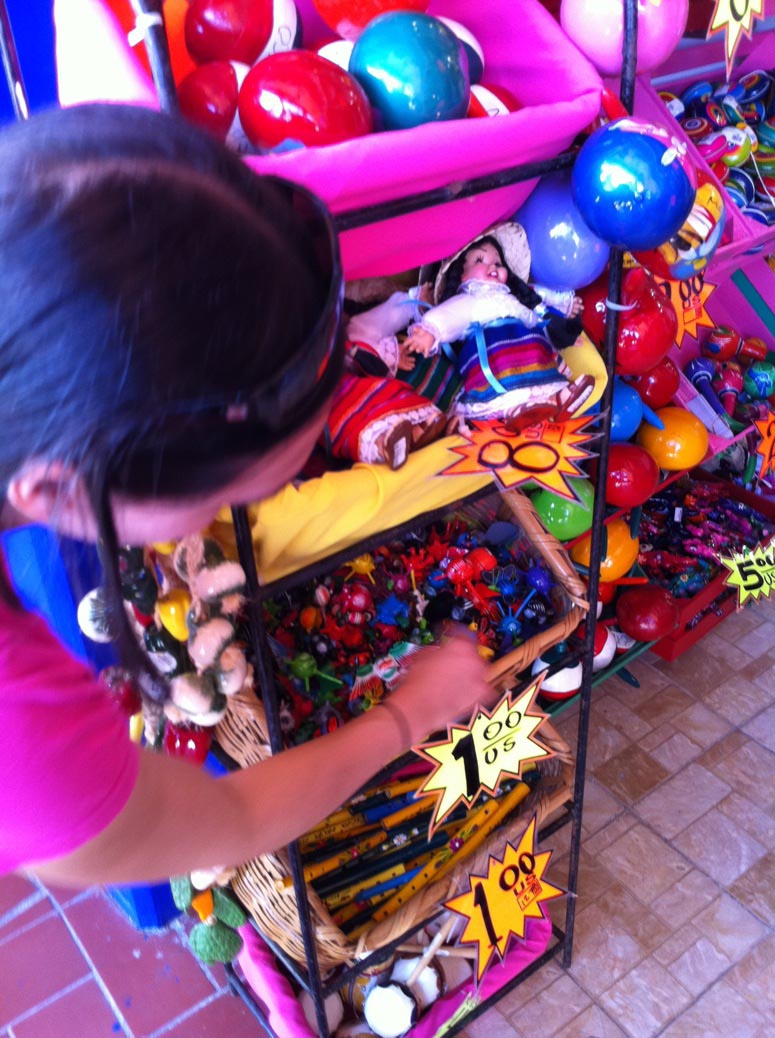 Elissa goes looking for the hot bargains!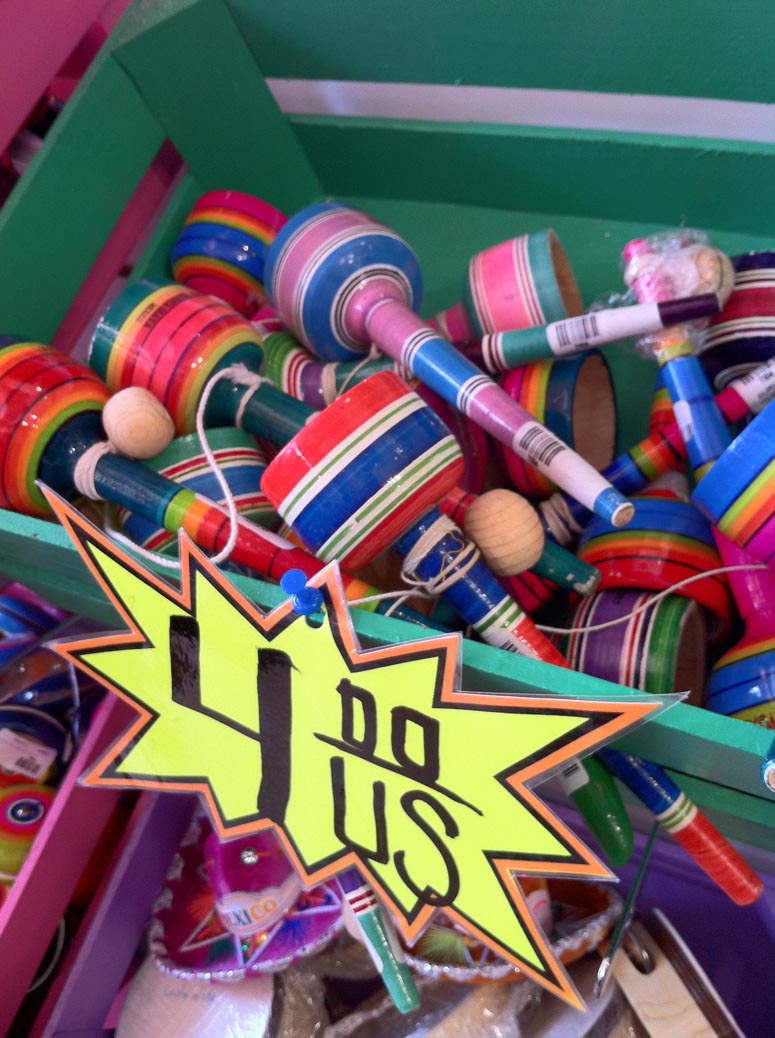 "It's the hit new sensation from Mexico! Ball in a Cup! Why are you not playing Ball in a Cup when you could be playing Ball in a Cup?"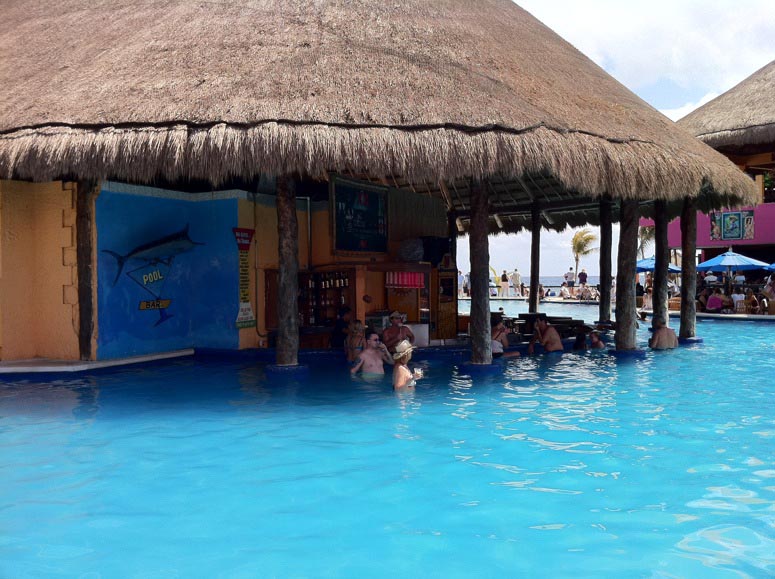 Swim up bar. Awesome!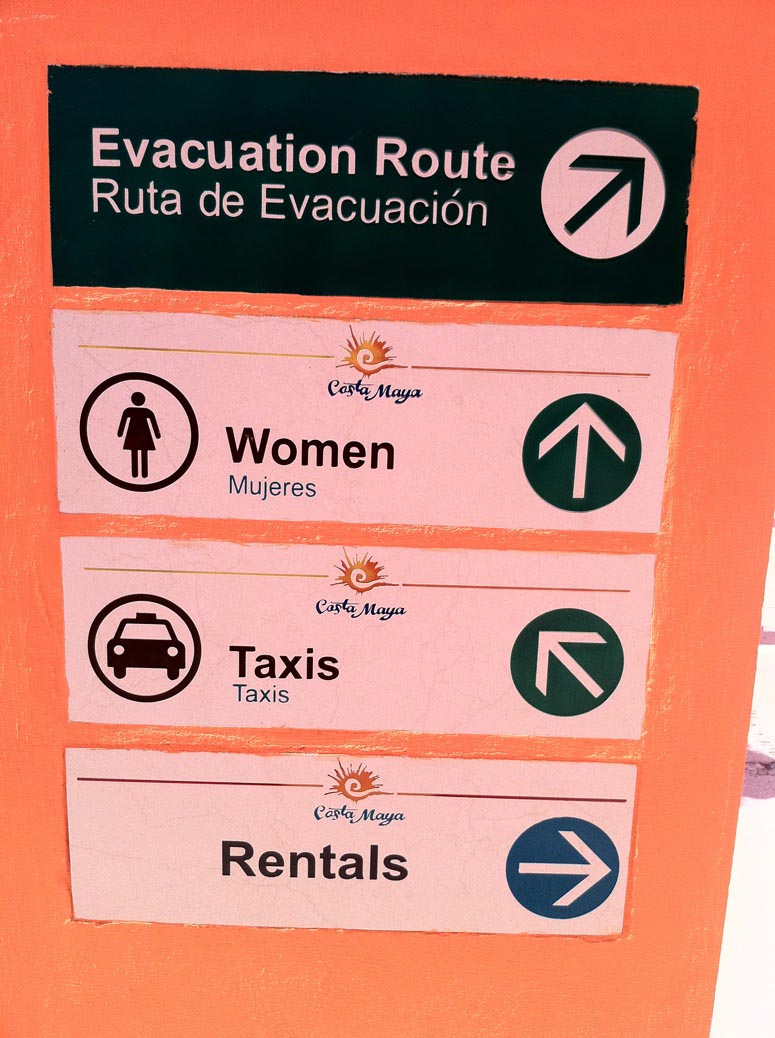 No, this sign is not telling you where the bathroom is…it's telling you where you can rent a taxi…and a WOMAN!!!!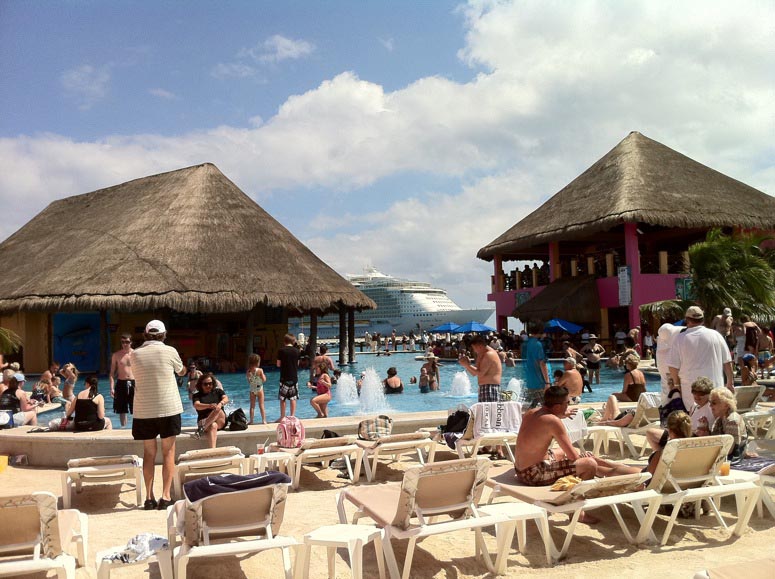 Holy crap that ship is huge!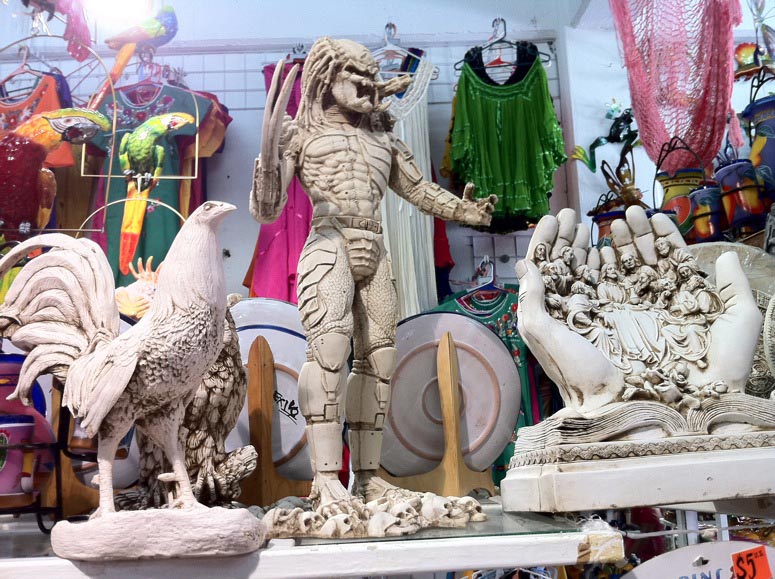 Here we see the Predator again…in between a cock…and Jesus. I love Mexico!!!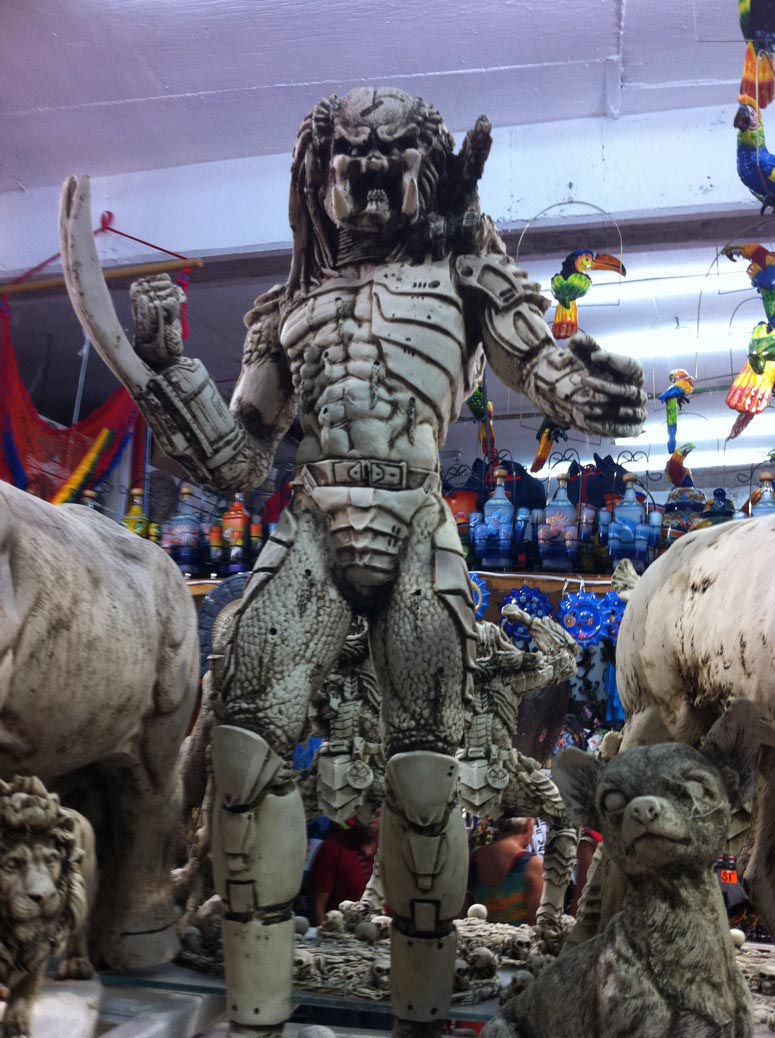 WTF! The Predator was everywhere! This is my new favorite random Mexican statue!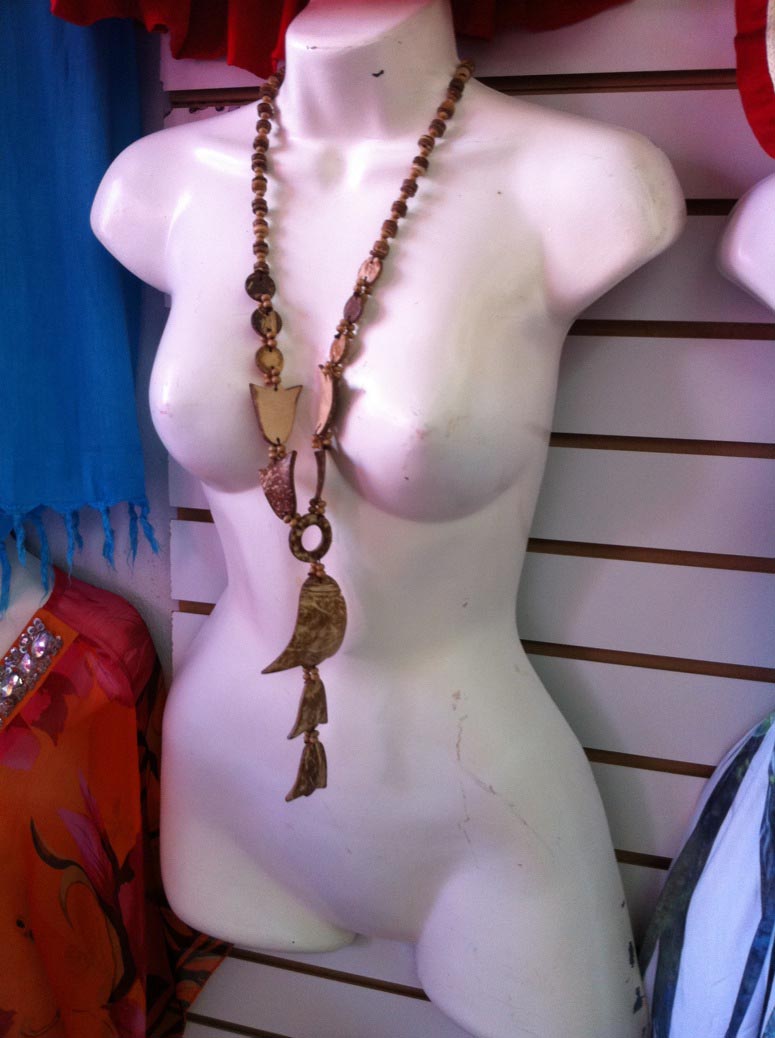 I tried to get Elissa to buy this outfit…she said "no."
The following are the choices for the poll at the top of this thread. Which of the following two beer cozies fit Piers best?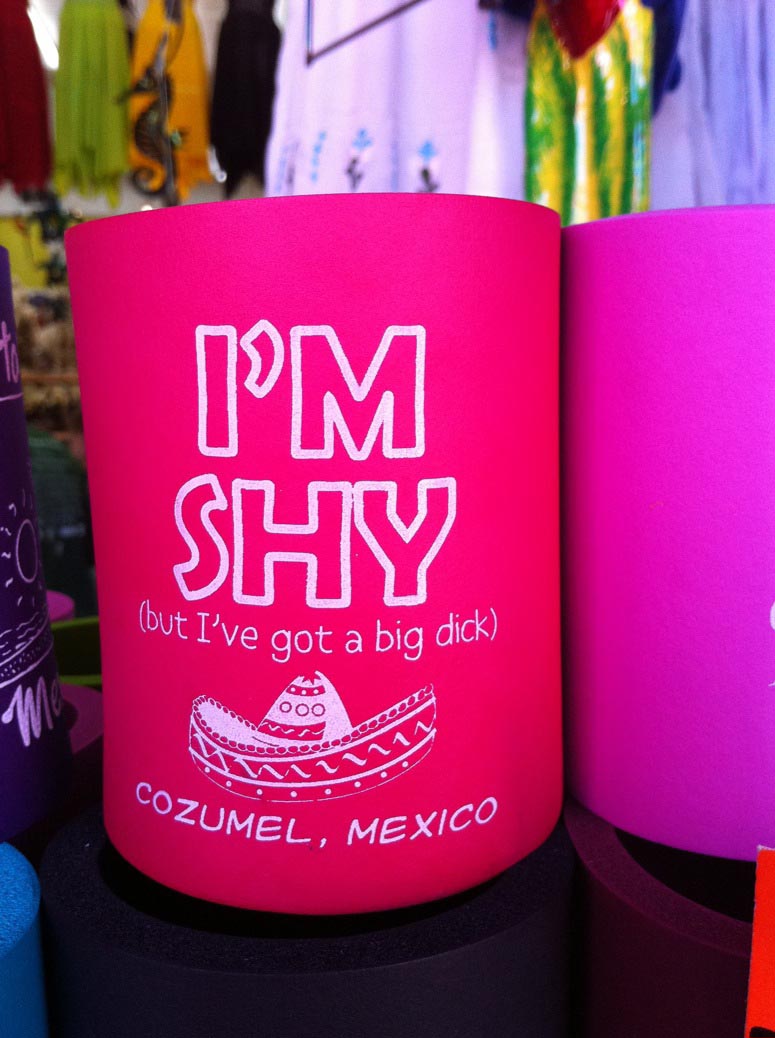 Option #1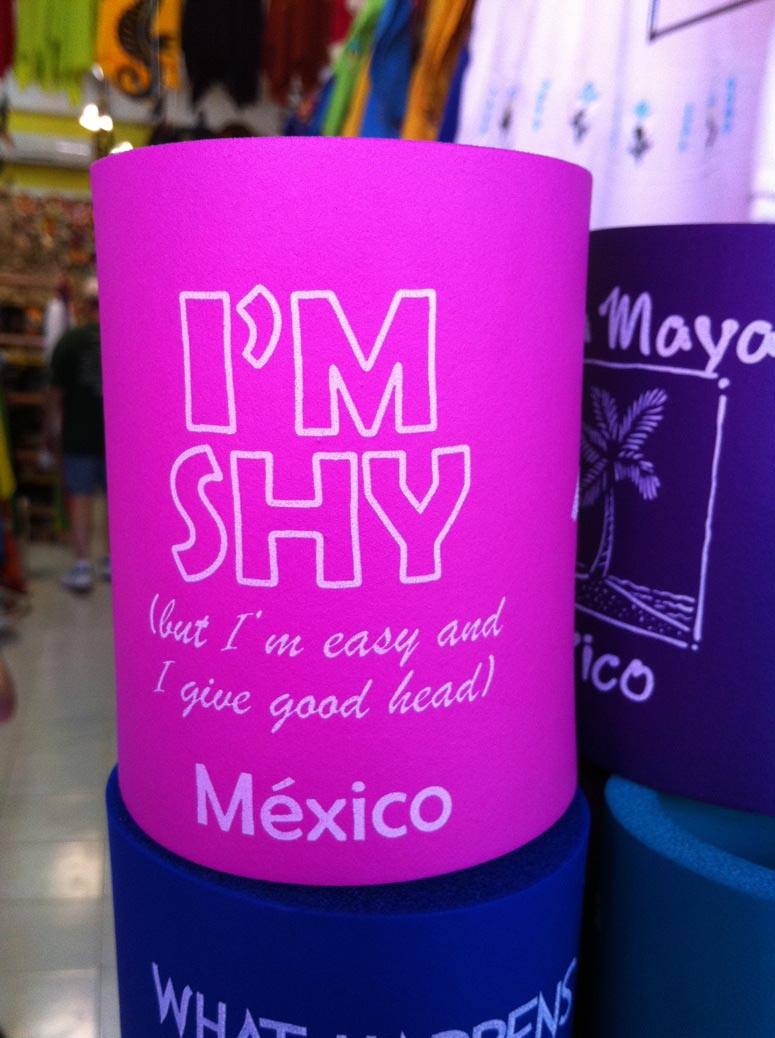 Option #2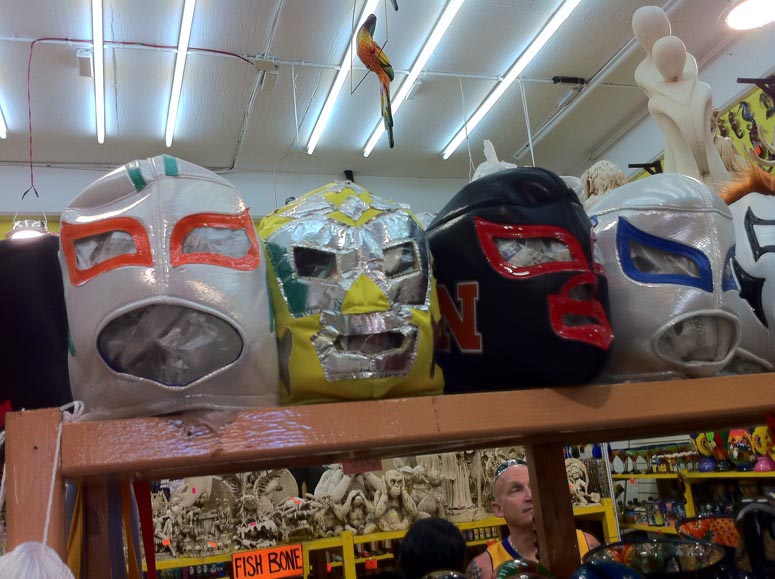 Gimp masks.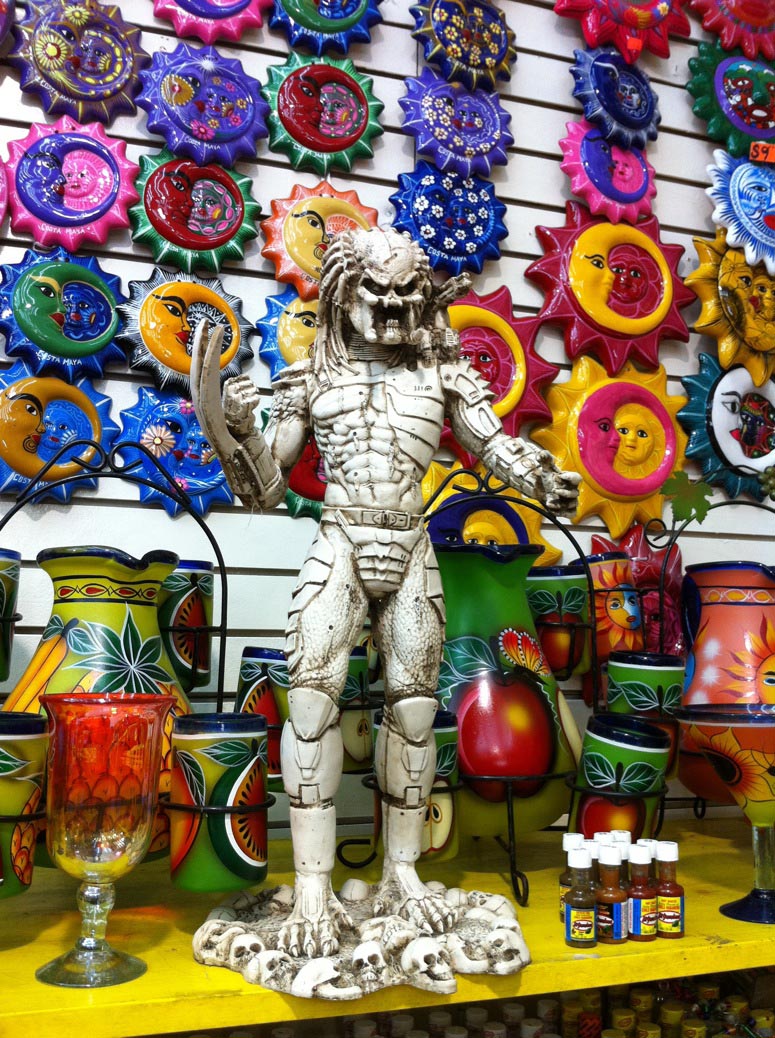 LOL! The Predator! AGAIN!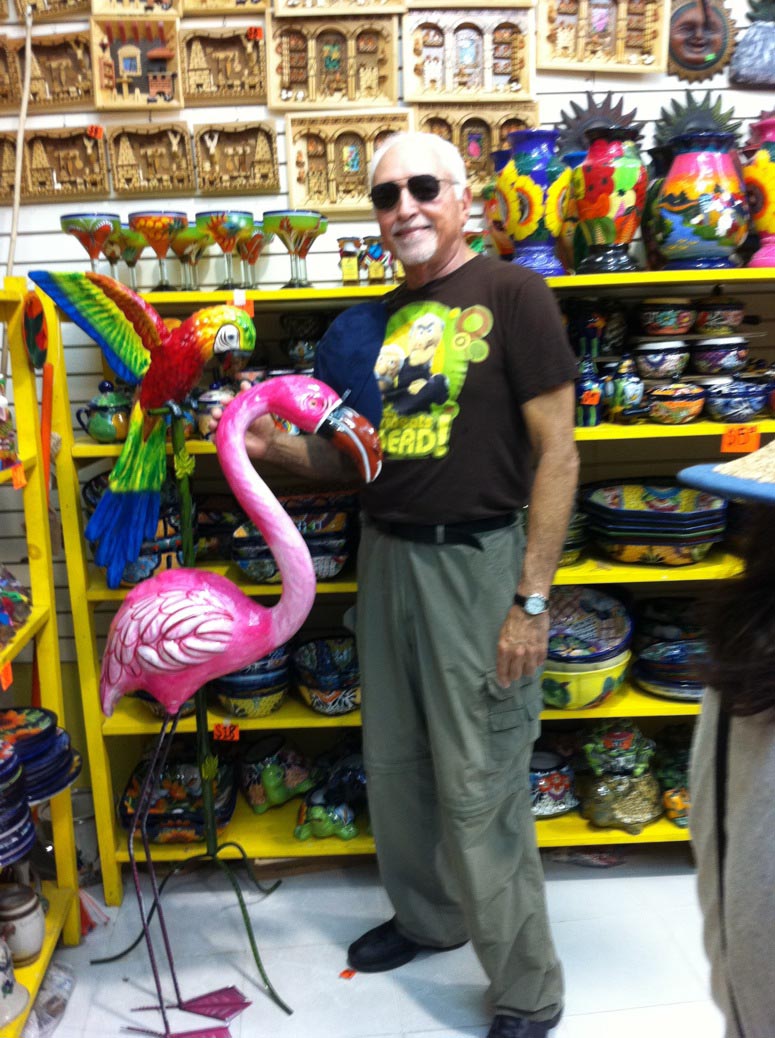 "Do you think this Flamingo looks good on me?"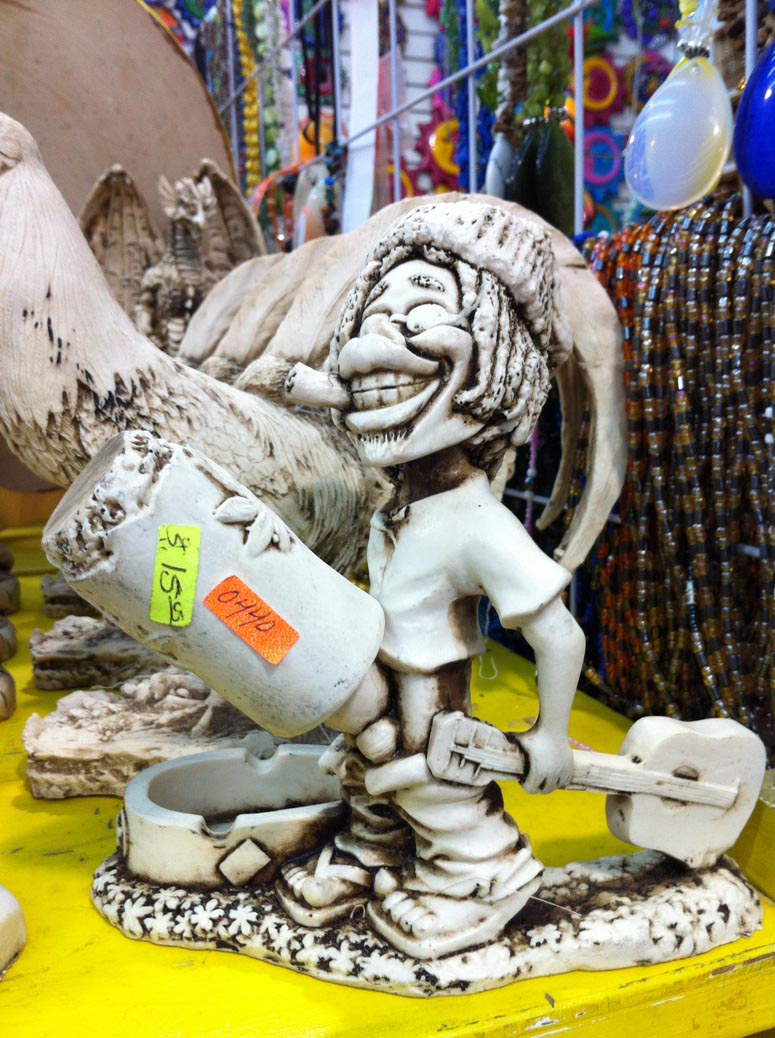 I'm not exactly sure what this is, but I think it's implying that the large joint is his penis.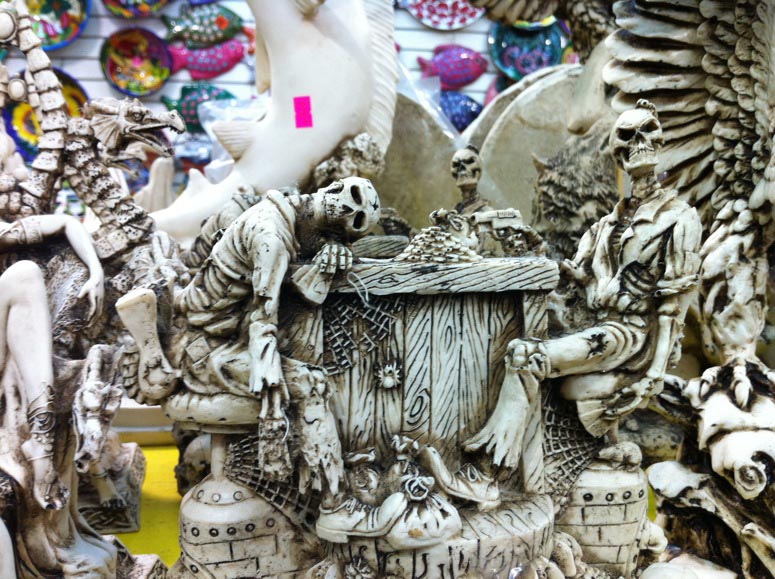 Greedo shot first.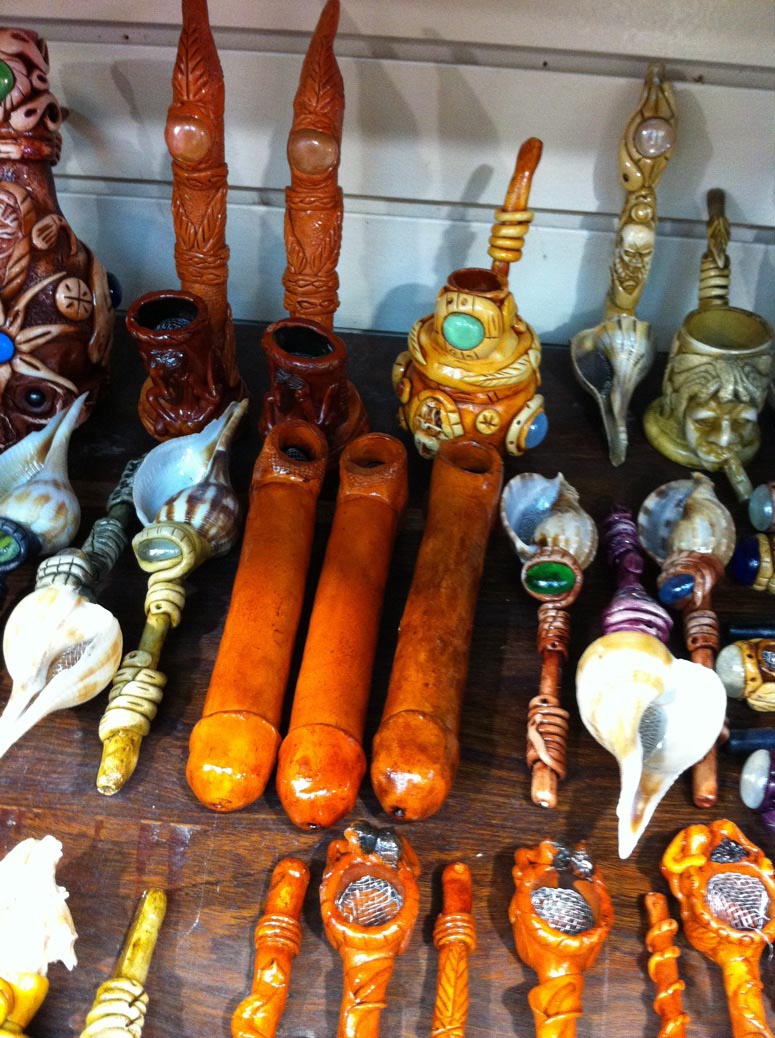 Yeah, yeah, yeah…typical penis pipes…nothing out of the ordinary.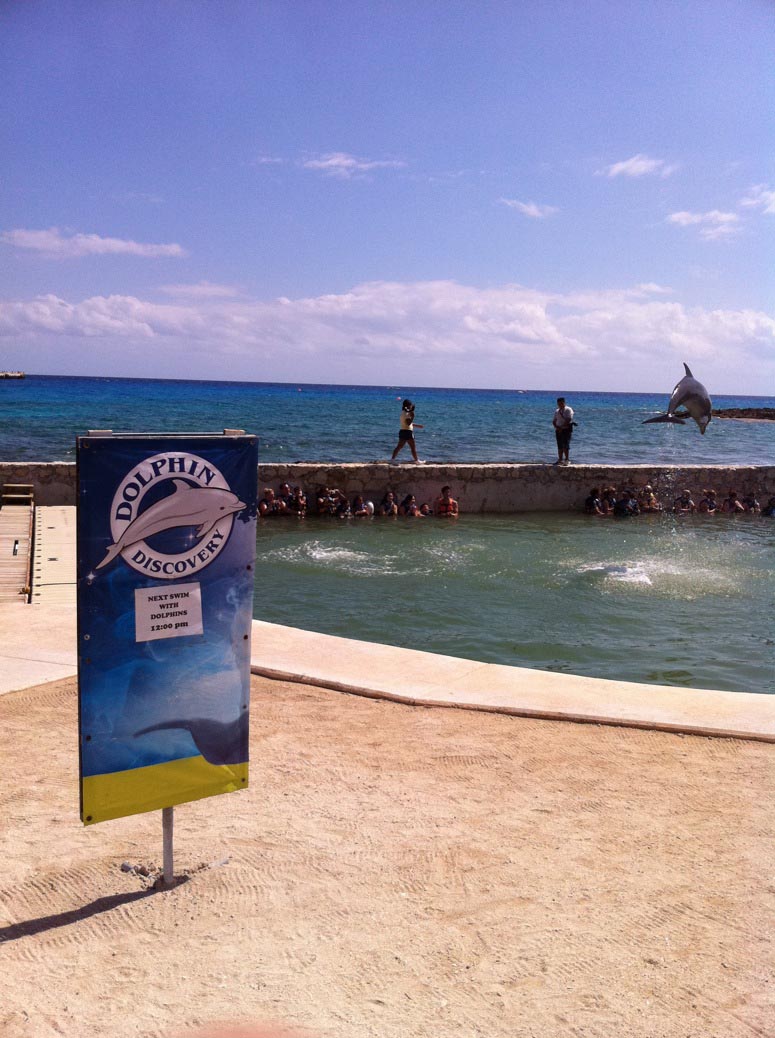 Dolphin encounter! Yup...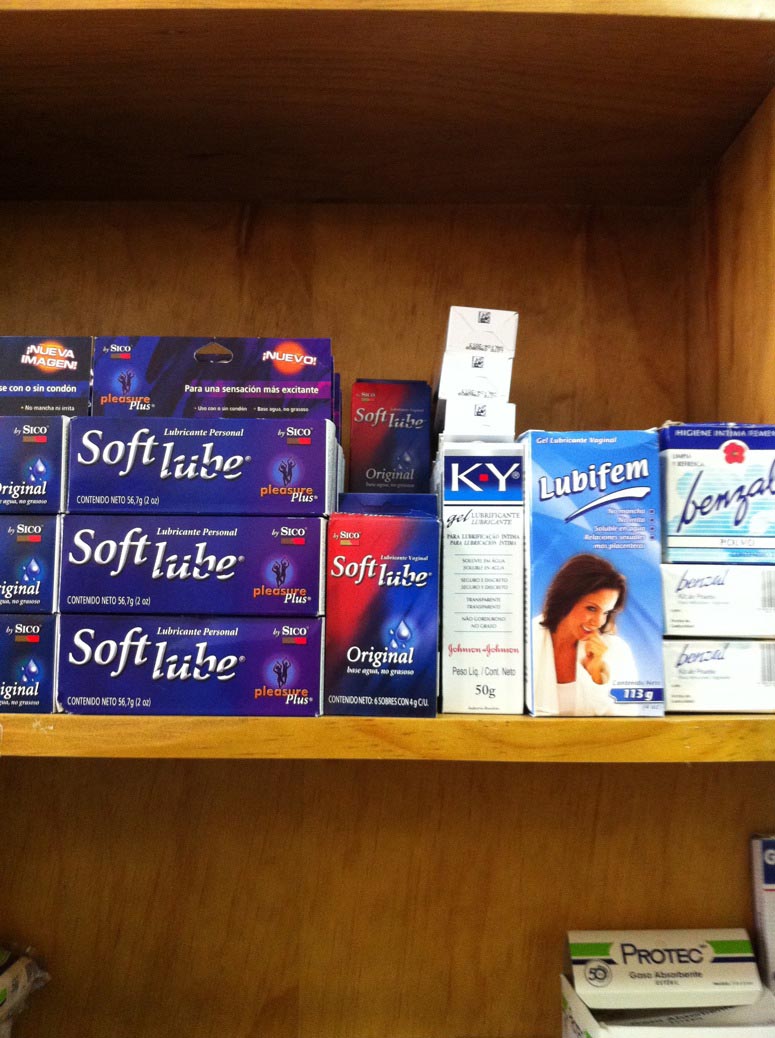 You know what's worse than Mexican lube?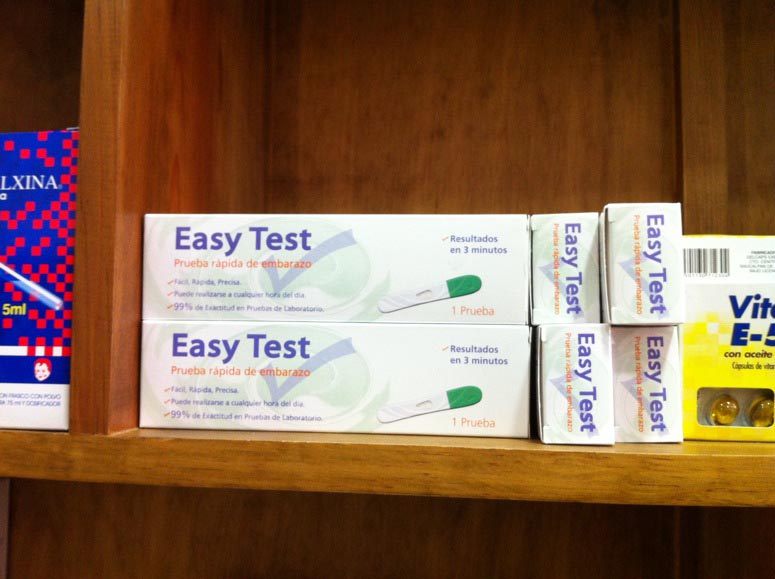 Mexican pregnancy test!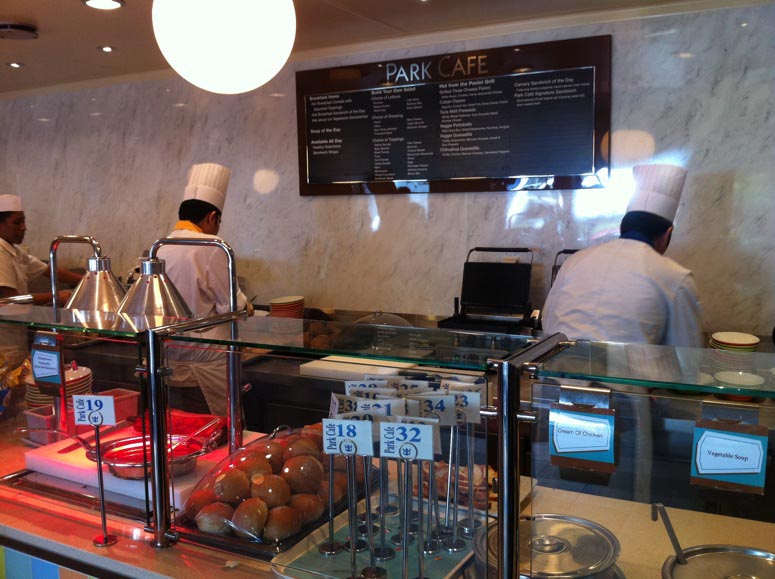 Park Cafe has a "make your own Panini bar"…totally included!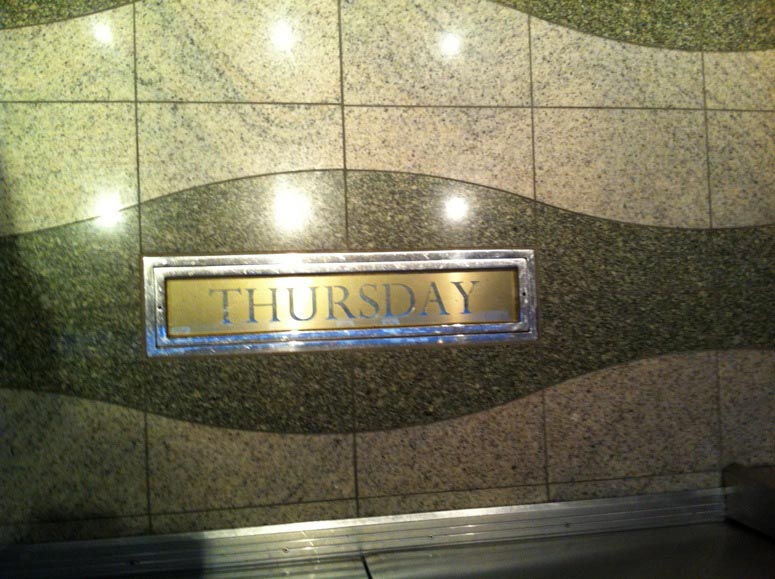 OMG! Is that what day it is???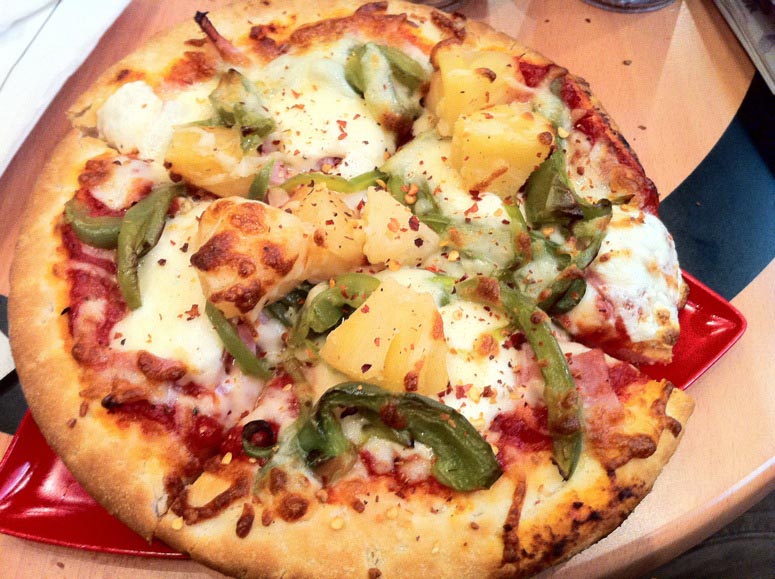 I'm beginning to think this might now be the "pizza that is better than the missionary position."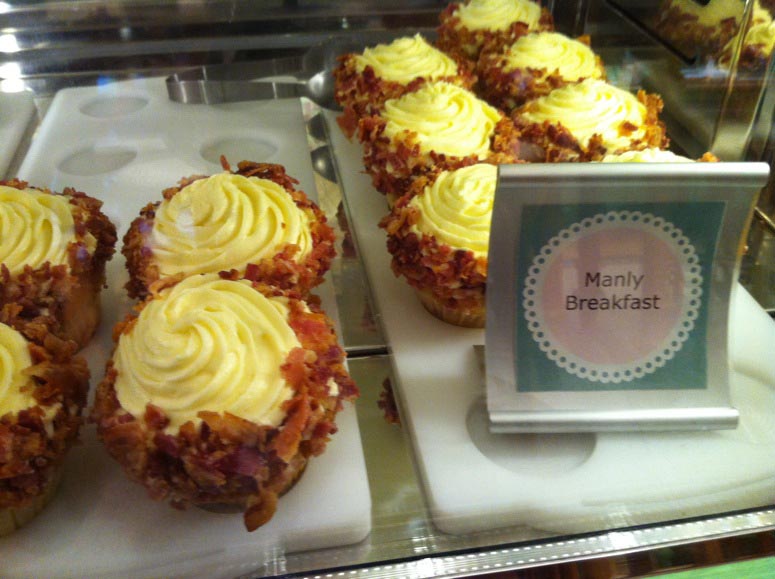 Yes, that is bacon…BACON on those cupcakes!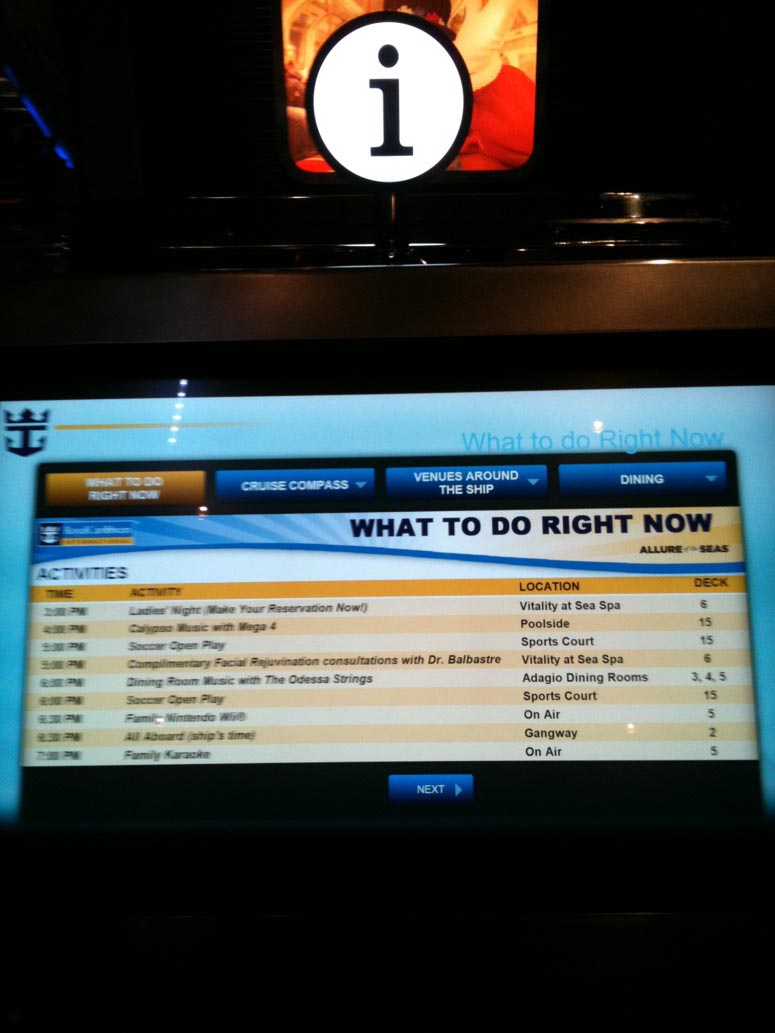 What is there to do right now???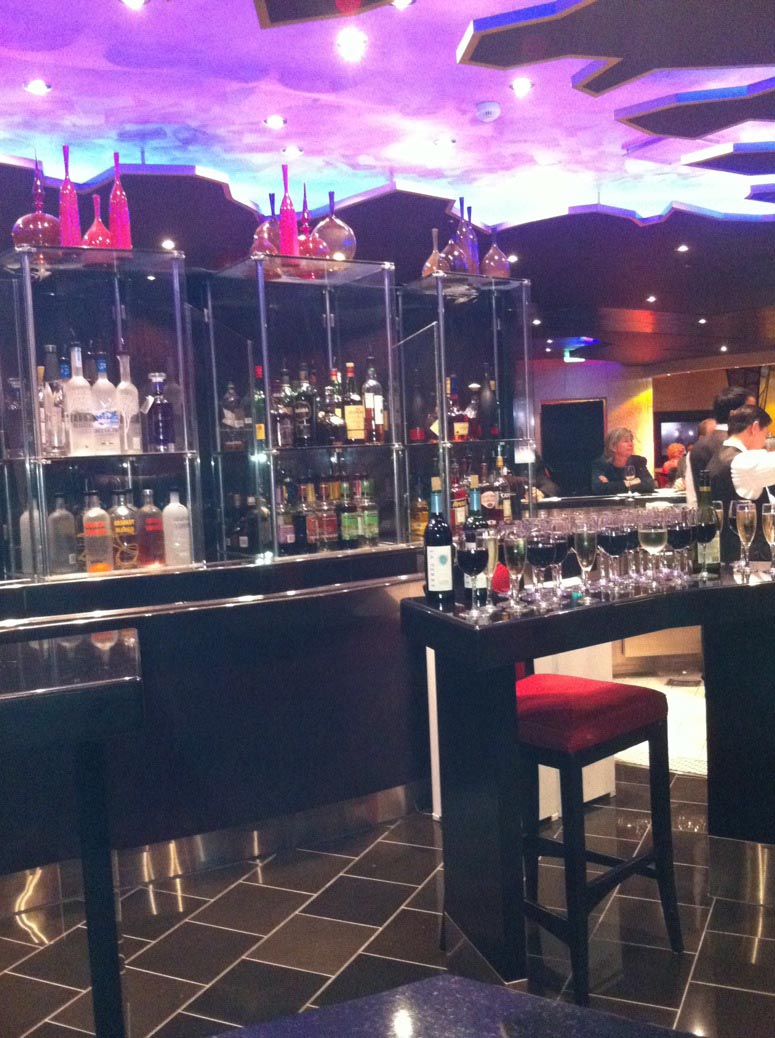 DRINK!!!!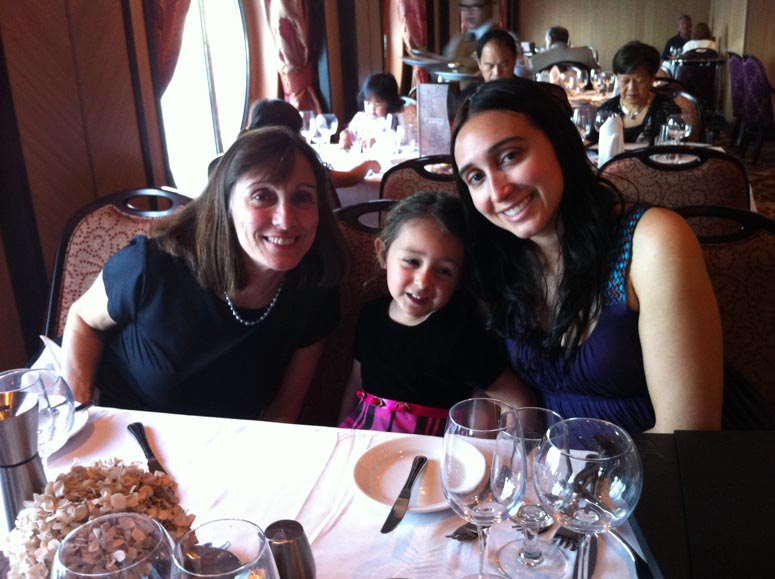 It's formal night….the women look sexy….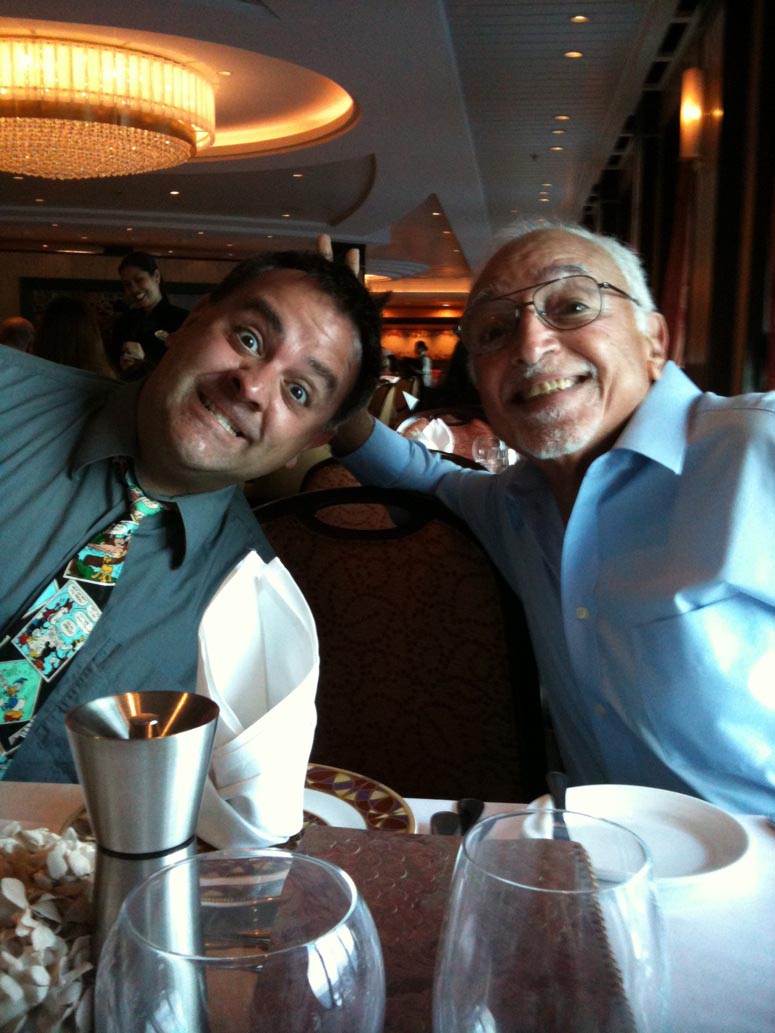 The boys look silly!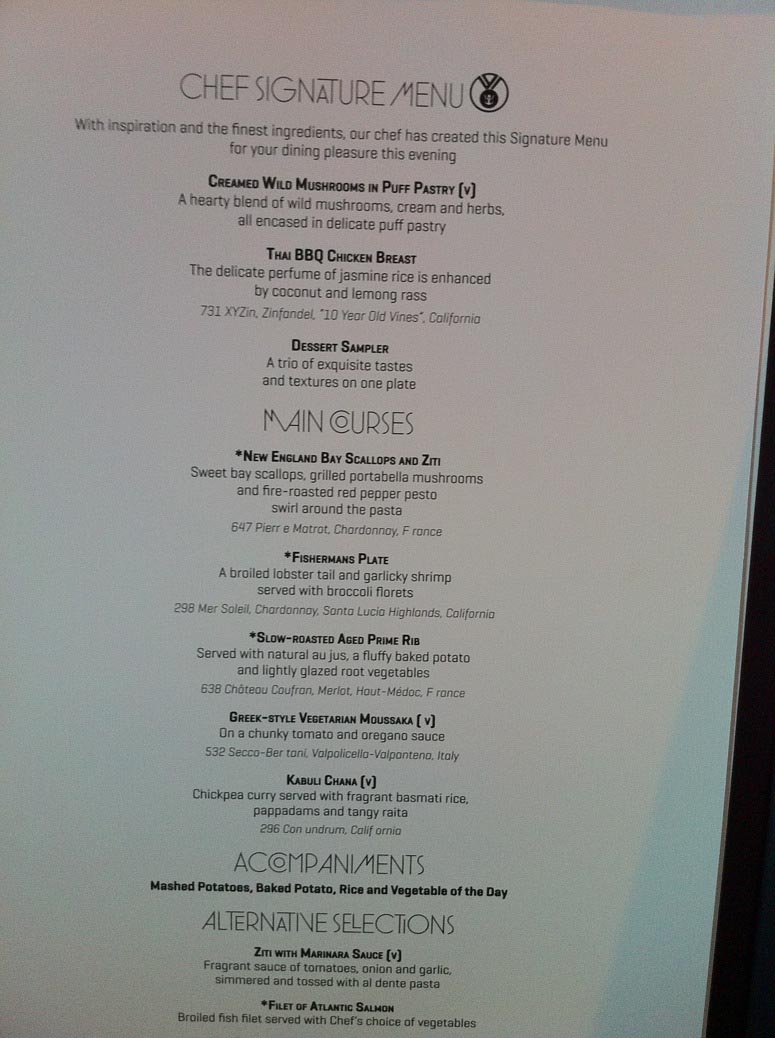 Tonight's menu...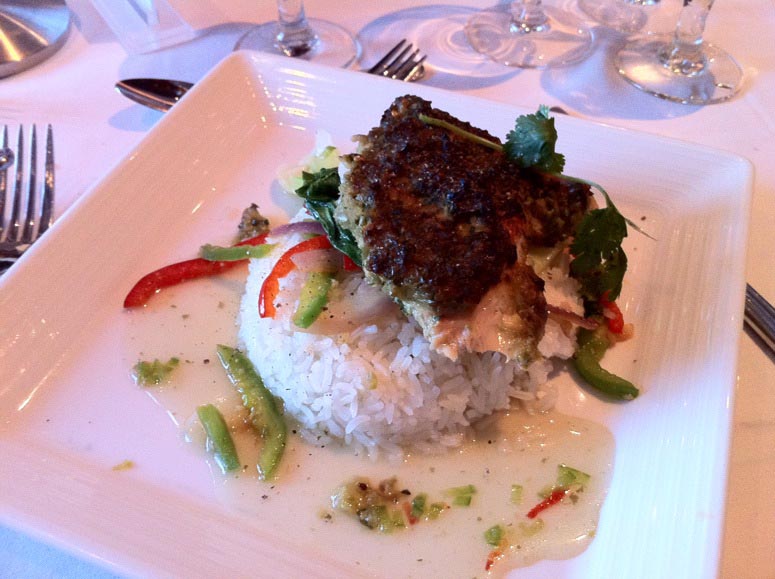 This Thai BBQ chicken was awesome!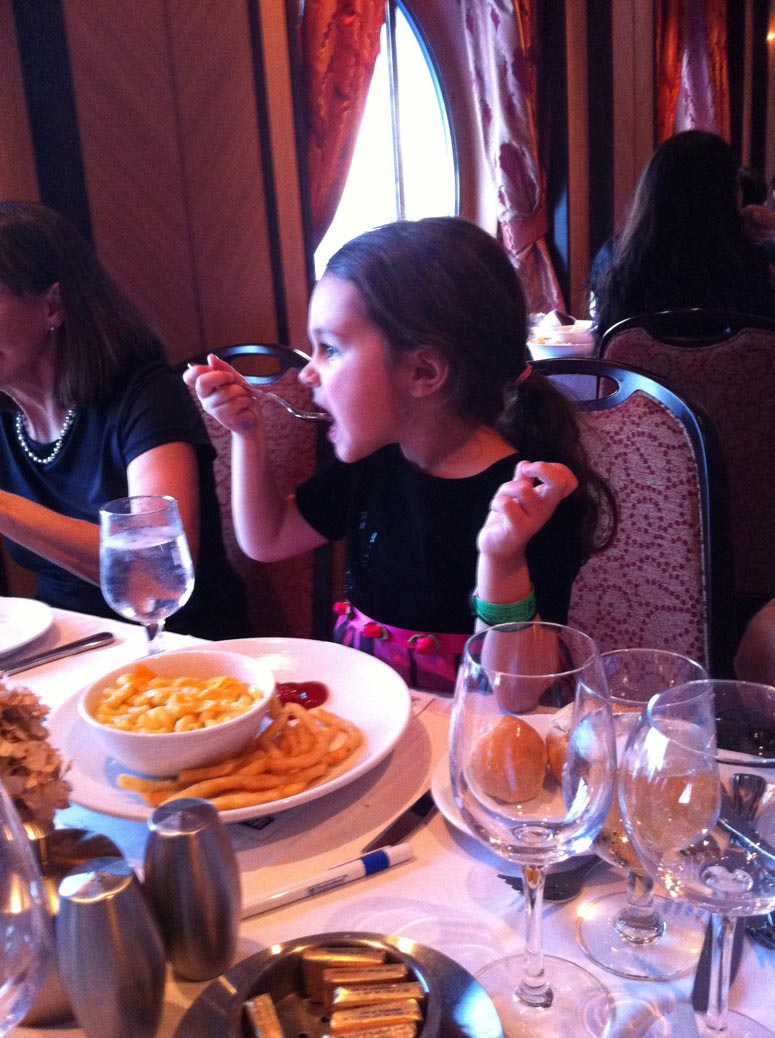 Yup, another night of KidTums drinking Sprite with a spoon.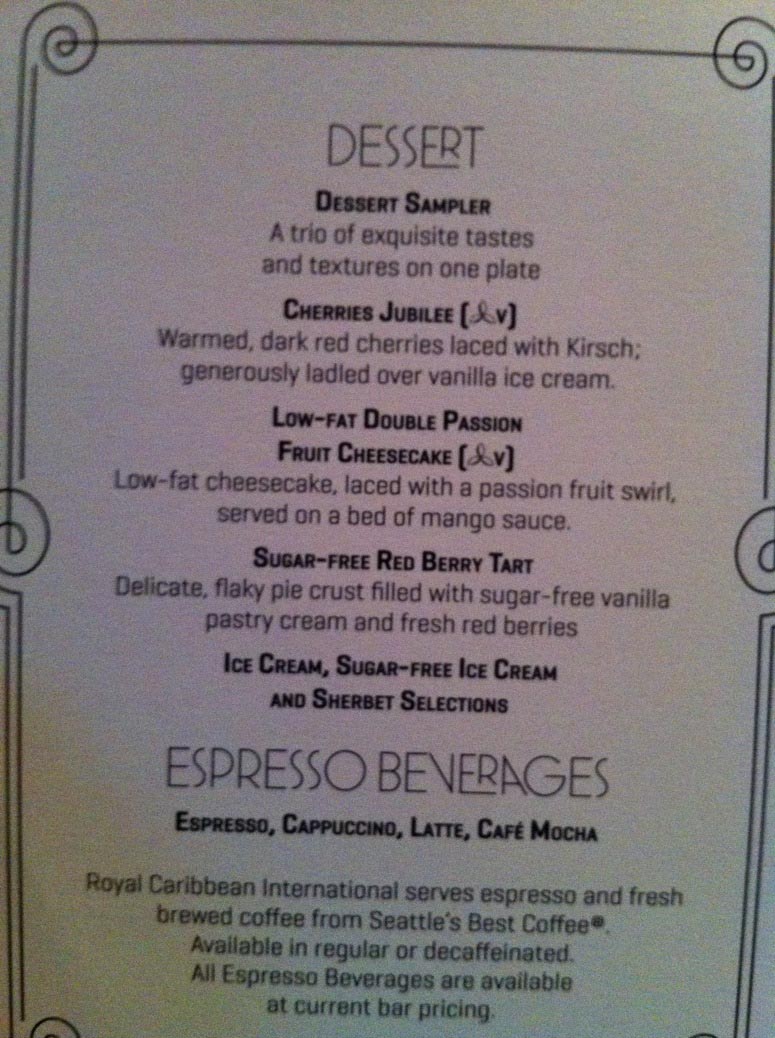 The 2nd best dessert of the cruise! The sampler!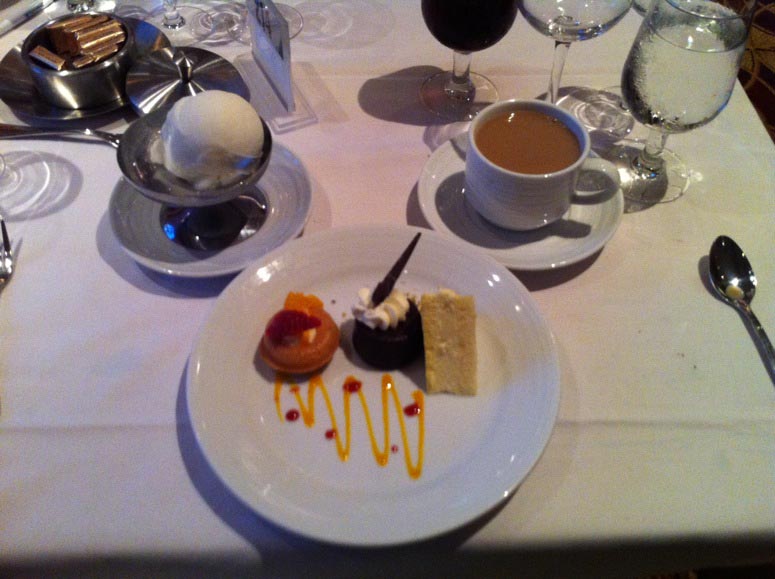 The cheesecake…awesome… the chocolate cake of sex…even better…the other thing…WHO CARES!!!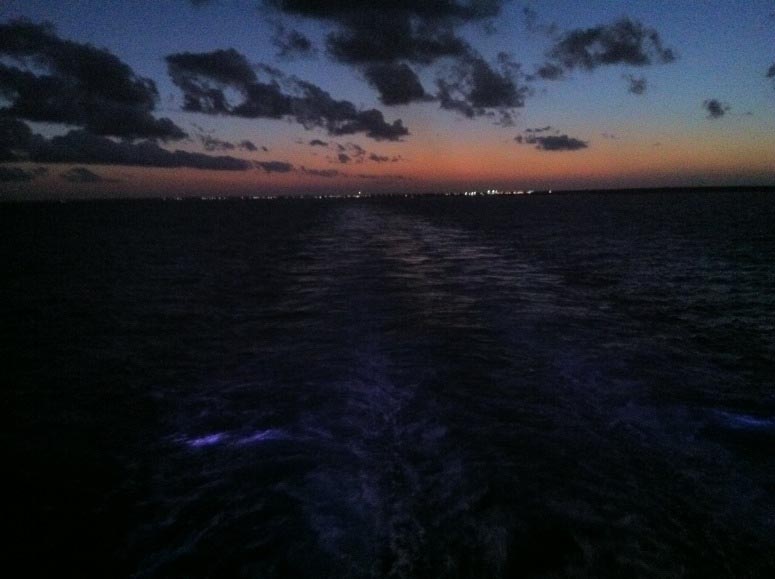 Oh yeah! We are on a boat! Duh!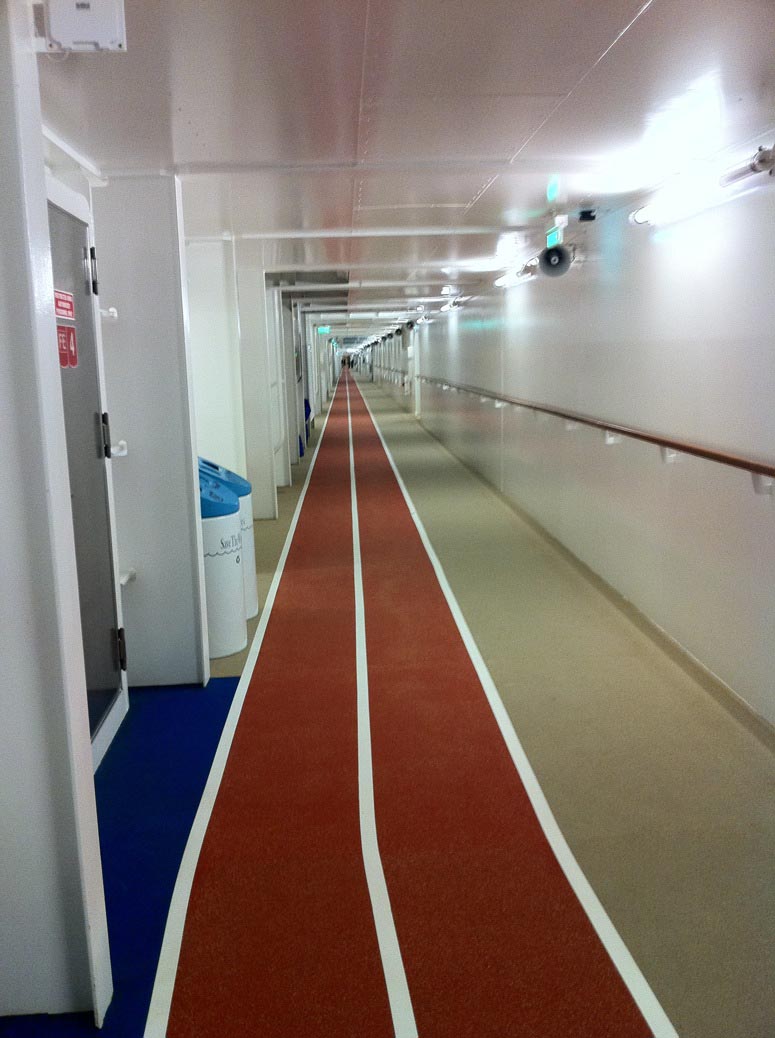 Here we are at one end of the ship…and you can't even see the other!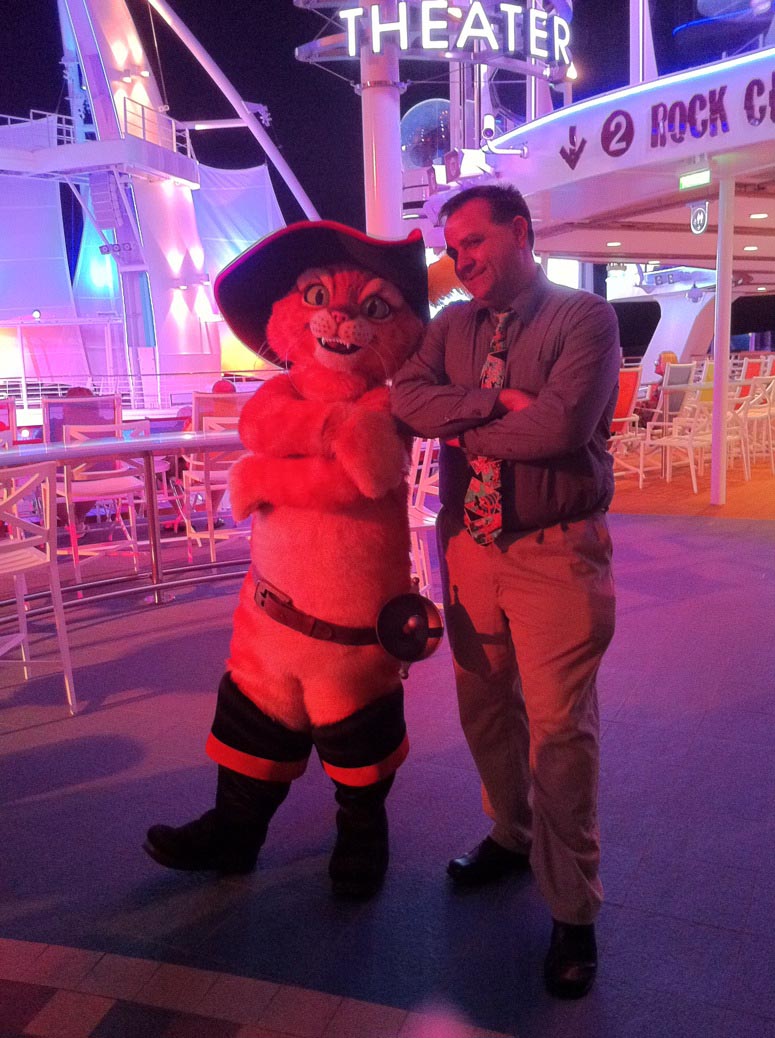 "I love me some pussy!"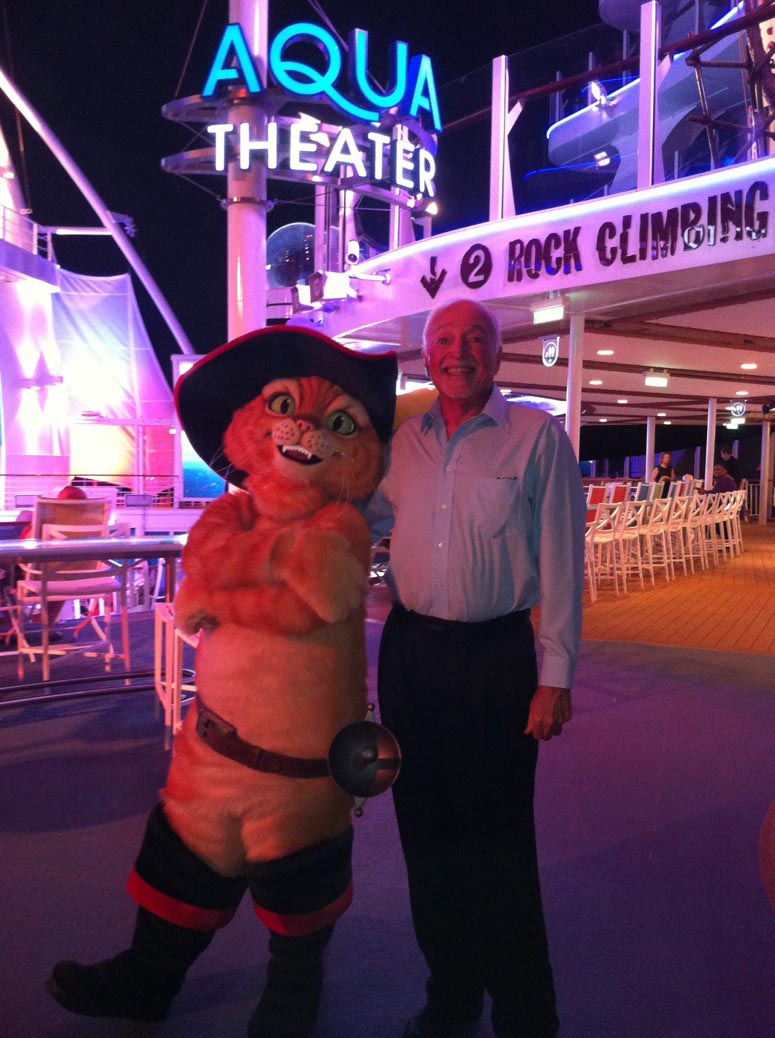 "I agree!"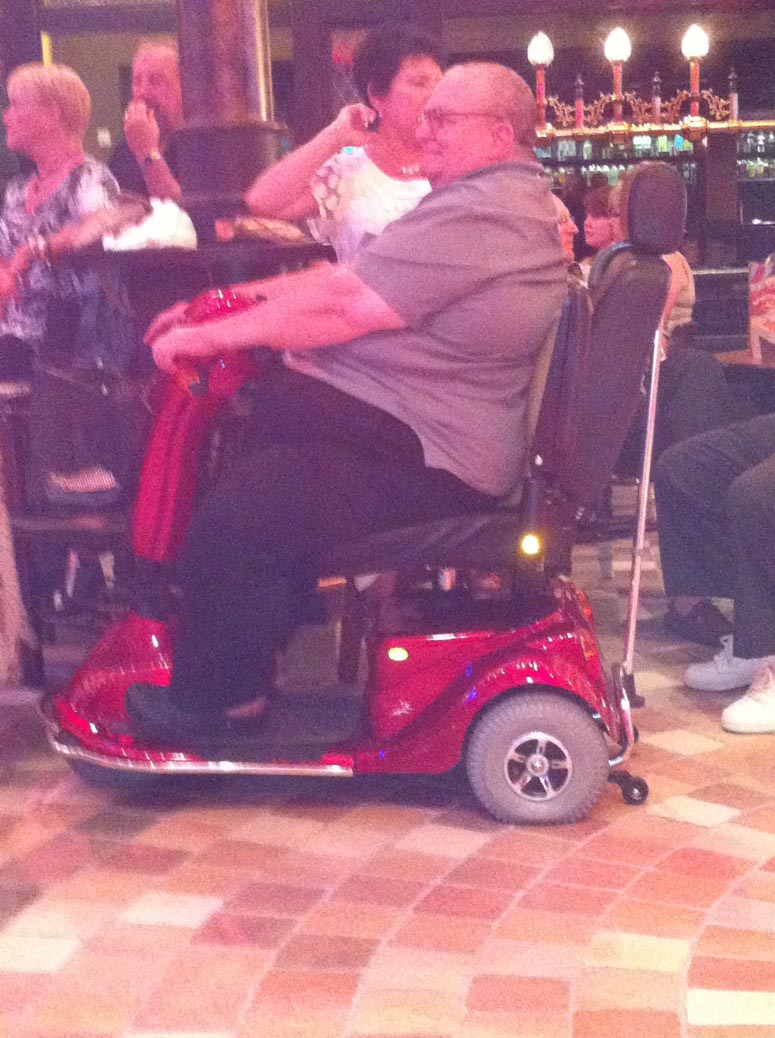 Do you see what I see? Yes! It's a FLAT TIRE!!!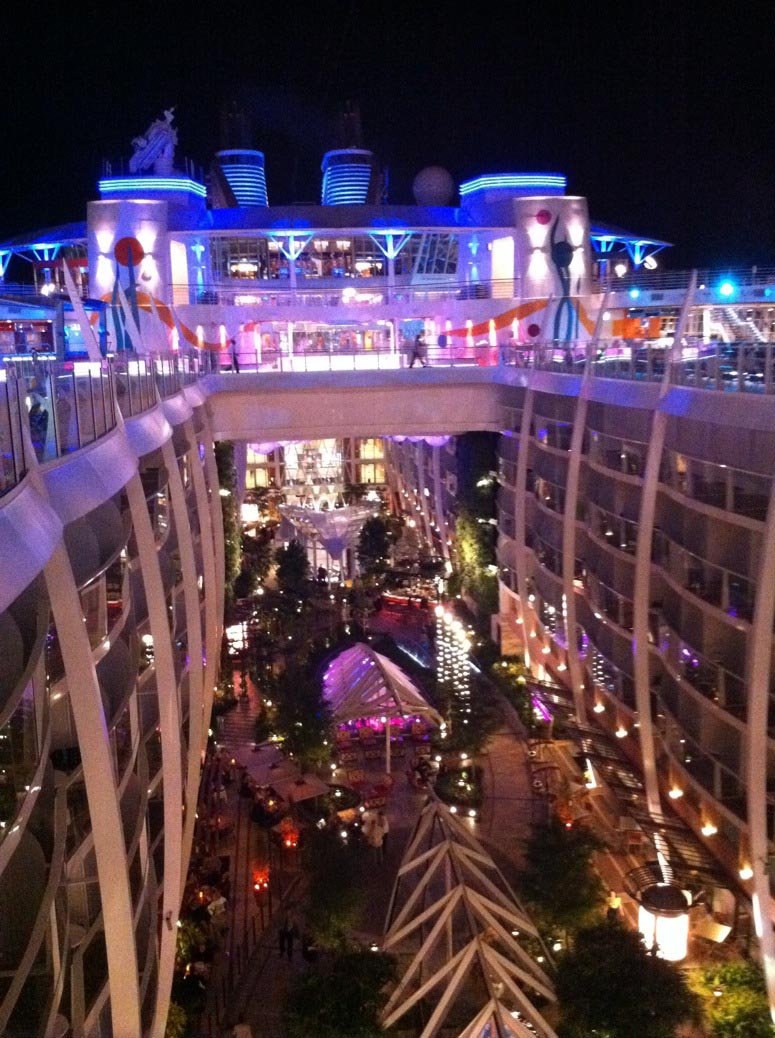 The view of the ship is just stunning!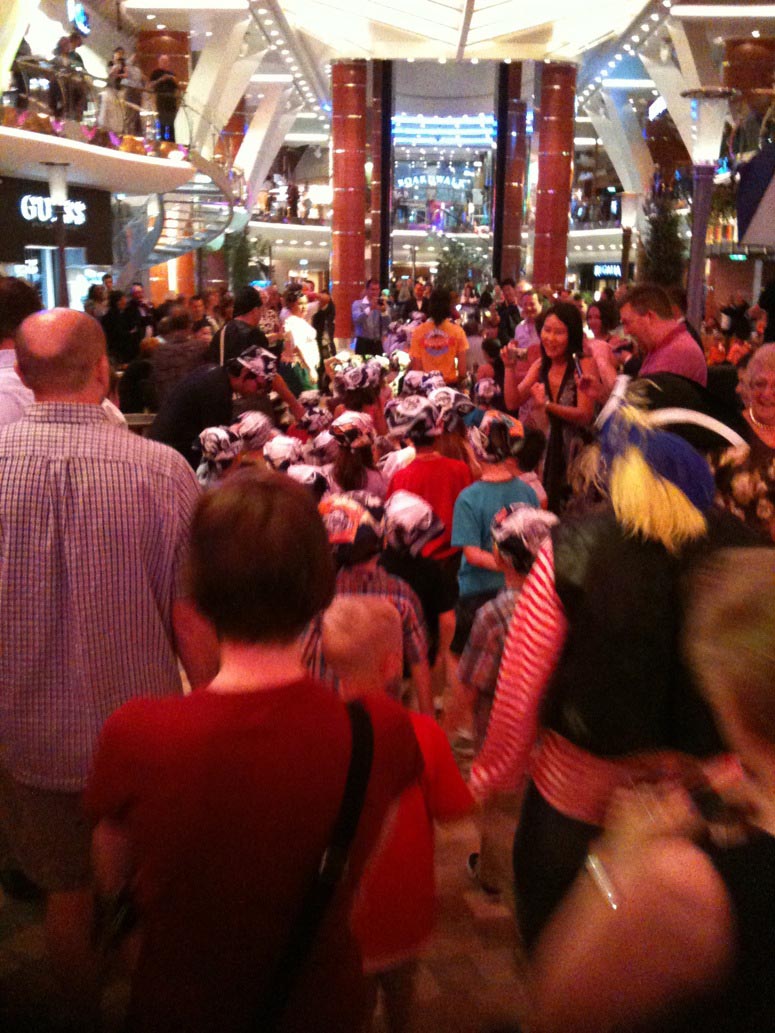 Tonight was the kids club pirates parade! Where all the pirates take over the ship!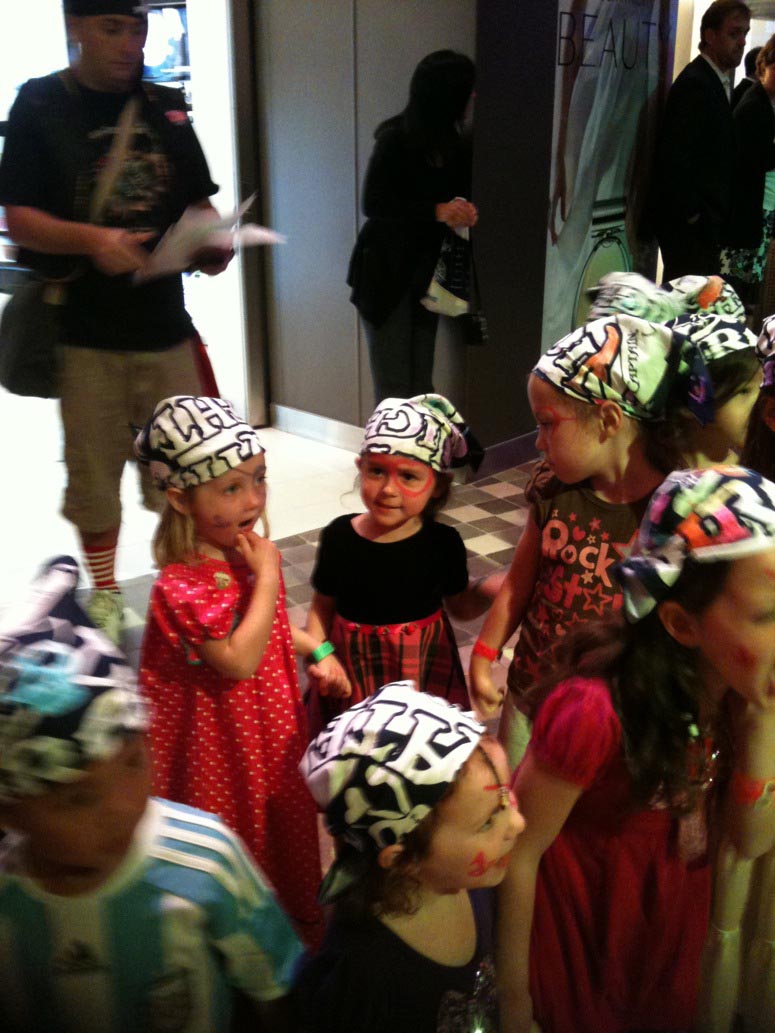 Pirate KidTums attack!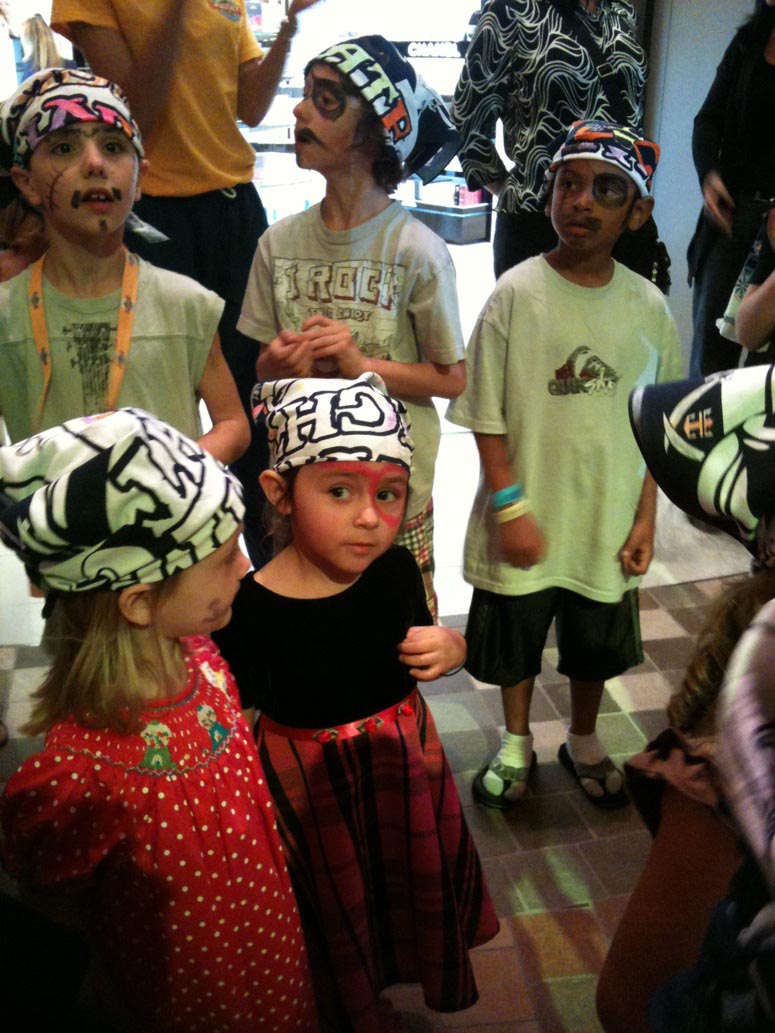 She is taking this pirate business VERY seriously! Arrrr!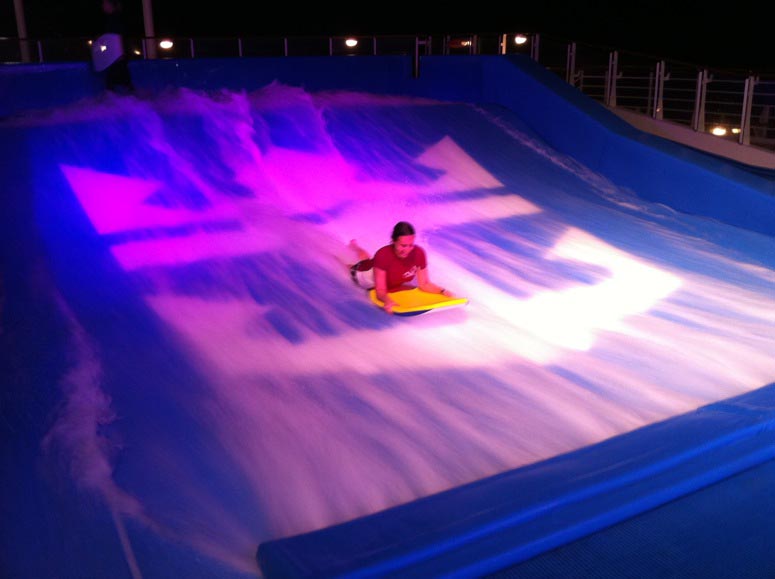 Tonight was our Flowrider private lesson! AKA - the Flowrider instructors trying to kill us!
Here's video proof!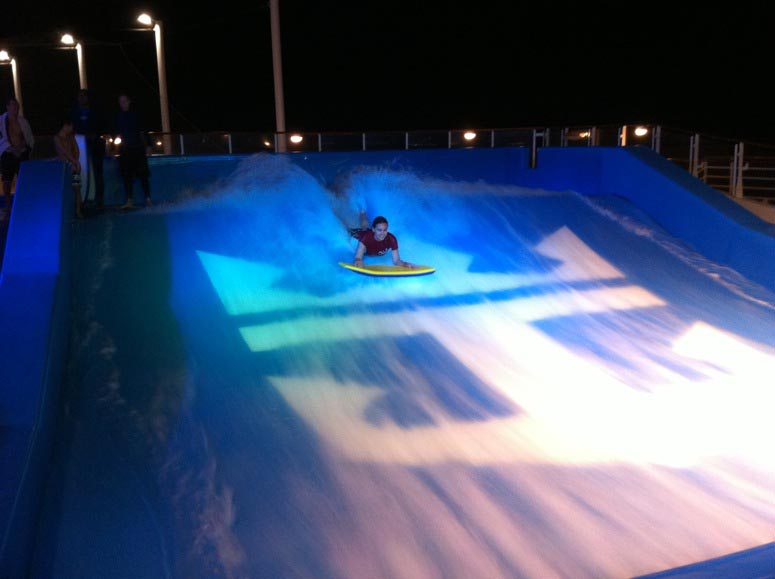 They had us doing all sort of bizarre tricks!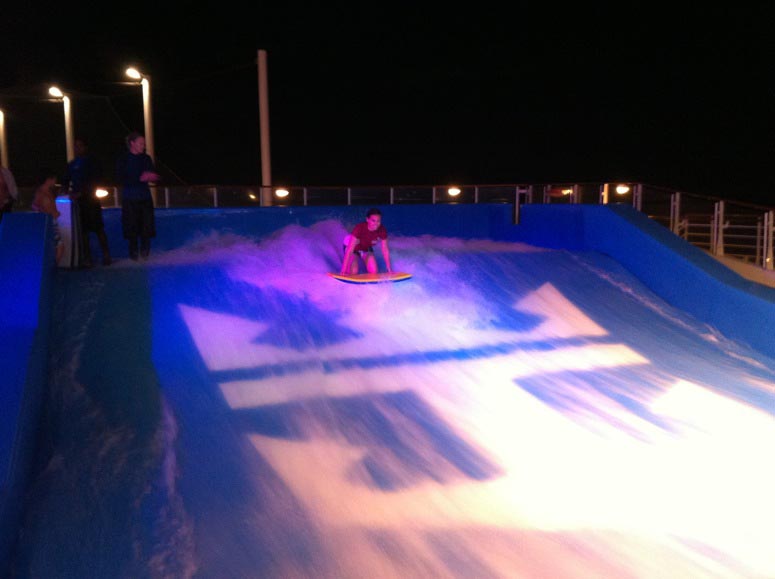 I love her when she's on her knees!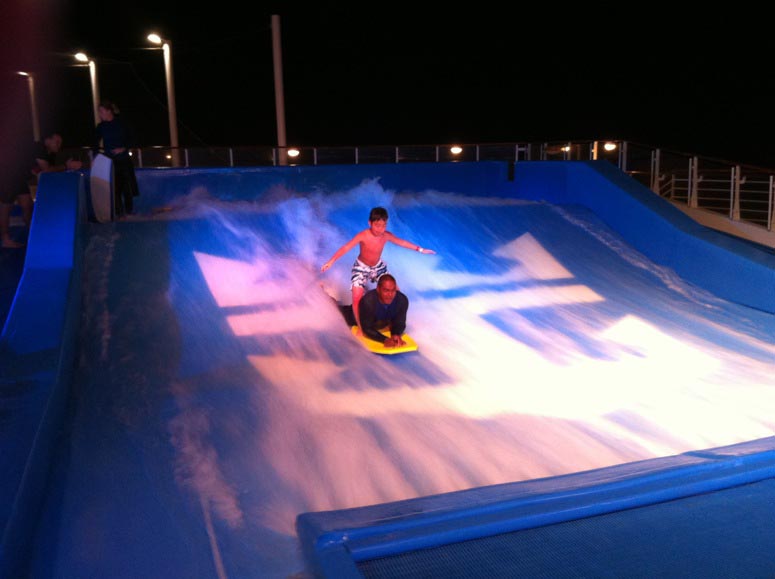 The instructors were insane! This one let one of the kids ride on his back!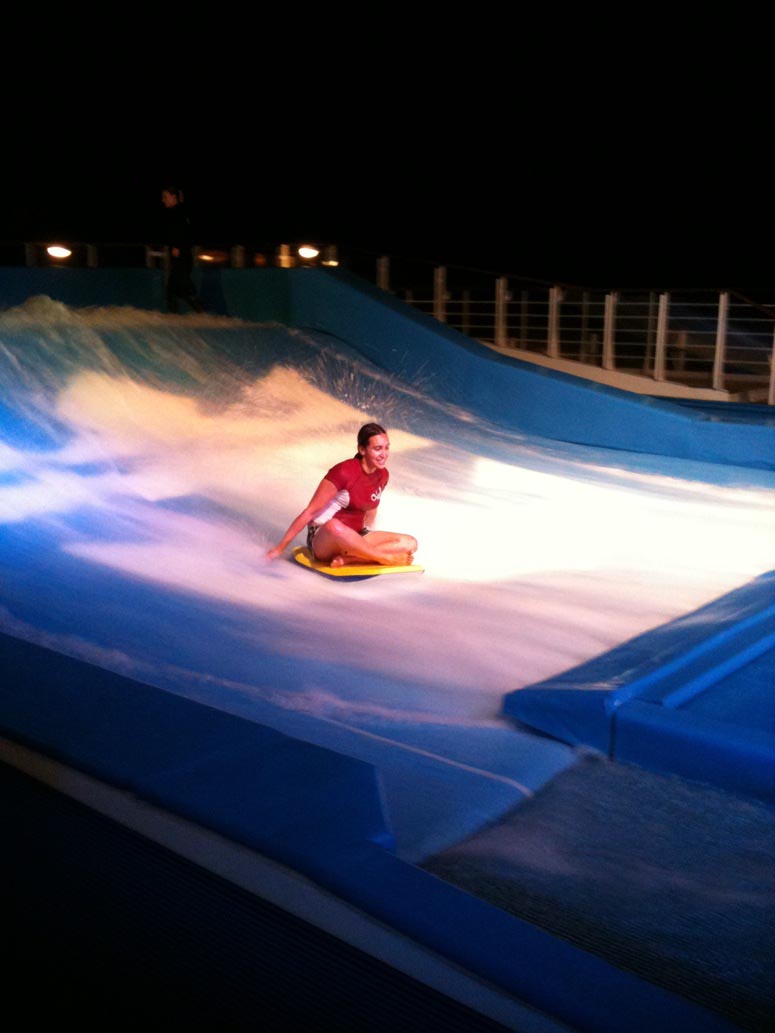 Elissa is having a moment of zen.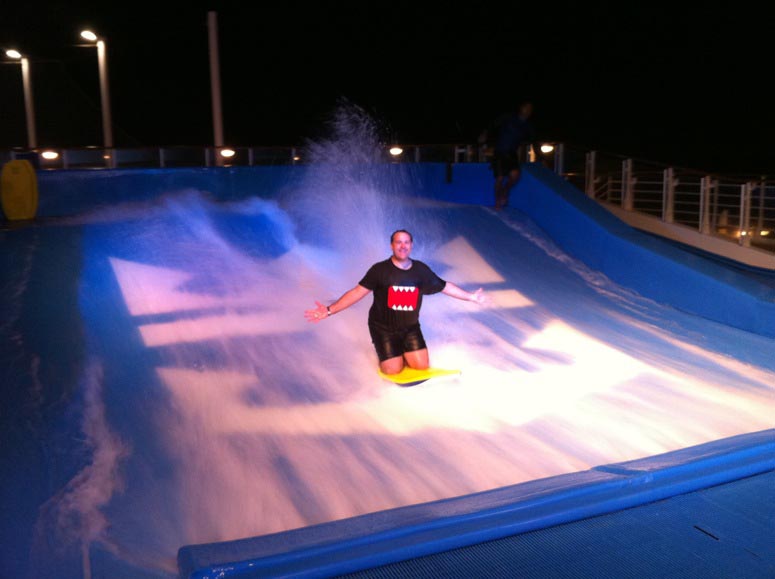 "I'm on my knees because I can take it!"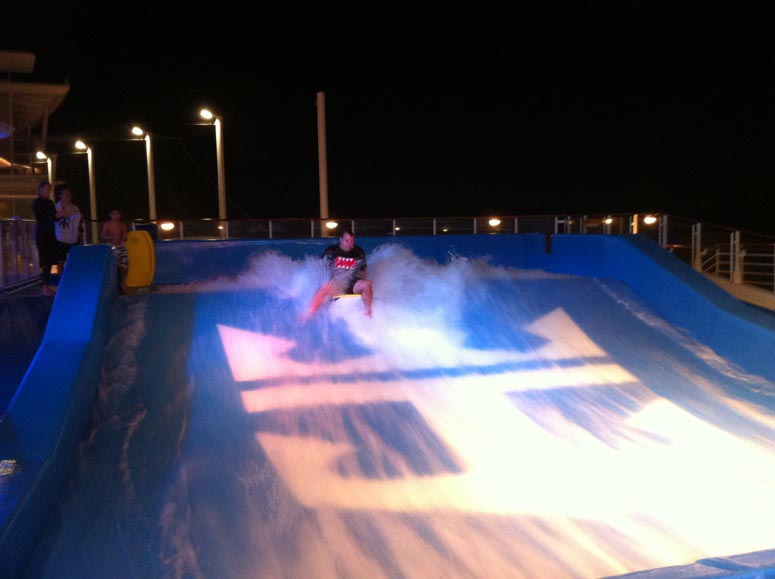 Here they were all "jump in and slide the board under your butt! Try not to die!"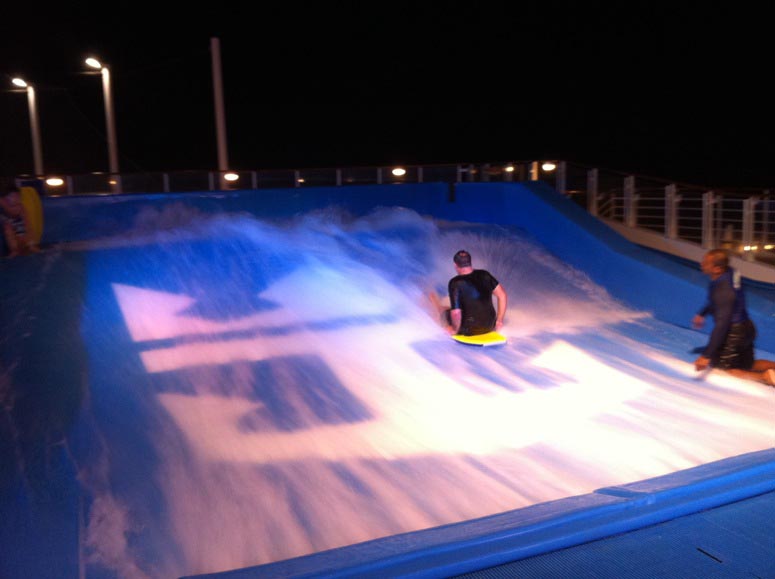 Then they had us try doing it BACKWARDS! Seriously…they wanted to kill us!
(It really was amazing and awesome!)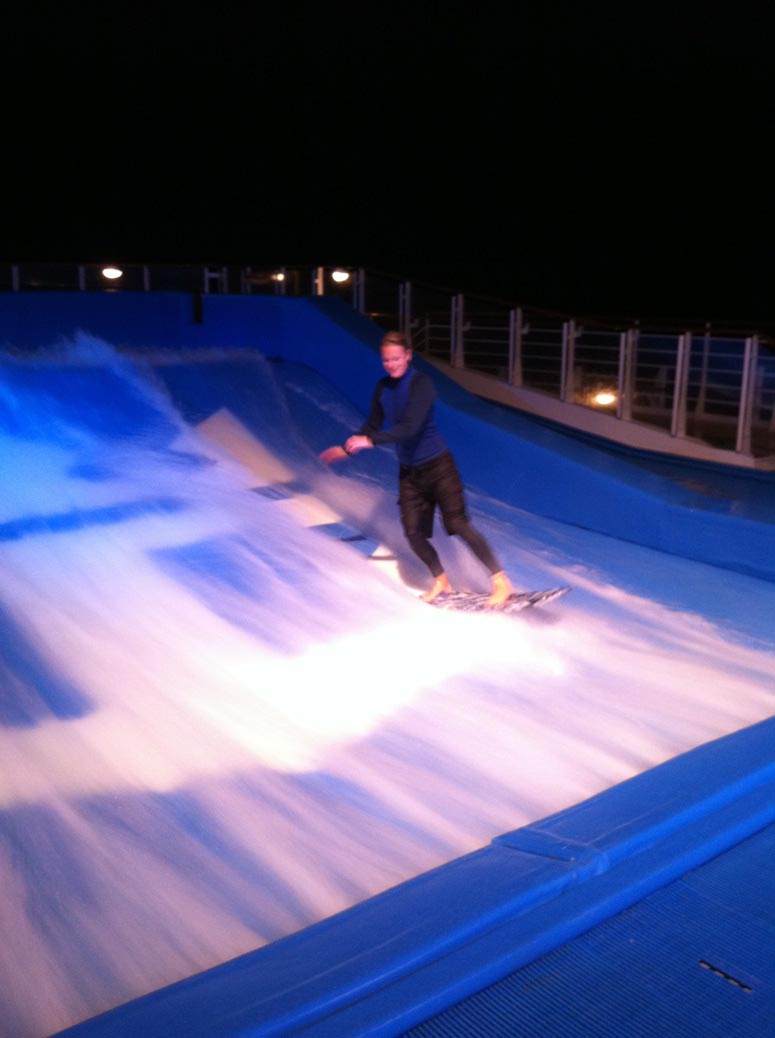 We had the hot Swedish chick as one of our instructors…basically…I would do anything she told me to!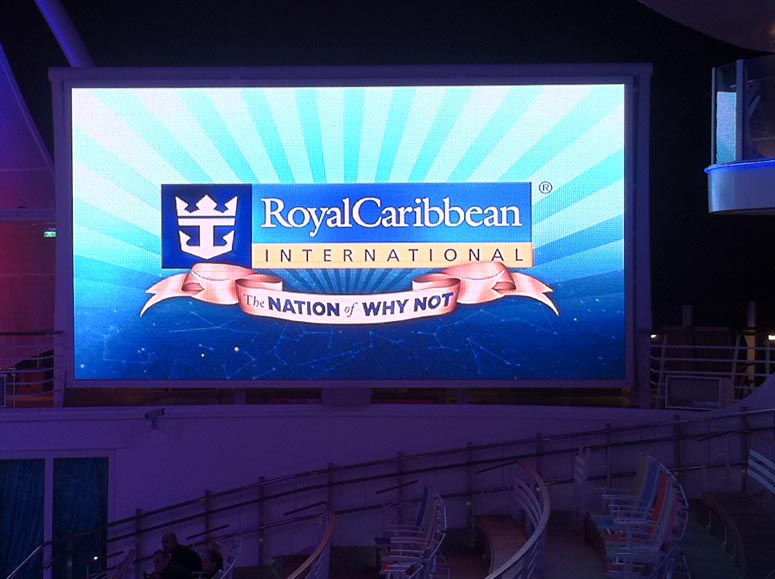 Freakin' AMAZING ship!
Cozumel tomorrow! That should be fun for about a moment or two!