This is a long one…
Day 12: Legoland Japan and Higashiyama Zoo
The last several days had been packed with long train rides, but today we were staying local. This basically doubled as our Nagoya free day in a sense, but the main event was the newly-opened…
Legoland Japan
Yes, Nagoya had just opened up their own Legoland a year before!
Photo by Robb
This was a new park for all of us, and I was certainly excited, because the last time I'd been to a Legoland was when I was but a wee lad.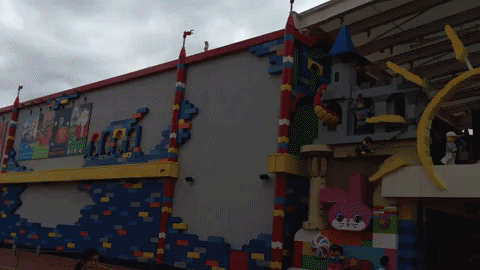 Wow, I can't believe they made a Roblox-themed park.
Thanks for the encouragement
Legoland has a modest two coasters, both of which can be found at other Legolands.
The main draw for us was Dragon Coaster. This is just like the ones at most other Legoland parks, with a short dark ride portion before climbing the lift hill.
But, of course, the main attraction at any Legoland park is its impressive array of Lego sculptures. So get ready for…
The Great Tour of
Lego
Japan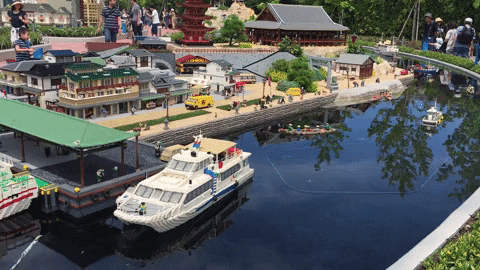 Let us first make a stop at the harbor
Here's Itsukushima Shrine, located near Hiroshima.
Not sure where this is, but it looks cool.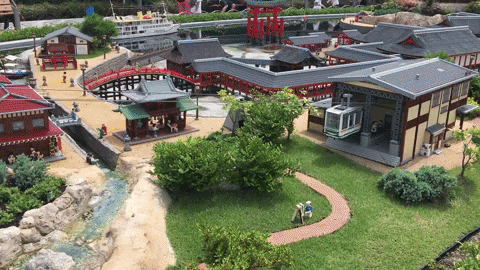 They've even got little gondolas!
Random pagoda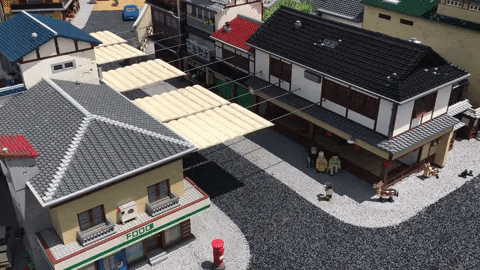 Good idea pulling out the covers; it was a hot one!
The Car Carrier carries cars
This building in Nagoya is called the "Mode Gakuen Spiral Towers," which is strange, 'cause it's only one tower….
Also in Nagoya is Oasis 21, a cool shopping center thing. I wanted to go here but never got around to it :c
There's also this spiral thingy in the middle of downtown Nagoya. I'll show you that later….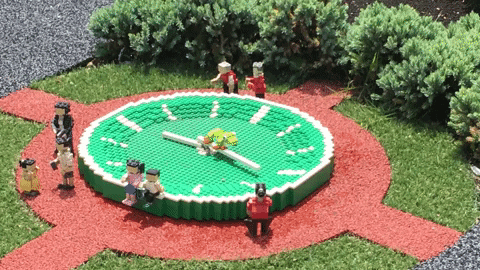 It's frog o'clock!
Heh heh heh heh hehhhhh…
This is the Nagoya City Science Museum, but it looks more to me like the Death Star got plopped right onto some unsuspecting buildings.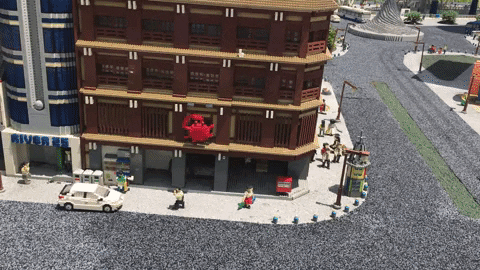 Throughout Miniland, you get to interact with many things, like this Osaka-style crab sign for instance!
Where's the jet coaster??
Here's Himeji Castle, the largest and one of the oldest intact castles in Japan.
Big Brother is watching you
This is one of the shrines in Tokyo
Here's the crossing in Shibuya plus Tokyo Tower!
This is the Rainbow Bridge in Tokyo, which we'll see later!
Across the Rainbow Bridge is Odaiba, which is famous for having a life-size Gundam!
Also on Odaiba is the futuristic Fuji TV headquarters building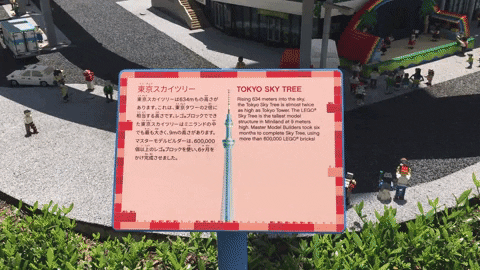 Of course, no miniature model of Japan would be complete without a 30-foot-tall replica of the Tokyo Skytree!
Who's up for a little bēsubōru?
Hello again, Dōtombori!
They've got the Glico dude! There are even people doing the pose on the bridge!
ducc
Here's a little bit o' Kyoto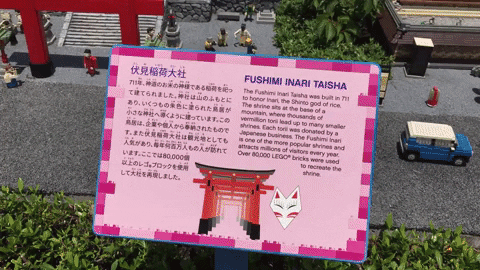 Well, wouldja lookit that…
Fushimi Inari is, of course, known for its wonderful views of Mount Fuji
Here's a better view of it all
Here's the Golden Pavilion
Obligatory artsy shot
Getting memories of my taiko days…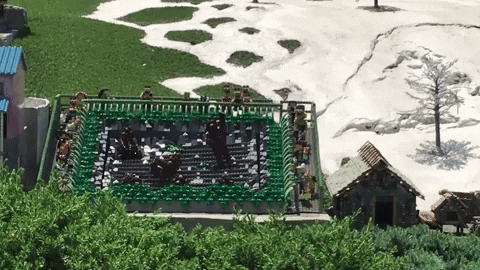 Look how happy those bears are to see us!
Way up in Hokkaido is Sapporo
Sapporo is known for its proximity to many great ski resorts (and for the eponymous beer, of course).
Hokkaido gets an absolutely staggering amount of snow every winter
Mount Fuji is so huge that it stretches all the way from Kobe to Hokkaido
Speaking of Kobe, here's Kobe!
See? I told you it had only been a year!
More of Himeji Castle
Ah yes, and here is the #1 tallest Lego recreation of the Umeda Sky Building I've ever seen!
ducc ducc ducc ducc
The Osaka Ferris… oval thing… wasn't moving. But then again, the real one wasn't running for us either.
Anyway, after all that, I was feeling a bit peckish, so I decided give this a try. 0/5 — not actually plastic.
The observation tower gives a good overview of Miniland
So that's Legoland! Obviously, for the coaster enthusiast in a hurry, Nagashima is going to take precedence over Legoland, but for the Lego lover, there are some great replicas!
Higashiyama Zoo
While some people checked out the local train museum after Legoland, we went on to Higashiyama Zoo, which actually had some rides for us!
If you love stairs, Japan is your Mecca.
Doesn't look like much of a competition…
The only unambiguous credit here is Jet Coaster, which very much lives up to its name.
The most well-known attraction at Higashiyama is Slope Shooter, which is this weird side-friction "coaster" thing. For some reason, I had it in my mind that this ride was in, like, China or something; this seemed too weird even for Japan! But lo and behold!
I think Matt took this one
I am way too excited for this
And yes, Higashiyama Zoo
is
a zoo, but, like Tobu Zoo, their cages do tend toward the smaller side….
I headed back to the hotel to settle down a bit before going back out. Here's that spiral structure we saw at Legoland!
So, that night, a bunch of us decided it would be good to partake in some karaoke action while we were in Japan. We rented out a room for an hour, and sadness ensued….
Jason looks on in disappointment.
Anyway, while it was a good time, the rate was a bit steep in many people's eyes, so we decided to head out after one hour. But karaoke is a must when you're in Japan!
Next up: Hamanako Pal Pal!