So I realize this is a huge long shot of anyone having any information on this from a 12 year ago TPR trip and it's just curiosity but does anyone have any information on the Gyro Swing that was at Children's Grand Park in Korea?
I was in the area recently with my son and remembered there had been one years ago when I was there on a school field trip pre-renovation but I had never seen it running. I had a look around and asked one or two Korean park fans but there's not a single rider report of it or a video on youtube of it running. The only information I could find was it was perhaps called Hurricane. I think I just always assumed it was installed late into the parks life and when they decided to re-do the park, they decided they were going to open it with the other new rides.
Here it is included in the preview art before the renewal opened (Thanks to Darren Mullins TR) but it seems even though it was already installed, it was quietly removed around then so 2013/2014.
I did a quick look on Naver street view and found it was in the park in 2011. I kind of assumed that maybe it came after TPR went to the park in 2007 since it wasn't mentioned being Intamin fans but it's here in their 2007 TR in the background.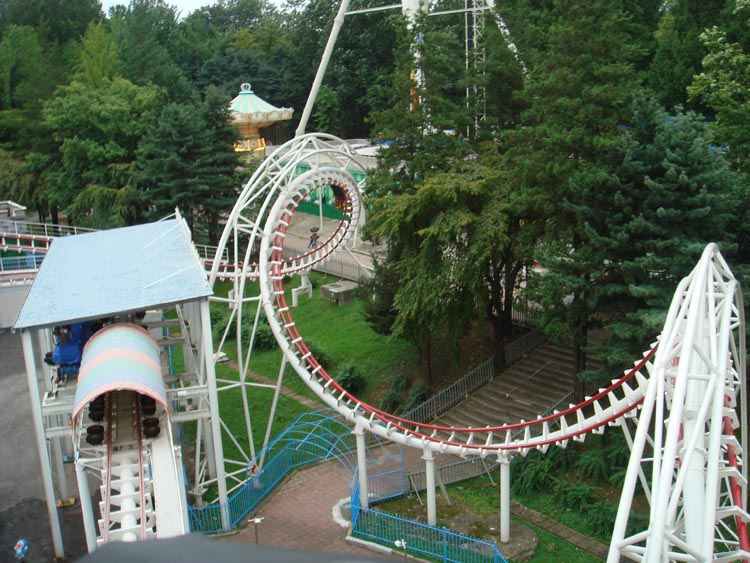 It just seems weird that this park made such a huge investment since I think only two had been built pre 2007 (Drayton Manor and Lotte World) and other companies hadn't entered the giant frisbee market yet but it never seems to have run (I couldn't find testing footage) and have sat for maybe 7+ years before disappearing. Does anyone know if it ever ran, was it scrapped or sold onwards to another park? It's just a creepy ghost ride that seems to sit in the background of videos and images of the park for years.