bill_s wrote:[I'll take an educated guess and say

I can't afford to dine at Epcot

either

and neither can many others.

Does that make us all "frightening"? Even other than me? Sorry not liking your implication here.
Yes, actually. If you seriously cannot "afford to dine at Epcot," considering the fact that
TENS OF THOUSANDS OF PEOPLE DINE AT EPCOT EVERY SINGLE DAY
then IMO you shouldn't have a right to vote in a poll where people are making decisions based on "expert opinions" ranking ALL the restaurants at parks around the world.
I mean, how credible would Gordon Ramsey be, let's say, if he wrote a book on the "best restaurants in the world" but didn't include some of the best restaurants in the world because he couldn't afford to eat there!
Do you see now how insanely STUPID that sounds???
It would be one thing if the award was "Best Amusement Park Food on a Budget" but that's not what it is. It is simply "BEST AMUSEMENT PARK FOOD" so that should take into account everything from the cheapest funnel cake to Monsieur Paul.
And that being said, Epcot has plenty of different options that are all FANTASTIC ranging from lower cost quick service to higher end dining. My original comment was mostly in jest pointing out just how insanely obnoxious and stupid the Golden Ticket Awards are. And your post is equally as obnoxious and ignorant. Perhaps maybe you should know what you are talking about before you post here again.
Like, seriously? You can't afford to eat at Seasons or the China Quick Service restaurant or any of the Food & Wine/Flower & Garden booths? Or getting some amazing Chicken Katsu Curry at the Japan quick serve? Or maybe the French bakery or get apps at Spice Road Table? You do realize those places are CHEAPER and absoultely higher quality and better value for money than most Six Flags or Cedar Fair offerings right?
bill_s wrote:And Disney itself is more like a manufacturer of a luxury product which doesn't get reviews because they don't provide review samples and don't need reviews because they also have a full waiting list..
WHAT THE F**K ARE YOU TALKING ABOUT?!?!?!? Are you even aware that there are MORE DISNEY REVIEW SITES, Instagram feeds, Twitter feeds, blogs, etc, than ANY OTHER AMUSEMENT PARK or park chain in the world??? Like, have you ever looked at the Internet before??!?! Holy crap, I can't even believe someone would make such an ignorant statement. It blows my mind that i just read those words from one of our forum members. You guys are supposed to be better educated on theme parks if you're going post to Theme Park Review.
And what "waiting list???!" Honestly, DO YOU EVEN KNOW WHAT YOU ARE TALKING ABOUT AT ALL!?!?!?
bill_s wrote:And even then, I'm sure voters in this contest wouldn't mind Epcot being put as #1 for best food if the "normal" list started at #2, but if the whole list became more about ranking the various Disney parks against one another it might not leave room for anyone else.
I don't even know how to respond to that clump of words. So basically what you just said is that the best food in amusement parks shouldn't be on the Amusement Today Awards because it's the best amusement park food.
THAT MAKES NO SENSE AT ALL!!!
I am seriously now dumber for having read your post.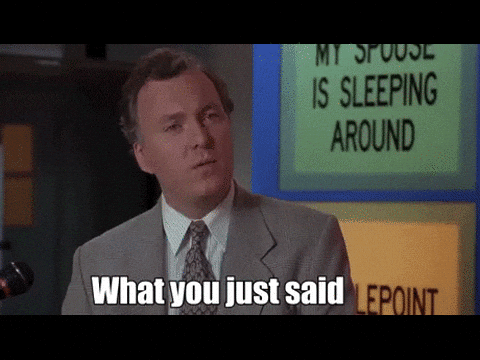 Ugh, please do us all a huge, HUGE favor and get off our forum if you're going to make stupid posts.
Last edited by
robbalvey
on Mon Sep 17, 2018 10:24 am.