I'm glad folks are enjoying this trip report. It's nice to know when one's nonsense is appreciated.
Moving right along to a short update.
Five Miles from the Epicenter: Hirakata Park
Some of you may recall stories of TPR being shook around bit at a train station during the first "official" park visit of the 2018 Japan Trip. Later, we got much closer to the where the earth-shaking action began at Hirakata Park. The quake's epicenter was a mere five miles or so from the place, but Hirakata didn't look any worse for the wear.
So, what exactly is Hirakata Park? It's the fairy-tale realm of fairies, dwarves, elves, trolls, and a wizard who looks like Gandalf as portrayed by Bing Crosby.
For you youngsters, this is Bing Crosby. He's known for warbling "boo boo boo," narrating Disney's version of "The Legend of Sleepy Hollow," singing "White Christmas," and playing lots of golf.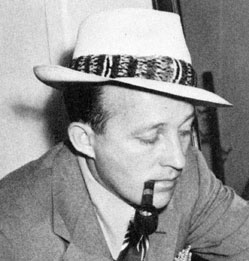 In other words, it's a family park--and a very nice one, at that. This was my second visit to Hirakata since 2013, and it didn't seem to have changed much. ELF (Episode of Little Fairies) was still an enjoyable Intamin family wooden coaster; Red Falcon was still a "Jet Coaster" with some funky, neck-snapping transitions; Fantastic Coaster Rowdy still tried to kill us; and the spinning coaster still doesn't spin. There was a funky "refrigerator" walk through that I don't recall from my last visit with TPR.
Here's a quick look at Hirakata.