Part 7: Tokyo DisneySea
I don't know about you, but I have the toughest time explaining what DisneySea is to people who have never heard of it. After some bewildered, "there's a Disney in Tokyo—are the rides there safe?" questions, I then have to explain how despite having "Sea" in its name, it is not a water park, nor is it a Sea World type of park. "In fact, it has no traditional water rides at all," I might add, confounding them even further. But once I pull it up on Google Maps, it all starts to click and they want to know more.
My biggest regret of the whole trip was missing out on Journey to the Center of the Earth. You'd think ensuring that we got to experience the best ride at the consensus best Disney park would be the first thing I looked into. Well somehow along the way I got so wrapped up in learning the rail networks, choosing hotels, verifying opening hours of smaller parks with awful English websites, and combing through Godzilla films for destroyed buildings to visit, I neglected to check the scheduled attraction closures page on the Tokyo Disney site. I lazily assumed that being there in the middle of the popular Halloween and Christmas seasons meant there was no reason to worry.
But after we had booked flights and hotels, a sinking feeling started to settle in. "Go ahead and check the closed attractions page," I thought, "confirm what you already know—no, no, wait—hope—is true and that nothing important will be closed." So hands shaking, stomach feeling like it's freshman year after a UNLV basketball tailgate party, I opened the page…
I now know
exactly
how Admiral Nagumo felt at the Battle of Midway after re-arming his planes with bombs instead of torpedoes. Journey to the Center of the Earth was going to be closed for an extended rehab! What have I done? How have I overlooked this? Am I even the enthusiast I always thought myself to be? "Might as well just throw in the towel on the whole trip now," I bemoaned, alternating laughing and crying. I was so distraught I had to watch a Hakugei POV to calm myself down.
So five minutes later after I carried on with my life, I knew to adjust expectations for two days without DisneySea's star attraction. But would the park leave the same lasting impression on me it has on others? Let's find out.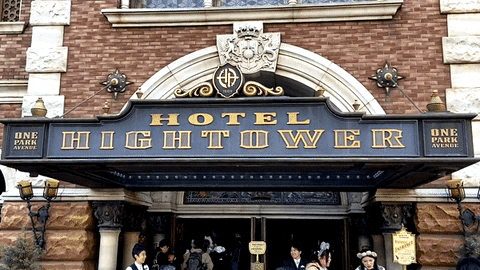 Raging Spirits
This is a good coaster for its footprint and role in the park. It would be even better if they eased up on the trim brakes slightly, but of course I'd say that. I think it's actually a more thrilling ride than Incredicoaster right now. I know compared to the Paris one, this has always been the smoother of the two and I found it very comfortable. There are a few sudden pops of almost-airtime and the loop manages to pull satisfactory g's despite the handful of trims that come before it. The ride's compact layout works to the theme's advantage. The tight mass of supports really does make it feel like you're whizzing around the remains of an old ruin somewhere. I'm a little surprised we haven't seen Disney clone this another time. It would be unnecessary now in 2019, but I could have seen a version of this as a quick-fix crowd puller in Hong Kong or one of the Florida parks at some point in the decade prior. 7/10
I didn't want to arrive at DisneySea expecting too, too much. I guess I always suspected there might be kind of a Citizen Kane thing going on where every critic says it's the greatest film of all time because it's what's expected of them and they don't want to call attention to themselves by diverging from the herd. I'm happy to say that's not the case with DisneySea! This place is the real deal.
While I don't think it's my personal favorite park, it's true that the theming and atmosphere here is another level beyond what can be found at other transcendent theme parks around the world. Maybe I'm enough of a coaster purist that I still need something more than Raging Spirits. Places like Phantasialand and Europa Park are better examples of what my ideal park would be.
Part of me is almost tepid about going on TPR and saying that maybe DisneySea isn't the best thing since the Meiji Restoration and is instead merely "great." Who knows, maybe a future ride on Journey to the Center of the Earth will sway me…
Aha! Yes, the SS Columbia indeed appears to be most closely inspired by the Queen Mary. A lesser known ship would have been cool, but I guess it makes sense to copy the only classic liner that's still around.
Thank you for humoring me. I'm an ocean liner enthusiast…
Inside the Roosevelt. A little context first. I was in San Antonio a few years ago at the Menger Hotel Bar. This was the bar where in 1898 Teddy Roosevelt recruited his Rough Riders to fight in the Spanish-American War. The Menger Bar nowadays has been preserved as a tribute to Teddy and I was there with my dad and a friend and we were all drinking old fashioneds. So I decided I had to go to the DisneySea Roosevelt Lounge and drink an old fashioned there too.
The lounge has an extensive drink menu with dozens of cocktails any American would know. An old fashioned was not among them. I asked the waitress if they could make one and she didn't know what it was. No problem, I figured, maybe the old fashioned never made its way to Japan. I'll just order from the menu instead. So I pick something vaguely similar, a Manhattan, then I flip to their list of whiskeys and tell her I'd like my Manhattan with Makers Mark.
The look on her face was pure confusion. She spoke limited English, but she tried her best. "You want Manhattan (mimes holding a cocktail glass in her left hand) annnnd you want… Makers Mark (mimes holding a second glass in her right hand)?"
"No, no, no," I smile and explain, "I want Makers Mark in my Manhattan."
Wide eyes and a big gulp of air. "Innnnnn the Manhattan?"
"Yes. Thank you. Arigato Gozaimasu."
"In the Manhattan?" She mimes dropping the Makers in the glass like a sake bomb.
"No, I'm sorry. The whiskey I want used for the Manhattan is Makers Mark."
Profusely apologetic, she ducks into the back to ask someone. She feels bad.
A moment later she returns and repeats her first attempt. "You want Manhattan (left hand) and you want Makers Mark (right hand)???"
Now I feel bad. And her English is much, much better than my Japanese. I tell her, "it's okay, no Makers Mark, only Manhattan."
I guess call brands aren't a thing in Japan or at least at this bar. I guess it's the custom to accept whatever house brand the bar has when ordering a cocktail and asking for a specific brand is only done when drinking it straight. Maybe someone who has been to Japan more than I have can enlighten me.
When are the people running the American Waterfront going to
get with the times?
No protection against scouting or brute force? I almost got persistently stamped four times that afternoon! On second thought, if there's no one to stop me from giving an unsuspecting tourist the scout act…
Next up… Shrine-hopping around Kyoto.
Last edited by
Condor
on Fri Dec 20, 2019 9:37 pm.