Part 6: Fuji-Q Highland
There aren't many parks out there one can attach the label 'infamous' too. It feels too sinister and dread-inducing to apply to something like an amusement park. But Fuji-Q Highland is a place of extremes and the summit of its high-points contrasts with the abyss of its lows more so than perhaps any other park. The consensus from enthusiast trip reports and vlogs seems to be that while there's much to laud this park for, there's as much or more to bemoan. Here, 'infamous' seems somehow appropriate.
Fuji-Q's infamy is most often chiefly attributed to its ride operations. Going by reputation, the best word to describe them might be 'glacial.' As in so slow-moving that it cannot be observed in real time. And then there's the precedent for kissing your chance to ride anything goodbye in weather moister a fine mist. But lately a different sentiment has begun to emerge out of trips to Fuji-Q. Can it be that things are improving? Is the typical park experience actually getting better?
Well, I don't want to suggest that my day here exemplifies the new norm, but Fuji-Q Highland was one of the very best days of our entire trip. Wait, who is this heretic trying to give an actual critique of Tokyo Disney while praising Fuji-Q? Allow me to explain.
While we had a great time, not all was well as will become evident. Firstly, the operations are still slow. Even if they have improved some, that doesn't mean they are now good. However I always assumed a big part of this was due to laziness, general incompetence, or poor training of ride operators. Like at Six Flags Magic Mountain. But this wasn't the case. All of the employees I saw at Fuji-Q were professional, friendly, and well-trained. The slow dispatches appear to result from hyper-cautious policies handed down by management, some form of regulation, or both. I would even say they were better than at a low-rung American corporate park like Michigan's Adventure.
Some other thoughts. This park is not as big as you'd think. People half-seriously refer to Nagashima Spa Land as the Cedar Point of Japan and Fuji-Q as the Magic Mountain of Japan. But if we're using size as our metric, then Fuji-Q is more like the Dorney Park of Japan—if Dorney had any world class coasters and actually received proper additions every now and then.
The weather helped big time. If it had been overcast or had threatened to rain, our experience could have turned out completely different. I can also imagine the park atmosphere taking on a different tone if Mt. Fuji wasn't looming over it against a bright blue sky all day and you felt boxed in by a fog bank or something.
As others have stated, arriving before opening and planning your use of fast passes is crucial. We managed two rides each on Do-Dodonpa, Eejanaika, and Fujiyama, then one on Takabisha, plus Fuji Airways and the Sky Roller, as well as lunch and some lengthy stops for pictures and video. And this is on a day where the park for all intents and purposes had basically shut down at about 3:40pm. Fujiyama and Eejanaika also have single rider lines which worked out to about the same wait time as a fast pass.
We rode Do-Dodonpa first thing after entry with about a ten minute wait. Then we rode Eejanaika, Fujiyama, and Takabisha with fast passes, then Do-Dodonpa again with a fast pass, and both Eejanaika and Fujiyama again as single riders. Our longest wait was about 30 minutes for Fuji Airways, which in hindsight we would have skipped if we knew more about what time they shut the queue lines down. Had we done that, we could have absolutely single rider lined both Eejanaika and Fujiyama another time.
Yeah, it sucks that you have to be so strategic at this park, but when you look at it on a total cost basis, it's 1,500 yen per fast pass and we each bought four of them, so that's 6,000 yen or slightly less than $60.00. For comparison, a gold-level FlashPass for one person at SFMM on an off-season weekday costs $65.00. Granted the FlashPass is still a better value because you can ride the coasters more than once, but given the limited operating hours at Fuji-Q, it's not a bad deal.
We took a JR Line bus from Tokyo Station, East Exit (known as the Yaesu side). This is a good alternative to taking a bus from Shinjuku Station. I've read about the difficulty other TPR members had finding the bus stop at Shinjuku, but at Tokyo Station it was very easy. The ticket office and bus terminals are simple to find and clearly marked. You almost can't miss them. And Tokyo Station has just as many connections around the city as Shinjuku does, so it shouldn't be a problem getting there by train no matter where your hotel is located. You'll want to book the JR bus several days in advance if possible. We booked ours 48 hours ahead and it was already close to sold-out.
Do-Dodonpa
I don't rank the big one-trick pony coasters like Top Thrill Dragster or Kingda Ka as highly as some do. I've always been a purist who prefers a well-rounded layout with narrative flow and pacing. So as awe-inducing as Do-Dodonpa's sheer acceleration is, by the ride's very nature it was always going to have a ceiling for me. Is it so impressive that it rises up and shatters that ceiling? No, it doesn't.
This is a great coaster that should be on every enthusiast's bucket list. The ferocity of the launch, the lasting sensation of speed, and visceral thrill of the vertical loop are worth any wait no matter how long. But if given a proper 10-12 hour day like one would get at other parks, Do-Dodonpa is not first, second, or even third coaster at this park I'd choose to marathon. Like the big, bad Intamins I've compared it to, it still feels like a novelty to me. A really, really, impressive, spinning-back-kick to the chest kind of novelty. That said, I'm giving it a great score. Fuji-Q's big four is world class and whatever order you wish to rank them is valid. 8.5/10
Eejanaika
If X2 was the prototype, then Eejanaika is the first production model. It shows everywhere you look and touch. It's taller, faster, smoother, more intense, and makes more effective use of the 4th dimension ride system. I loved every second of it. Some people apparently get beat up on this. Carlos was one of them. But both of my rides on it were a pleasure. It's not smooth the way an RMC i-box is smooth. It still likes to play hard, but at least in my case it was never once jarring or painful.
In a way, Eejanaika is like a fusion of X2 and Batman: The Ride. X2 is breathtaking and out of control, but it never feels intense in a heavy positive-g sense like Batman does. Eejanaika cranks the out of control sensation up another 50% while adding Batman-like positive forces on top of it. I honestly think it's the most all-out intense coaster I've ever ridden. I wish I could describe Eejanaika more easily without constantly comparing it to its California cousin, but it's the best way to put the experience into context. There's just no proper analogue for these rides other than contrasting them from each other. So while X2 is a very good coaster and in my opinion the third best coaster at its own park, Eejanaika is flat-out one of the very best coasters I've ever ridden. 9.5/10
Fujiyama
Although I said previously that Bandit at Yomiuriland was the Magnum XL-200 of Japan, it might be even more true of Fujiyama. It has all of the size, epic views, old school clunkiness, and love-it-or-hate-it, occasionally brutal airtime that Magnum is known for and then some. This is a Japanese Magnum with a track length greater than Millennium Force. It's not going to be a coaster for everybody and I can see why some of you may be indifferent to it or even dislike it. I, however, thought Fujiyama was awesome.
I rode once near the front and once near the very back. Up front it was good, but not great, while in the back it became legendary. The first drop has little going for it but its height and a couple of the turnarounds are the long and slow variety more often found on wooden coasters from the 1970s or earlier. Fujiyama is not the kind of coaster that throws something insane at you with every element. It ebbs and flows for a varied sense of pacing the way nearly all coaster used to. This works to its benefit on clear weather days as you really get to soak in the views of its namesake mountain. The camelbacks and sharp directional changes in between the slower moments are where it shines brightest. In the back you get yanked down those hills to great effect with plenty of air. And it gets even better with those crazy, banked bunny hills at the end. They were pure, rough and tumble, ejector airtime fun for me and not painful in the slightest. But I'm also the kind of guy who likes to marathon Skyrush and The Voyage and finds them perfectly re-ridable, so you probably shouldn't listen to me.
Fujiyama was my second favorite coaster at Fuji-Q and top-four overall in Japan. It's also my pick for the most underrated coaster in the world. 9/10
Takabisha
If it had been built as an Infinity Coaster instead of running inferior Eurofighter cars, I think Takabisha would get a lot more recognition as a world-wide bucket list coaster instead of its current status as more of a cool curiosity. I bet if a lot of us returned from a Japan trip having missed out on Eejanaika we'd all be pretty disappointed. Now if the same enthusiasts got to ride Eejanaika but missed Takabisha, the reaction would be more, "Yeah it would have been cool, but I'm not devastated." I think this does a small disservice to Takabisha, which to me is an excellent coaster held back by a primitive vehicle design. I was trying to decide whether I liked it more than Karacho and it's a tough call. Takabisha is a more intense, balls-to-the-wall experience, but as an Infinity Coaster, Karacho is so much more comfortable and easier to enjoy. I decided to rank Takabisha one place higher, but I still came away from it feeling that as a Eurofighter, the layout only achieves 80% of its potential.
The tunnel-inversion into the short dip and LSM launch is a great sequence. With only one ride on it, all of the inversions blend together for me. They all hit you quick and with moderate intensity. I feared the holding brake might sever some of the airtime on the beyond-vertical drop, but the thing is just so damn steep you get ejected no matter what. The first half had a noticeable rattle that was absent during the second half. This is a quality coaster I don't feel I got to properly evaluate. For now I'll say it's my second favorite Gerstlauer after Schwur des Karnan. And that's a good spot to be in. Bring on Shellraiser! 8.5/10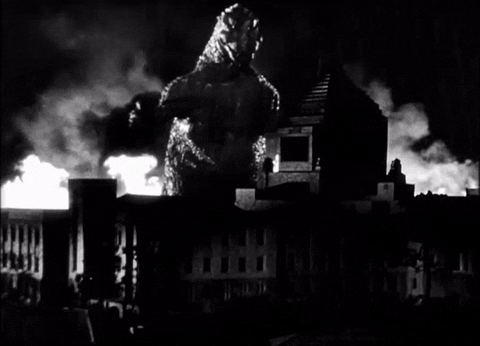 The original Godzilla in 1954! This technique is called a matte shot. The miniature of the Diet Building didn't fall apart correctly while filming, so what you see here is a composite of the actual building on one layer of film with the model and the Godzilla suit on a second layer. Careful use of shadow disguises where the layers meet.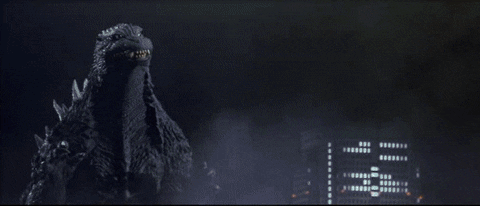 Then in 2003's Tokyo SOS, MechaGodzilla descends from above to block Godzilla's path to the Diet.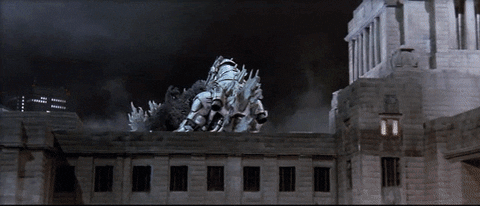 But the building gets taken out all the same.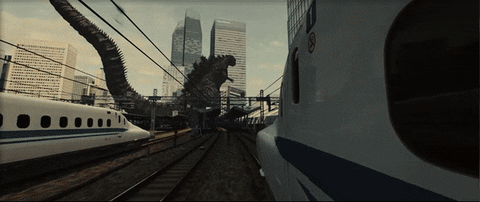 In Shin Godzilla (2016), Godzilla is portrayed a little differently. He has frozen in a solid state in the middle of Tokyo Station to let his reactor cool down after expending too much energy and overheating. Here they send explosive-laden Shinkansen at his feet to wake him up before he has fully recharged.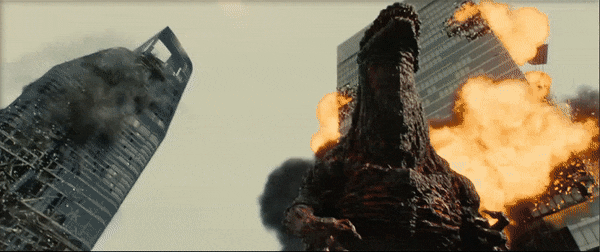 Once Godzilla is mobile, they detonate the high rise buildings from the photo above on top of him to pin him down at ground level.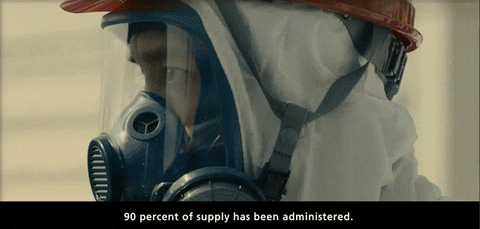 Godzilla has collapsed, sparing the south dome, allowing them to pump a coagulant chemical into his mouth that will freeze him permanently.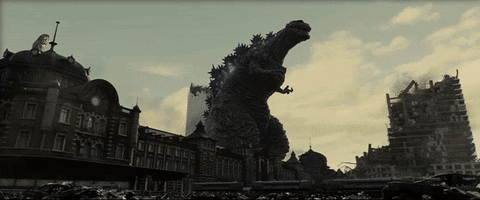 Godzilla gets back up, but the coagulant works, freezing him in place, forever immobilized in the middle of Tokyo Station.
Next up… Tokyo DisneySea!