Part 9: Nagashima Spa Land
When you plan a long vacation like this one, it seems incomprehensible that'll you'll one day arrive at the end of it, yet here we were at the last park of our trip. This was actually the day before Kyoto and we started the morning by boarding a Shinkansen from Tokyo bound for Nagoya. From Nagoya Station we then took a bus direct to Nagashima Spa Land. Unlike the Fuji-Q bus, the Meitetsu bus we took did not require reservations. They leave for the park at regular intervals.
Nagashima doesn't carry the bad rap that Fuji-Q Highland does so I was curious to see how they compared after enjoying Fuji-Q so much more than expected. Park grounds were immaculate and all but one of the coasters and most of the flat rides were operating. The only coaster not running was the jet coaster. Not that this was a credit I had been salivating over or anything, but none of the other parks we visited had a jet coaster so I was looking forward to experiencing at least one example of the type here.
Like Fuji-Q, Nagashima seemed smaller than equivalent parks in the U.S. As the pictures show, it's far from a concrete wasteland, but rather than the park following a loop or a hub-and-spoke layout, it's more of a free-for-all with coasters and flats plunked down wherever they fit with paths filling the gaps. It's a park with a distinctly RCT feel to it.
The most surprising fault I found was the operations. Call me crazy, but from what I saw, Fuji-Q's guest service and dispatches were better. Nagashima's staff weren't awful, but they were less courteous and professional than their Fuji-Q counterparts. I found it interesting that Fuji-Q's slowness was not due to poor training or service, but instead the fault of their hyper-cautious policies and procedures. The Nagashima employees were more like what I expected Fuji-Q's to be. Ride ops were quiet, withdrawn, and sometimes appeared to not be paying attention. They also made little-to-no effort to fill in empty seats with single riders, something both Fuji-Q and Yomiuriland did relatively well.
This is not to say we disliked Nagashima. We had another great day here, we loved the rides, and would both gladly go back. But if Fuji-Q greatly exceeded our expectations, Nagashima at best met them.
Steel Dragon 2000
I rate this coaster somewhere between Steel Force/Mamba on the low end and Superman: El Ultimo Escape on the high end, but closer to the latter. The three big hills feel just like what you'd get on Mamba. There's no airtime or strong positive g's so it's all about speed and appreciating the views and scale. The first incline spiral is also a bit tame and has a slight vibration. Things improve starting with the second spiral. The B&M trains look like they ride slightly higher than the original Morgan ones and it made me wonder if it puts the rider's heartline above where it would have been placed during the design process. I thought about this because the second spiral pulls some surprising laterals that just felt different somehow, though I can't explain why. These mix with positives that mount first, then subside as the turn radius widens. It feels completely different than the first spiral.
The MCBR trims off a little speed but doesn't grab you the way the two similar hypers do. This means you get good, strong, floater on every one of the bunny hills back to the station. They had a similar feel to the ending hills on Goliath at SFOG. You start to float as you crest, then get yanked down the descent. Steel Dragon is a very good coaster that would be great if the first half matched the tone of the second. Superman at Six Flags Mexico takes the good qualities of Steel Dragon and makes a full ride out of them. If we're comparing Japanese coasters I also like Fujiyama and Bandit better, but the gap between them is not wide. 8/10
As for the gigas I've done:
1. Fury 325
2. Intimidator 305
3. Millennium Force
4. Steel Dragon 2000
Arashi
I have not been impressed with the S&S Free Spin coasters Six Flags has built. Batman at SFFT gave me one good lap out of two and I found all of the Jokers to be pretty lackluster. Arashi is a different animal entirely. I could not believe how many inversions it pulls. The spinning on it is just so intense. However Nagashima calibrated or placed the magnets on Arashi is a model every other park who builds one should follow. I usually have to force myself to ride free spins for the credit when I see them while I thought Arashi was one of the most fun coasters in Japan. 8/10
Hakugei
This is a really, really good coaster that surprised a lot of us this year, including me. During construction I recall posting that it looked like RMC was trying to reach a median between New Texas Giant and Steel Vengeance with it. The first reviews immediately put that idea to bed and I think most people have put it in the very top rung of RMCs. So do I. The only ones that I feel confident I prefer are Steel Vengeance and Medusa Steel Coaster. By the way, Medusa is Carlos's home RMC, so he'd have as much pride in it as anyone and he actually liked Hakugei better.
This one isn't the kind of blitzkrieg that SV or Twisted Timbers are. Hakugei has more measured pacing, but only slightly. You're already going at a good clip when you plunge down the first drop, so you fly with more ejector airtime
than Isoroku Yamamoto in '43
. From that point on, the next two-thirds of the layout reminded me of a grander, more finetuned Twisted Colossus. Every airtime moment hits with perfection. Even the section of track with the semi-wave turn in place of White Cyclone's second helix manages ejector and that was a section many of us thought would be unexciting.
Only after the first barrel roll did it feel like Hakugei let its foot off the gas a little. There's one more good airtime hill, then a pair of left turns that don't really do anything, two good but not great airtime pops, and a second barrel roll which felt slower than the first. I am not saying Hakugei has a lackluster ending. It's good from start to finish. It just goes from being all-out insane to a half-step below crazy. This may not be a trending opinion, but as great as Hakugei is, I don't think it's the best coaster in Japan. It slightly misses eclipsing Flying Dinosaur and Eejanaika for me. 9/10
My updated RMC list:
1. Steel Vengeance
2. Medusa Steel Coaster
3. Hakugei
4. Twisted Timbers
5. Wicked Cyclone
6. Outlaw Run
7. Railblazer
8. Twisted Colossus
9. Iron Rattler
10. New Texas Giant
11. Twisted Cyclone
12. Joker
13. Goliath
Acrobat
I have always been a big fan of Manta at Sea World Orlando. I had it ranked neck-and-neck with Tatsu for years. But Flying Dinosaur may have changed B&M flying coasters for me. Tatsu still has the size and terrain to remain its own thing, but Manta's clone, Acrobat, just did not excite me after riding its superior neighbor just a few hours west. It's a good, comfortable, enjoyable coaster I simply had no real desire to ride again after getting the credit. Granted if it was a one-off and not a clone, I probably would have gone for a second spin, but for this visit I was content. This layout was designed in the middle of B&M's "tame period" and despite this, it still manages to bring some unique qualities to the table. I'll always enjoy it and its Florida brother for that. 7.5/10
Looping Star
I was impressed with this. It's not the most intense Schwarzkopf but it still pulls all of those weird, idiosyncratic g-forces that only Anton could design. There are some pretty tight clearances with supports that startled me on the first lap. Nagashima is lucky to have this and I hope they keep it for years to come. 7.5/10
Shuttle Loop
Hmmmm……… 7/10
Sheriff Nagashima! The
second time
John Wayne has played an Asian!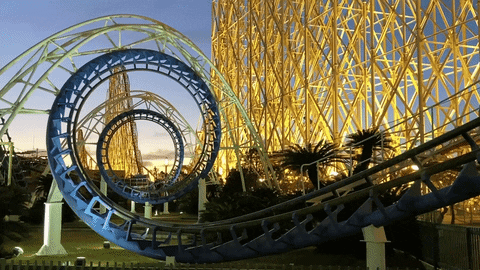 Corkscrew
Uhhhhh……… 5/10
Ultra Twister
Some people really love this ride. I kind of get it. It has a breed of unique, clunky airtime and intensity you can't duplicate on a conventional coaster. The steep first drop off the vertical lift has a nice, sudden pullover and the hill that follows is so much shorter it can't help but deliver a crazy burst of airtime. The rate of rotation on the heartline rolls is as fast as I've seen on any coaster. You get a couple of serious jolts when the car brakes at the end of the forwards run though its easy to brace for them once you know they're coming. It's a good fun ride, but still chiefly a novelty for me. 7/10
Wild Mouse
(no photos apparently)
So……… 5/10
With all of our Japanese parks for this trip complete, here's my Japan top 10:
1. Flying Dinosaur
2. Eejanaika
3. Hakugei
4. Fujiyama
5. Takabisha
6. Bandit
7. Steel Dragon 2000
8. Do-Dodonpa
9. Hollywood Dream/Backdrop
10. Arashi
And using my CoasterPoll list, here's my overall top 20 and how other Japanese coasters rank:
1. Skyrush – Hersheypark
2. Steel Vengeance – Cedar Point
3. Voyage – Holiday World
4. Expedition GeForce – Holiday Park
5. Maverick – Cedar Point
6. El Toro – Six Flags Great Adventure
7. Medusa Steel Coaster – Six Flags Mexico
8. Fury 325 – Carowinds
9. Flying Dinosaur – Universal Studios Japan
10. Superman the Ride – Six Flags New England
11. Eejanaika – Fuji-Q Highland
12. Intimidator 305 – Kings Dominion
13. Millennium Force – Cedar Point
14. Kumba – Busch Gardens Tampa
15. Goliath – Six Flags Over Georgia
16. Boulder Dash – Lake Compounce
17. Hakugei – Nagashima Spa Land
18. Twisted Timbers – Kings Dominion
19. Wicked Cyclone – Six Flags New England
20. Outlaw Run – Silver Dollar City
(31). Fujiyama – Fuji-Q Highland
(58). Takabisha – Fuji-Q Highland
(61). Bandit – Yomiuriland
(62). Steel Dragon 2000 – Nagashima Spa Land
(77). Do-Dodonpa – Fuji-Q Highland
(93). Hollywood Dream/Backdrop – Universal Studios Japan