REGISTER
for our forum to leave a comment!
-------------------------------------------------------------------------------------------------------------------
Day THREE of our Disney Magic Cruise! (Read part two
HERE
in case you missed it!)
Today was packed with random Disney adventures! It was our first "port day" which was Cozumel, Mexico along with being "Pirate Night!" (YAY!) On top of all that fun we also got to dine in the new "Rapunzel's Royal Table" which was basically a dinner & a show featuring all the characters and songs from Tangled. We also spent a lot of time on the ship hanging out because, well, since we've been to Cozumel many times, for seasoned cruisers like us, that's a perfect time to take advantage of a mostly empty ship while everyone else is on shore!
Great times were had! But let's SHOW you some of the fun...
Before you ask, YES our day started out with Mickey Mouse Waffles... DUH!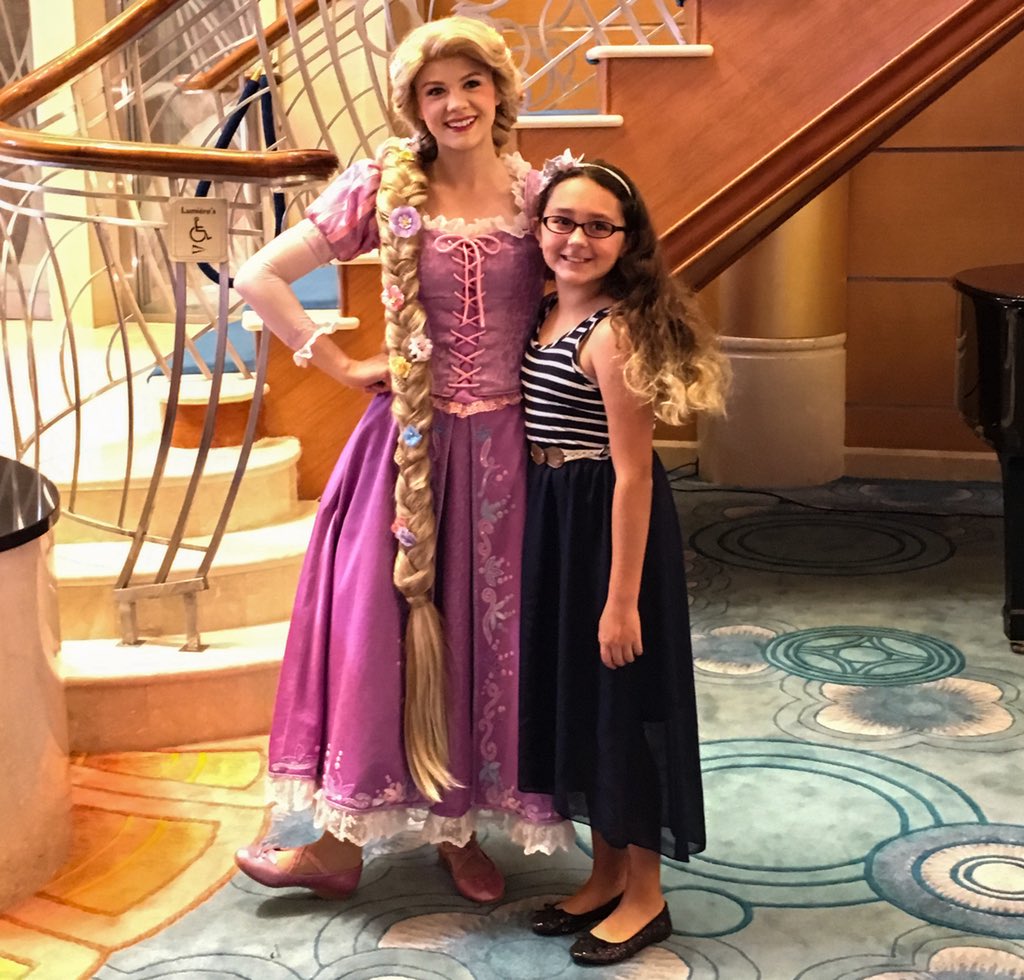 It was a "Disney Princess" kind of morning for us...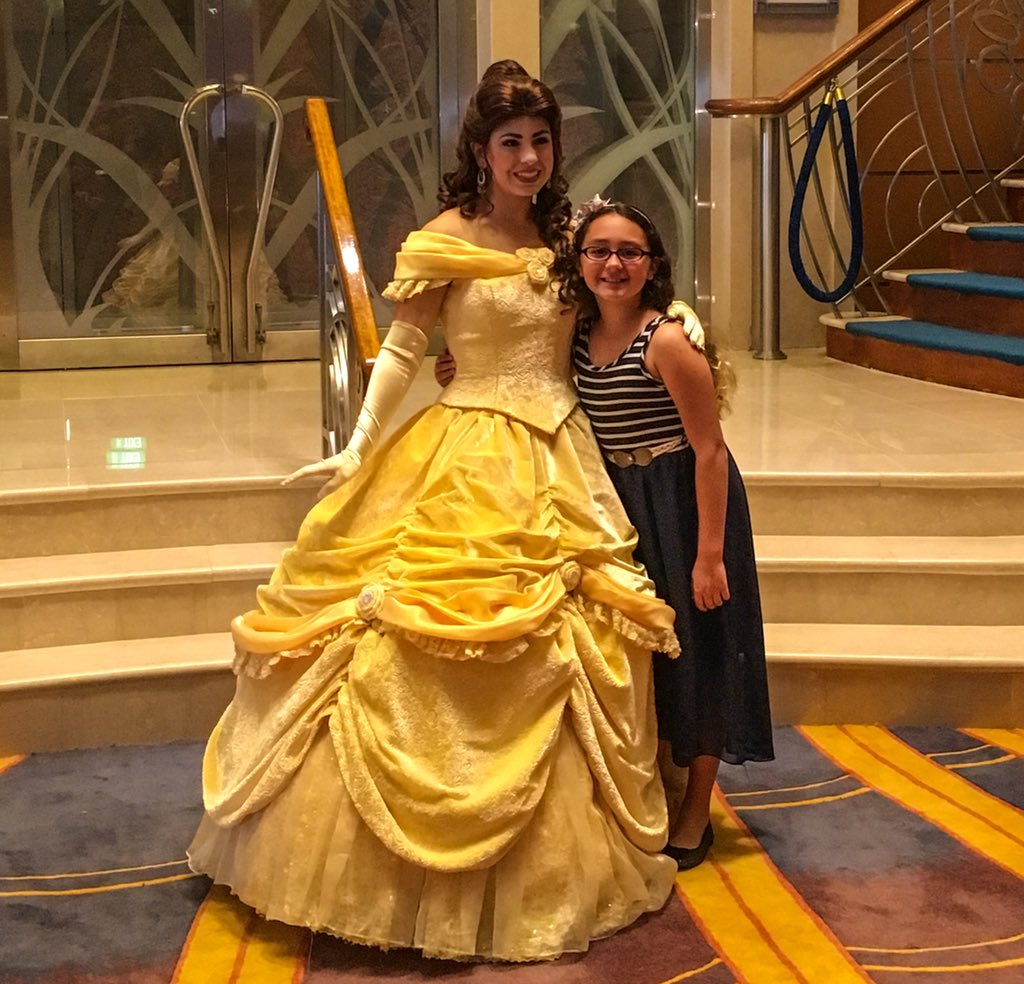 These princess meet & greets happen on most mornings throughout the cruise...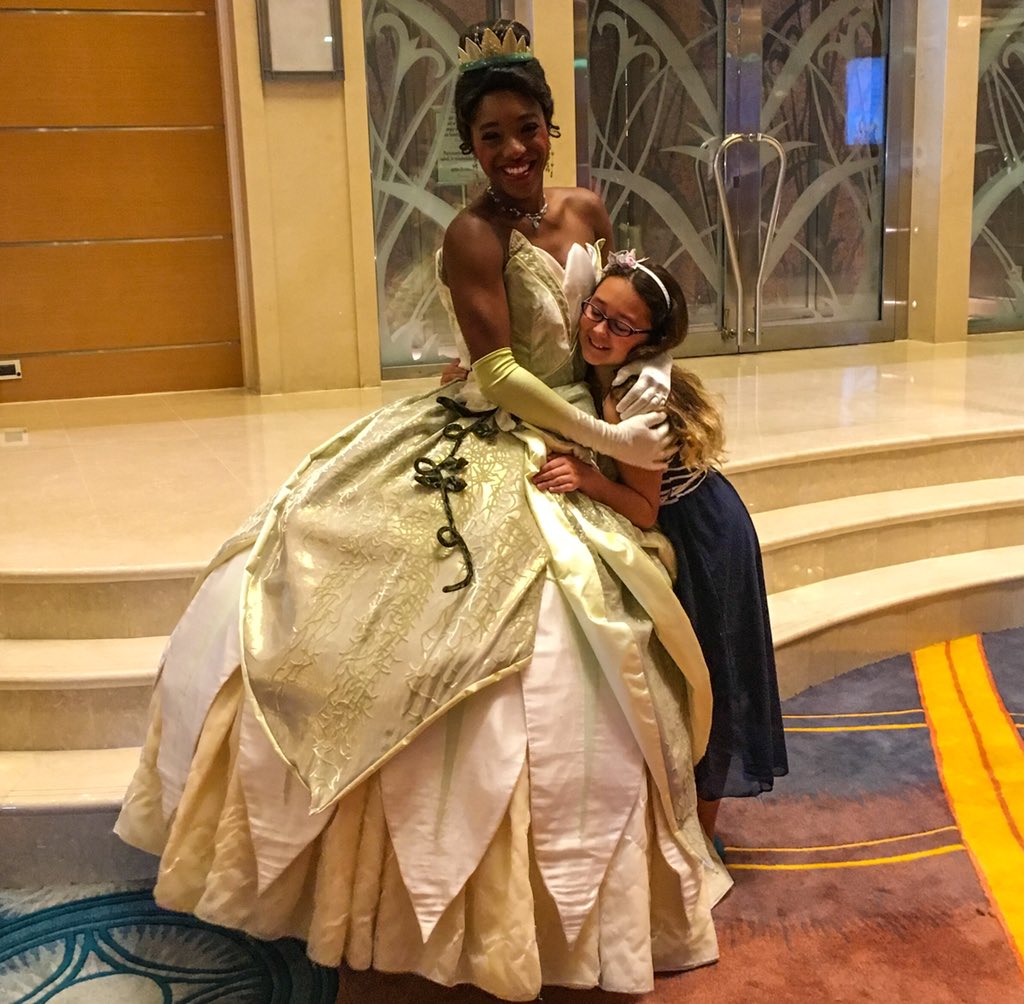 And while there is no additional charge to do this, you do have to book tickets in advance.
Kristen is getting some posture tips from Rapunzel!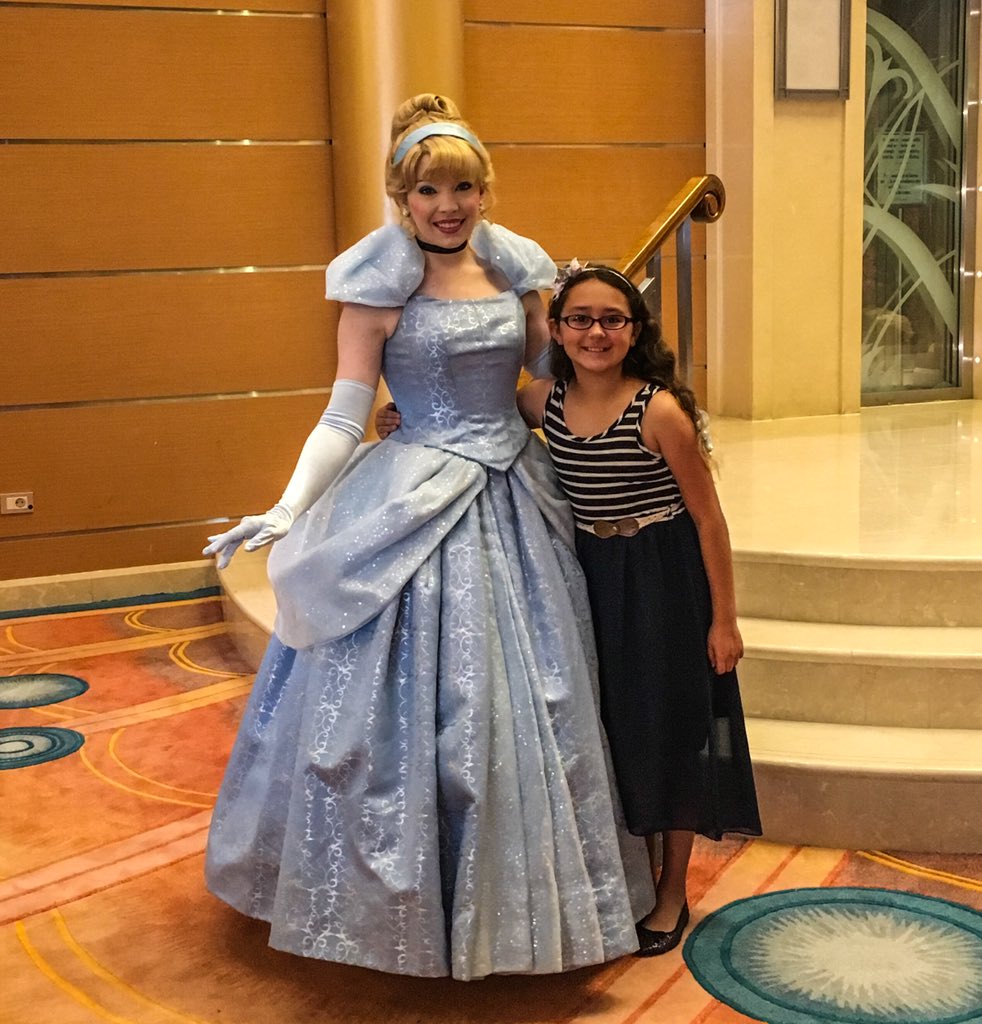 Kristen had a great time meeting all of the princesses!
Hello Rapunzel!
We love Tiana! Princess & the Frog started the new "rebirth" of Disney animation and we thank you for that!
We also got to do the Frozen meet & greet this morning!
Kristen got to hang out with Anna & Elsa! (I was jealous!)
I may have snuck in a picture with the Frozen princesses! (This isn't creepy right? Please just tell me this isn't creepy!)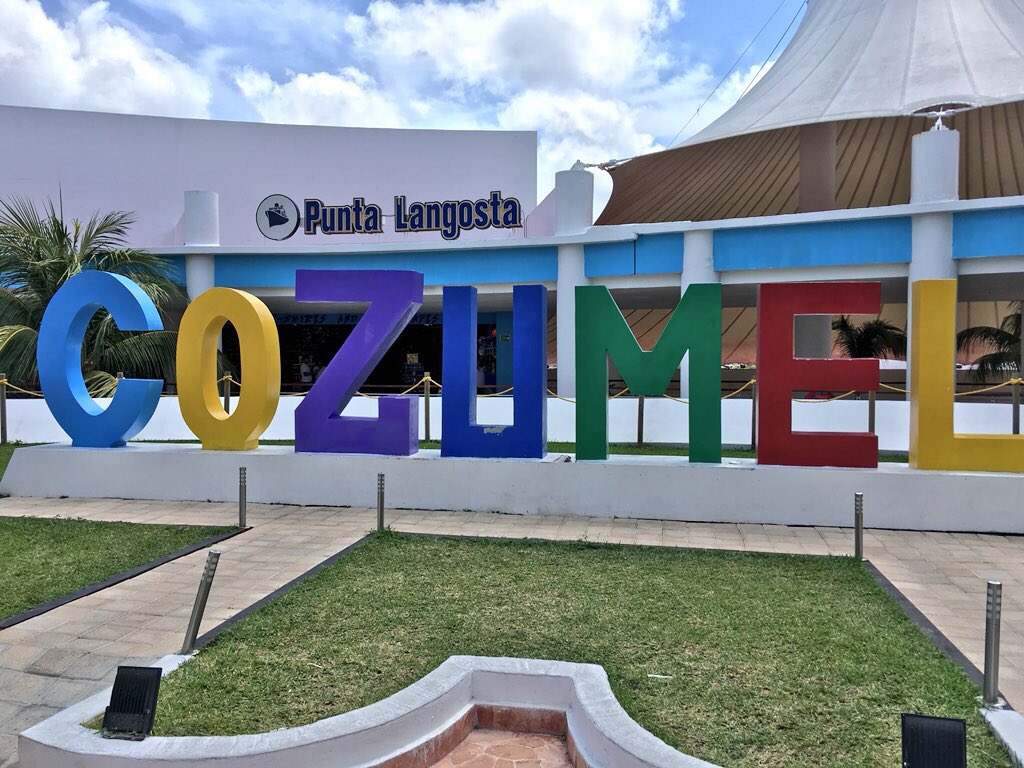 Today the Disney Magic is porting in Cozumel, Mexico! We have been to Cozumel quite a few times so we normally just do a lap of the port and take advantage of the empty ship!
The ship looks awesome ported in Cozumel!
Here's another look at it...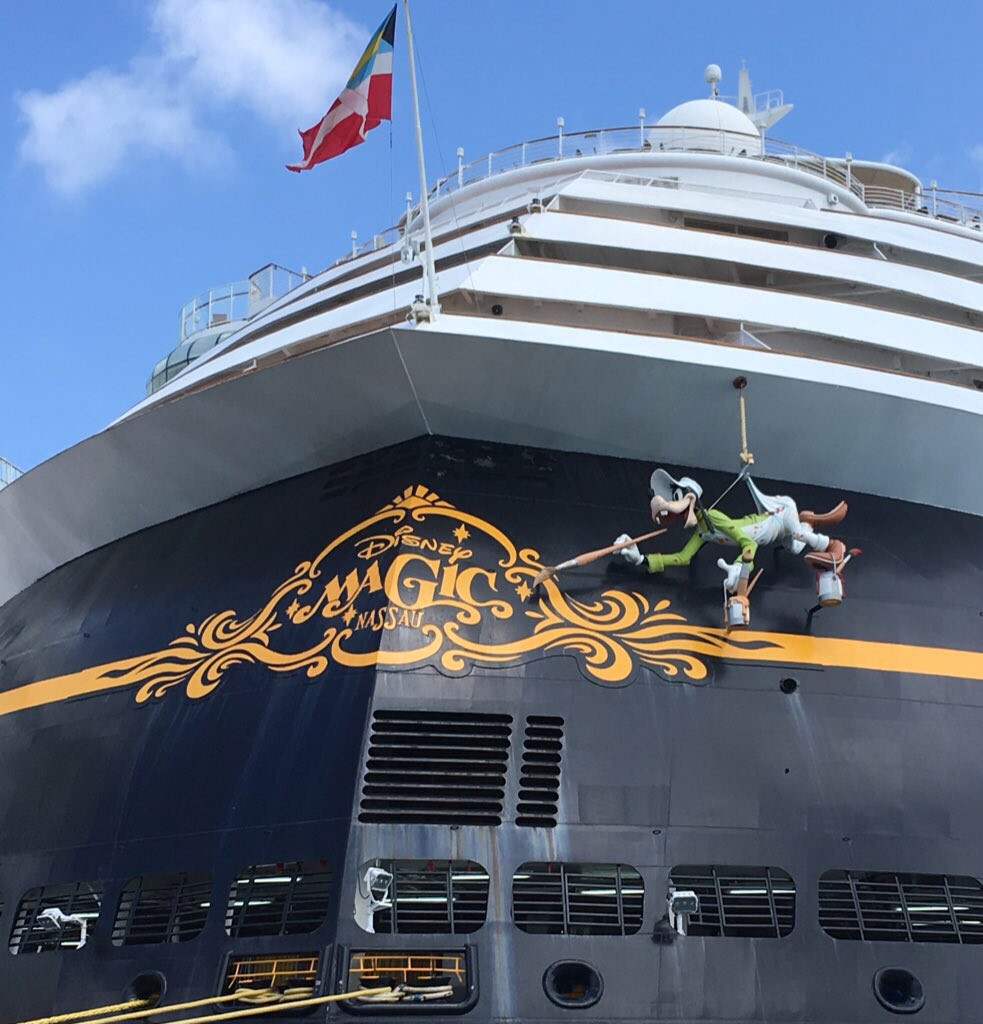 Hello, Goofy! How's it going?
We did a "courtesy lap" around the port. We've been here many times so there wasn't really anything we needed.
Obviously those are officially licensed from Disney!
Actually, this was the REAL REASON we got off the ship!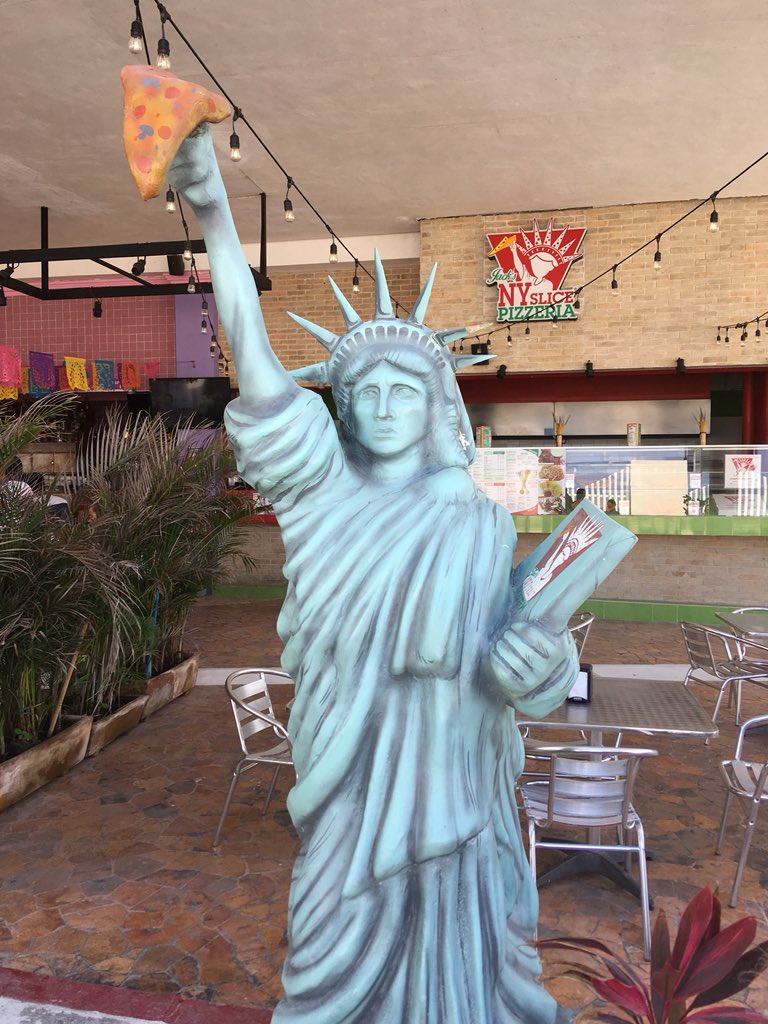 We found this "New York Pizza" place in Cozumel!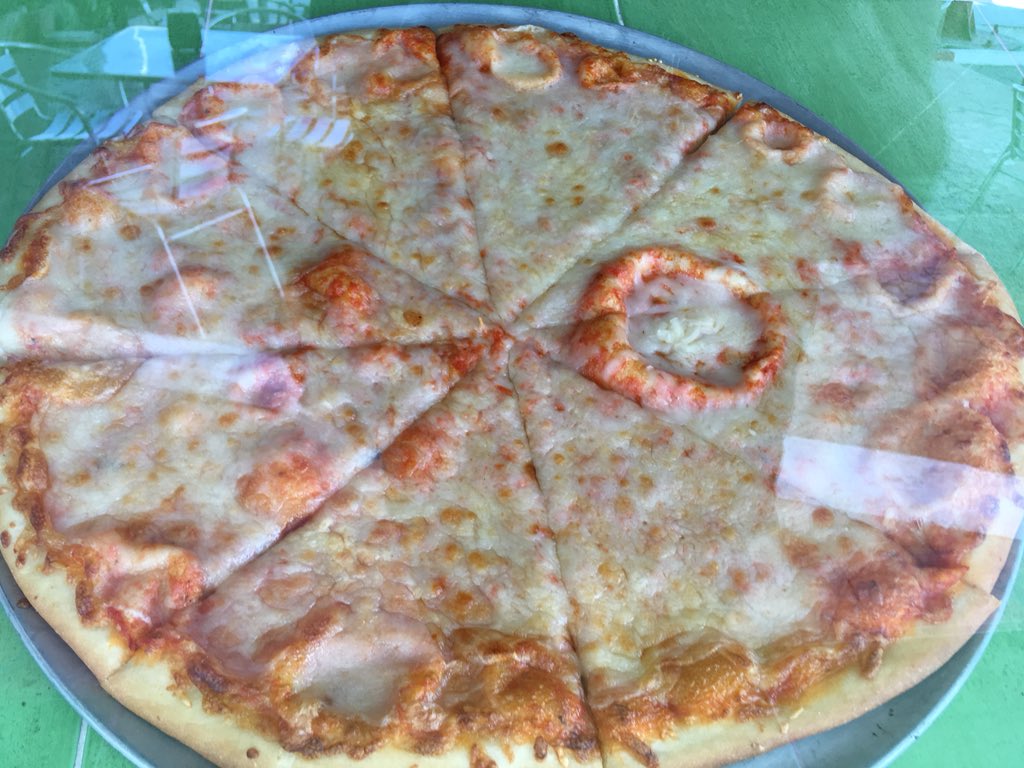 It has 1 Star on Yelp and the pizza looked like it was sitting out for a while so we didn't take our chances! We'll stick with the amazing food on the ship!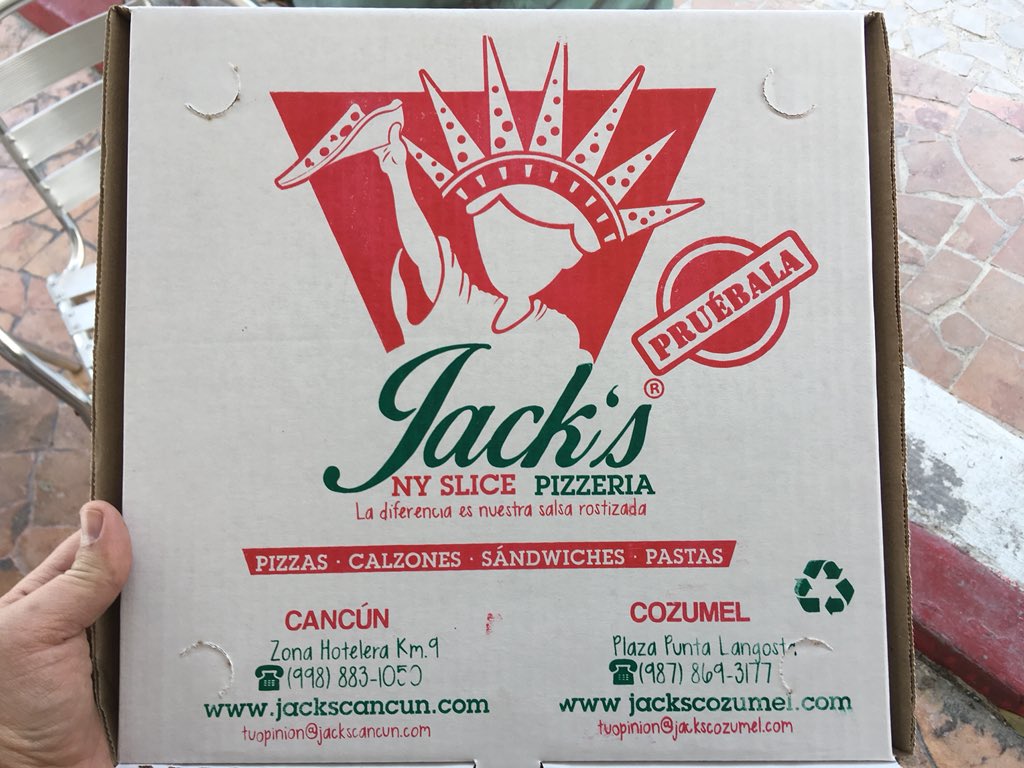 We did pick up a pizza box for Scott's Pizza Tour, though!
Ports like Cozumel, if you've been before like we have, makes for a GREAT day to hang out on the ship!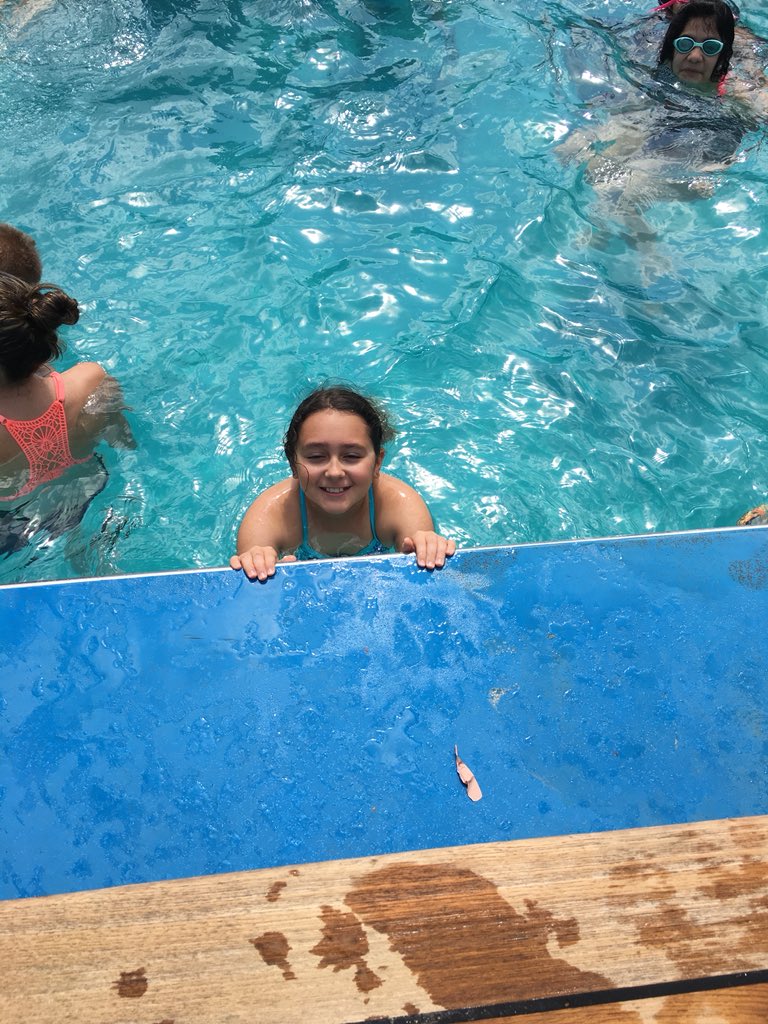 There were light crowds in the pools...
Plenty of room on deck to relax!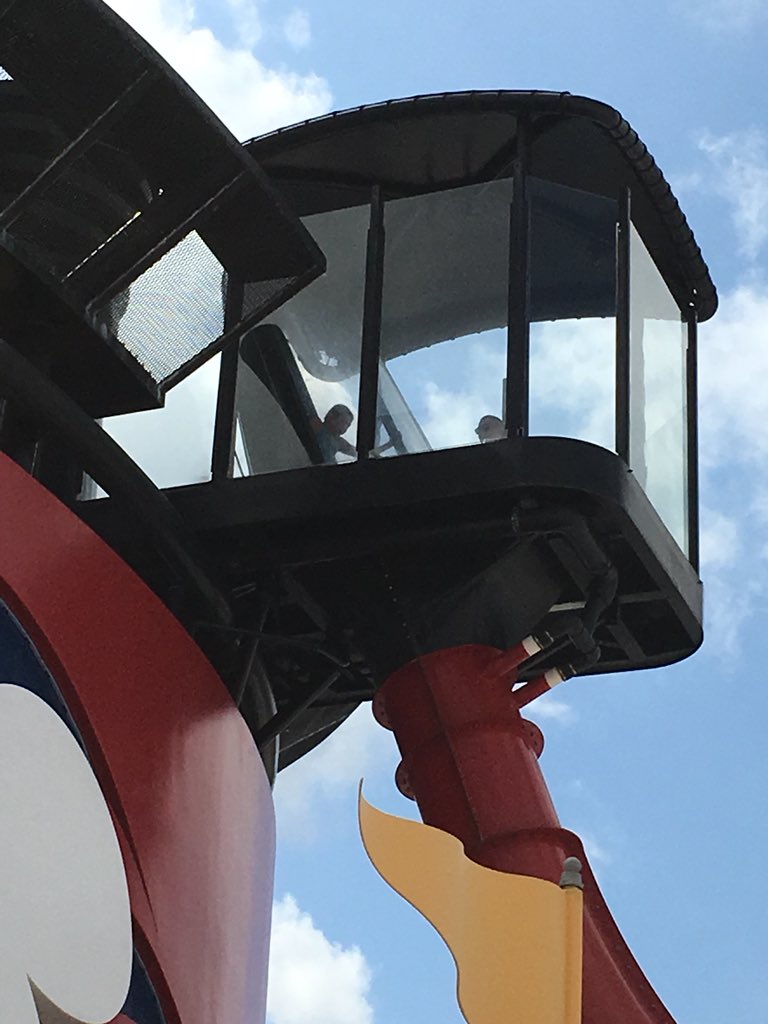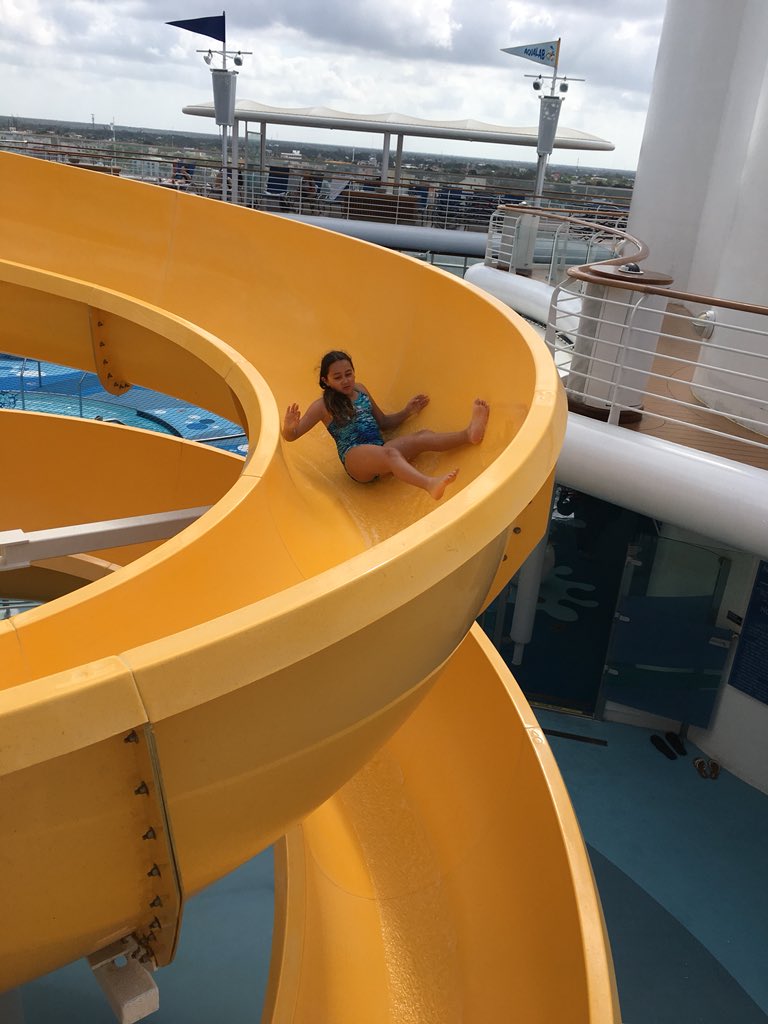 Short lines for the water slides and you can ride over and over again (which we did!)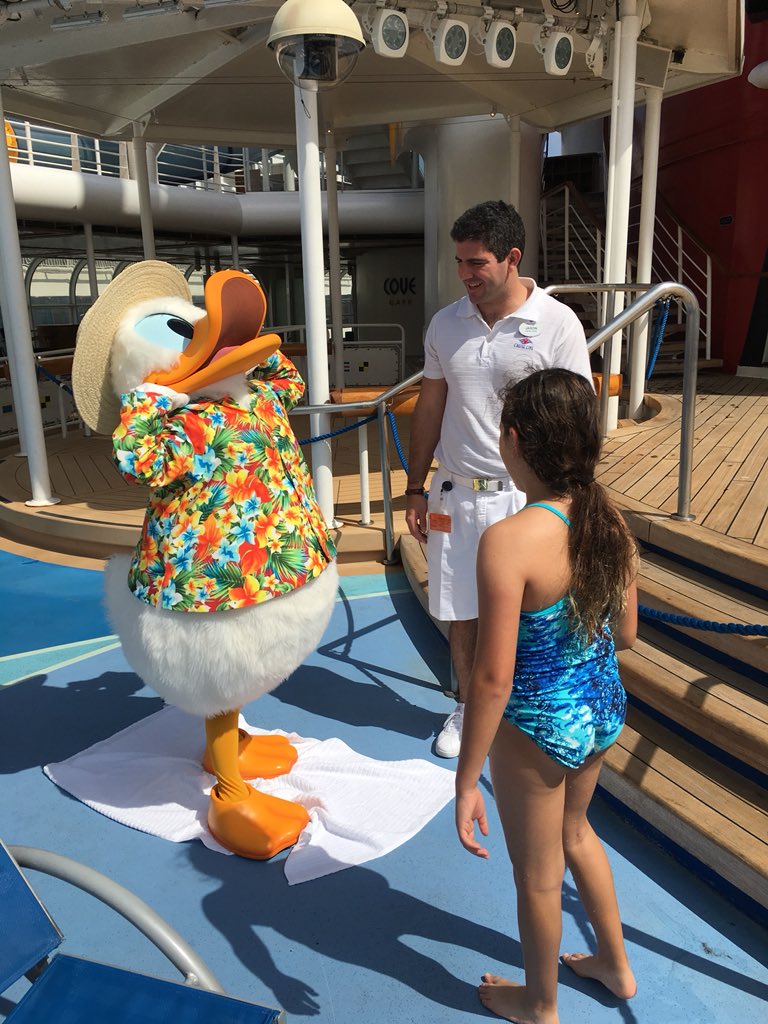 And you can have some GREAT interactions with the characters since there are not many people around!
We had lunch at the Chicken Shawarma place on the pool deck and it is FANTASTIC!
Did we mention you can get alcoholic Dole Whip pretty much any time you want at the pool deck? Yeah!
Tonight is "Pirate Night" so we have some fun things to wear to get us in the spirit!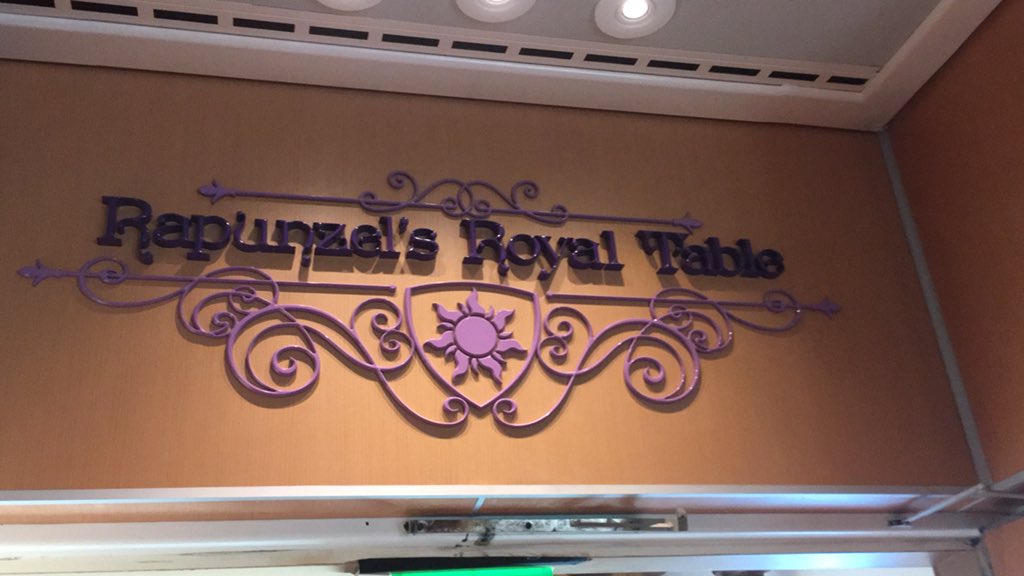 Tonight's dinner is at the brand new Rapunzel's Royal Table!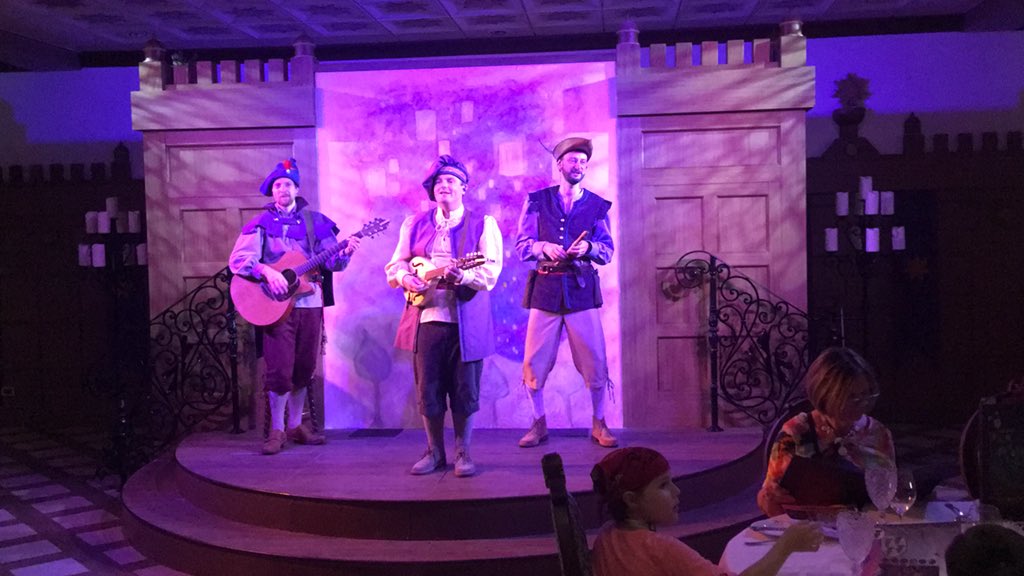 The theming and atmosphere in here is fantastic!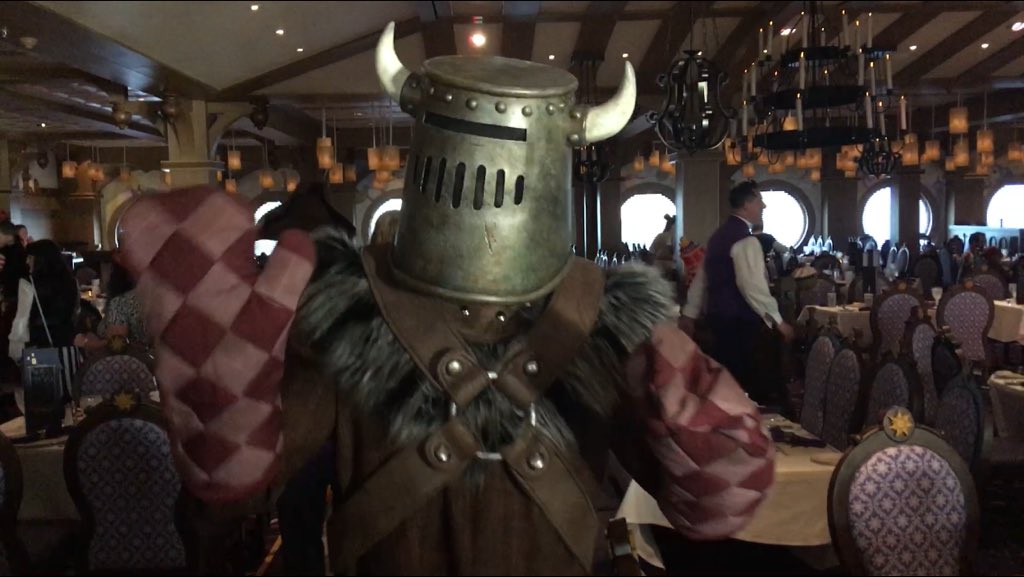 We are greeted by the Tangled "Ruffians!" lol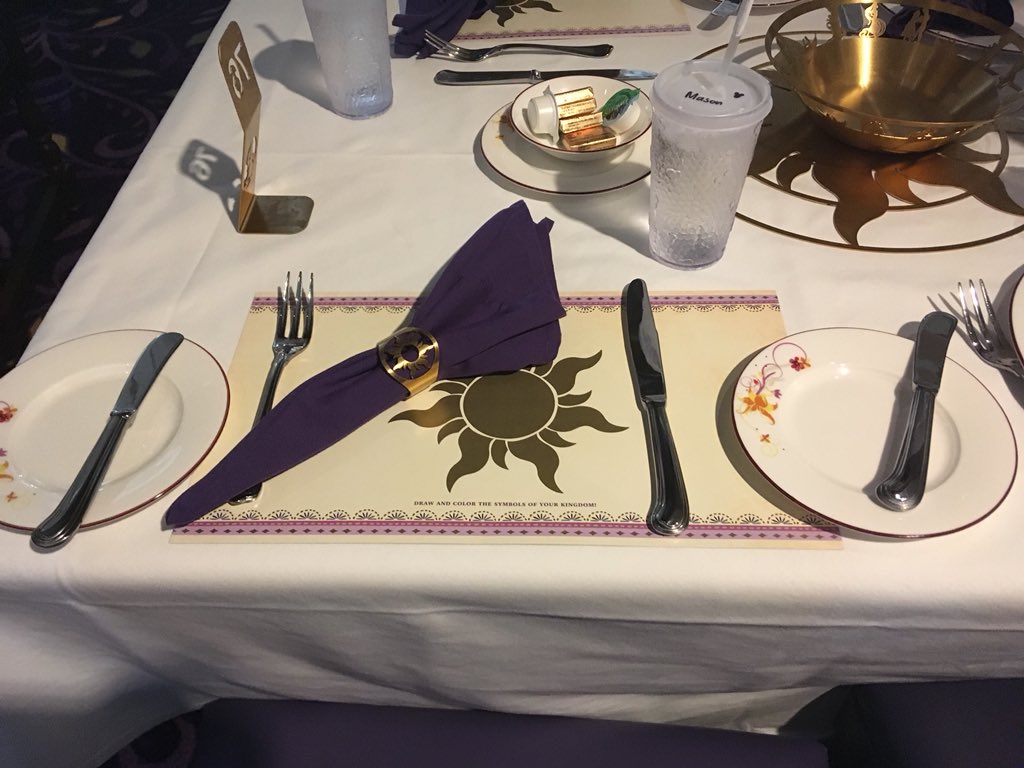 This is a brand new addition to the Disney Magic!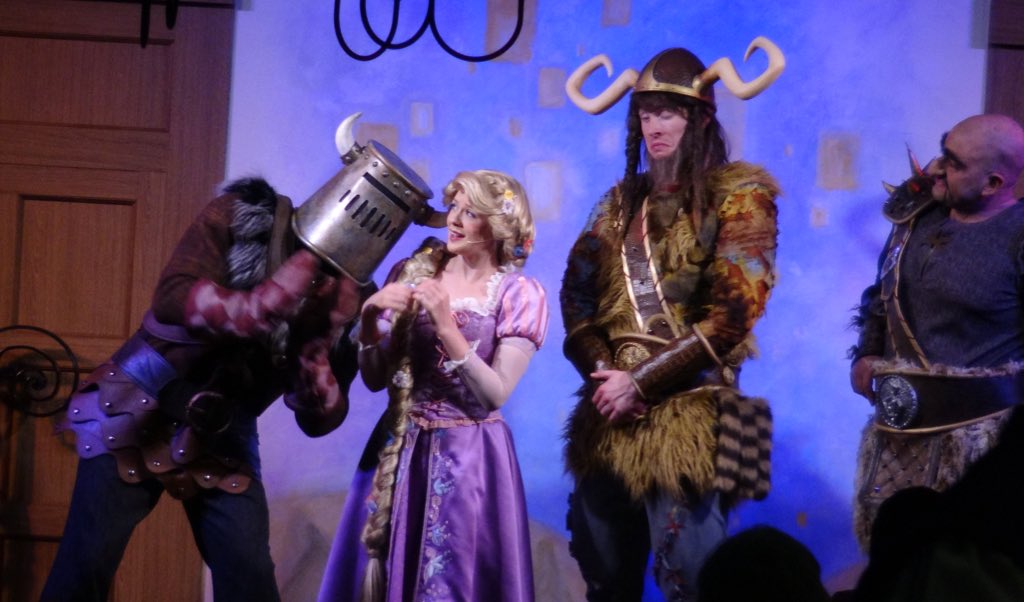 The "show" has started in Rapunzel's Royal Table and it's completely adorable!
It really is a "dinner and a show!"
Don't they look adorable together?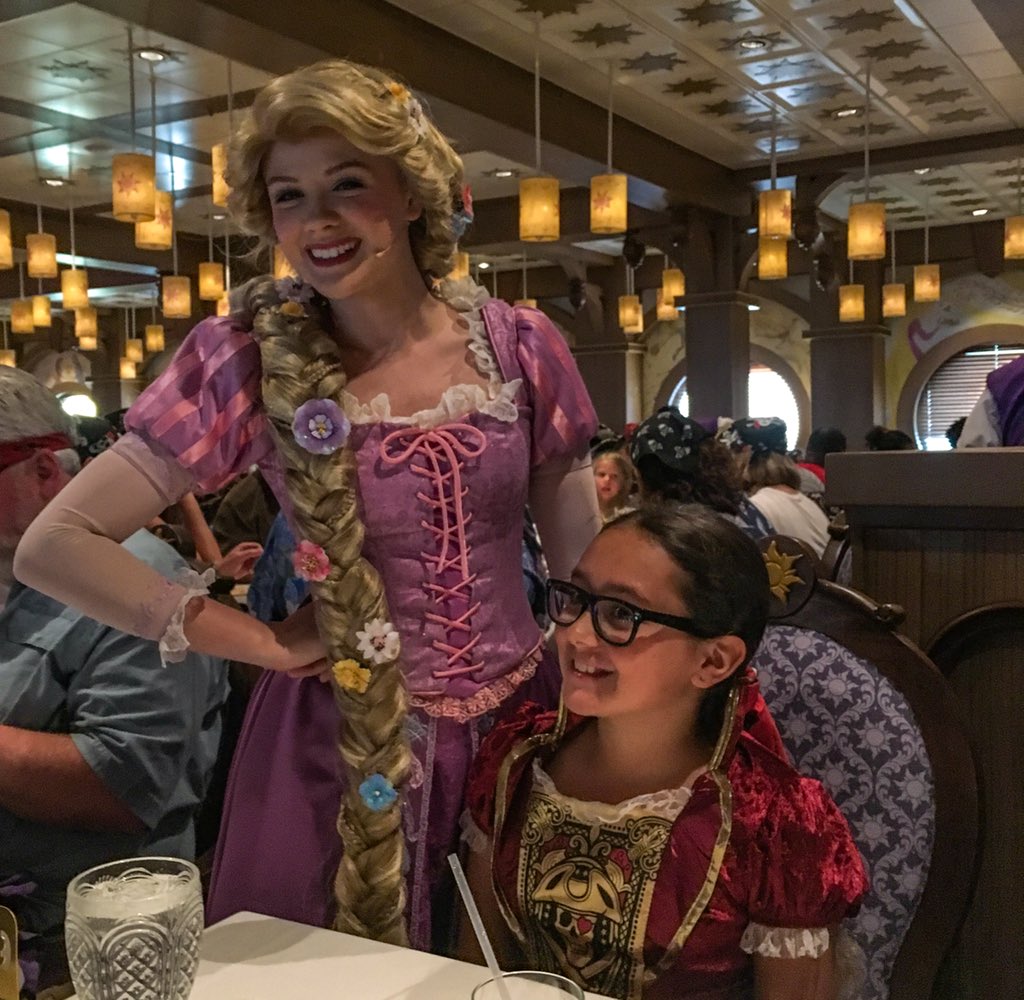 Rapunzel has come around to our table to say hello!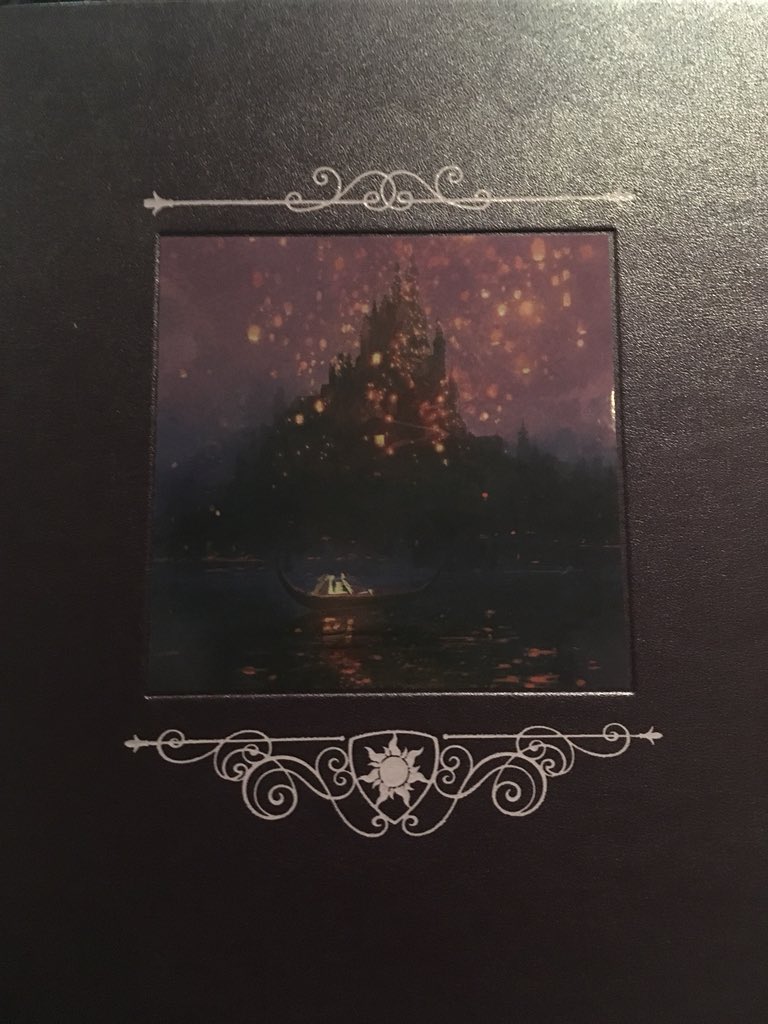 Here is the menu for Rapunzel's Royal Table!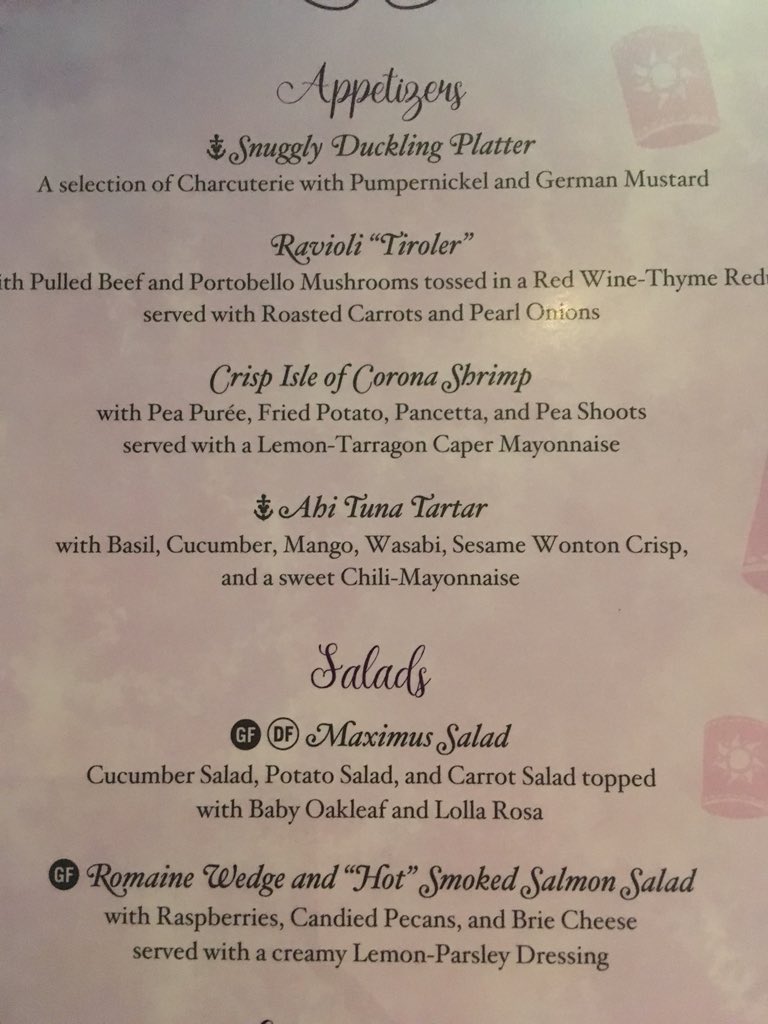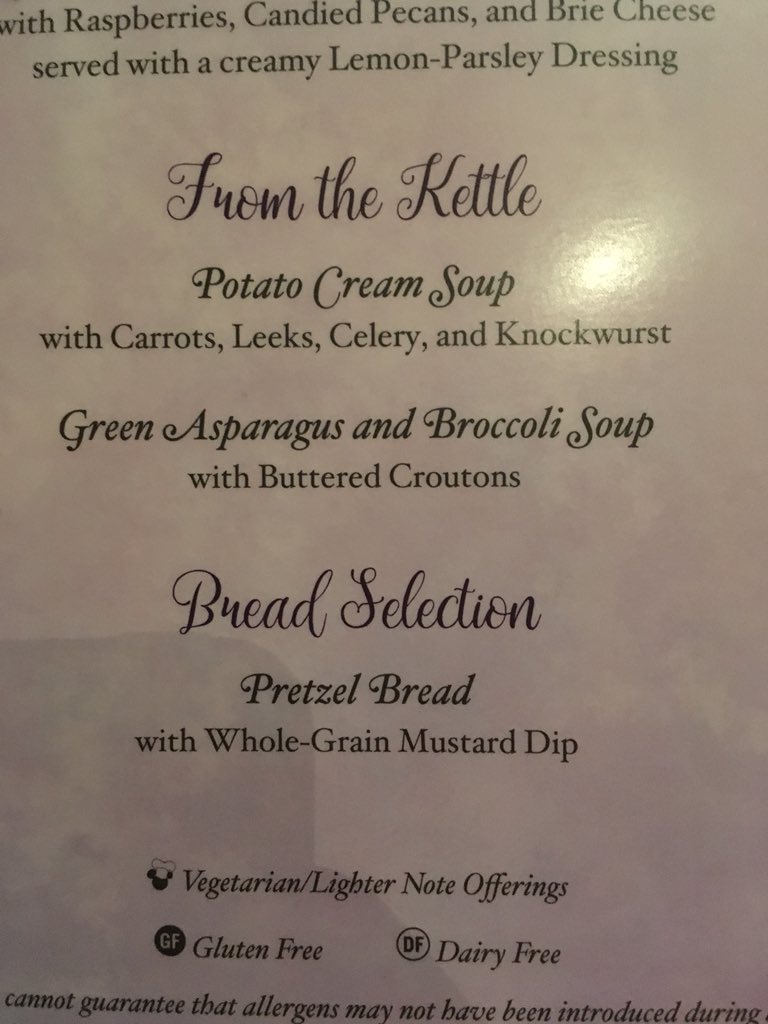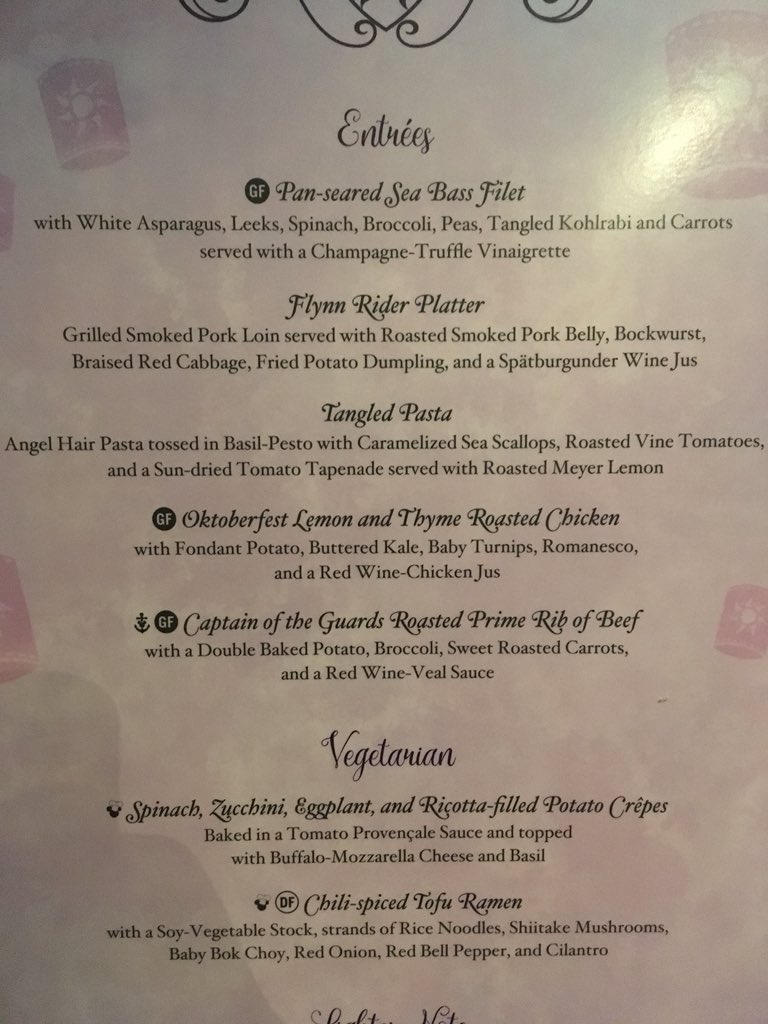 See anything you'd like?
I'll just leave some of these food pics right here...
The dessert in Rapunzel's frying pan stole the dinner part of the show, though!
I love how the kids menu transforms into a lantern!
And of course Flynn Rider came around to hang out with all the girls!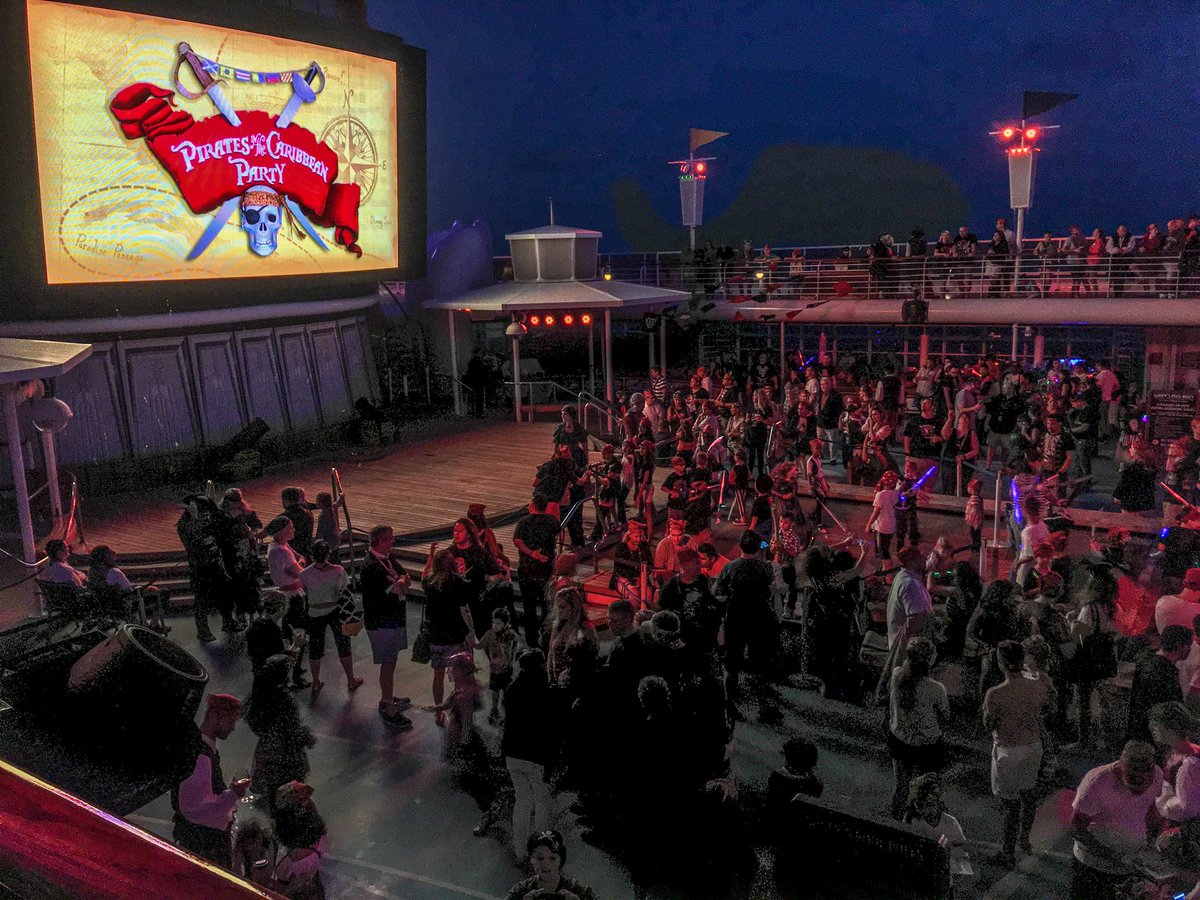 Pirates night deck party is about to begin!
It's a deck party featuring all things "pirates!"
But first...there is a "Flash Mob!" (Yes, this is still a thing!)
And look who volunteered to be in the flash mob! (Yes, that is Kristen!)
Any deck party with lots of rodents is a huge win for us!
Hello rodents!
Uh, oh... Captain Hook is here to stir up some drama. He's like a troll who just came into the TPR forum and is up to no good.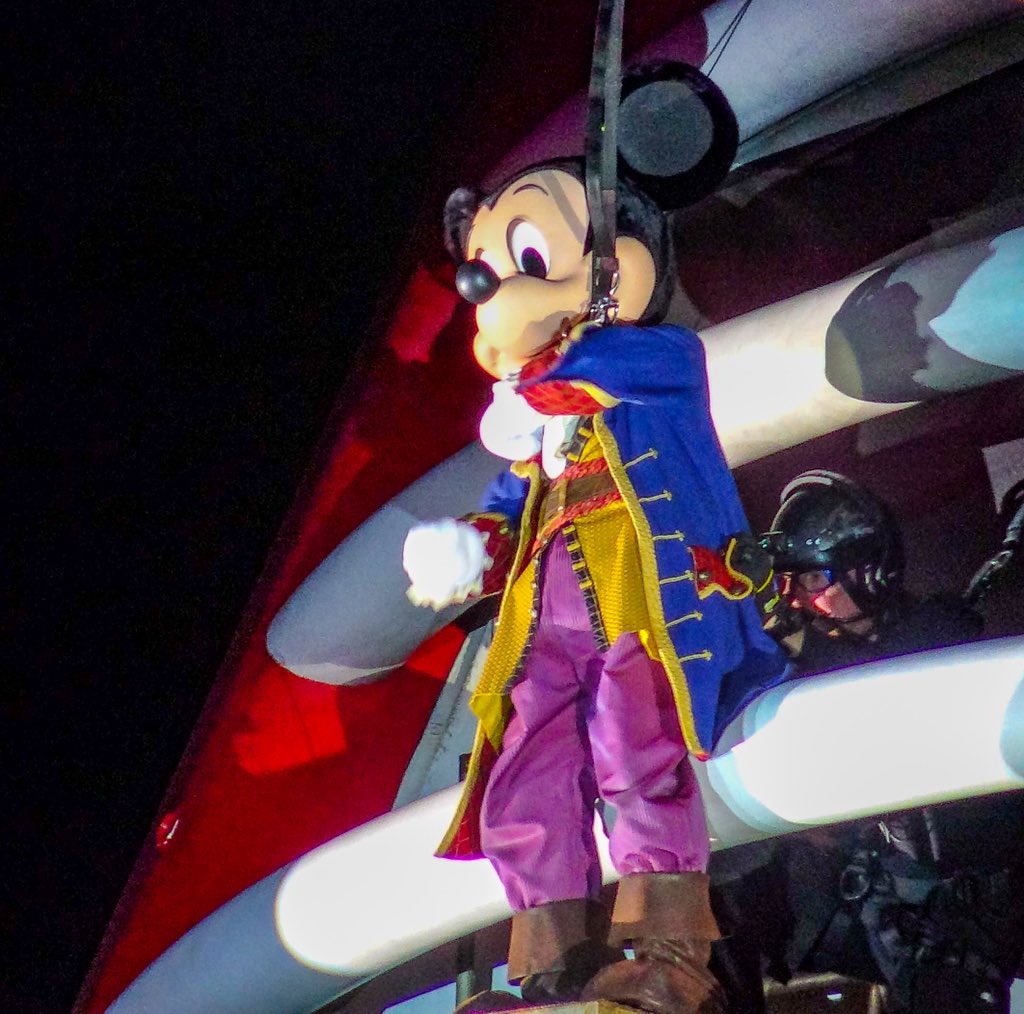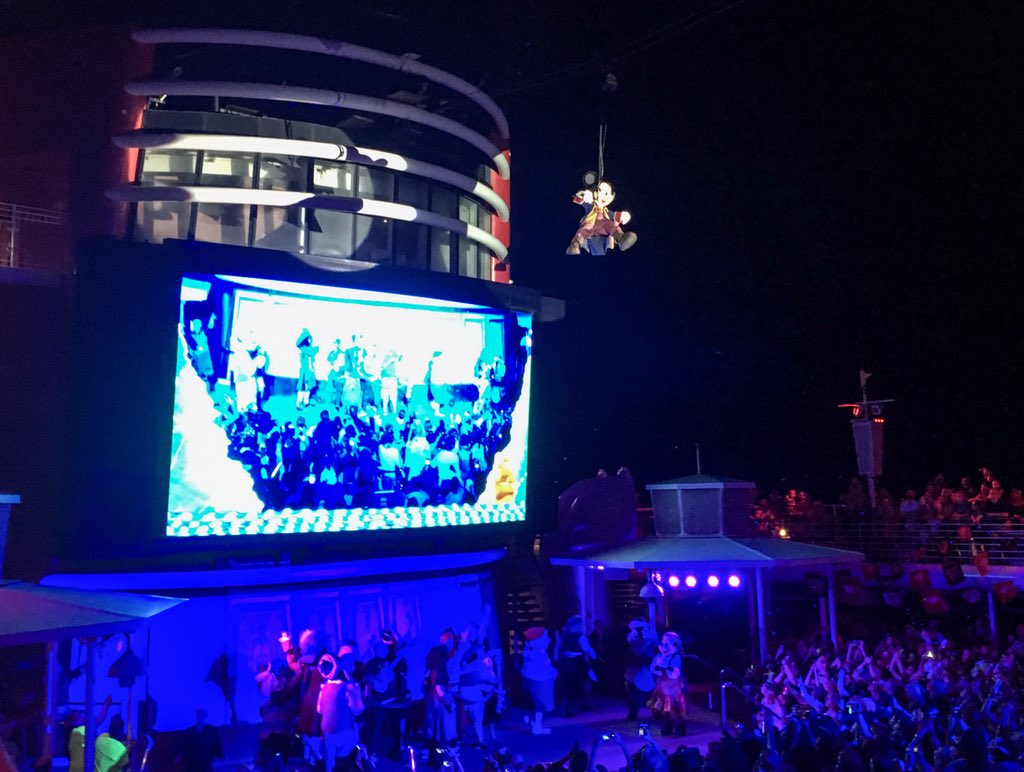 Yes, that is "Pirate Mickey" who ziplines from the top of the ships funnel to start the fireworks on Pirate night! It's amazing!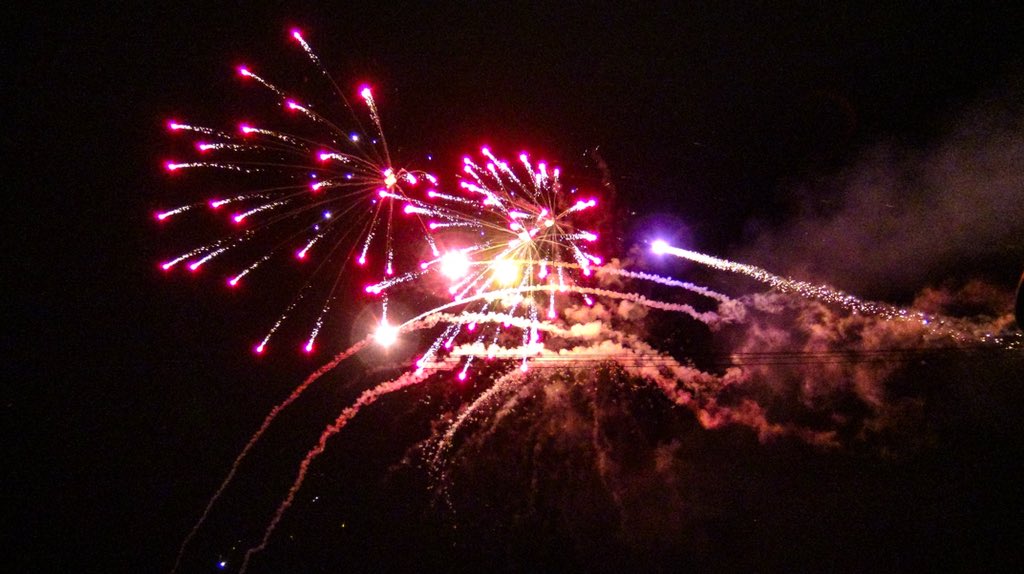 There is just something completely magical about fireworks at sea!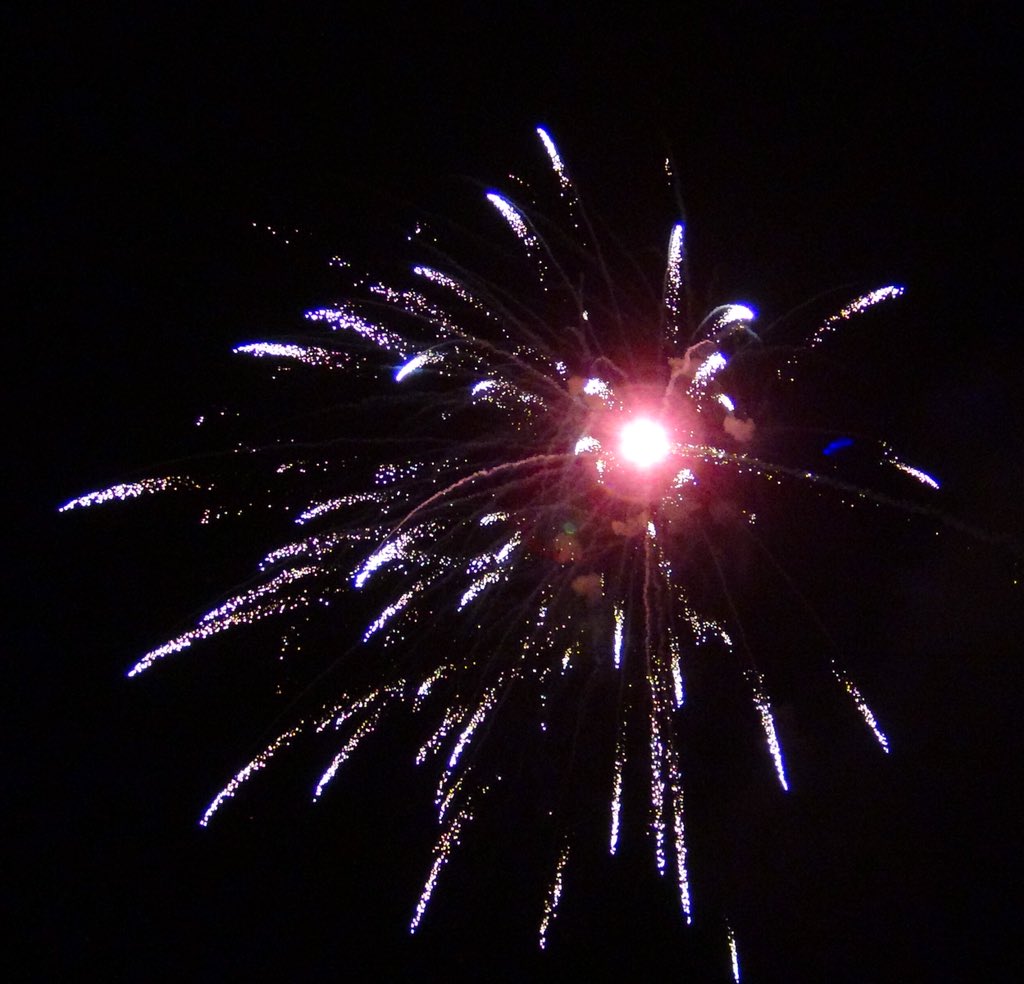 It is my favorite entertainment offering of any cruise ship on any cruise lines! Absolutely LOVE it!!!
This is just seriously awesome how it lights up the entire sky and the water around you!
Of course Mickey is here to save the day!
Jack Sparrow is out meeting & greeting everyone.
The shop has had pirated themed items for sale all day today.
I love that we got a pirate themed "towel animal" in our stateroom!
Pirate Stitch even came to hang out with the kids in the Tween Club tonight!
Hiya Pirate Minnie!
Oh those silly rodents!
We each ended pirate night with our rodents! Elissa & Kristen with Chip n' Dale...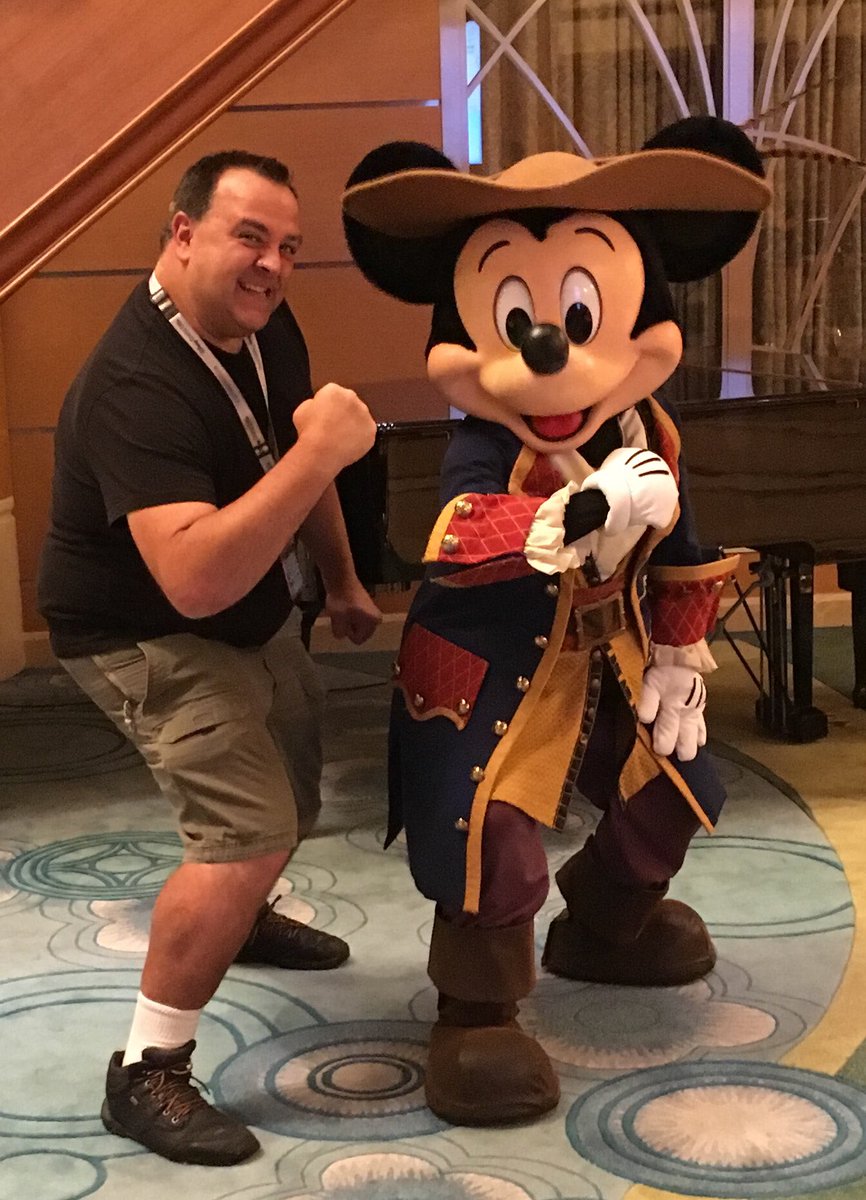 and me with Mickey!
Looking good, Mickey! Thanks for another wonderful day on the ship!!!
Oh yes, be sure to
POST YOUR COMMENTS!!!
(we took the time to write the report, the least you could do is say something nice about it!)
Last edited by
robbalvey
on Thu May 10, 2018 10:28 pm.