Wed Jul 31, 2013 4:49 pm
I started working as a professor at Farmingdale State College on Long Island nearly a year ago, and I have to admit, the school's proximity to Adventureland was actually a factor in my taking the job. And while I've communicated with park co-owner Paul Gentile via email and telephone to talk shop, I hadn't actually been over the park since August of 2008, when Cheryl, Lauren, our friend Dave, and I went there to get the credits. This made me sad, because during the school year when I bike from my office to the train station in the dark on my way home, Adventureland always cheers me up because their small Ferris wheel is always lit up with LEDs at night, even during the off season. So on a day when Cheryl was on her way to the Bahamas with Lauren, and with very bad traffic back to Queens, I decided to wait it out and kill some time at Adventureland. I was not disappointed, and it was better than I remembered it.
Attachments

Adventureland is more or less in that circle on the left, and my office is approximately at the end of that arrow. I took this picture while flying in the back seat of a Cessna with a colleague and Cheryl's uncle, who's also a pilot. Farmingdale State College actually has the largest collegiate flight school in the Northeast.
1 copy.jpg (388.41 KiB) Viewed 20525 times

Zierer Tivoli coaster. These kids were really into it!
10.jpg (425.8 KiB) Viewed 20525 times

Some version of a wave swinger.
11.jpg (579.97 KiB) Viewed 20525 times

There is a lot of stuff jammed into a small space. There is one of those scramble-through things for kids.
12.jpg (601.43 KiB) Viewed 20525 times

There are a lot of kiddie rides.
13.jpg (522.17 KiB) Viewed 20525 times

I can't even show them all, it's so packed in.
14.jpg (536.96 KiB) Viewed 20525 times

But still room for little touches along the midway.
15.jpg (543.55 KiB) Viewed 20525 times

My kind of park!
16.jpg (525.73 KiB) Viewed 20525 times

I had already eaten, but there seemed to be plenty of food options.
17.jpg (482.65 KiB) Viewed 20525 times

The train ride took a good 10 minutes, which is amazing given the small size of the park.
18.jpg (493.6 KiB) Viewed 20525 times

They had pictures and relics of old rides along the train route. Lots of Long Islanders have Adventureland memories: The park has been open for 51 years.
19.jpg (570.14 KiB) Viewed 20525 times

Here's the 12-armed Ferris Wheel that I see at night. I think it's a Zamperla.
2.jpg (421.54 KiB) Viewed 20525 times

The train ride was surprisingly serene too, given that you're surrounded by exburban sprawl.
20.jpg (451.33 KiB) Viewed 20525 times

Good haunt stuff on the train route too. The owner told me that they were getting very pumped up for their Halloween event.
21.jpg (420.67 KiB) Viewed 20525 times

My 4 remaining tickets were for the dark ride, and I was surprised to see that the old dark ride was gone and had been replaced...
22.jpg (471.94 KiB) Viewed 20525 times

...by this! It's called Geister-Rikscha (Phantom Rickshaw). I think it was built by Mack way back when.
23.jpg (432.01 KiB) Viewed 20525 times

I found that information and this earlier picture of the ride from an earlier location at this German ride site:
http://www.ride-index.de/include.php?path=content/content.php&contentid=1466
At least I *think* it's the same ride. I couldn't get a good picture of the whole face of the ride at Adventureland, and it's amazing how tightly they've managed to wedge it in.
24.JPG (261.41 KiB) Viewed 20525 times

All of the rickshaw drivers are hooded! Totally creepy.
25.jpg (502.13 KiB) Viewed 20525 times

It's fun. They've added a ton of props inside.
26.jpg (421.62 KiB) Viewed 20525 times

All in all, it's a small but charming little park with a nice mix of rides packed into a smaller footprint. I had a really nice chat with owner Paul Gentile at the end of my visit. I hope to recruit him as a guest speaker for one of my classes. It's very much a family-owned and -operated kind of place and you can tell that it's a labor of love. Maybe it was because my last park visit had been to pathetic Camden in WV, and this park seemed incredible by comparison, but I left with a really good feeling about Adventureland. It was just good to see a local park that has been treated with a lot of TLC.
27.jpg (465.5 KiB) Viewed 20525 times

Thanks for visiting Adventureland Long Island with me!
28.jpg (555.84 KiB) Viewed 20525 times

Unfortunately I did not run into Alfie the mascot that day.
3.jpg (540.8 KiB) Viewed 20525 times

Hey, it's New York! Adventureland is about an hour from Manhattan, maybe even less without traffic.
4.jpg (603.77 KiB) Viewed 20525 times

The S.D.C. Hurricane.
5.jpg (466.07 KiB) Viewed 20525 times

Antique cars.
6a.jpg (445.58 KiB) Viewed 20525 times

A pirate guarding the flume in the pirate area.
7.jpg (452.66 KiB) Viewed 20525 times

There's also a pirate ship in the pirate area.
7a.jpg (397.58 KiB) Viewed 20525 times

Huss Frisbee.
8.jpg (516.4 KiB) Viewed 20525 times

Musik Express.
9.jpg (381.23 KiB) Viewed 20525 times
Last edited by
milst1
on Mon Jan 26, 2015 5:00 am.
Wed Jul 31, 2013 5:18 pm
On my only visit I was surprised how much they crammed into such a small footprint.
Thu Aug 01, 2013 11:33 am
Great photo report! Yay for parks who still have S.D.C. Hurricanes!
Thu Aug 01, 2013 3:51 pm
It's weird seeing a thread for this park. I live about 25 minutes away and used to go there all the time. Still go every once in a while, but now that I can commute to Great Adventure I tend to not go to Adventureland.
Thu Aug 01, 2013 4:04 pm
The rickshaw ride looks pretty cool.
Thu Aug 01, 2013 4:29 pm
Great report! I still need to get up there some day, hopefully next year.
Fri Aug 02, 2013 11:58 am
Small parks like this have a lot of charm. Love the report.
Fri Aug 02, 2013 12:09 pm
You don't often get to see trip reports or even hear about the small parks, so that's why this site was set up to give these parks the exposers they really need. You never know what type of obscured ride may be found in parks like this, or a one-of-its-kind attraction that no one else has.
Great Photo Trip report, but the way. We need more photo trip reports on small parks; you may have that rare ride that might encourage a rider and amusement park flyer to go there and ride it!
"I'm not perfect; I just love to ride!!!"
Thu Aug 08, 2013 9:56 am
Thanks for the love, everyone!

I'm personally not a huge fan of Hurricanes, but whoever loves them should go take a spin! It's definitely a park that's worth a visit.

I know that I'm going to try to take more advantage of a great park that's right across the street!
Thu Aug 08, 2013 10:07 am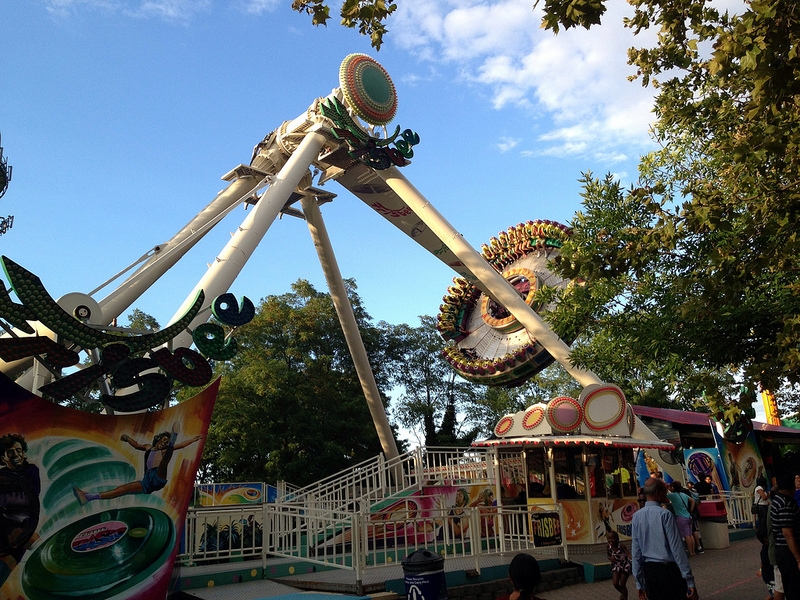 Best thing in the Huss catalog!
Thanks for sharing.