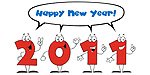 Hey everyone!
2011 is finally here! Tell us what you're looking forward to the most this year, your theme park and roller coaster plans, or any other random stuff you're planning for this new year!
Here's mine:
- First time visiting Australia!
- Cheetah Hunt!
- Going back to Japan!
- Yakatori Bars!
- Allure of the Seas!
- Freedom of the Seas!
- Producing new DVDs, Videos, Events, Trip Stuff, and lots more for all of our TPR and Club TPR members to enjoy!
Post your 2011 stuff now!
--Robb