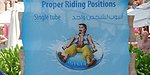 Part 1: Saudi and Wild Wadi 10/28/10
My work required me to go to Saudi Arabia for plant checkout. I REALLY didn't want to go. I mean REALLY REALLY didn't want to go. However, Formula Rossa was to open literally the day before I would leave through Dubai. So, that was the light at the end of the tunnel. Saudi is fairly horrible. All the woman are covered, and beaten if they act up. Christians are killed, and they still have public beheadings and other archaic things.
I stayed a brand new compound. It was safe, or so I was told. THere were mounted machine guns at multiple locations (sadly, you couldn't fire one for sport). Plus, our villa had a safe room under the stairs complete with light and two bottles of water. Enough to keep you alive long enough for the terrorists to finally kill you. It is a stepford compound. Perfectly manicured, with grass even. Of course, you see damn near nobody walking around, even in great weather. Very creepy, and not for me. The high point of the week for folks staying there is getting the hell out of there. I could get Dominos delivered, with a free Pepsi even, SCORE! THere was little else to do except work.
On the way to the airport, DubaiDave texts me with horrendously bad news that Ferrari WOrld would perhaps not even be open on opening day. Things went downhill from there.
My plans for going to Ferrari World were crushed. I really don't want to even think about it, so I'll just skip the details. After I got over the shock and disappointment, I decided to go to what was at one point my main reason to want to go to Dubai, Wild Wadi Waterpark.
Wild Wadi is basically Schlitterbahn, UAE. They have tons of Master Blaster slides, all connected together. When the park opened, they advertised that you would get in your tube, and just ride all day. Is that really what it's like? Let's see.
I got a cab from my airport hotel, which was about 40 Dirham, or about 10 bucks. Not bad at all. Wild Wadi's entrance is directly at the entrance to the Burj Al Arab, the world's only 7 star hotel. There was a large rock facade, and just a few ticket windows. A very small entrance area, really. It took a while, but I got rid of my Saudi Riyals to get into the park. I was unsure of the dress code, so I planned on wearing a t-shirt. I needn't have worried. The park was full of middle aged European males wearing Speedo bikini briefs. And plenty of string bikini clad women. There were a few more conservatively dressed women with Granny Clampett style swimwear too.
The park has a great moneyless system. You get a plastic watch that can be used to pay for, and operate your fluffy, fluffy bunny filled with medicine and goo, and pay for food and souvenirs. You simply held it up to your fluffy, fluffy bunny filled with medicine and goo, and it opened, or locked. Excellent! I got changed and headed into the park. You first get to 2 waveboard areas that had decent lines. I then got to a line for a master blaster. I had no idea where it would take me. The wait was only about 5 minutes, I got a single tube, and I was off, able to see the person on the tube in front of me. They dispatched folks FAST. I tried to control my spinning as I was filming everything with my camera.
This slide was mostly uphill sections, and it dispatched you into a pool with three choices to continue with. I had no idea what went where. I chose the left slide which took me all the way down to the start of the other slide, essentially.
OK, that was pretty cool. SO, I got out of the lazy river and walked back around to the same line. This time, at the top I took one of the right slides, which led me to another pool with three more choices. I took one of the left ones that was a normal water slide that got pretty crazy at the end, and again dumped me out at the river. I decided to take the lazy river around.
The lazy river took you into a tunnel, and under the construction where they were putting in two of the new Proslide slides with multiple funnels and toilet bowls. These were replacing a pair of family sized master blaster slides. The river was fairly long, and full of empty tubes. It took me to the White Water slide entrance, which had a large cattle area, but even 2/3 full was only about 30 minutes. I noticed the cabana signs advertised they included no wait for the White Water slide. Sounded pretty cool.
This slide started with a fairly straight series of master blaster sections, but then started zig-zagging up the rockwork. Ultimately there were four separate slides, separated by small tube chute lines.
You got to the top of the rockwork, and had a choice of another master blaster around the top area, or a normal slide under the large speed slide. Both of these dropped you into the same pool that the initial master blaster I rode brought you to. SO, the White Water slide actually was the beginning of the entire network of slides at the park, so the cabana perk would be HUGE on a crowded day. Essentially, you got to immediately go to every slide in the park, except the big one, Jumeirah Sceirah, the tallest waterslide outside of America, which was next on my list.
A long trek through the rockwork, over a swinging bridge, and up a tower got you to the top of Jumeirah Sceirah, a triple drop speed slide. The views from the top were awesome. Burj Al Arab, Palm, Ski Dubai, even the Burj Al Khalifa, if it's clear enough. The slide was as expected, but no airtime really. There was a large crowd at the bottom. I wonder if they were all hoping for some ta-tas to pop out. Porn is hard to come by in the UAE. Not worthy of punishment like in Saudi, but still hard to get.
I went back up the tower for some pictures and video. A hot babe asked me to take her photo, and she did for me. I wondered if she would like to do other things together, but she spoke French, or something.
I had lunch at a BBQ place, and ended up getting a hot dog. It was grilled, but not too tasty. No pork. The price was very reasonable though. The kiddie area was fairly standard, and there was a decent wavepool.
There were people taking pictures all over the park. I had 4 wristbands, including some for the onride camera on one slide. They were good at taking action shots, and I ended up buying one of me taking off up one of the master blasters. It was quite pricey, at about $20, but that was for an 8x10. The camera guy in the wave pool took my picture with my camera, with the Burj behind it. I also got a strawberry smoothie that took a while to make but was absolutely awesome. I watched a guy cut up fruit for a fruit tray, and he was cutting out only the best parts of the fruit. The quality was noticed.
One of the slides going into the lazy river was the tunnel of doom. A very long, totally dark slide full of little jogs left and right to keep you on your toes. A really fun ride. The slides were pretty wild. I flipped out on a few of the finales, and lost my sunglasses. The lifeguard called up and stopped them from sending folks down for a while, and gave me a pair of goggles to search for my glasses. I amazingly found them. Great customer service!
I watched the guys on the wave riders for a while. They were quite good, and could splash the onlookers with ease. I also noticed that the precariously placed rock above the entrance would rock and make noise every once in a while. All in all, this park is fabulous. Disney quality theming, European babes, amazing architecture around it, and kick-ass master blasters that just never ended.
It didn't make up for FW being closed, but it came close.
-RO