Fred's Funfair
Rules and notes
Right now I know I said I wouldn't start hp another thread but just keep everything in my 'Slow descent to madness' one but I was looking through some of the downloads on ShyGuysWorld and came across my old Oakridge family park and really wanted to try another park in that style.
Now if you don't remember the park and what style it was in, basically I built while playing the game. This meant that I had to earn the money to build new stuff and any mistakes (several of which I did make) were permanent until I could fix them. Now to try and keep it realistic I've come up with these set of guidelines.

*One year in updates terms is 3 in game years (this is due to how fast the game goes meaning that I would never make enough to change things and keep it fresh each year until the park had grown quite a bit)
*Charge per ride but under these guidelines:
Gentle Rides/Transport Rides: £0.50 - £1
Small Thrill Rides: £1.00 - £1.50
Large Thrill Rides/Small Rollercoaster's: £1.50 - £2.50
Large Rollercoaster's: £2.50 - £4.00
Food and Drink/Gifts: Varies
(these may seem a bit cheap but I want to steadily advance not zoom ahead by charging the maximum price)
*No building above 80ft (THIS PARK ONLY NOT GENERAL RULE)
*Can't alter local woodland (THIS PARK ONLY NOT GERNERAL RULE)
Now hopefully that made sense. Not related to the game mechanics I will introduce my own story problems from time to time to hopefully keep it a bit fresher but nothing to major (like rides being closed for story based reasons rather than in game breakdowns).
As for the park itself basically it's built on the premise of a combination of my favourite and most popular realistic parks that I've worked on in the past (as always it'll be NCS). In it you'll hopefully see Uncle Fred's Fun Park, Oakridge Family Park and the fairground park I was doing a few months ago. The park itself in located in Devon, UK in amongst some fields (as you'll see) on a small 100x100 map not all of which will be open for me to build upon. Also to made it more difficult I started with £0 cash and a £10,000 loan already taken out so will have to be £20,000 in debt from the start. Should make things more interesting hopefully. The timeline, although not dated is meant to start some where around the 60's.
Anyway enough blathering here's the actual park update.
Hope you enjoy.
--------------------------------------
Fred's Funfair
Well this is Frederick Hanton here setting up this blog for a new park I've had the pleasure of being able to start up. Well I say park its pretty much a fairground at the moment but we'll see more of that soon anyway.
Anyway first some background and such so you can actually see what's going on. Well you see I've always been interested in the amusement industry since I was a kid, never really feeling that I'd like to follow my father with his farming career. Luckily this didn't bother my dad and he has supported me with whatever I wanted to do. Unfortunately lately my father has been finding the farm harder and harder to run what with having opened a farm shop several years earlier, and his work force slowly dwindling as factory jobs seem to be more favourable these days. This meant that he was left with too much land to work with his farm hands he had left.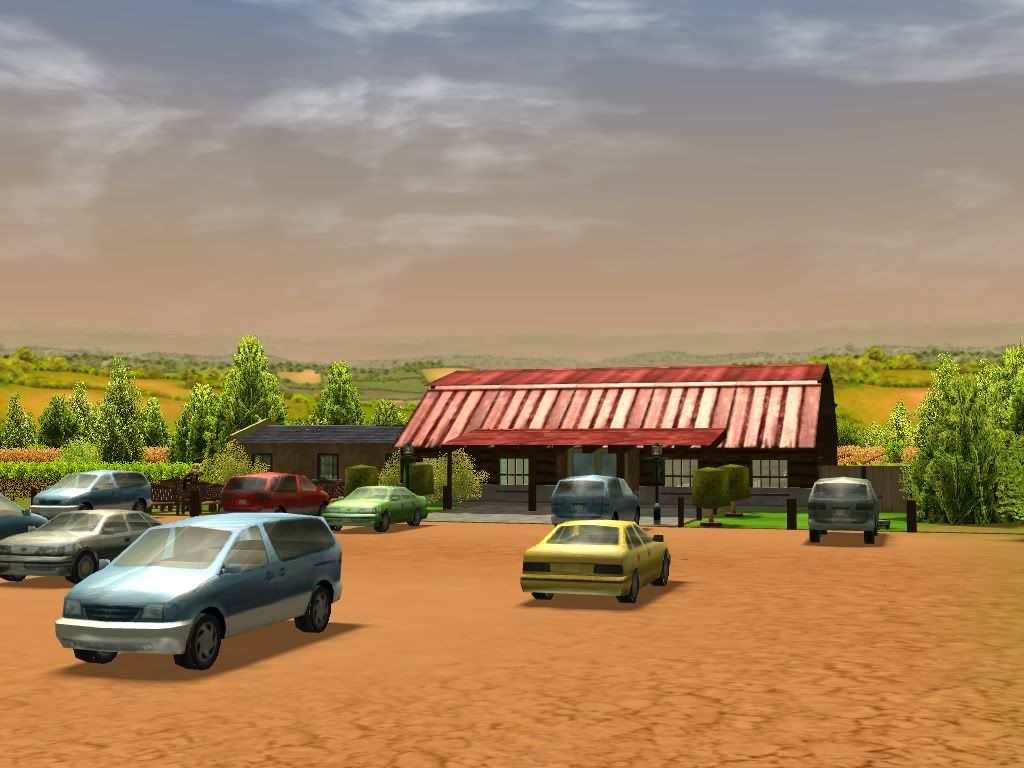 (father's farmshop)
Now this is where his support was shown the most. A local fairground was selling up. The owner, too old to carry on with the business and a good friend of my father agreed to sell several of the rides to me so with first pick of the rather large selection of rides he had available me and my father headed down to the bank to see what kind of financial help I could get. Several thousand owed to the bank later (£20,000 in total) and we have a few of the rides my fathers friend was selling (the rest went to local travelling fairs) and thanks to my father generosity a small strip of land next to his farm shop to build on.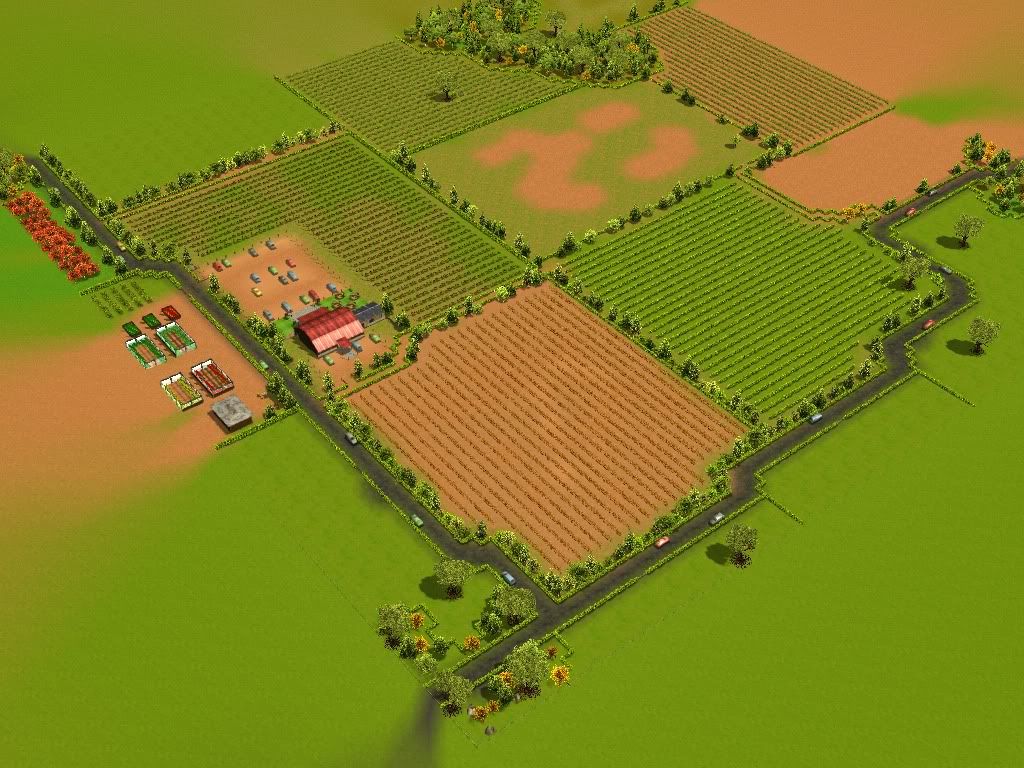 (this photo shows the land I have to use (the strip in the same field as the farm shop) initially, as well as the field behind it which is owned by my father and up for negotiation if things go well)
Clearing the field and enlarging the carpark left us with £10,000 left which we piled into as many of the rides as we could afford and some stalls to get us up and running.
So with no money left (barely enough to hire the ride operators, mechanics and cleaners.) we opened up and hoped for the best. Also of note while I remember. We have a building height limit of 80ft and the trees you see on the overview are protected woodland and aren't to be touched. Both of these are a bit restricting but not the end of the world. Anyway here's how the first day went.
First Day Report: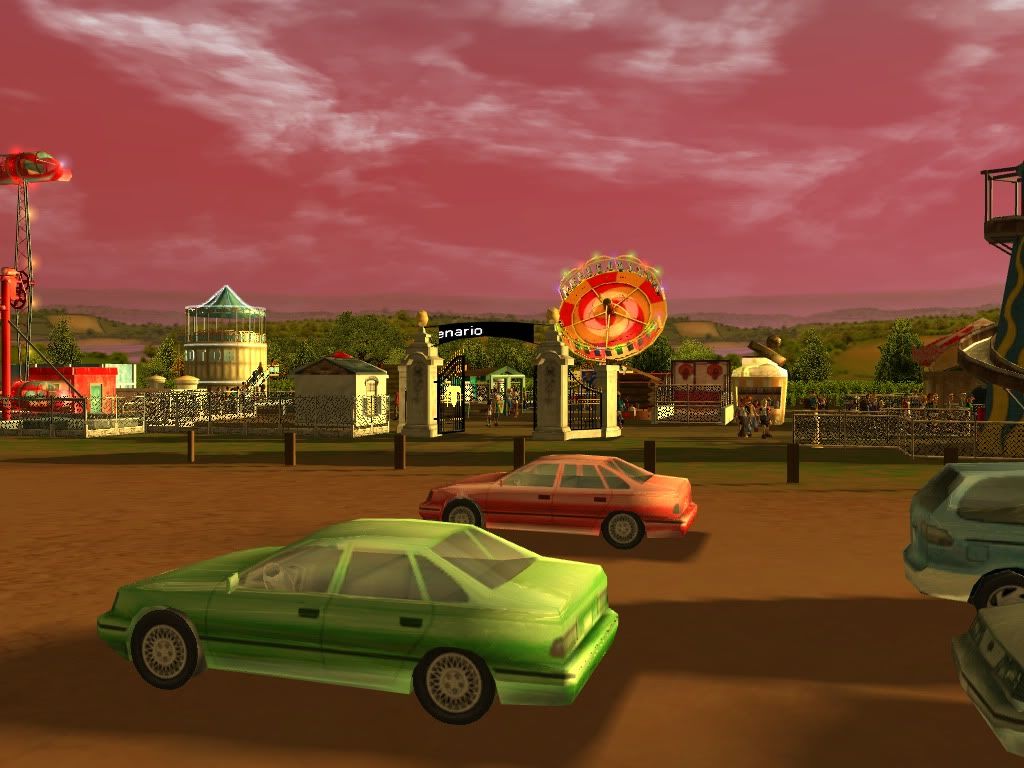 Arriving early in the morning you can already see several guests inside the small fair and the rides starting their testing for their debut.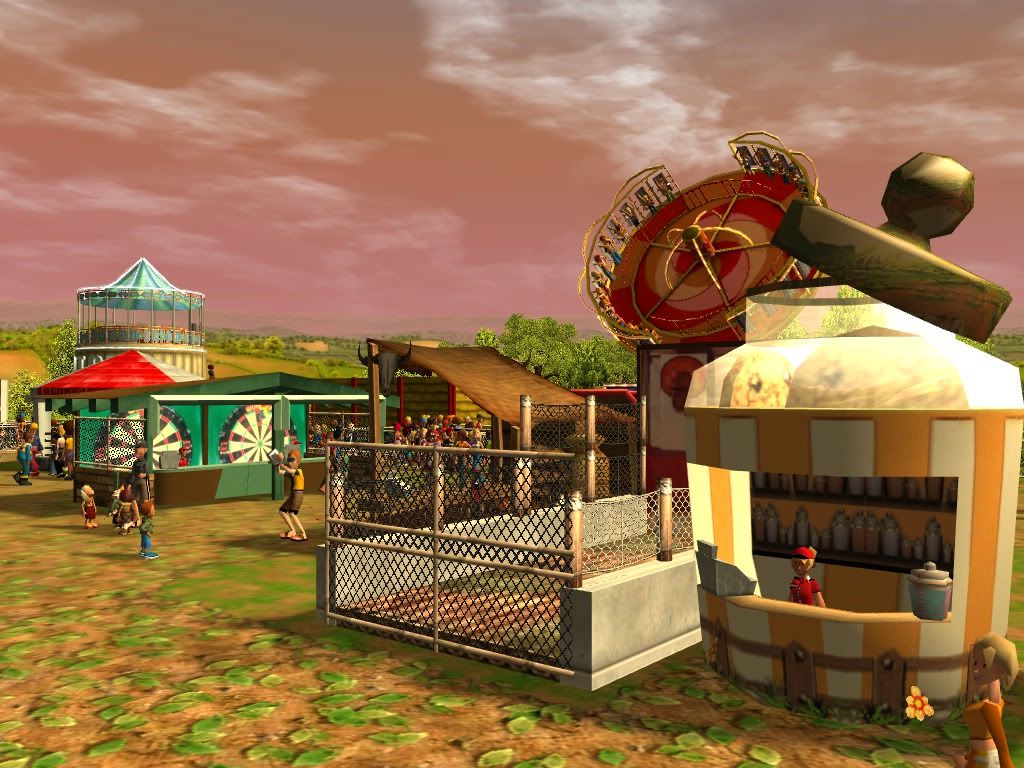 Hey look its just like Disney's Mainstreet. No seriously this little lined avenue leading up one of the fair's thrill ride's, The Cage, is our small little mainstreet where you can find several small stalls with various fairground games (darts, coconuts shy's and the such). Interestingly the first bit of bad news is the basketball game you can see to the side isn't open as we couldn't find the staff to man it which was a shame but oh well. Still you can buy a cookie to cheer you up.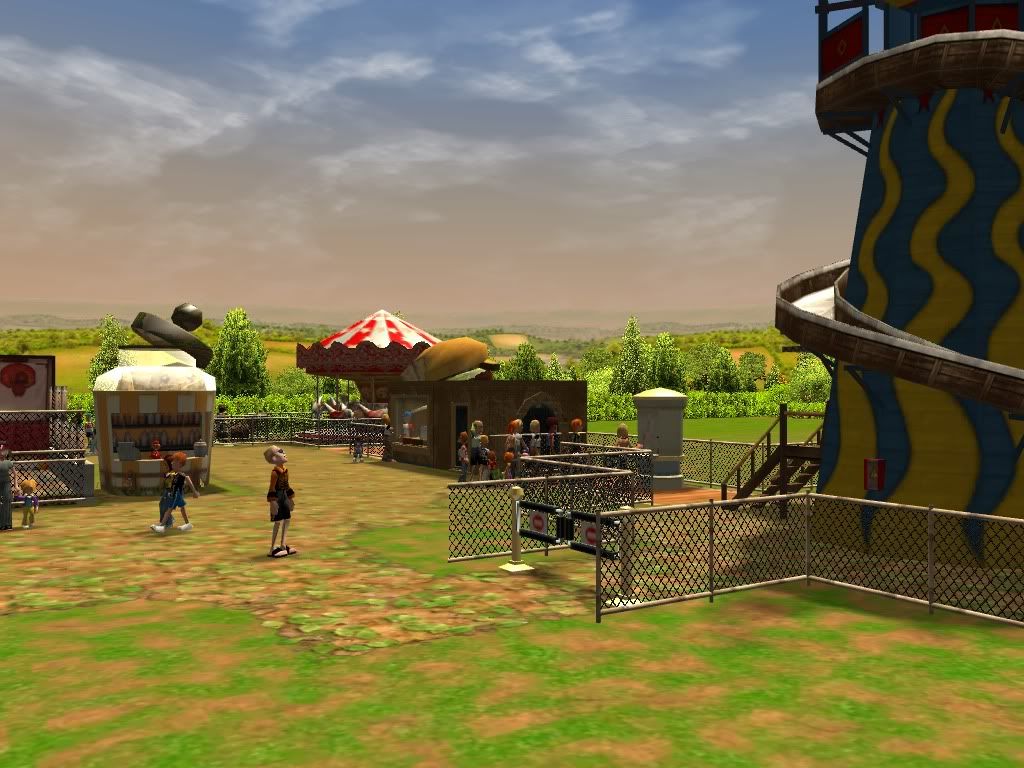 This side of the fair houses both of our rides for our smaller guests as well as well as a burger bar. Both the slide and the Carousel did rather well on the opening day which was nice. The Carousel especially was getting good reviews, which was a bonus considering we'd spent some extra money replacing some of the horses and painting the rest.
Now for something that's not such good news. This is our ticket hut and Fireball our Roll-O-Plane, both of which failed to make their debut on the first day. Fireball was a real shame as were waiting on its engine which had been accidently loaded onto the wrong trailer, ending up at some other park. It should hopefully be here soon but we were told that several weeks ago so were not holding our breaths. The ticket hut however is waiting for a new ticket machine and although a pain it just meant that tickets had to be bought at the rides so queues were a little longer.
As it started getting dark another problem was highlighted (no pun intended). A lack of lights meant it was impossible to see as soon as darkness descended so we had to close the fair up early. Will have to get this sorted as you cant have a fair that doesn't open at night. Still I managed to get this photo of Rotor before the light disappeared. (The thing in the background is Rotor's trailer in case your wondering. It seemed as good a place as any to leave it if you ask me.)
Anyway that's all for now. Opening day had mixed successes with the rides that were open doing well but still only having four of them there and longer queues due to the tickets hut being closed meant that the crowd wasn't visiting just for the fair, most were just popping in after doing some shopping to keep their kid's quiet. Still I'll hopefully be able to return with another update soon where hopefully everything is working fine and money and excitement is rolling in.
Till then.
F Hanton.