1998
By now, you are all aware of the backstory and history of M&M's Land in Reno, Nevada...From the point of conception in 1980 to the building of one of the famous wooden roller coasters in the world by 1993. By the mid to late 1990's the internet had slowly started to become a household phenomenon. As more people started to use the internet in their daily lives, websites about people's interests started to open up left and right. Roller coasters were no exception to this. Coasters4U.com opened around 1998 as a small blog/message board about roller coasters and theme parks.....

The story of this park will now be told from the point of view of Coasterfreak133, one of the first users of Coasters4U.com who made a post about his very first trip to M&M's Land.
7/12/1998
Hello everybody! I will be using this website to document my first ever trip to M&Ms Land! But first, let me introduce myself! My name is Ryan, I'm 18 years old and I have been interested in roller coasters and theme parks my whole life. Especially ever since the first time that my parents took me to Six Flags Magic Mountain when I was only 5 years old.
I live close to Las Vegas, and despite the fact that there are NUMEROUS activities on the Vegas strip, roller coasters aren't that much of a thing. We have a few that are worth pointing out, such as High Roller at the Stratosphere Tower and the Manhattan Express roller coaster that was built last year. Also, we can't forget about Desperado at Buffalo Bill's Resort in Primm, which is by far the best out of those three.
Reno is a good 6 1/2 hour drive away from where I live, quite a ways away...I hoped that the park was worth the long drive away from home....and it was...oh MAN it was!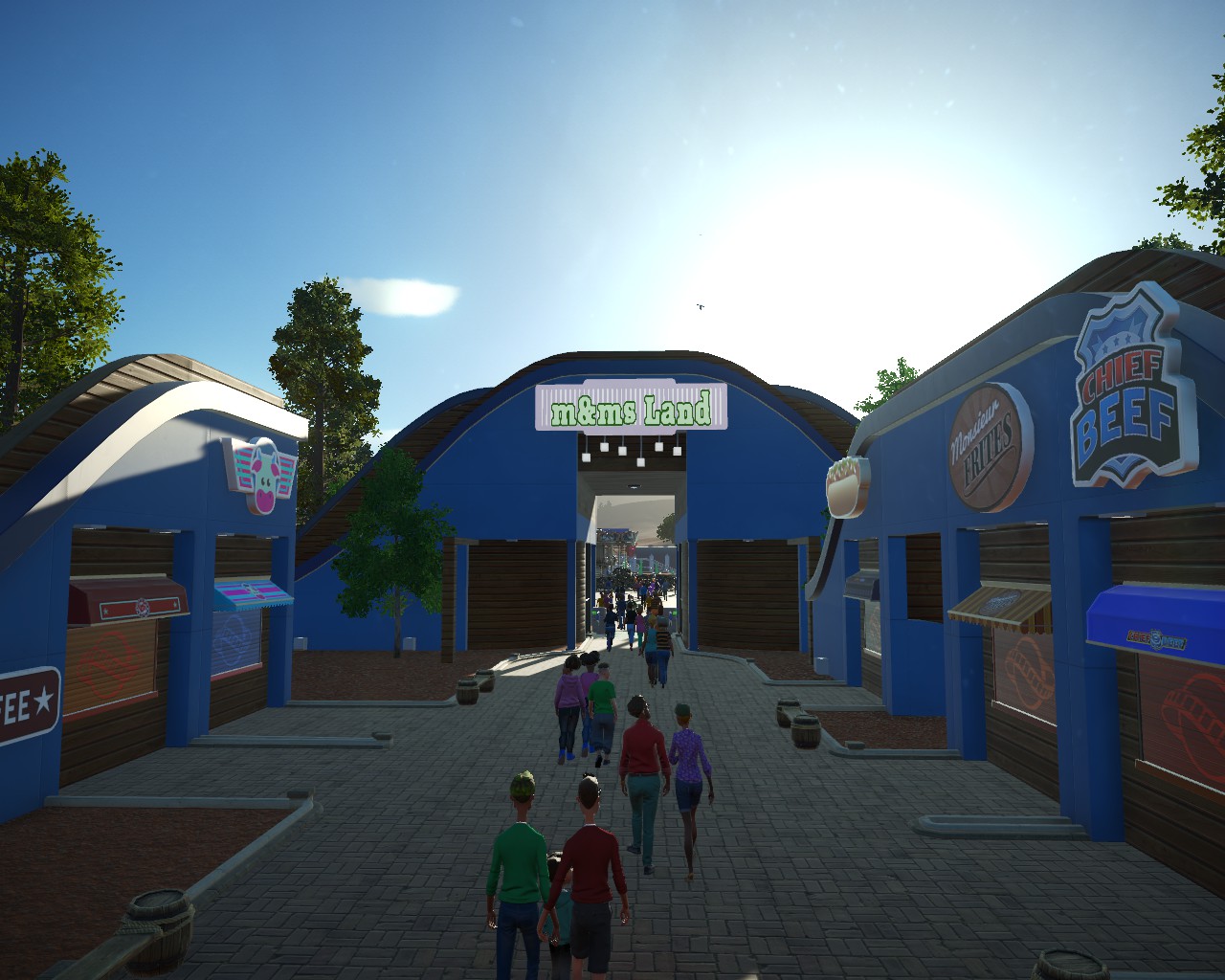 I arrived at M&Ms Land at around 11AM on July the 12th. The park had a decent crowd inside of it, which probably meant the roller coasters had pretty long lines....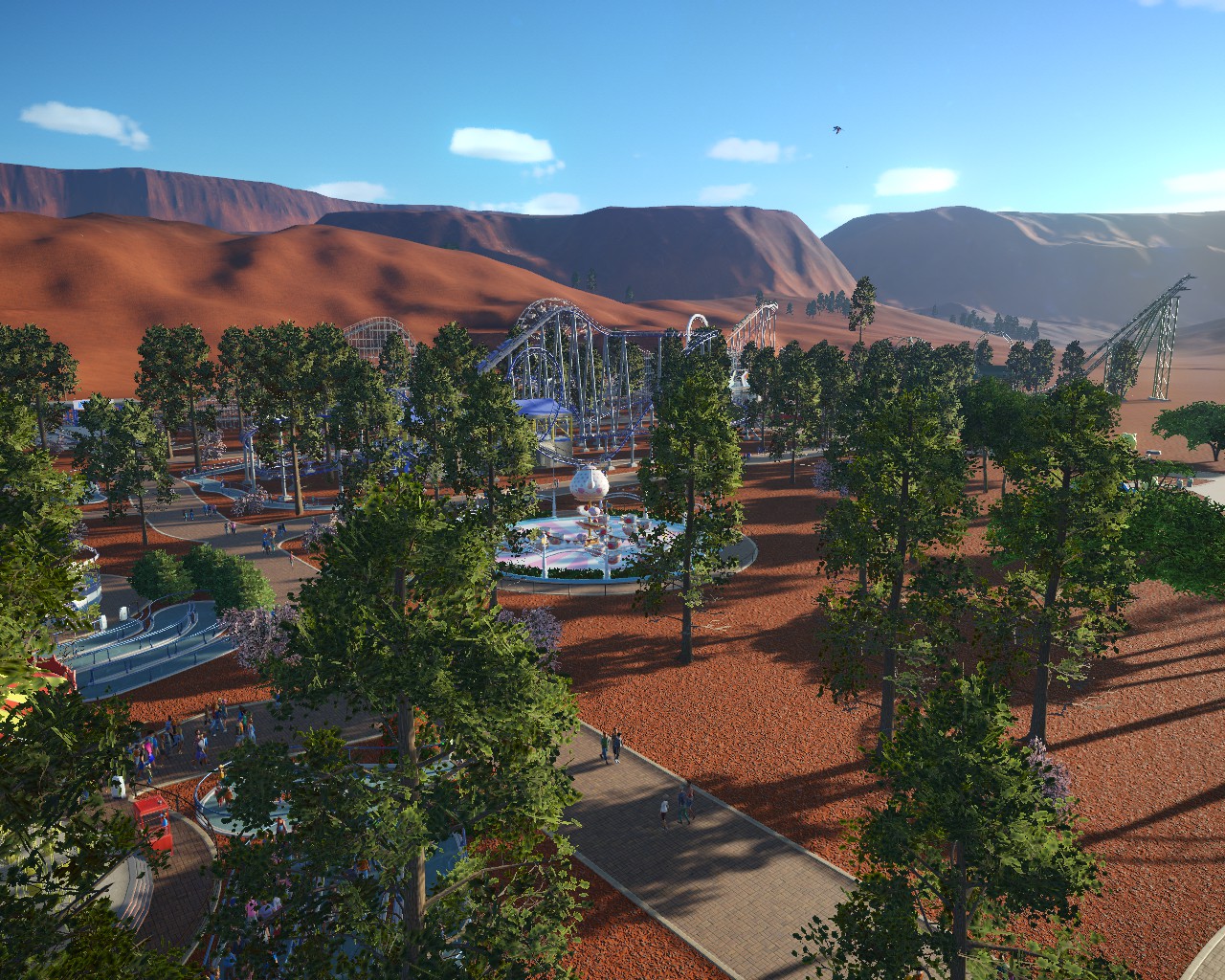 Upon entering, I was taken aback at just how large the crescent shaped park was. As far as the eye could see were various rides and roller coasters....I decided to start exploring the left half of the park first.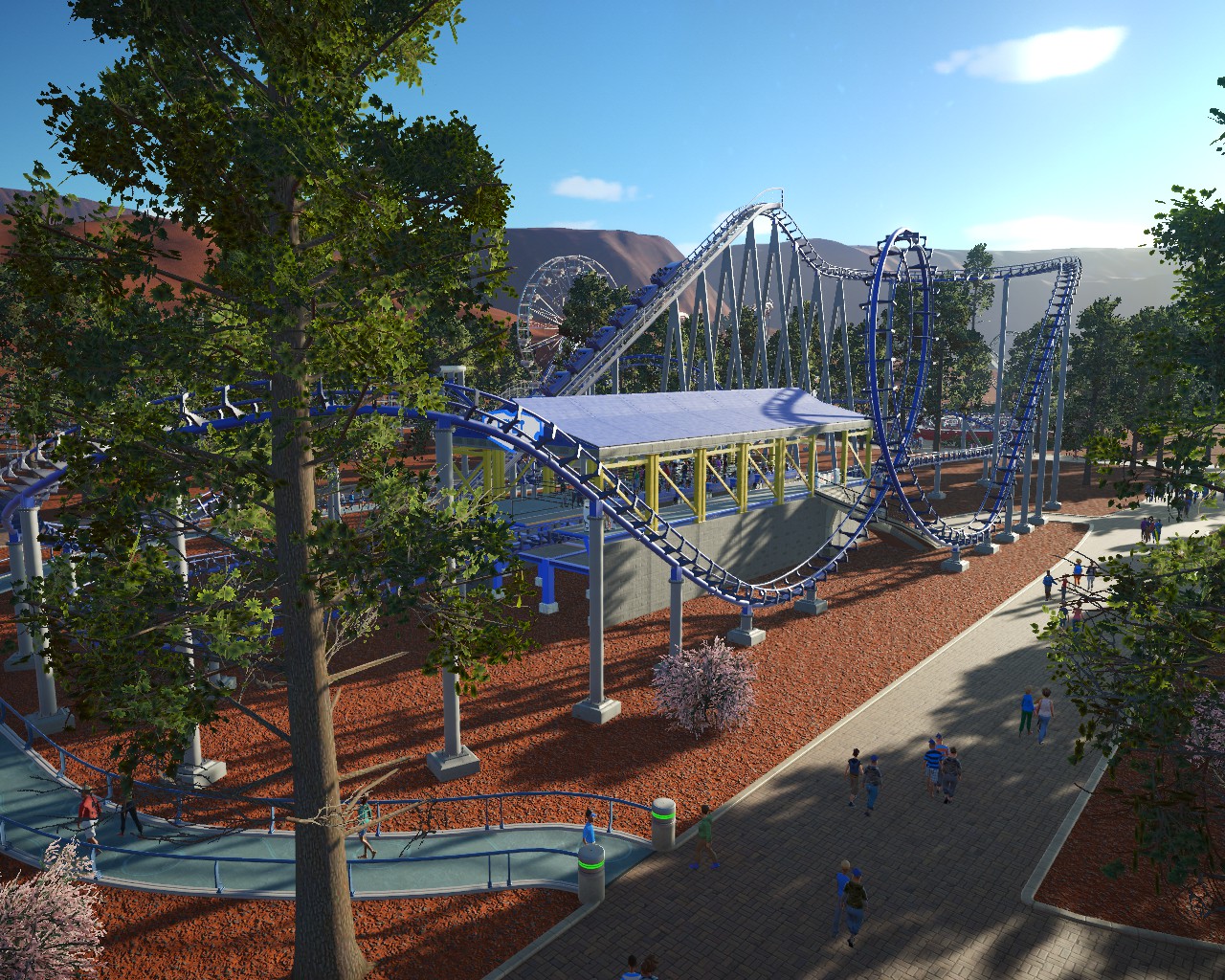 The first coaster I chose to go on was Comet, a small Arrow Dynamics looping coaster. It had a very short, five minute wait!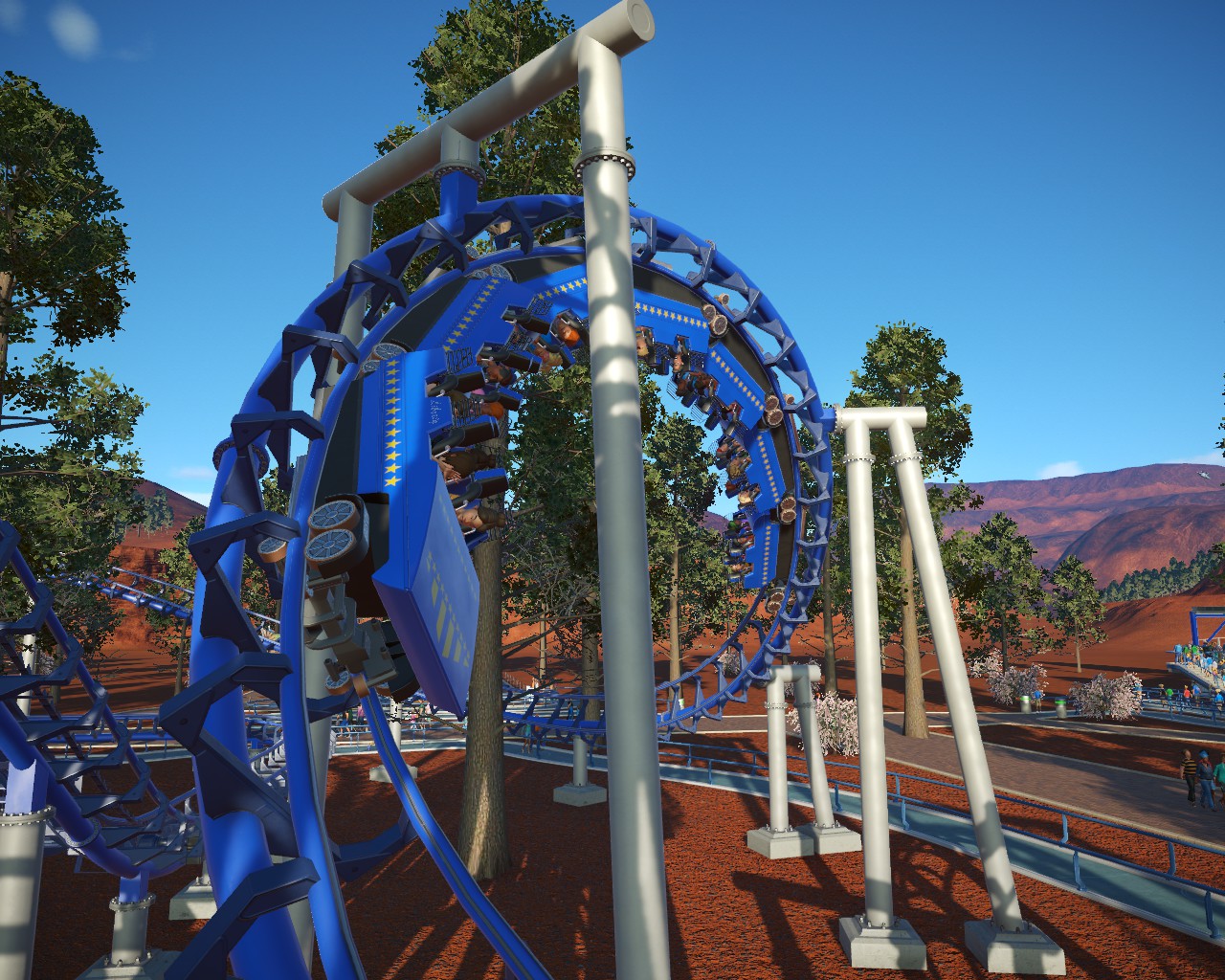 Comet was a pretty good ride. A little short, but good. This kind of ride is perfect for a kid who is just starting to ride the "big coasters." I also found it to be pretty smooth for an Arrow coaster.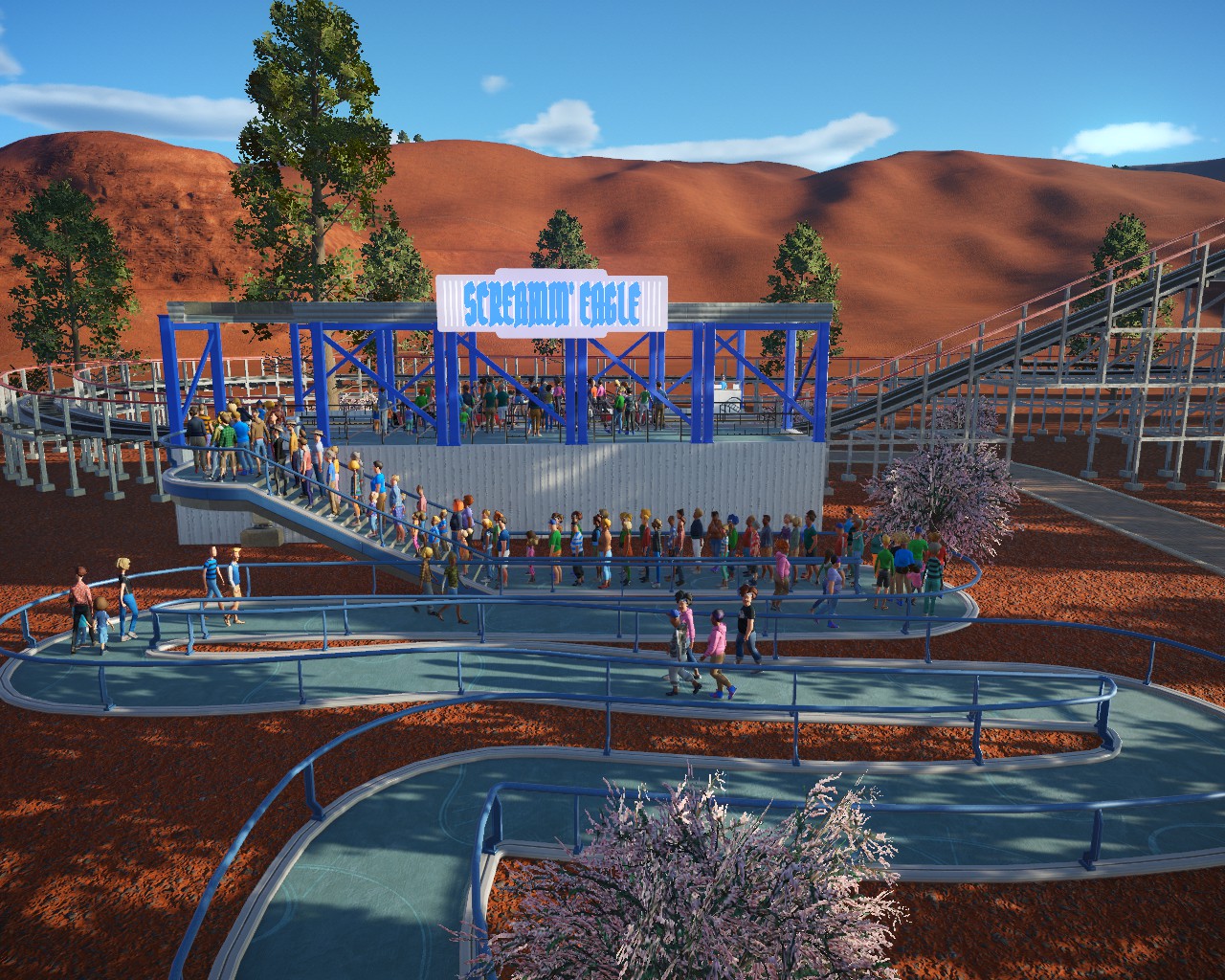 The second coaster I decided to go on was Screamin' Eagle, the old John Allen woodie that was relocated to the park when it first opened!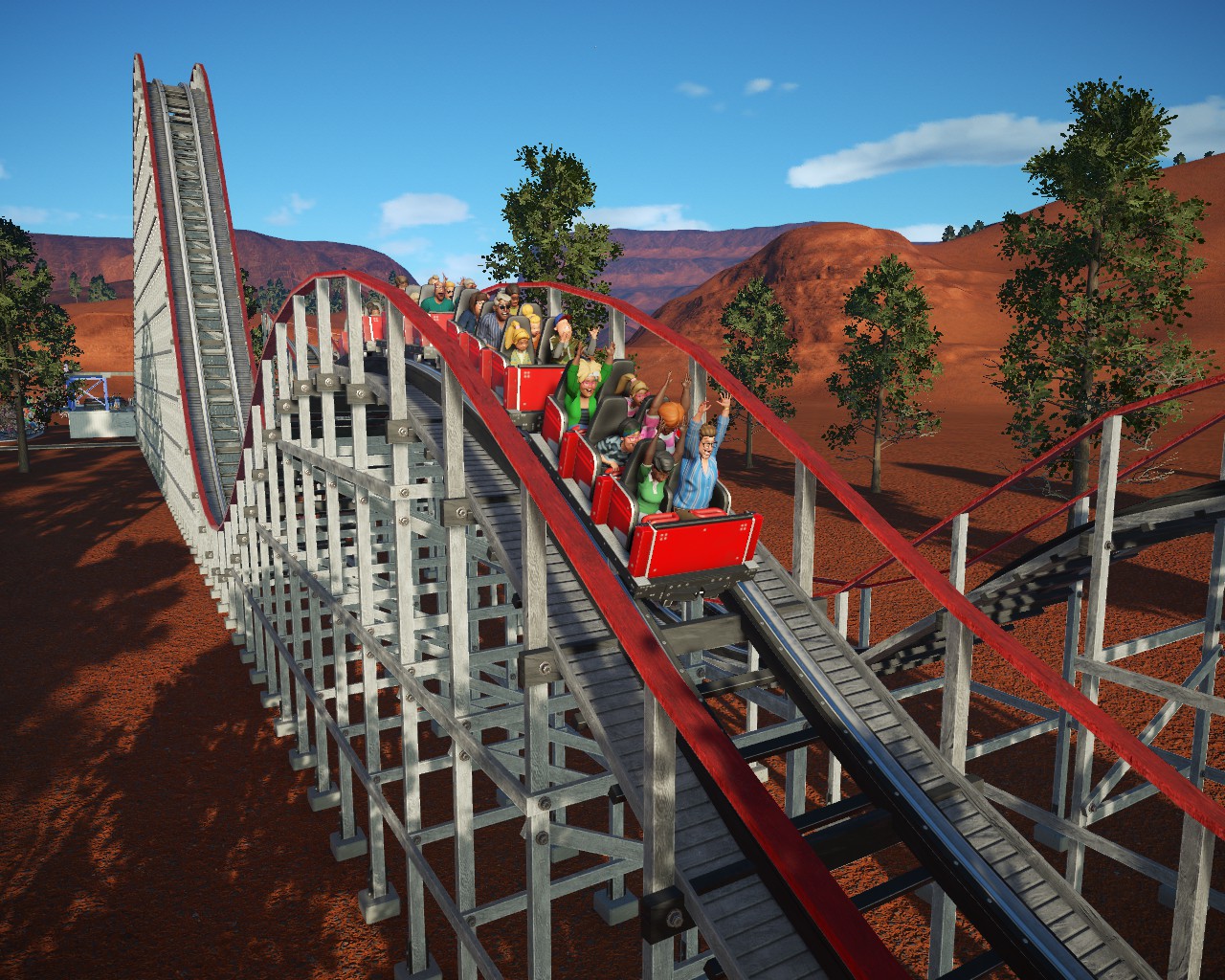 Screamin' Eagle was a fantastic old woodie filled with many moments of airtime and high speeds!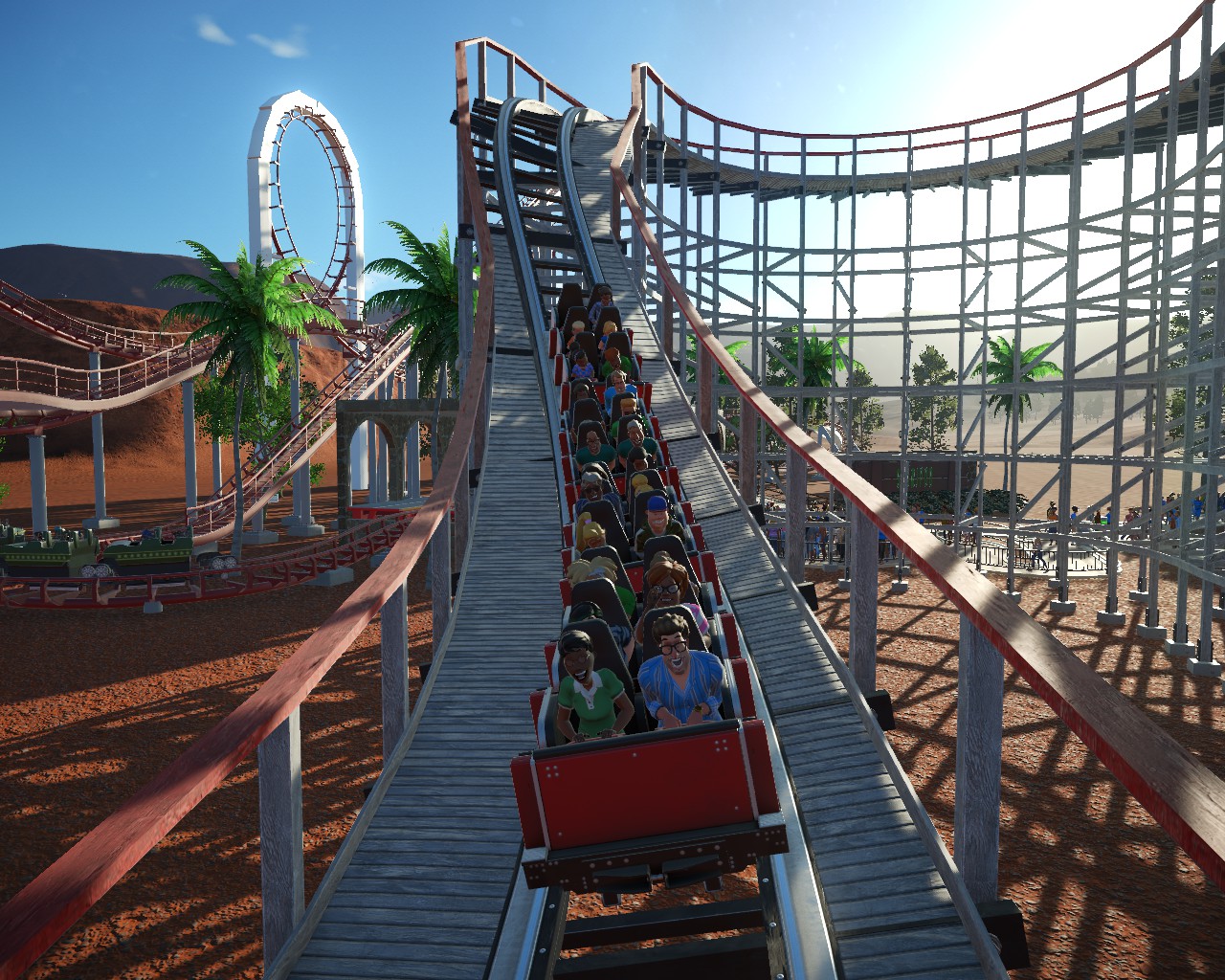 The "S-drop" was a pretty unique and funky element for a wood coaster...
Next, I decided to go on one of the park's many flat rides. Enterprise is a pretty nice Huss Enterprise with a long and thrilling ride cycle!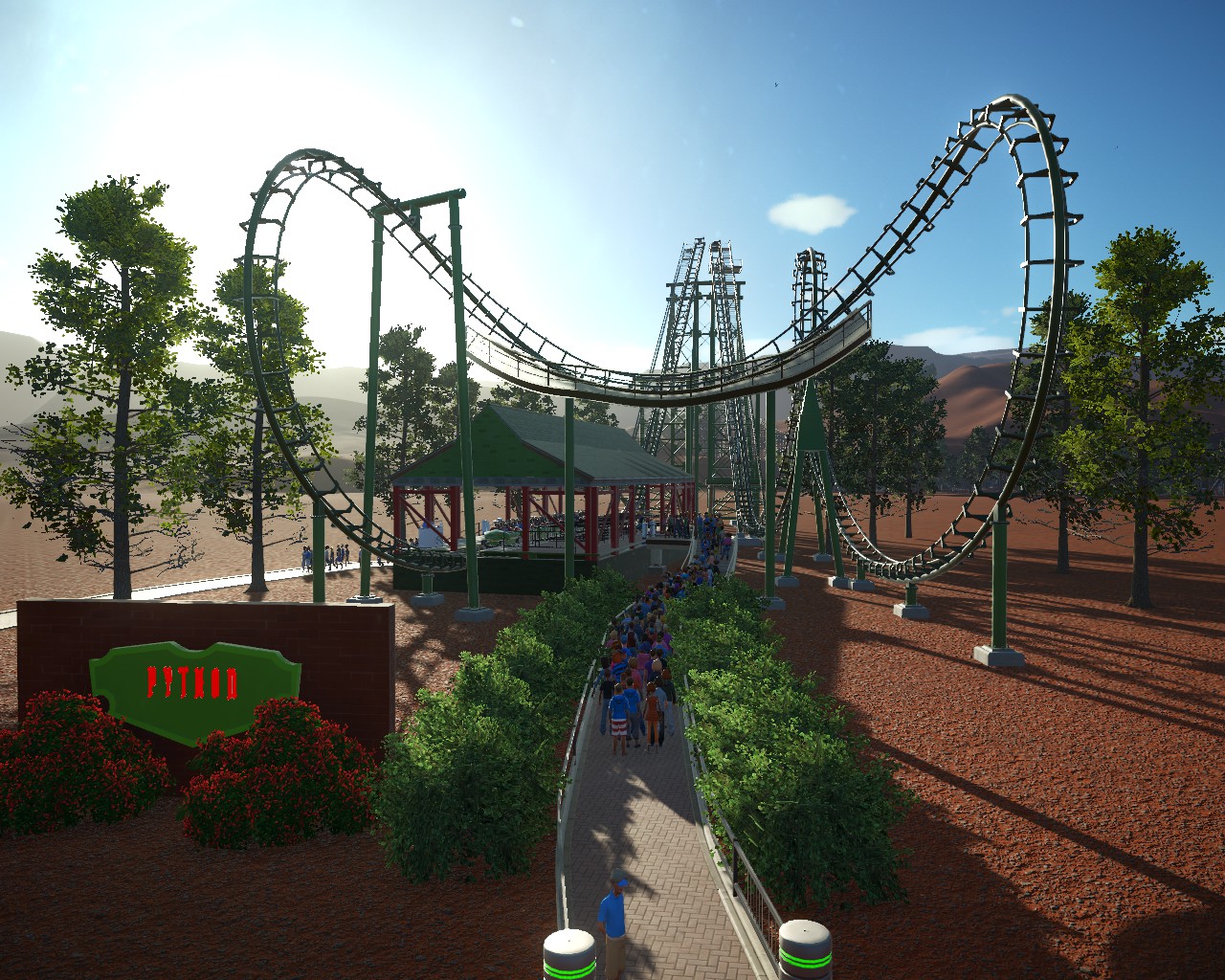 Many parks have installed these Vekoma Boomerangs and M&M's Land is obviously no exception. Python's line was much longer than the other coasters and I've already been on the Boomerang coaster at Knotts Berry Farm a few times. I decided to skip it.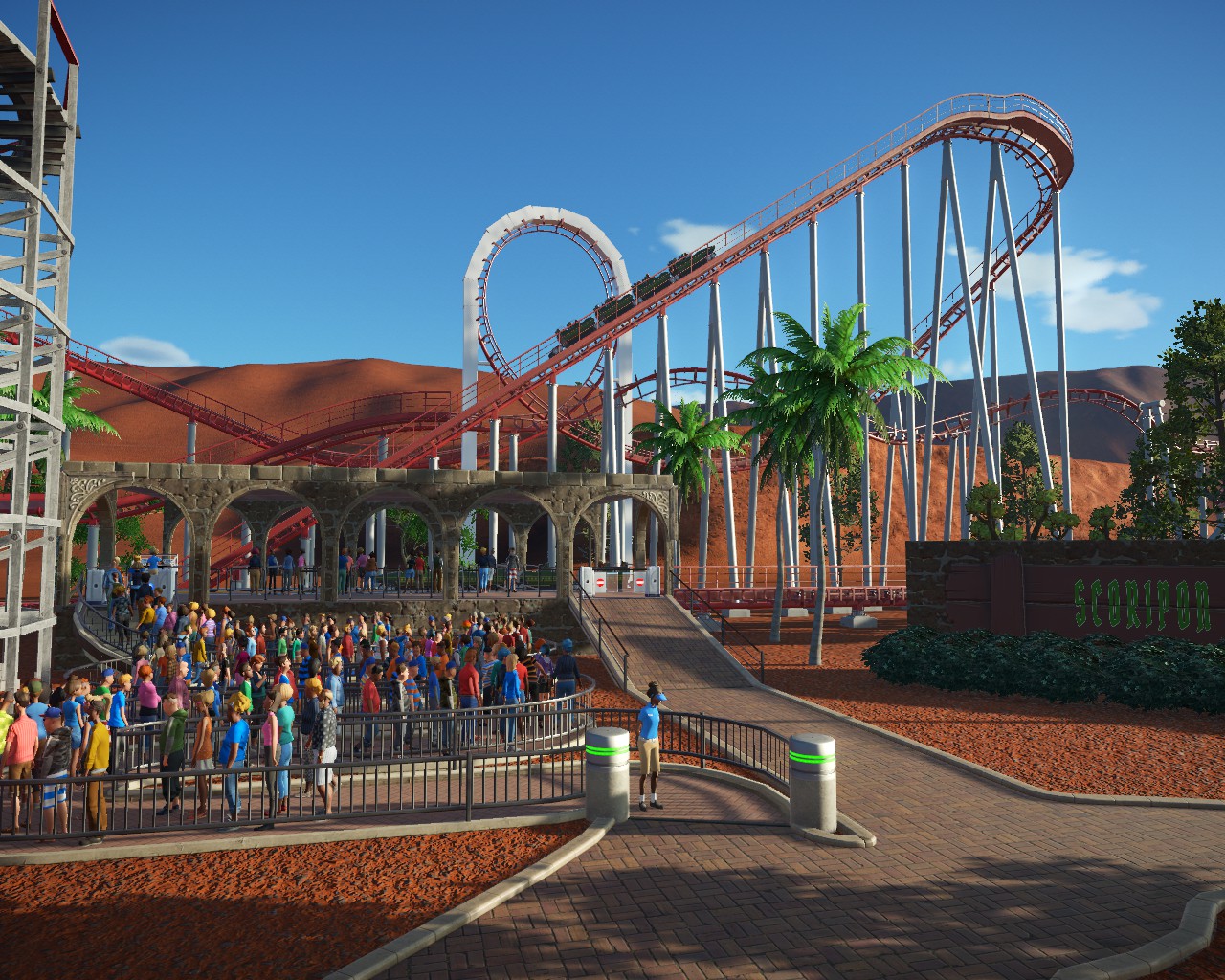 The one I was really curious about was Scorpion. While it looks like an Arrow or a Vekoma from the outside, in actuality, it's the only roller coaster in the U.S that was designed and manufactured by Meisho of Japan.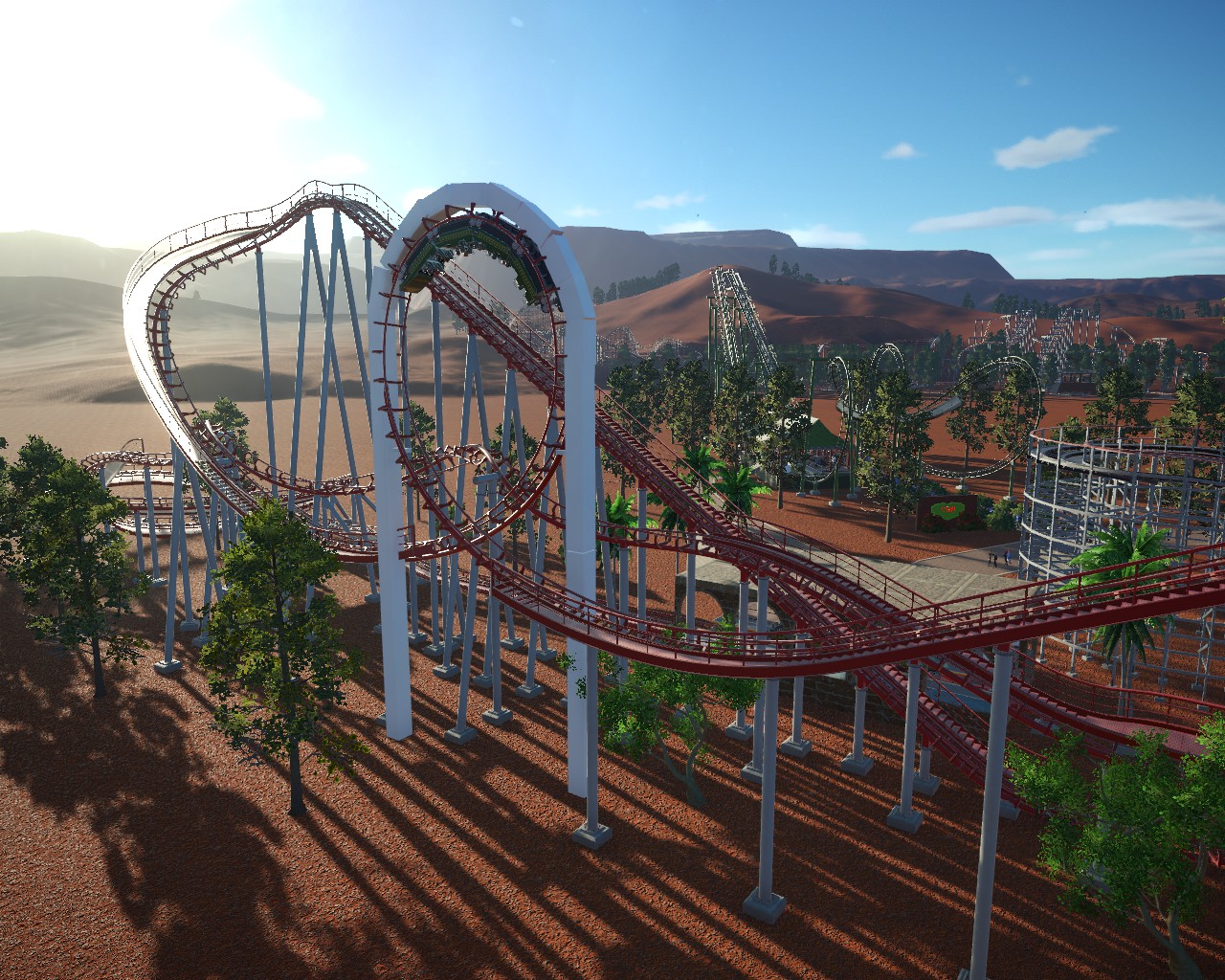 Long story short, this coaster sucks. It just flat-out sucks. Right off the bat, you are greeted to vicious headbanging on the first drop (by very hard, under-padded shoulder restraints, I might add.) and througout the entire ride, the headbanging just does not stop.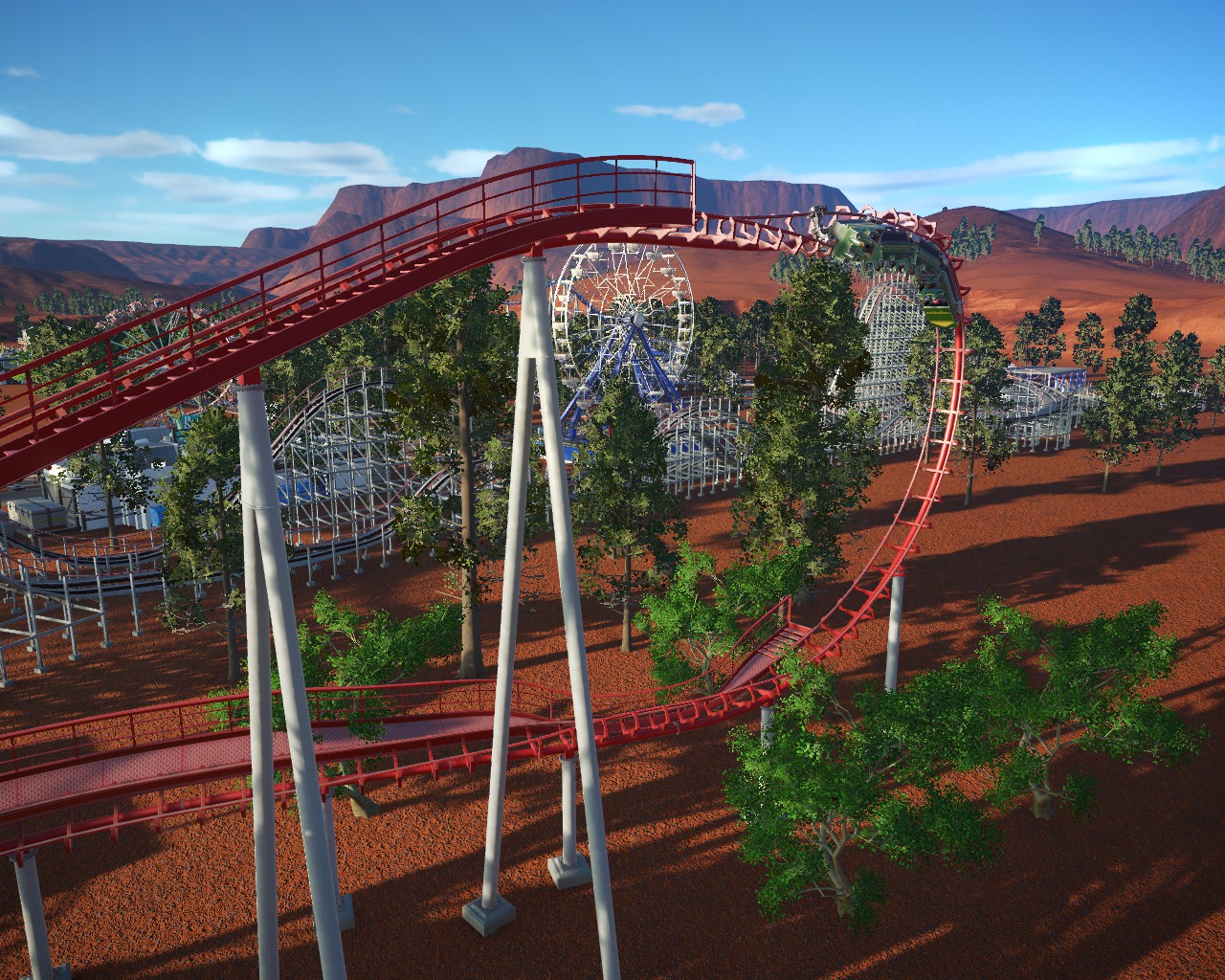 The worst was when your head slams full-force into the side of the restraint during the dive loop. Overall, Scorpion is definitley the worst coaster here. It's full of jerky transitions and headbanging. To make matters worse, due to the fact that the coaster only has two four-car trains, capacity on this ride is actually worse than Python and lines can get pretty long. Believe me, it's NOT worth the wait. You'll be hard-pressed to find anything positive about this coaster.
It looks cool, I guess...but that's about it.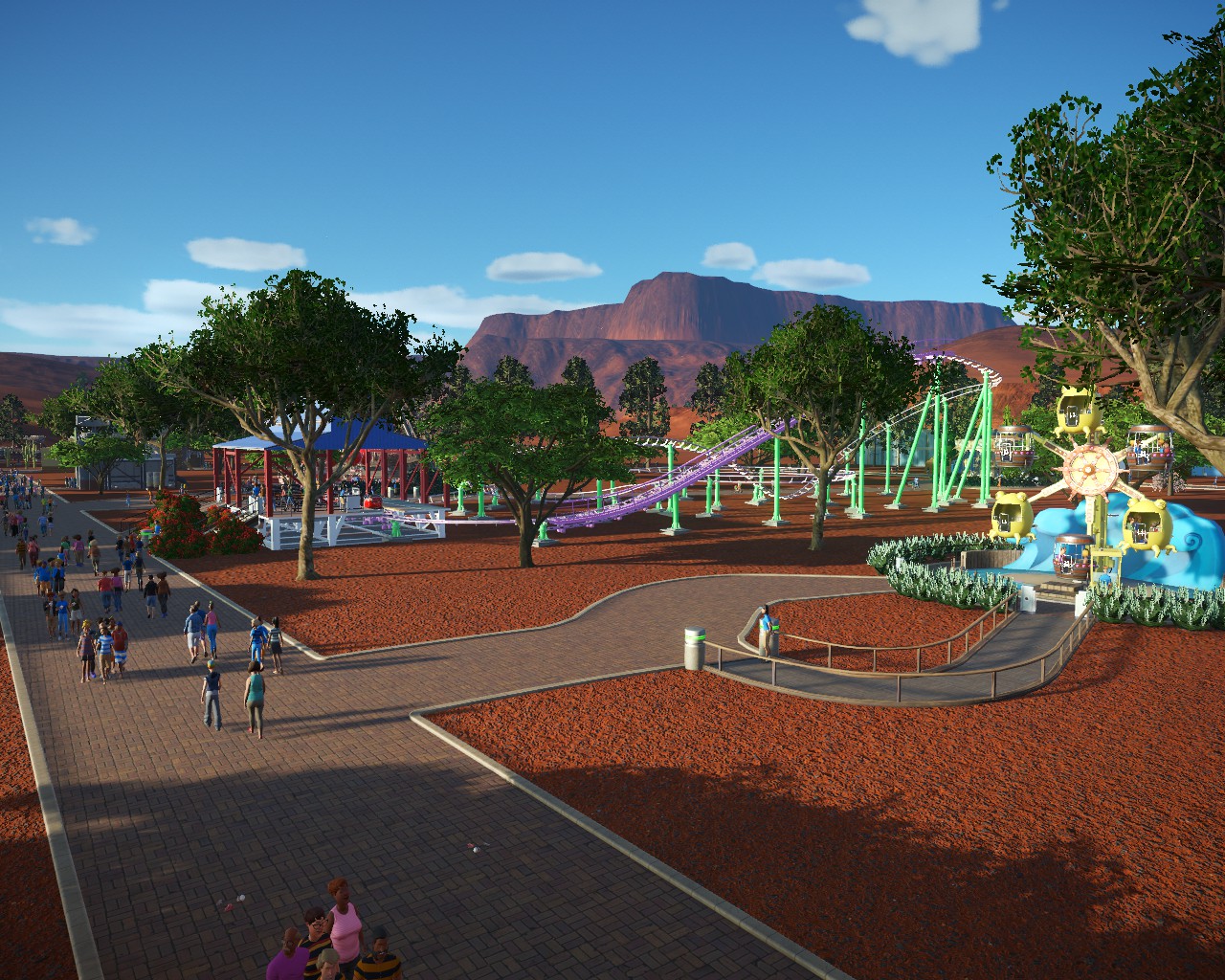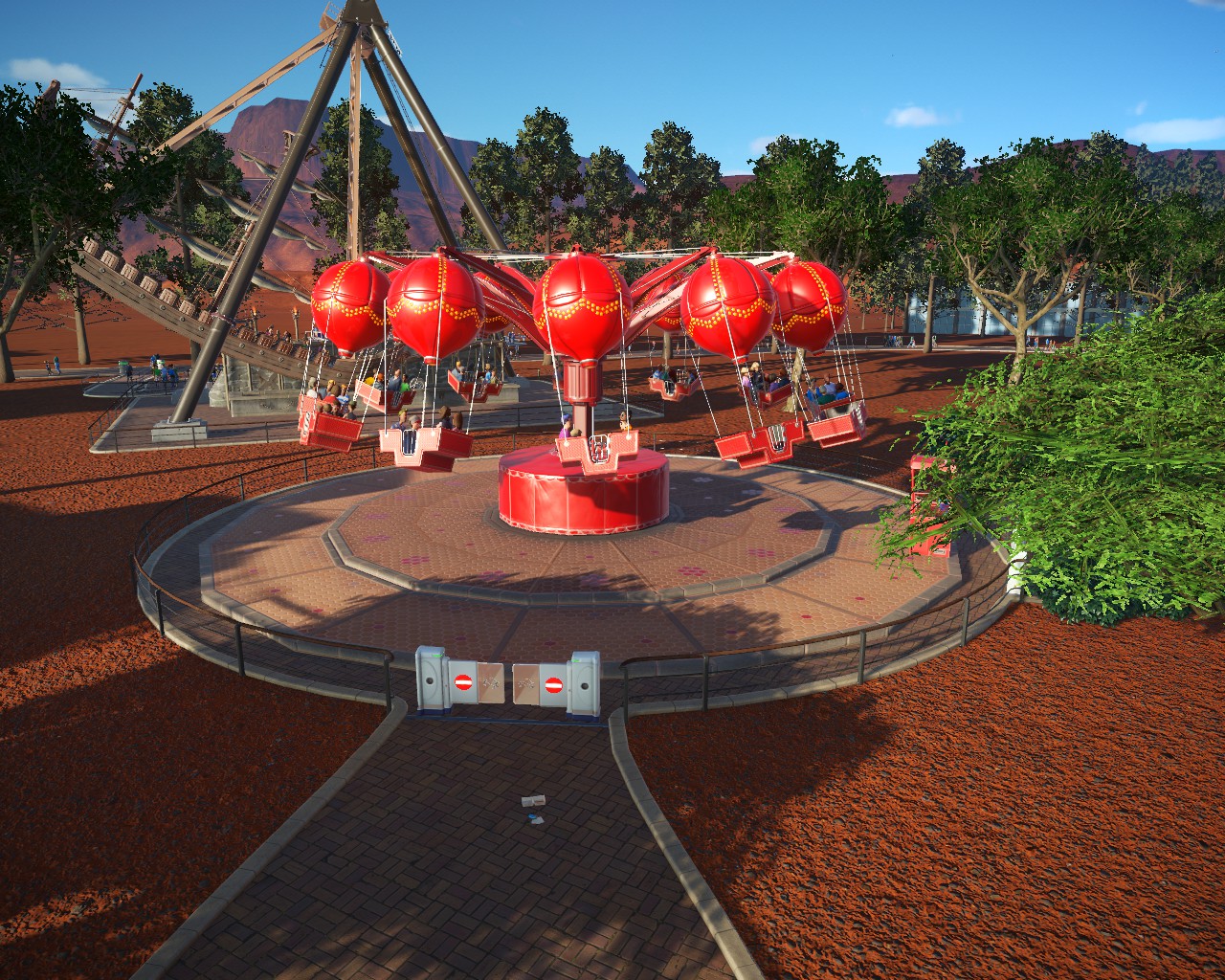 By mid afternoon, I decided to tackle the second half of the park. The addition of a kid's area in 1996 served as an excellent "express route" to the second half. This kid's area is themed to the new M&Ms "spokescandies" that they introduced in '95. You know, the red M&M and the yellow M&M that get in all kinds of mischief in those commercials? This area so far is home to smaller rides such as "Yellow's Whirly Rig", a mini ferris wheel, and "Red's Flyer" a hot-air balloon themed ride.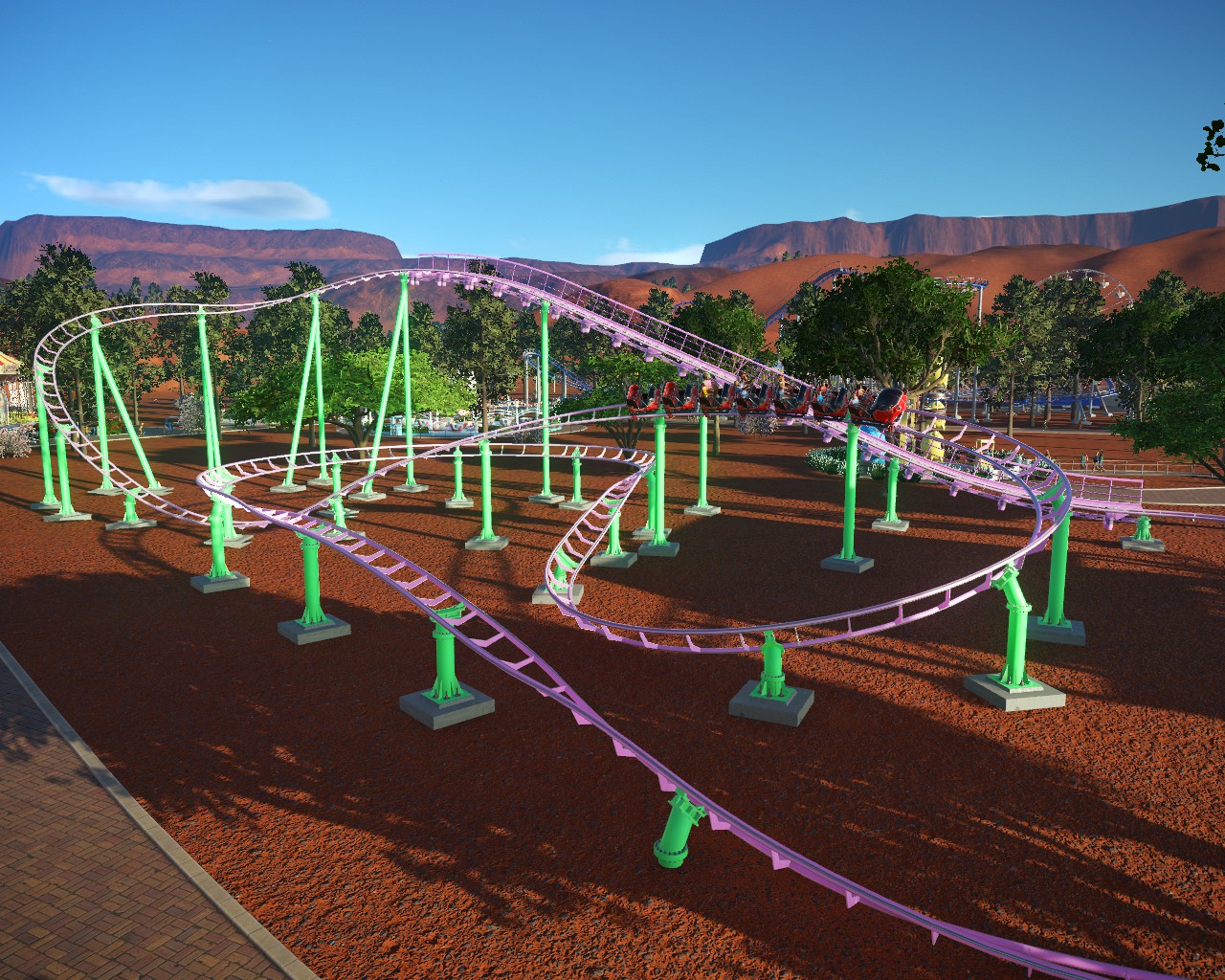 They even built a small Vekoma junior coaster named "M&M's Minis Express" in this area!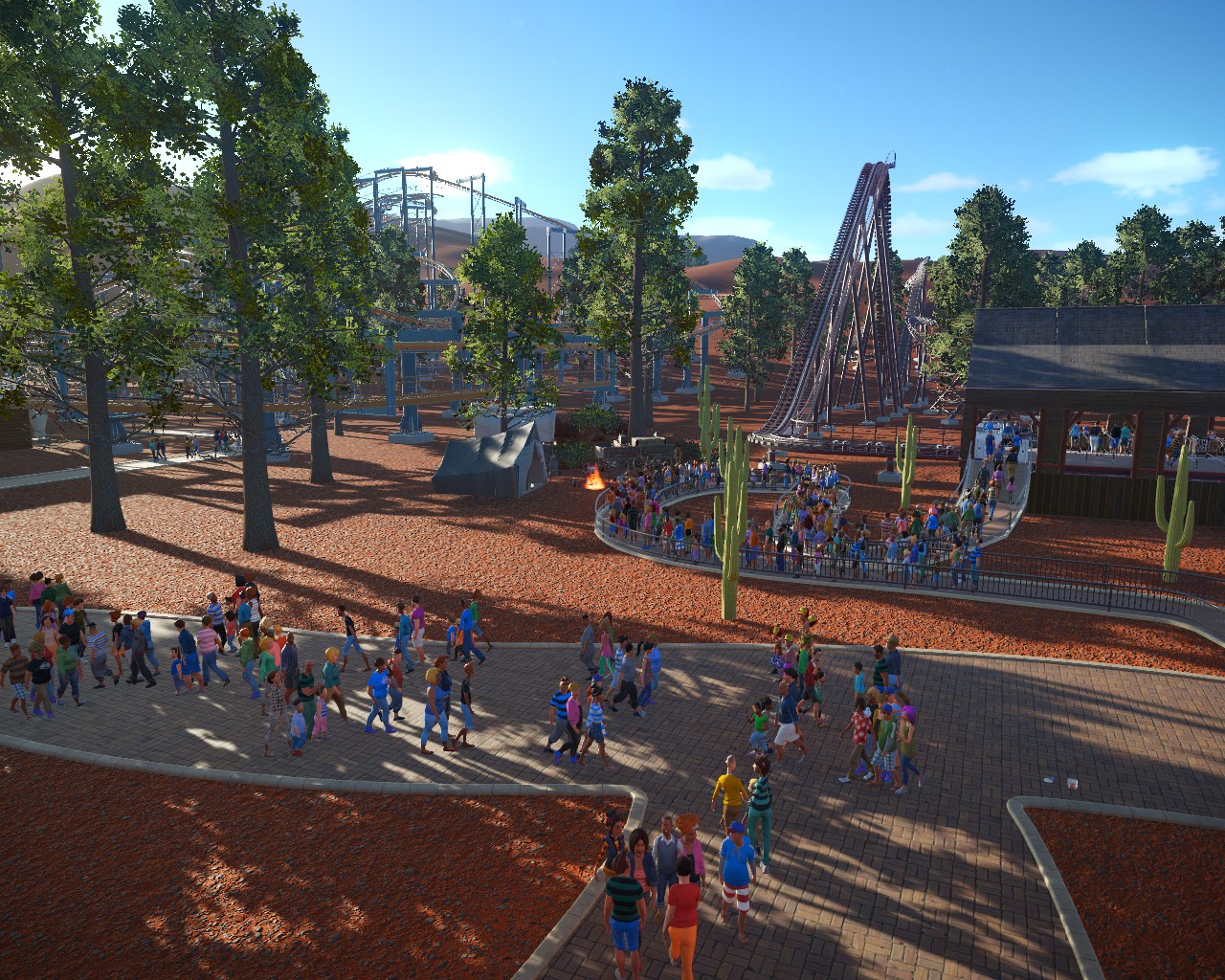 The path eventually deposited me right in the middle of Dodge City, the western themed area of the park! This section of the park, as I have been told is home to the best coasters in the entire park. First, I decided to do Dynamite Run, the Arrow mine train coaster.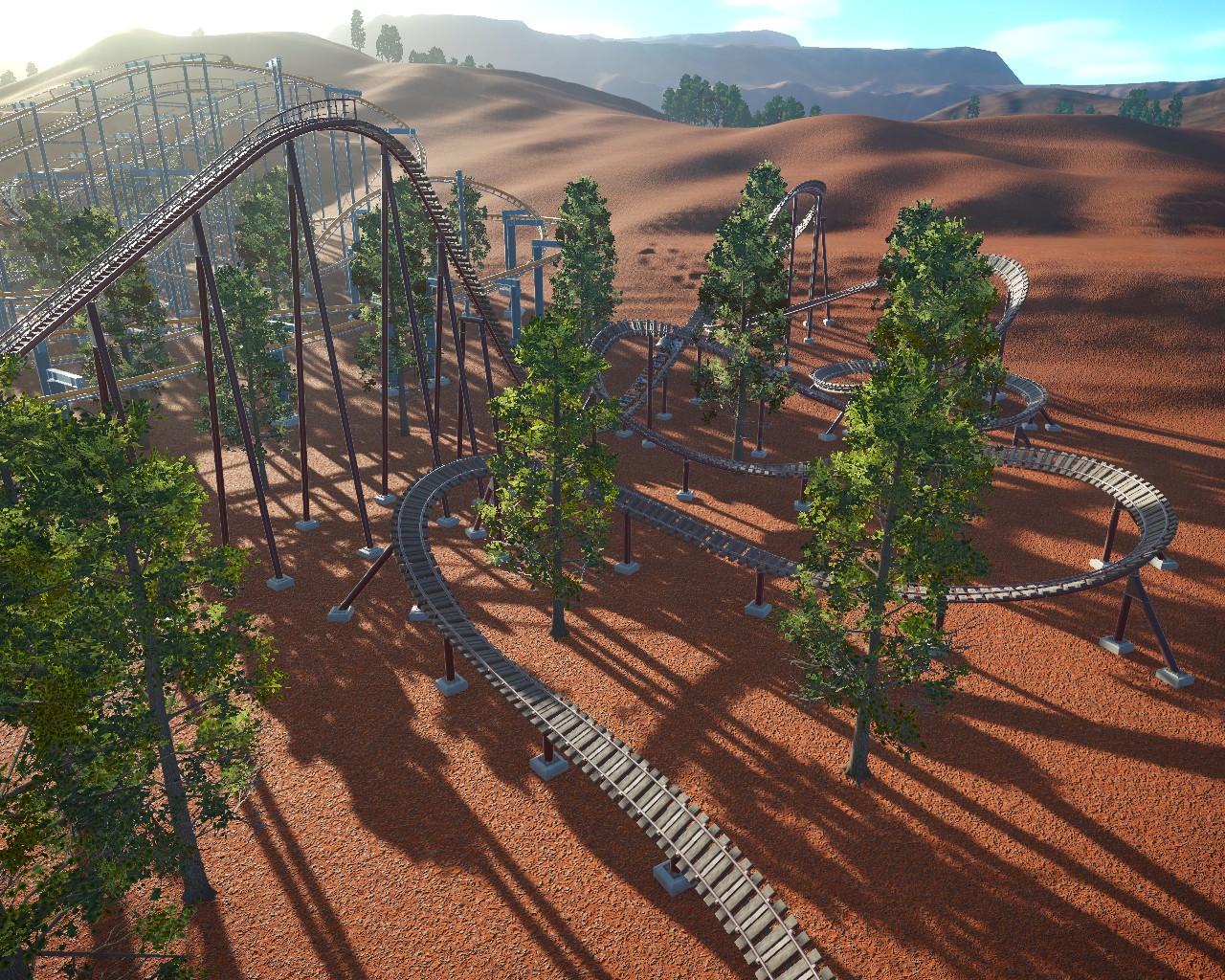 I gotta say, for a family mine train, this is a very thrilling ride with a very cool first drop and tons of twisting turns! Unfortunatley, this trip might be the only time I'll ever be able to ride it, as I have been hearing rumors that they are going to be removing this ride before the new millennium.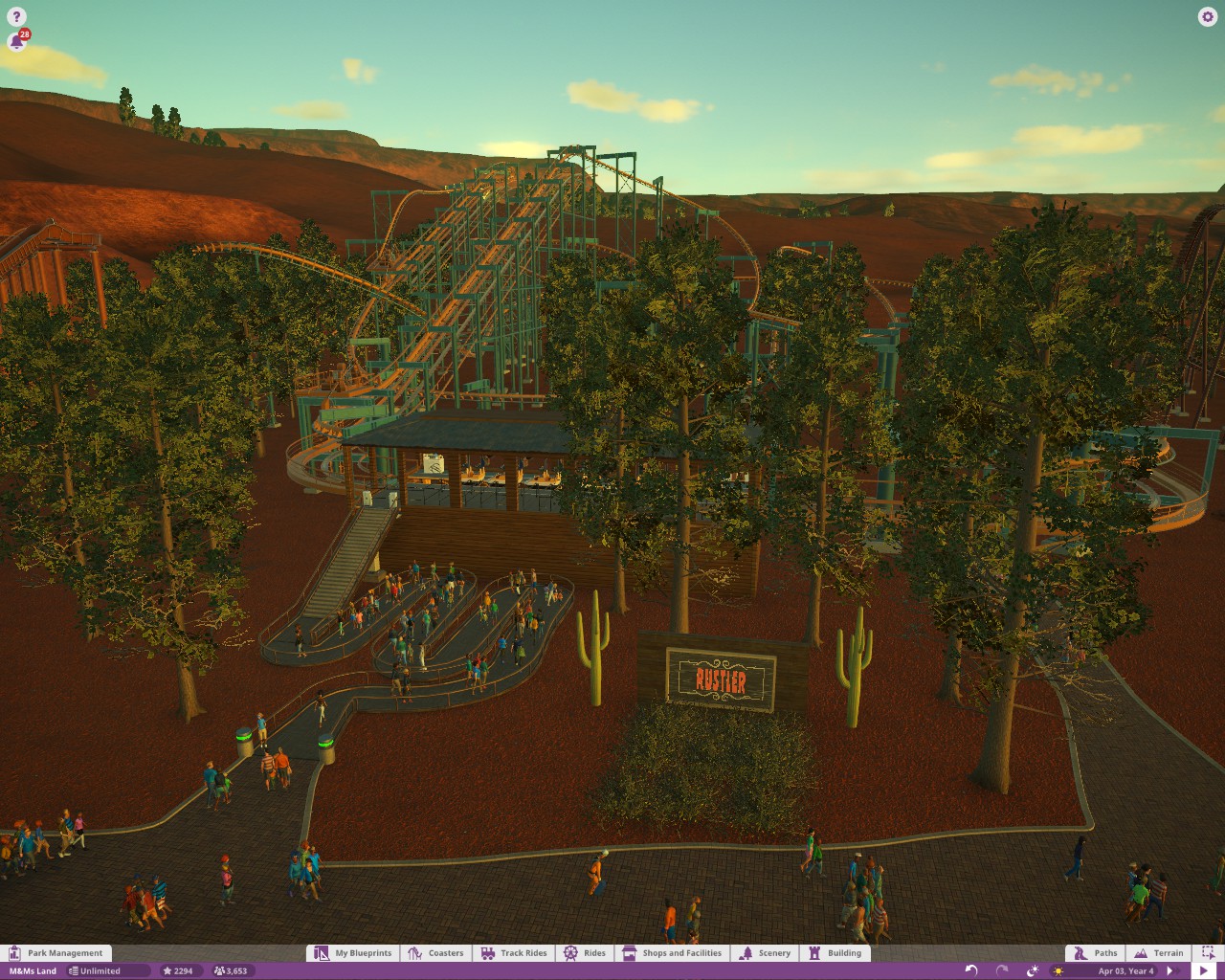 Rustler had been experiencing down time all day until I finally got to the ride, therefore the line was pretty long....However, I knew I couldn't skip it after the several things I've heard about Rustler, how it's the best Arrow suspended coaster ever built....The only other Arrow suspended coaster that I had been on was Ninja at Six Flags Magic Mountain, and I happen to enjoy that ride very much, so I had to see how Rustler measured up.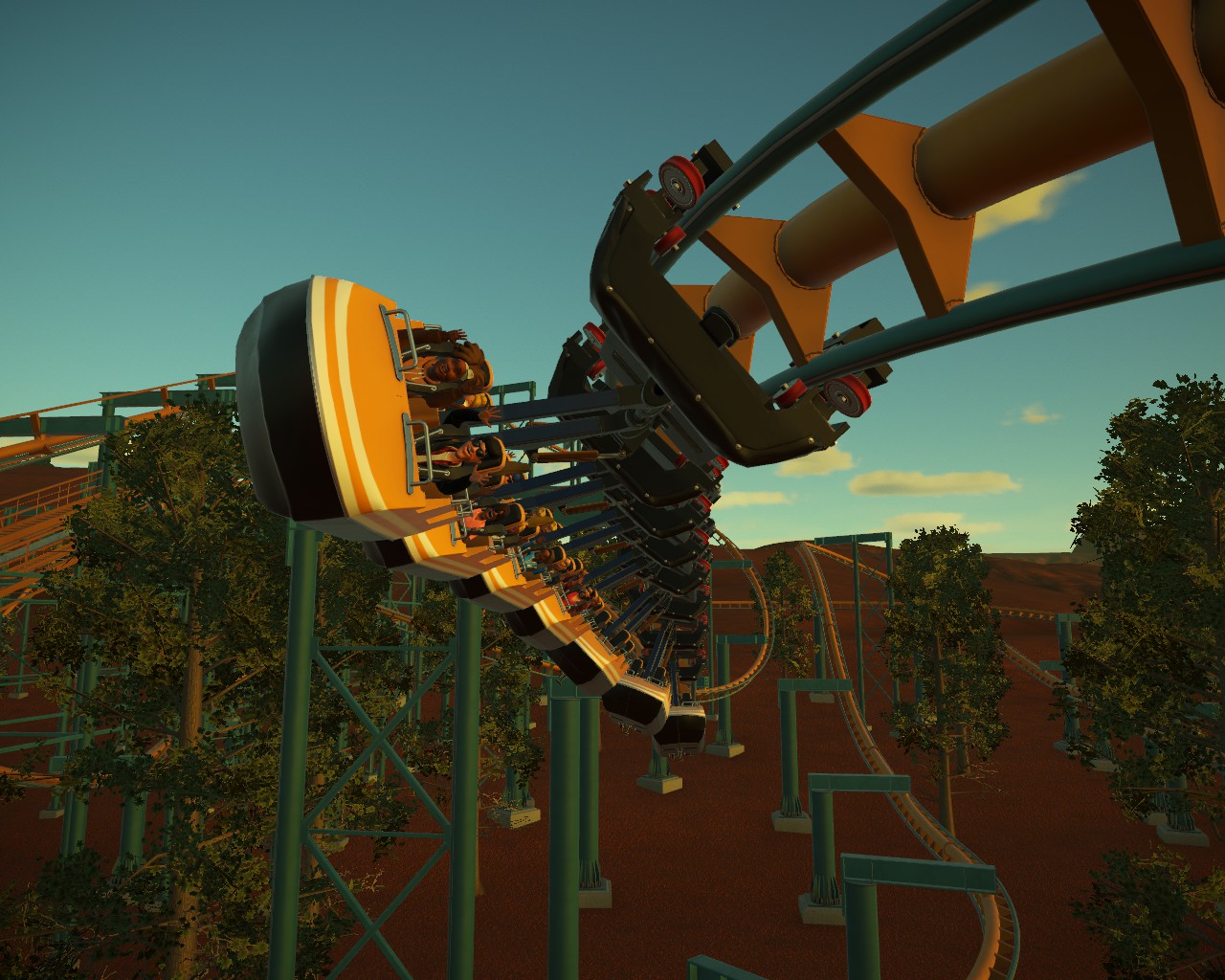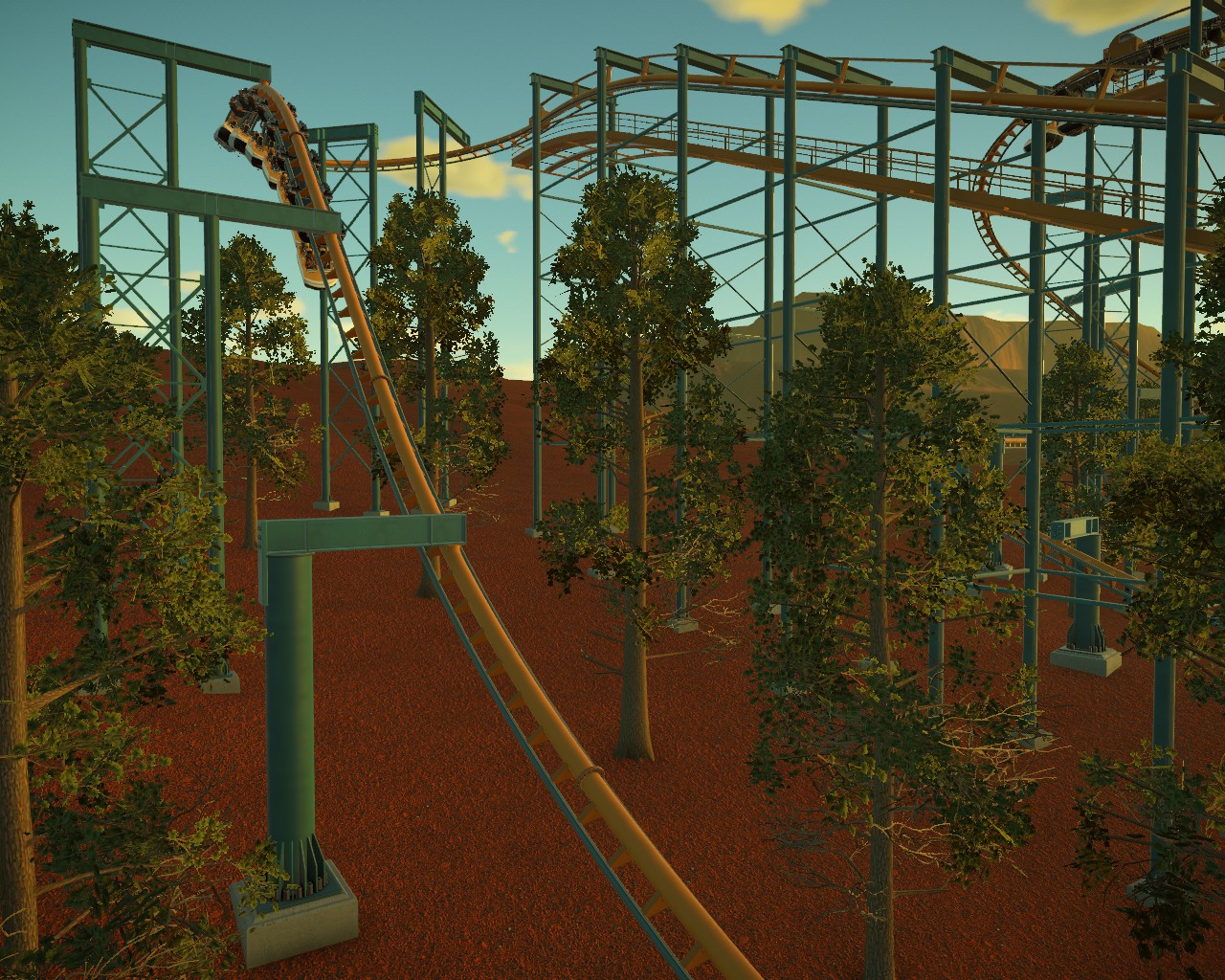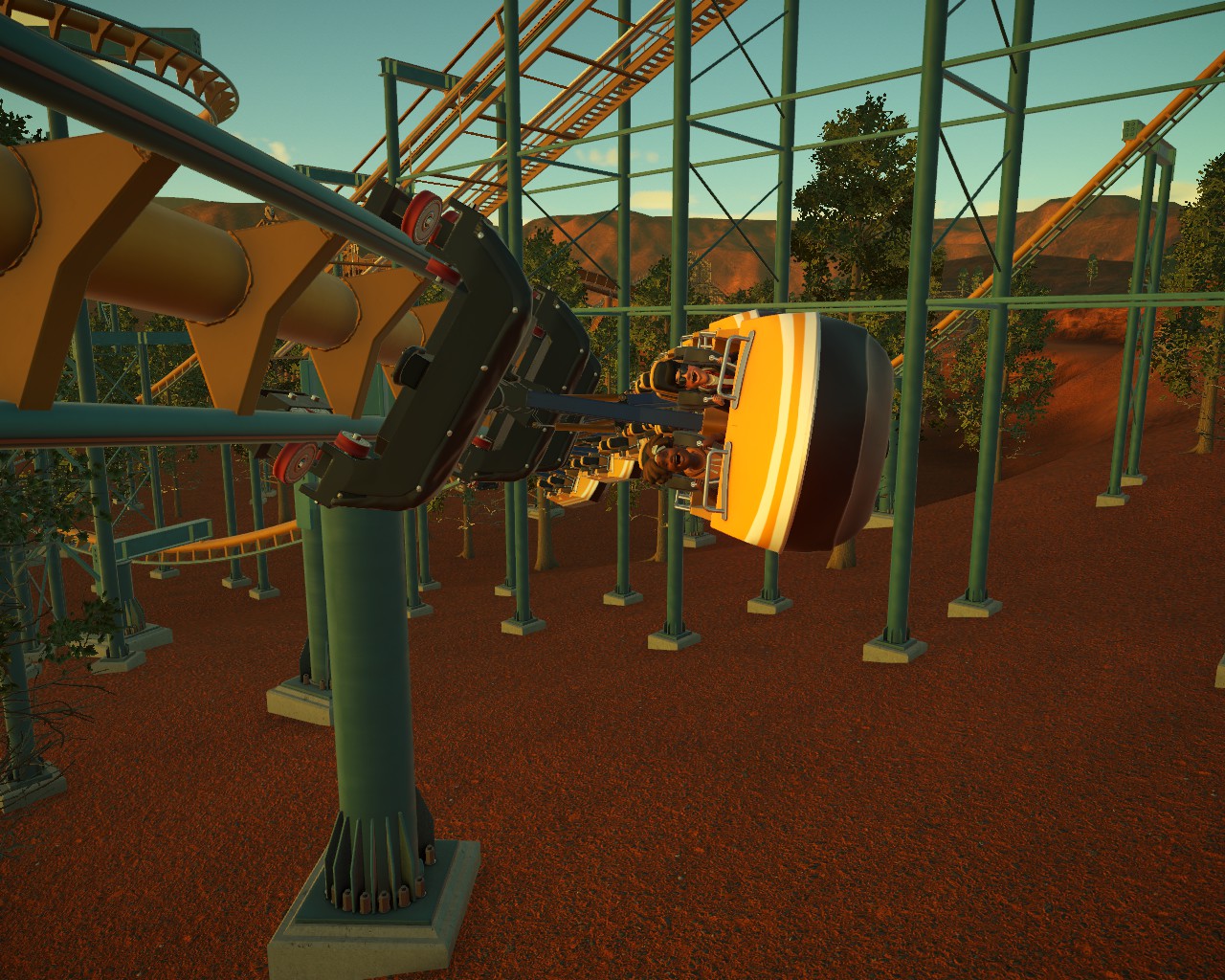 Oh MAN is it a good ride! Rustler blows Ninja away! The amount of swinging action you get on this ride is outstanding! And the layout is full of these amazing swooping drops and turns! The drop after the second lift hill is absolutely amazing and even the slow, wide turn back to the station has some good swinging at some parts!
Rustler is by far the best steel coaster at M&Ms Land, Every other steel coaster here is mediocre to good at best. Rustler, in my opinion, is the only
great
one at M&Ms Land.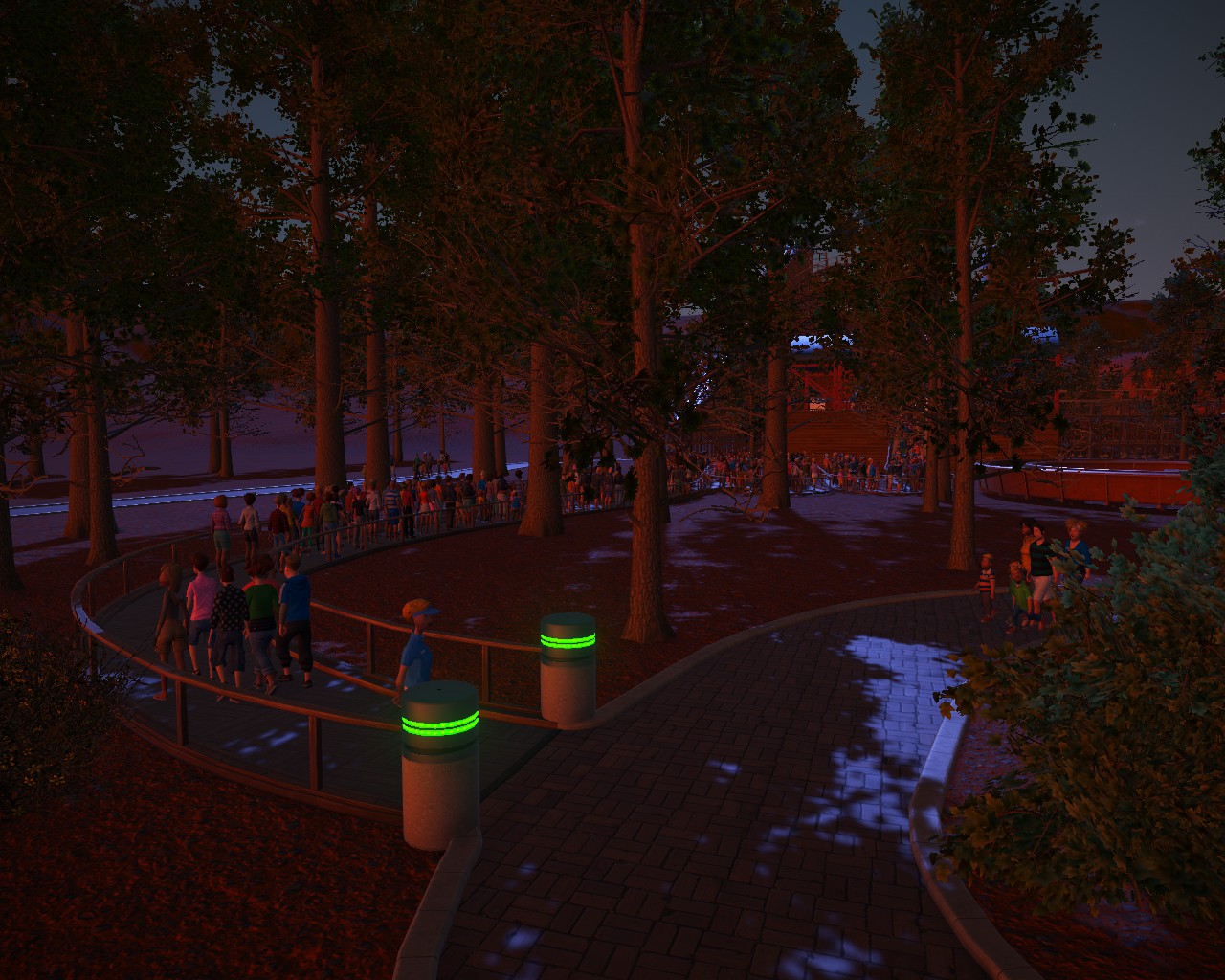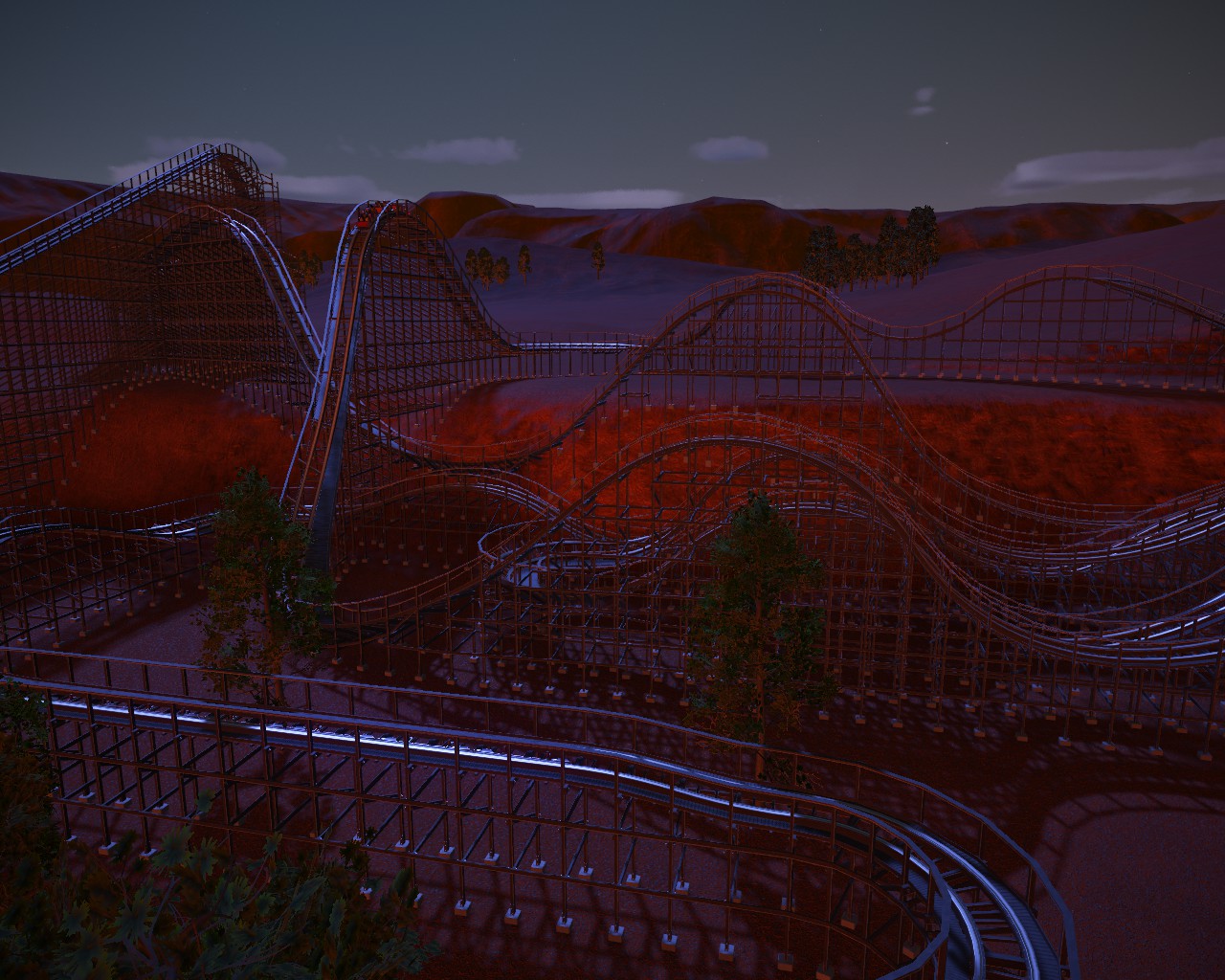 There was one ride where I intentionally waited for darkness to fall upon the park for....And that is the coaster that I have been told is one of the greatest wooden roller coasters of all time. Curtis D. Summers' Thunder Canyon...which is rumored to give night rides that rival only The Beast's.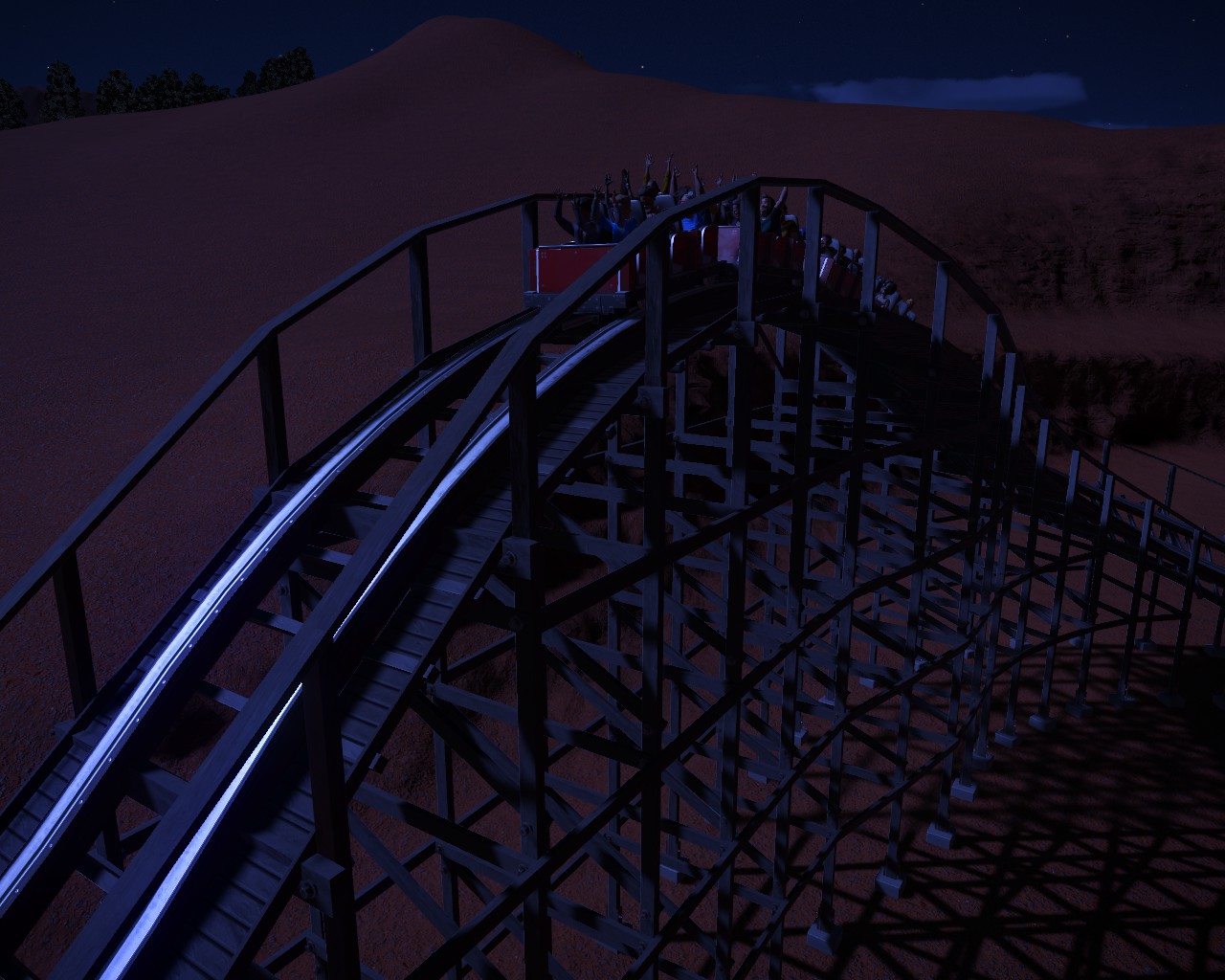 This is hands down, the most insane wooden roller coaster I have EVER been on. It's slightly rougher than Screamin' Eagle, but not by much. The second drop was filled with ejector airtime and the small hills on top of the quarry wall had tons of floater air! Being nighttime, I wasn't sure what direction we were going, all I knew is that I was going FAST!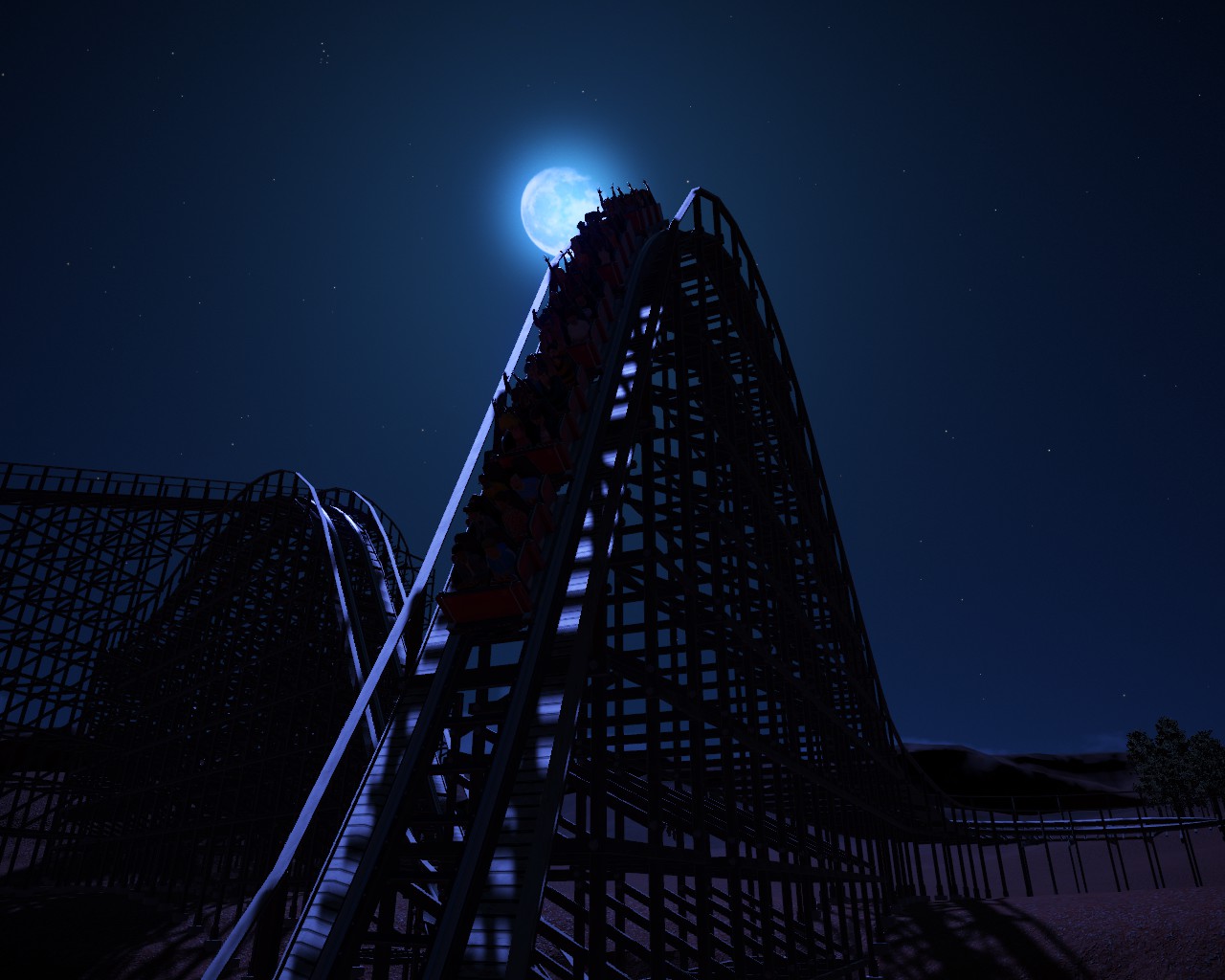 Then came the best part of Thunder Canyon, the train reaches the top of a hill at the quarry wall and you see the lights illuminating the rest of the park.....suddenly, you plunge downward HARD and immediatley turn into what I can describe as a jumbled mess of airtime hills and tight turns...Thunder Canyon is one of the most insane, the most intense, and probably the BEST wooden roller coaster that I have EVER been on.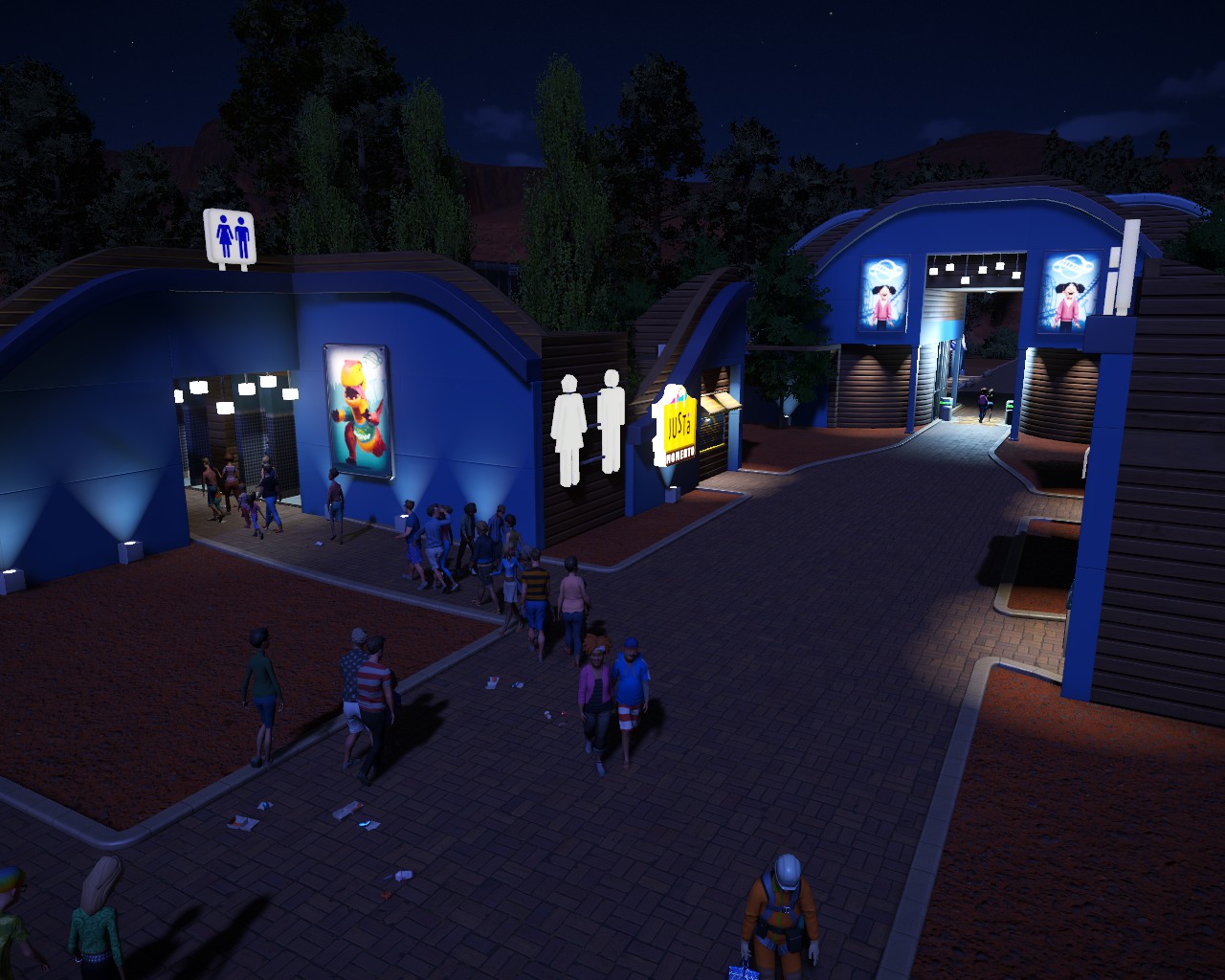 All in all, I found M&Ms Land to be a very good, well rounded park. The paths were clean, and I found the atmosphere to be very family friendly. My one complaint was that there needs to be another good steel roller coaster at this park. With Dynamite Run possibly being removed soon, Rustler will be the only great steel coaster at the park.
Personally, I believe that for the next millennium, M&Ms Land should look in the direction of Intamin or Bolliger & Mabillard for their next big steel coaster.