Hey guys, so after having Planet Coaster for a few months and playing it to near obsessive levels, I've decided that it's time to start a long-term project with this game! Cascadia Park was mostly a method for me to get used to the mechanics of PLC, so now it's time to do a little something more...
And now, without further ado...I present to you, the story of M&M's Land!
Year: 1980
We all know the two major chocolate/confection companies in the United States...Hershey Foods Corperation and Mars Incorperated.....Mars may not ring a bell immediatley, but without them, we woudn't have one of the most famous and beloved chocolate candies....M&Ms...For decades, Mars and Hershey have been duking it out in a bitter rivalry to see which candy company reigns supreme...In Hershey's homeland of Hershey, Pennsylvania, there lies a sprawling amusement park themed after Hershey's candies. Hersheypark appeared to be a massive one-up against Mars....
But then, in the late 1970s and early 1980s, Mars decided that two can play at that game....
In 1979, Mars Incorporated bought a large plot of desert land in the Reno, Nevada area to be home to their own amusement park, which they named after their most famous confection, M&Ms....
After purchasing several flat rides and two roller coasters....the newly christened M&Ms Land opened May 1st, 1980....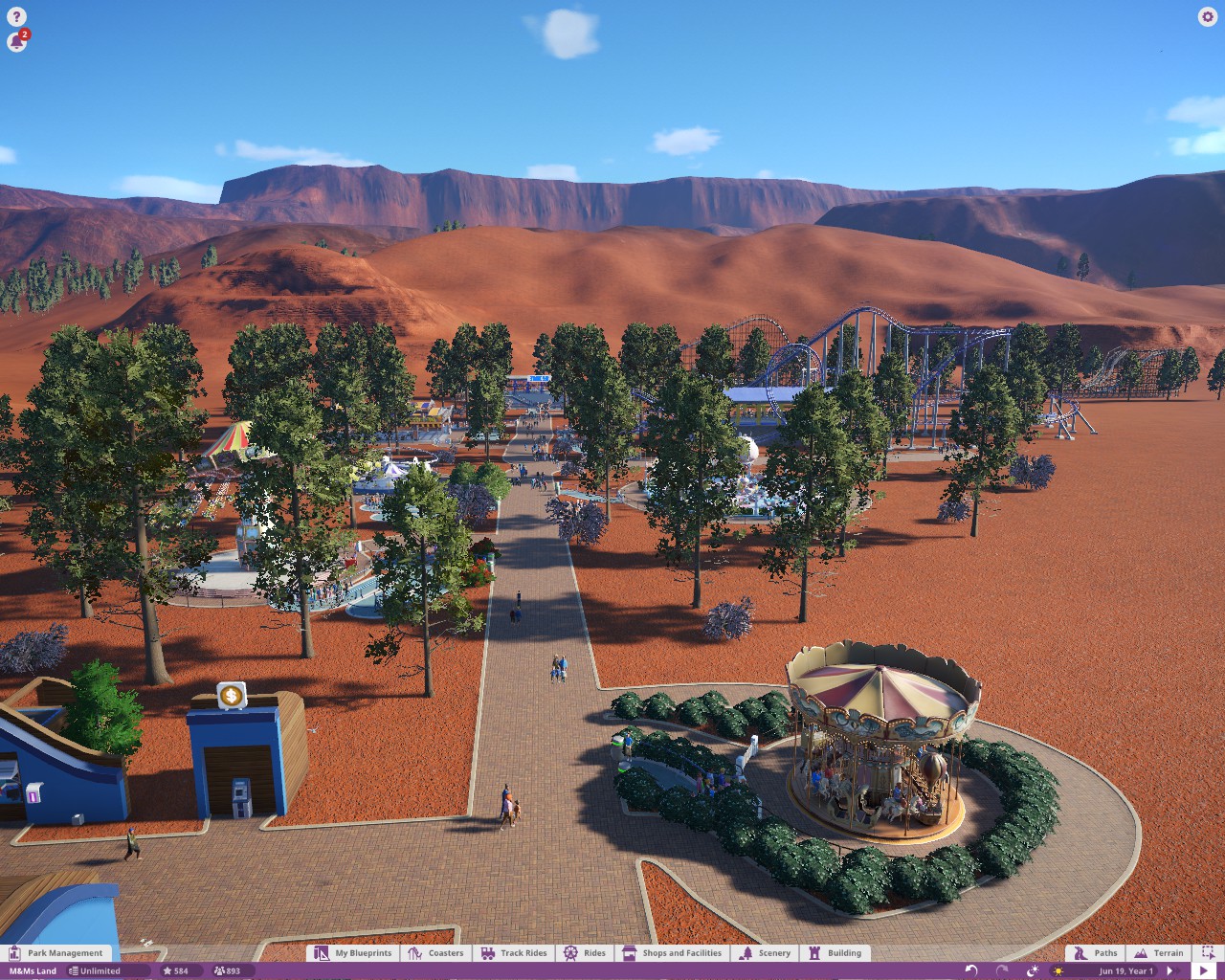 At first, M&Ms Land wasn't a massive thrill seeker's paradise....Rather it was a small, family oriented park...However, that was to change.... and very soon.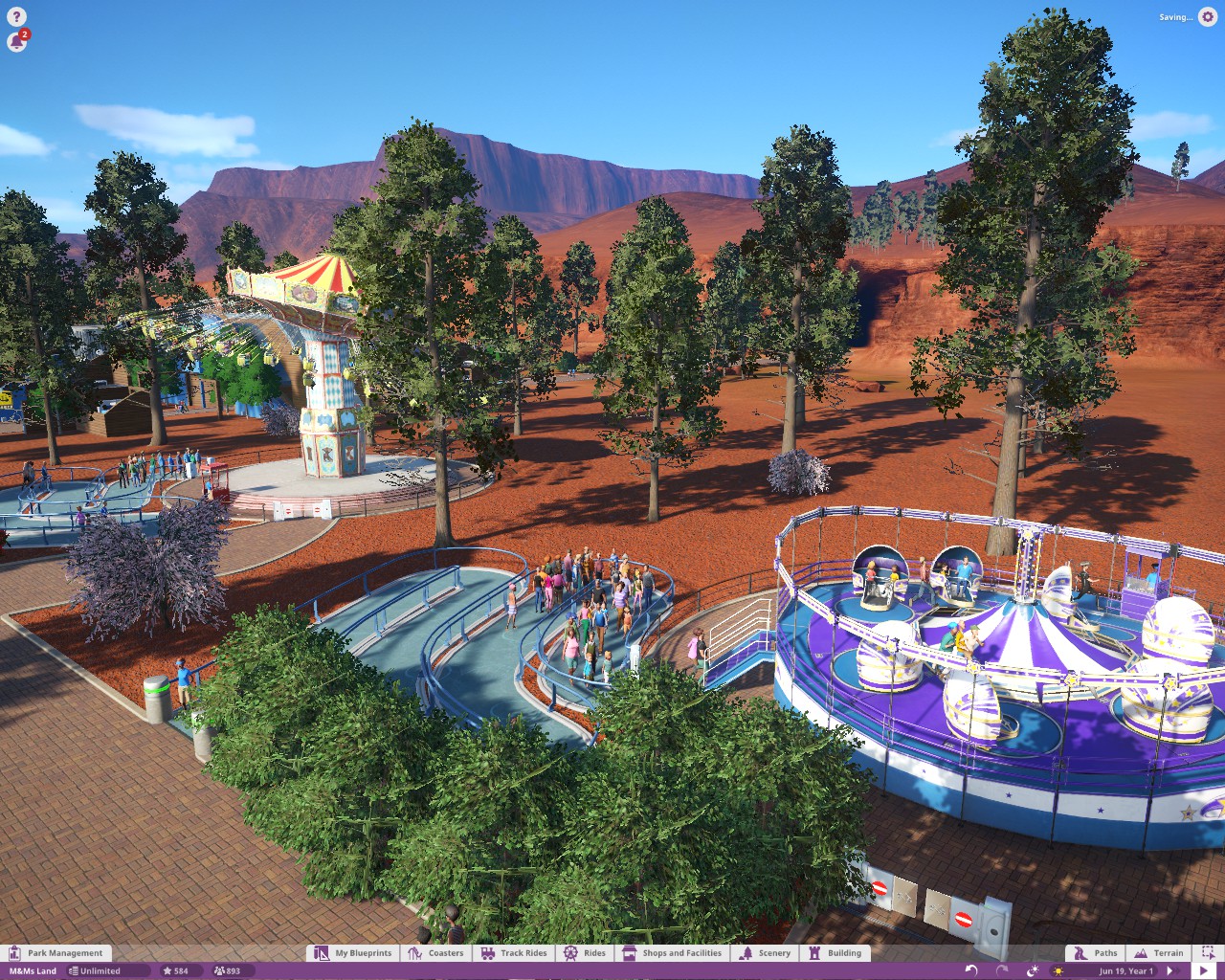 Among the first flat rides to open at M&Ms Land was the Wave Swinger and the Whirling Dervish.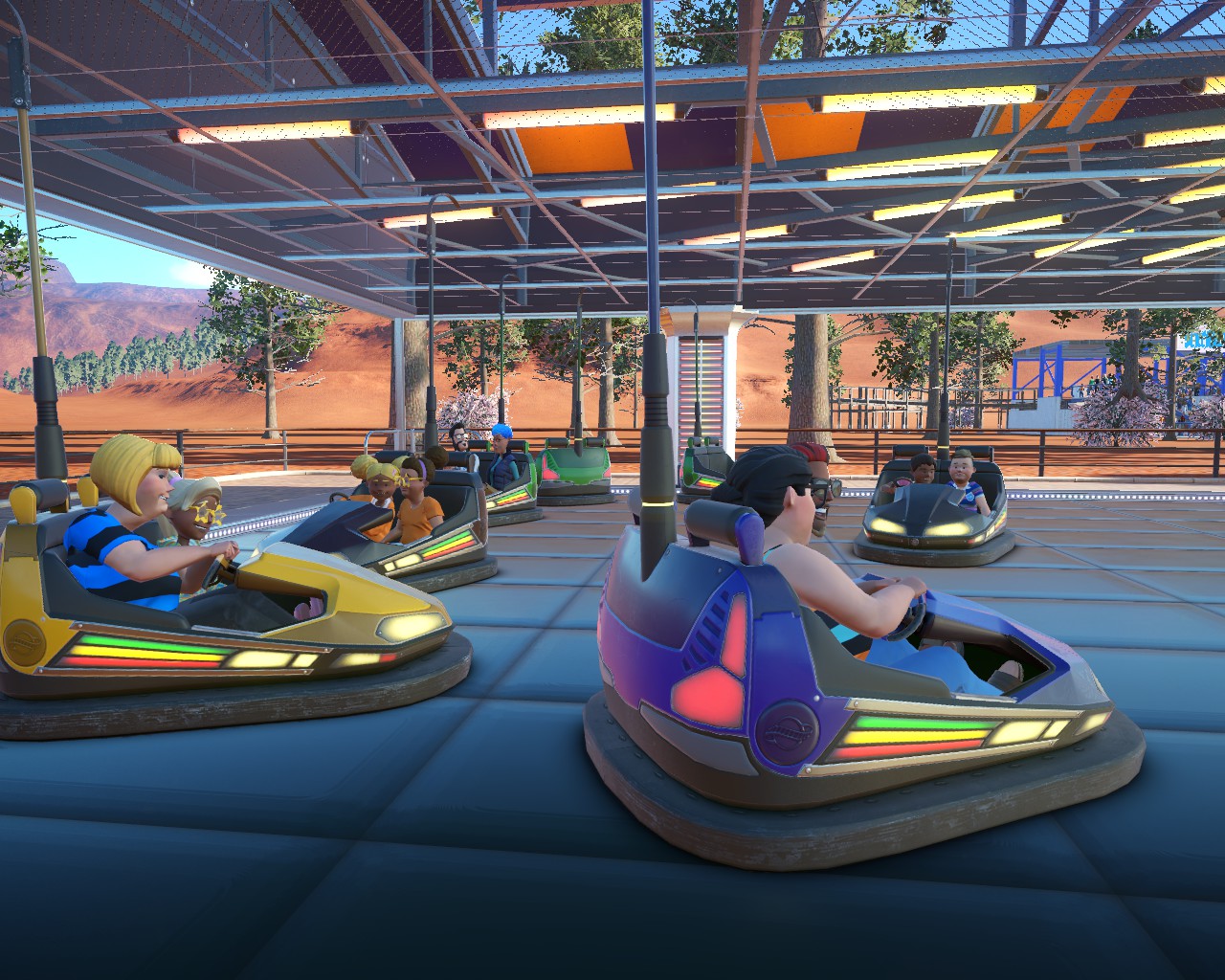 From the beginning, the Dodgems were a very popular attraction!
As a money saving measure, instead of building two ground-up roller coasters. Mars Incorperated decided to buy two used roller coasters from the recently closed Americana Park in Wisconsin and relocated them to Reno to be a part of M&Ms Land!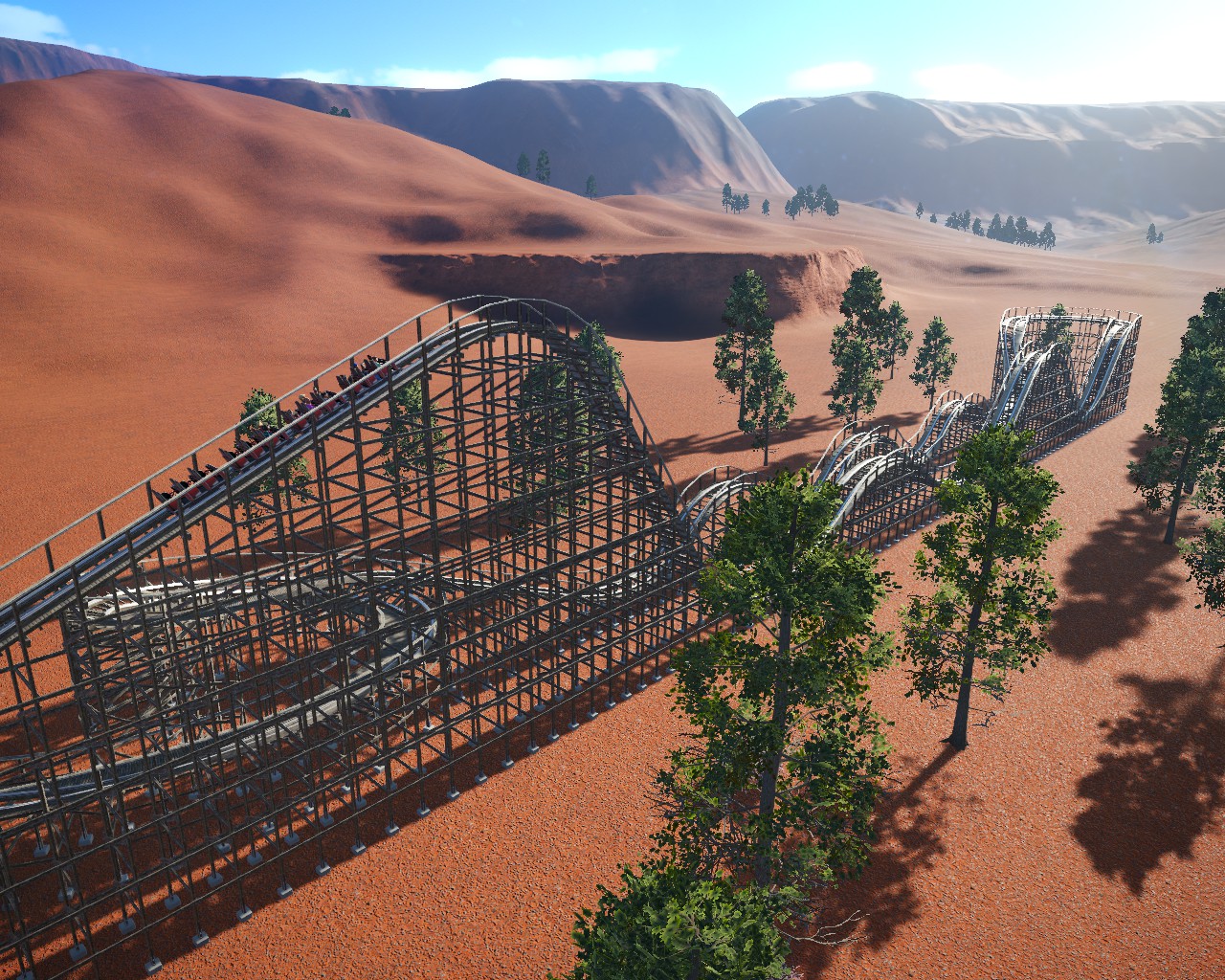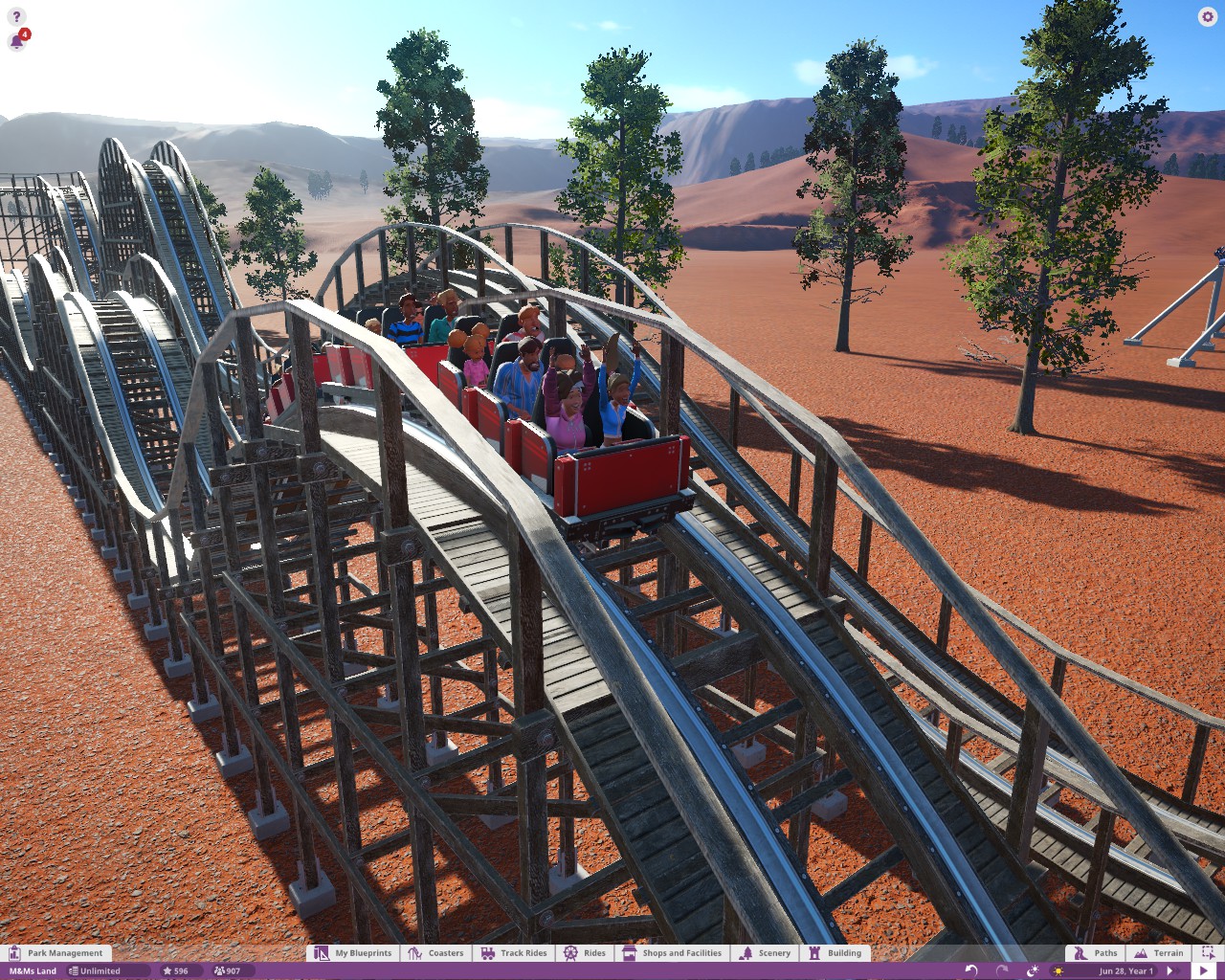 The first of the two roller coasters was Americana Park's claim to fame, John Allen's
"Roller Coaster"
! Although when Roller Coaster was moved to M&M's Land, it's very generic moniker was dropped and was renamed
Screamin' Eagle
Screamin' Eagle/Roller Coaster was known for is high amount of airtime, a strange and forceful "S shaped drop", and a helix incorperated in it's layout.

SCREAMIN' EAGLE STATS
Type: Wooden Out and Back Coaster
Height: 74 feet tall
Length: 1,886 feet long
Top Speed: 45 miles per hour
Tallest Drop: 70 feet
Ride Time: 1:30
Inversions: 0
Height Reqirement: 42 inches tall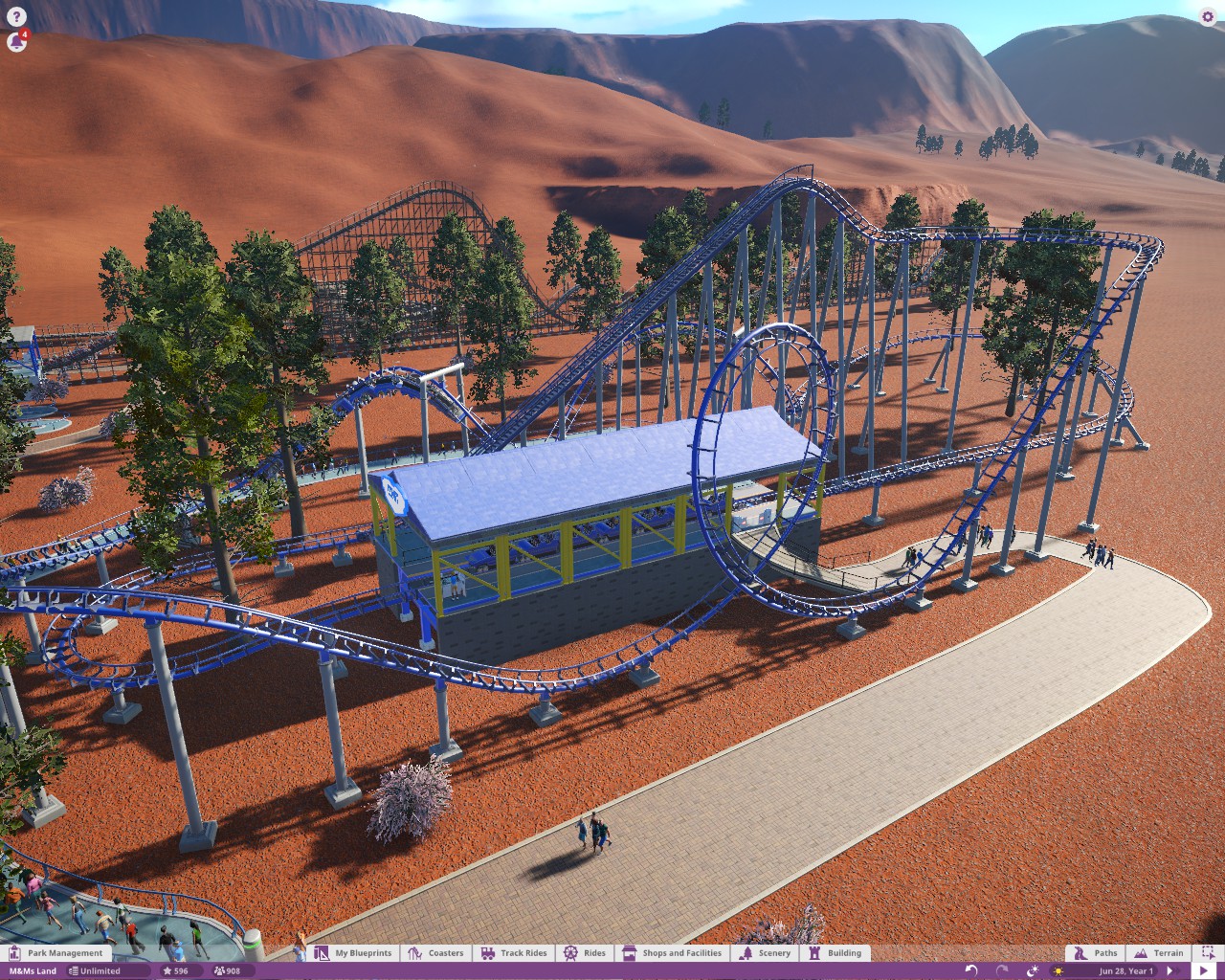 The second roller coaster from Americana Park was an Arrow-Huss Loop+Corkscrew model formerly known as
"Revolution"
. When it was moved to M&M's Park, it became known as
"Comet"
. From the beginning, this name has been the subject of a minor controversy, as people viewed it as a direct rip-off of Hersheypark, as their classic wooden coaster also had the same name. As a result, Mars had begun to reference their coaster as
"The Comet"
to avoid confusion with Hersheypark's Comet.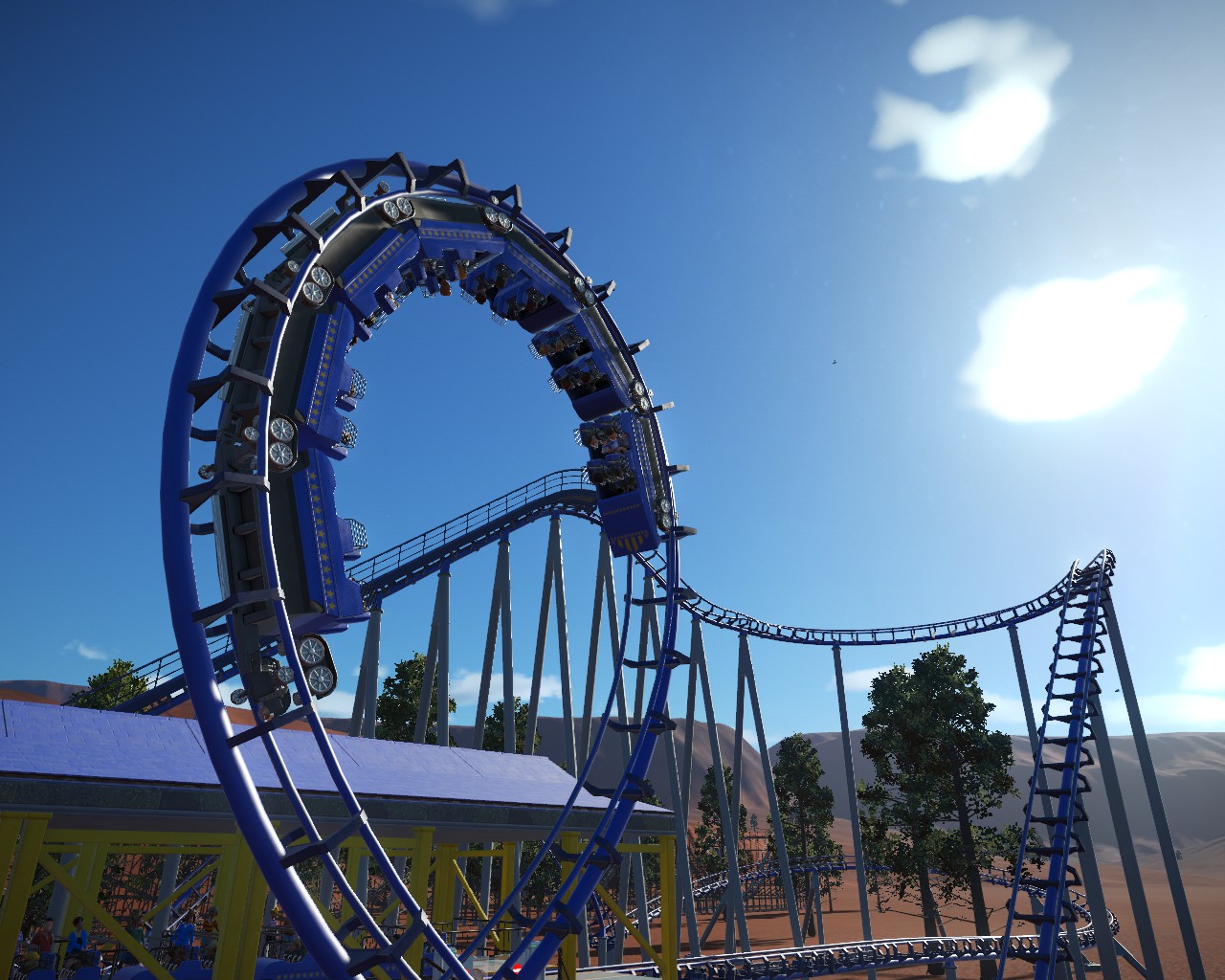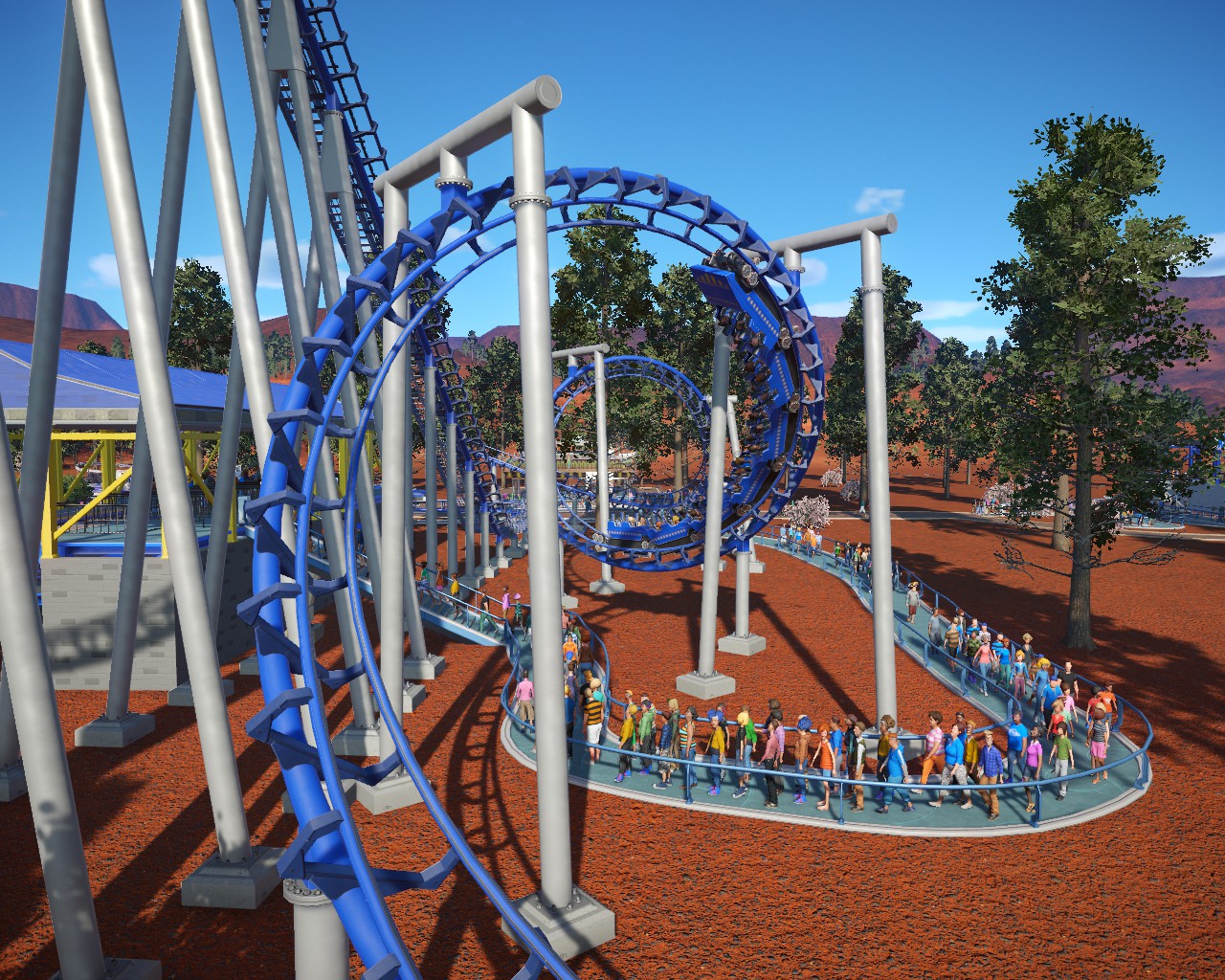 As for the coaster itself, Comet is your standard basic Arrow Loop and Corkscrew model. Pretty much the same as the standard corkscrew model, but with a vertical loop after the first drop. Comet is the first steel coaster at M&Ms Land and the first with inversions.
COMET STATS
Type: Steel Looping Coaster
Height: 65 feet tall
Length: 1,635 feet long
Top Speed: 42 miles per hour
Tallest Drop: 58 feet tall
Ride Time: 1:20
Inversions: 3 (Loop and Double Corkscrew)
Height Requirement: 48 inches tall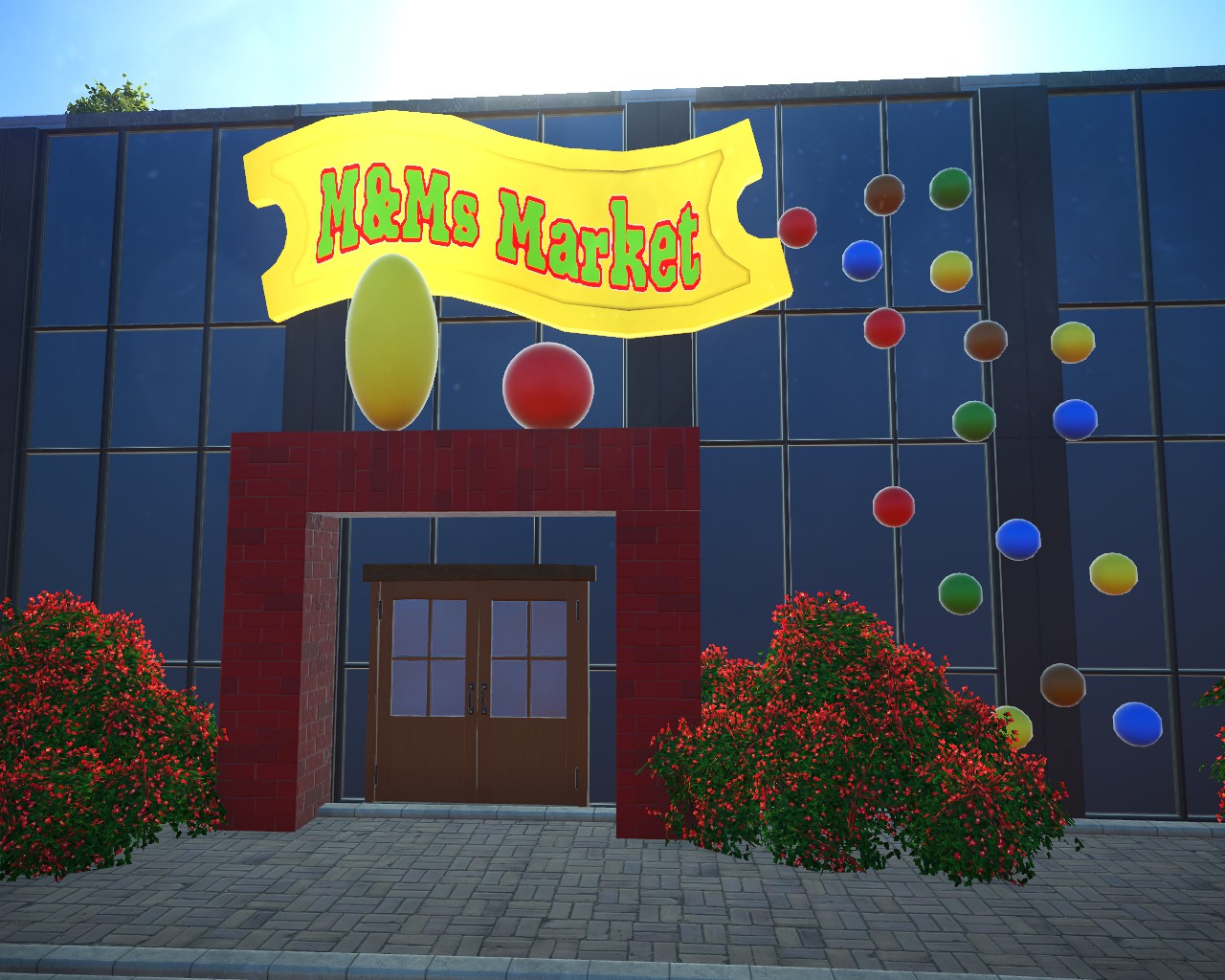 Located adjacent to the theme park is M&M's Market, a precursor to the modern M&Ms World stores. Basically, this place is a museum which shows patrons exactly how M&Ms are made and a superstore selling various items of M&Ms merchandise and of course, lots and lots of M&Ms Candies!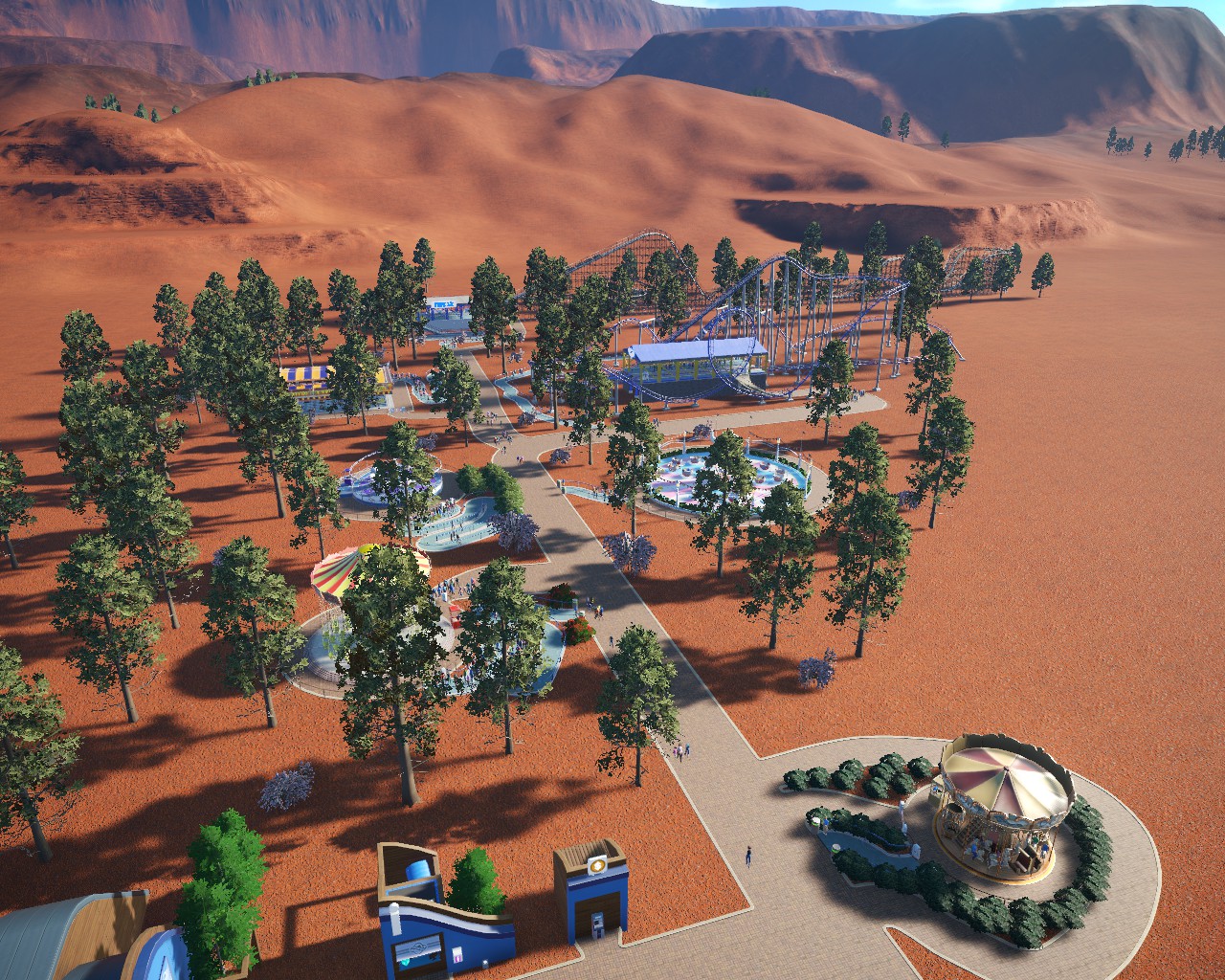 Overall, M&Ms Land might not look like much now....but that definitley is subject to change!